Many people watch out for forecasted declining trends when designing a brand new kitchen in the home. In the past years, everyone is quick to predict new trends, capitalizing on the energy for the new decade. Some of these forecasts seem on-trend, either as a continuation of patterns last year or new approaches to existing styles. Embracing colors and natural elements are statements of such trends.
Then there are prognostications of interior design that seem to come from left field. When you see the fad, you'll ask, "Where did this come from?" or "Are you trying to sell me something?"
Some of these fads seem chic, and yet due to practical concerns, they won't last for more than a season. What are some examples of forecasted declining trends?
Forecasted Declining Trends
Doggie Cantina
Reason:
People who have some money treat their canine companions as part of the family. As part of the family, they want to incorporate dogs into the home, including creating a space where dogs eat. To this end, House Beautiful predicted "doggie cantinas" as a potential trend by making alcoves in our kitchens for them to dine.
Why not:
Only House Beautiful has mentioned this trend, although this has popped in displays at KBIS (Kitchen and Bath Industry Show). It is too niche to be considered a craze; search engine results refer to outside dog areas, not indoor kitchens. This is a case of wishful marketing, even though the luxury idea would appeal to select dog lovers.
Broken Plan Kitchen
Reason:
Broken Plan kitchen is a derivative of "open plan kitchen," where a large single space functions as several rooms. Loft living results in multiple areas without walls; however, broken plan uses dividers like screens to separate areas. This way, you have some level of creating the space you need by controlling the "walls" of your room.
Why Not:
I feel like this trend should become more popular, but people are veering away from open-plan spaces. People are valuing more private, enclosed rooms and leaving loft spaces as open studio workplaces rather than living spaces.
Ladders in the Kitchen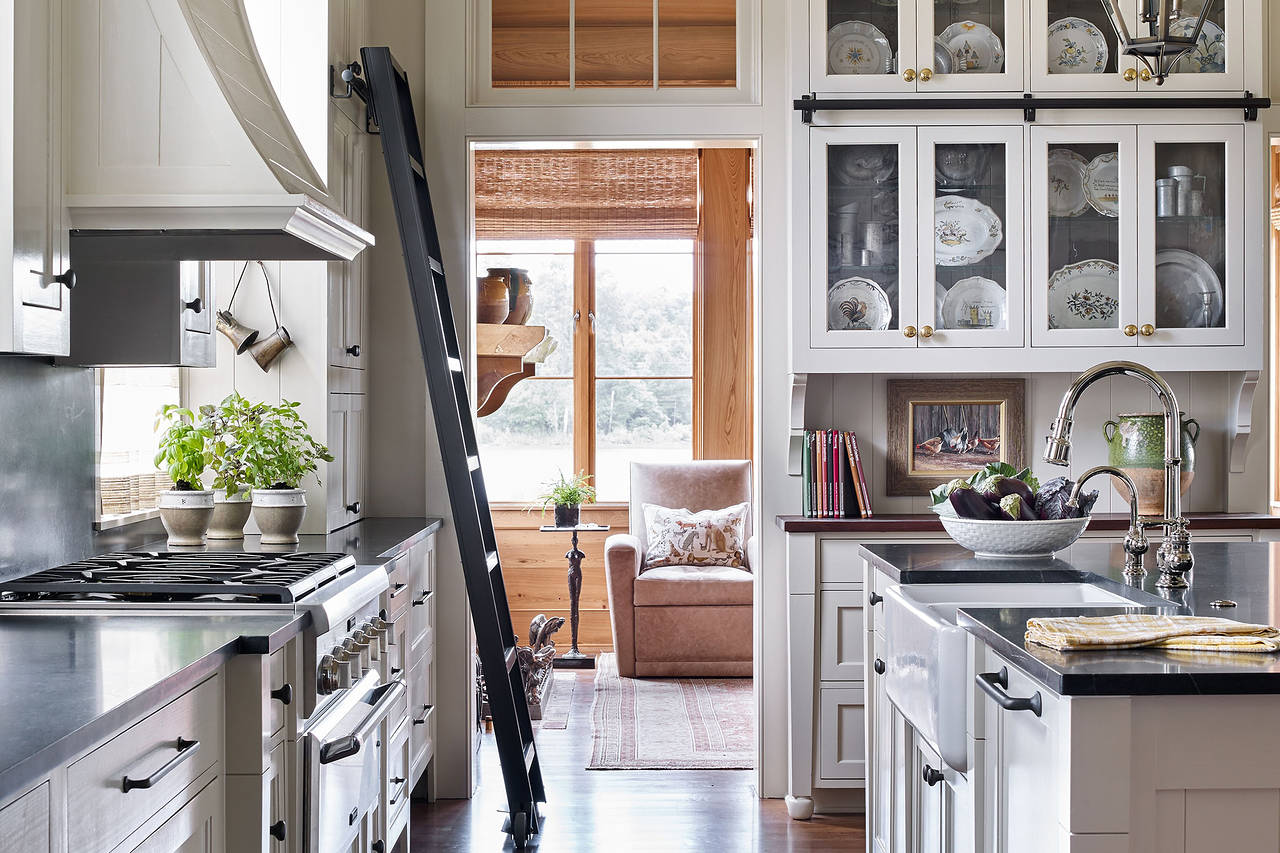 Reason:
Ladders are a practical solution to accessing higher wall cabinets, increasing the amount of available storage. It also creates visual interest, breaking up the horizontal rows of cabinets with the ladder's column of squares.
Why Not:
Unless you have a set place to put your ladder, a ladder can get in the way of your kitchen. If the ladder is in the way of the golden kitchen triangle layout, it's more troublesome rather than an advantage. A step stool is a more economical solution and can be transported anywhere, not just attached to that room.
Kitchen Wallpaper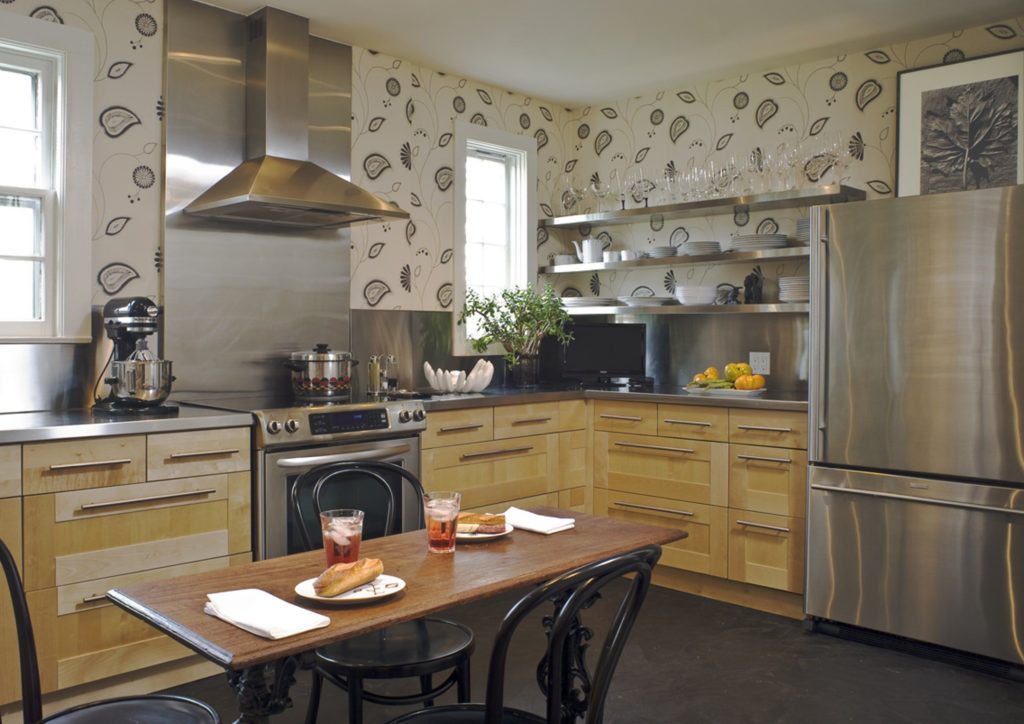 Reason:
We are trending away from minimalism and going into a more visual interest in the kitchen space. Bold backsplashes are on-trend, and as an alternative, people have been looking at wallpaper to line their vertical surfaces. Temporary surfaces like decal wallpaper is an alternative to try a look without permanently committing to that design.
Why Not:
While putting up temporary wallpaper, if you want to change your look regularly gives you options, after a while, most people want to settle for one design. Putting up wallpaper once every few months still takes time and effort, and people will tire of the novelty after a few switches.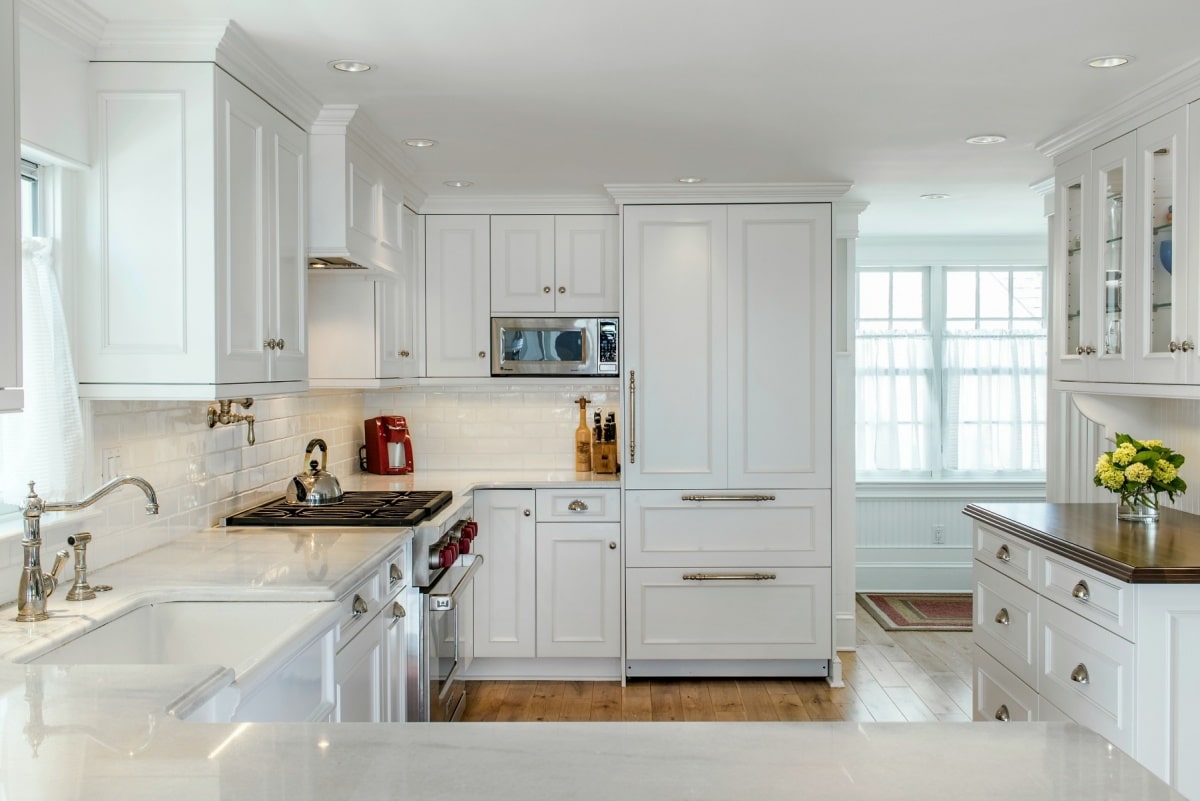 Reason:
For those who want uniform kitchens, custom cabinetry can make panels to match your major appliances to your cabinet. This is not difficult to create; cabinets have "skin panels" that are the primary design affixed on a cabinet structure. That same panel can be cut and tailored to any appliance in the room.
Why Not:
While having trash cans behind cabinetry improves the overall look, making your refrigerator look like your cabinets feels odd. Having a kitchen without a refrigerator feels incomplete because it is such an essential part of that room. Having these custom panels limits the types of appliance or cabinet design in your kitchen. If you cut an inset panel cut mid-way, it distracts from the rest of the cabinetry.
Tumbled Stone Floors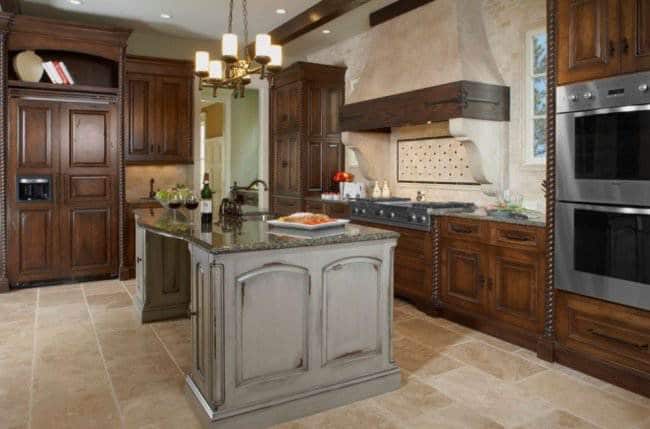 Reason:
As interior fashion goes toward natural materials and textures, tumbled stone embraces the weathered look on surfaces. Tumbled stone is created by cutting similar cut stones then tumbling the pieces with sand to create worn, textured edges. The aged stone not only gives the floor character but on the floor, it's durable to all foot traffic.
Why Not:
With the uneven texture of tumble stone and its natural pits, you must pay special attention to cleaning the floor. Worn floors feel like they should be outside in patios or even front yard walkways rather than indoors. However, it is an excellent decorative stone as a backsplash, just not for the floor.
Kitchen Lamps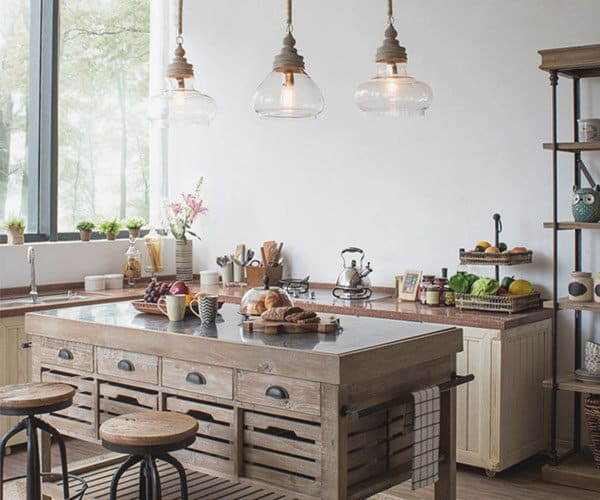 Reason:
Lighting in the kitchen is essential to that space because of all the activity in it, especially safety for cooking. However, Style by Emily Henderson predicts the popularity of the kitchen lamp, as a small but "glowing" trend. Lamps are defined as any lighting source with a lampshade or cover to diffuse light.
Why Not:
Kitchens need at least a base of ambient illumination, which is covered by pendant or recessed lighting. But lampshades, which define the lamp in this lightning, are wholly unnecessary. If you want controlled lighting, a dimmer switch will be more effective rather than a cloth shade to avoid these kind of forecasted declining trends.