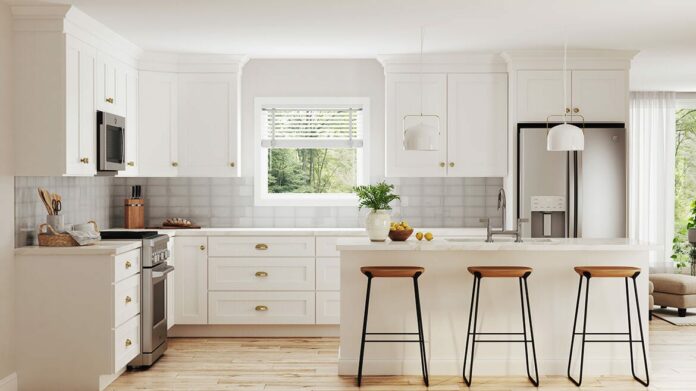 Colored shaker cabinets can give homeowners a new look to their kitchen. Most people will typically have white, grey, black, or wood stained shaker cabinets. Want to give your kitchen a refresh? Instead of a major renovation, try painting your shaker cabinets to give the kitchen a new look! Shaker cabinets are a classic style that fit in every type of kitchen and can be a focal point for your design.
Choosing the Right Color
Since you'll likely be looking at the cabinets day in and day out, it's important to choose a color that you like and won't tire of quickly. Royal purple maybe your favorite hue, but could you live with a bright purple room?
Take the colors you already have in your kitchen into account. If you already have a lot of color in your counters, tiles, backsplash or appliances, you might want to try a neutral color for your cabinets so as to not pull focus. But if your room is already fairly neutral, you can have a little more fun and pick a bright or bold hue for your kitchen!
Here are some color options for your colored shaker kitchen cabinets.
Going Grey
If you want to dip your toes into the world of color while still keeping it neutral, opt for a shade of grey. Grey can be a bold statement while still looking timeless and versatile, much like shaker themselves! Selecting a darker grey is a way to transition to dark colors from white or light-colored wood, as it may not be as intimidating as a deep blue or black.
Red Hot
Red is a common choice for colored shaker cabinets in farmhouse-style kitchens, since it can evoke a country home feel. The red shaker cabinets look rustic and cozy in a space that also utilizes lots of white and natural wood. If the idea of a red kitchen is too intimidating for you, try keeping the color to the lower cabinets only. With a pop of red on the lower cabinets with white or light gray shelves and backsplash, your kitchen can be vibrant without being overpowering.
Millennial Mint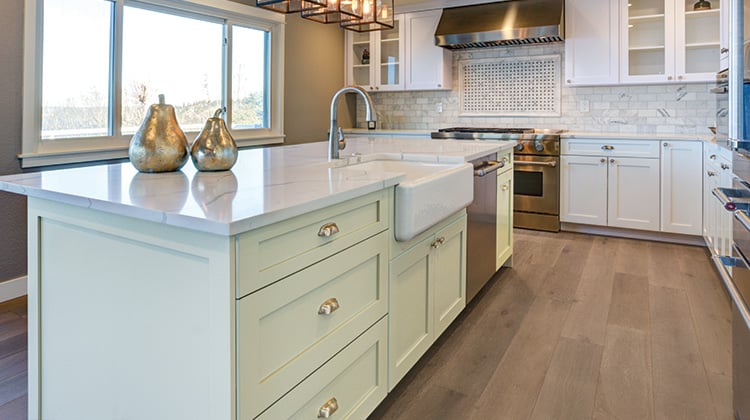 While millennial pink was one ubiquitous trend for colored shaker cabinets, the new trend is millennial mint. Mint green might seem like an unconventional choice for your kitchen, but it can brighten up small spaces and make the kitchen look fresh and clean. Mint green shaker cabinets with brass pulls, grey and white tile floors and white countertops can make a kitchen look spacious, clean, and totally unique.
Deep Blue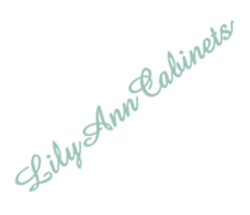 Darker colors are a great choice for a few different reasons. First off, with the popularity of all-white kitchens, a darker cabinet hue can feel unique and look more like a custom piece instead of the standard kitchen. It's also great for home chefs, since darker colors can be more forgiving with splashes and stains! A dark navy or grayish blue can work well in transitional kitchens and with brass knobs and pulls.
Sunny Yellow
If your kitchen is lacking on natural light or could use more warmth, a pop of yellow could be just what you need to brighten up the space. Believe it or not, yellow can work in just about every type of kitchen! A Scandinavian kitchen can pair sunny yellow with natural wood, while an industrial kitchen can have bold yellow pop next to exposed brick walls. For a more modern farmhouse look, opt for a soft, buttery yellow for your shaker cabinets.
Crisp White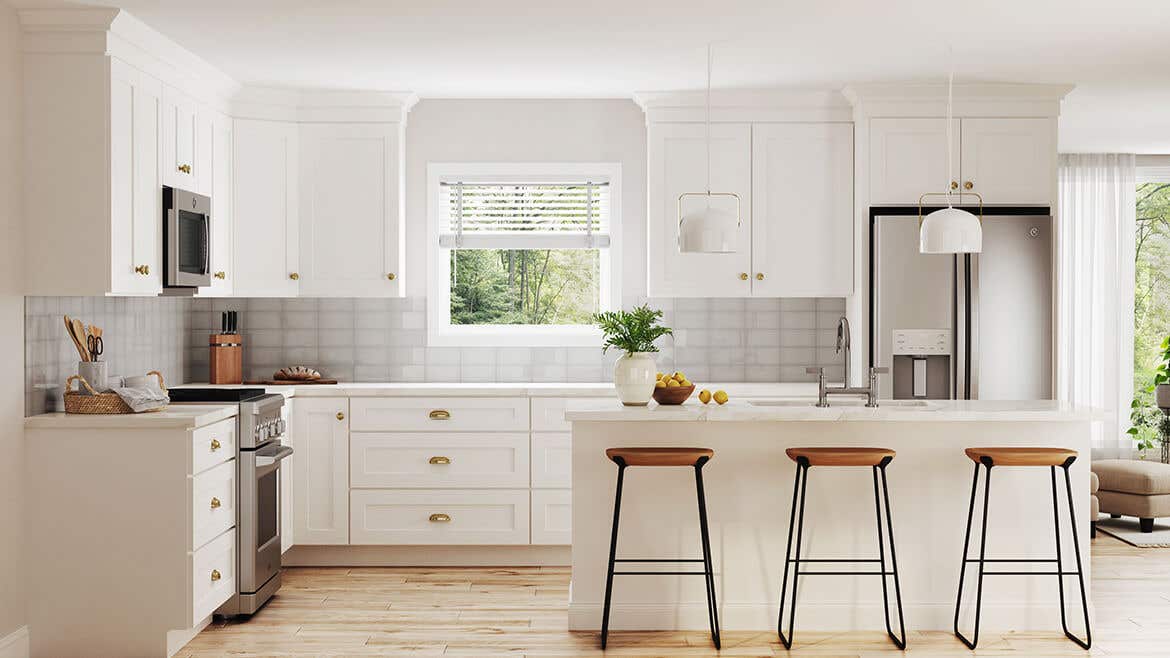 If it ain't broke! White is the most popular choice for colored shaker cabinets thanks to its versatility. White can open up the space to reflect natural light and make your kitchen look more spacious and clean. Think of white shaker cabinets like a blank canvas: you can pull in color through accents, backsplashes and tile to create a cohesive look. 
You shaker cabinets can adapt to any shade and make a bold statement in your kitchen, regardless of the color.