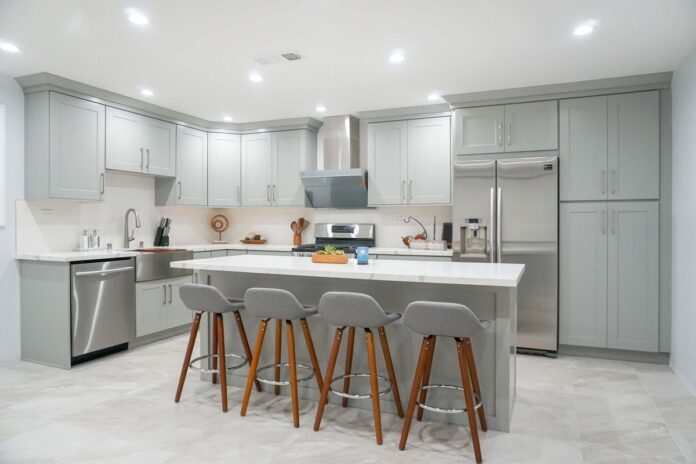 Cool-toned greys are the new go-to color for kitchens! While pure white dominated the space for so long, more and more designers are leaning towards greys for an alternative that has more depth but is still a neutral for the multi-purpose space. With grey shaker cabinets, you can transform your kitchen into a whole new space.
Why Grey Shaker Cabinets?
Shaker cabinets and the color grey make the perfect kitchen pair since they both can work in any style of home! Grey is a true neutral that can look at home in modern kitchens just as well as traditional spaces, much like the versatile design of shaker cabinets themselves. If you're looking to update your kitchen with shades of grey, check out these stylish design ideas for some inspiration.
10 Ideas for Cool Grey Shaker Cabinets
1. Keep the Top and Bottom Cabinets Different
One way to make your kitchen stand out is with two-toned cabinetry. You can mix and match lower grey cabinets with white upper cabinets to create dimension and keep the space bright and light. Another way to add contrast is to keep the lower grey cabinets but use open shelving on the top. This look not only increases visual interest but also gives you a space to show off your accessories and decor pieces like vases or vintage signs.
2. A Grey-Blue Country Kitchen
Cool-toned greys can sometimes lean blue. That makes it a great alternative to blue cabinets that you often see in country-style kitchens. If you want to do a more modern and subtler take on the look, opt for a cool greyish blue for your shaker cabinets and pull in more of the color with your tiles and backsplash options. Add accessories like a wooden table set or island stools, ornate lighting fixtures and patterned curtains to complete the kitschy and traditional look.
3. Add a Touch of Gold (or Brass)
Grey cabinets can look extra polished (and expensive!) with the right hardware. Polished brass or gold pulls can elevate the look. While stainless steel may have been the favorite option for grey cabinets, the surprising combination of warm brass and cool grey creates the perfect look. You can also opt for gold or brass accessories like overhead lighting to keep the look cohesive.
4. The Darker, The Better
Since all-white kitchens have been popular for so long, switching to light grey might feel like a baby step towards color. But if you're ready for a big change, dark grey can be a stunning option for your kitchen. A shade of dark grey can provide contrast with light-colored backsplash and floor tiles, and pair well with light, natural woods as well.
5. Create A Scandinavian Inspired-Space
The Scandi trend isn't going anywhere! This timeless design is popular thanks to its clean lines and muted colors. A cool-toned grey is a perfect color for a Scandinavian-style kitchen. Make it ultra-modern by using a lacquered finish for a sleek and shiny look. Pair it with a white marble countertop and natural wood accents to complete the space.
6. Don't Be Afraid of a Monochromatic Look
You might think a kitchen with a grey marble countertop and stainless-steel appliances would look too dull or drab with grey kitchen cabinets to match, but you'd be wrong! While having the whole room in one look could be overwhelming, you can mix different shades to create depth. For example, a light grey backsplash or countertop can work with medium or dark grey cabinetry. Add pops of color like teal or red and space will look anything but boring.
7. Mix and Match Different Neutrals
If monochromatic isn't your thing, trying blending different neutrals to create a fresh look for your kitchen. Grey, white and beige all look chic on their own, but layering them together can make the space look cohesive and stylish. Try a white backsplash, grey cabinets and a light natural wood countertop to layer neutrals in a subtle and soothing way.
8. Create Surprising Contrast
Another unexpected way to use grey in your kitchen is by making it the lighter of two contrasting colors. A light grey on your cabinets with a dark marble countertop creates a bold look. You can add black appliances and even matte black hardware (a popular trend right now!) to keep the look going, and a light subway tile backsplash with dark grouting pulls it all together. It's a unique twist on a black and white kitchen!
9. Don't Paint, Stain
Painting your cabinets has a lot of appeals, but a stained cabinet might have the look that your kitchen needs. While painted cabinets can be more opaque with a variety of finishes, stained cabinets allow the natural wood grain to show through. Light or dark grey wash over wooden cabinets creates a rustic, 'shabby chic' effect perfect for natural, farmhouse-style kitchens.
10. Go With A Full Farmhouse Style
While cool grey cabinets might seem like a more natural choice for sleek, modern kitchens, you can still do the full farmhouse style with it! Pair the grey cabinets with a white farmhouse sink (also known as an apron sink) and woodblock countertops. The more wooden elements, the better: natural wood floors and exposed wood beams are perfect natural accessories for a farmhouse kitchen. Finish off the look with pieces like fresh flowers and decorative mason jars.
Grey may be neutral, but it has just as many design options as any color of the rainbow. Whether you want your kitchen to look bright and airy, chic and modern or rustic and classic, you can use a grey shaker cabinet to complete the look.