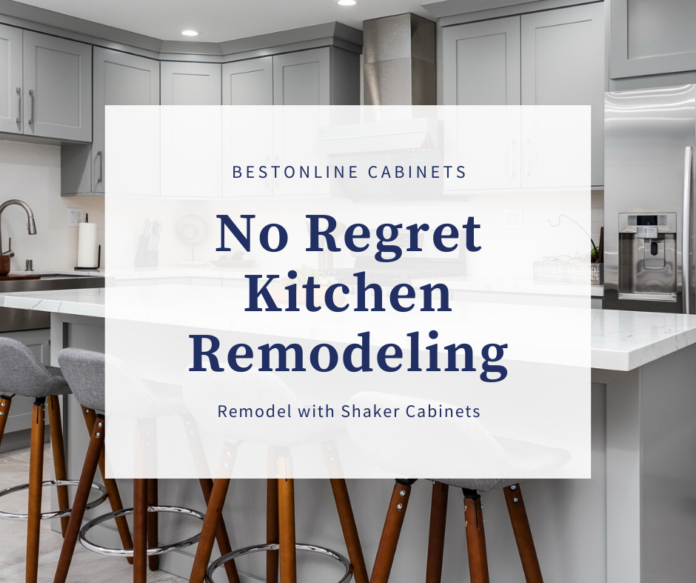 Whether you're planning a massive remodel or a quick refresh to your kitchen, there are lots of different styles to go with. You might be tempted to give your kitchen a trendy makeover with the latest styles, or go for a classic space by adding a traditional touch. No matter what you plan on doing with the most important room of your home, you need to create a functional and stylish space that you can live with every day. Sinking money into a major makeover and then not loving the results is a major pain! Here are some tips for a no-regret kitchen remodeling job.
1. Start with the Cabinets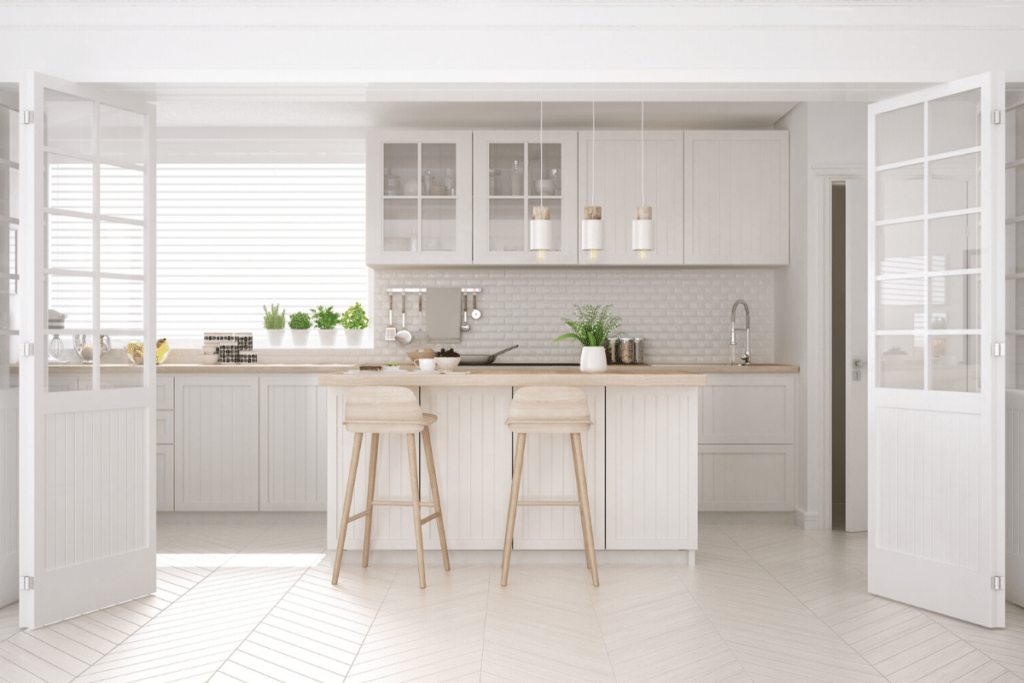 Changing your kitchen cabinets will guarantee a big impact in your space! New cabinets can transform the look of your kitchen, increase functionality and even add to the value of your home! Shaker style cabinets are the perfect solution for any kitchen. Their classic, timeless style will look good for ages, and their versatility will make them work in any design.
Shaker cabinets can work as natural wood or painted. White shaker cabinets are a popular design choice, but colors like navy blue, red, grey or even black can work in your kitchen, depending on the style you're going for. Make sure to use a timeless color palette instead of opting for a trend if you're truly hoping to make your kitchen's look last.
2. Pick Stylish and Functional Countertops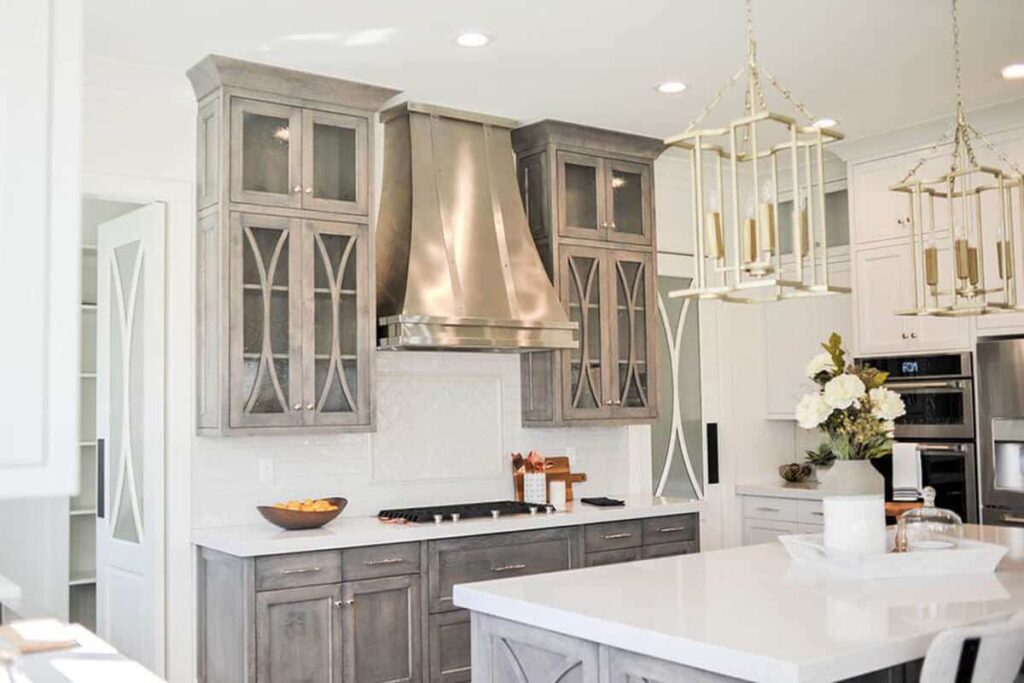 When picking out the countertops for your kitchen, you might be tempted to choose a budget-friendly laminate countertop. However, these cheaper alternatives are not as strong and can chip or wear over time. Instead, you should take the plunge and splurge on a more durable countertop, like granite or quartz. These countertops are not only a stunning natural stone, but also are low-maintenance and resistant to wear and tear. Concrete and butcher's block countertops are also desirable choices thanks to their combination of style and substance.
3. Upgrade Your Appliances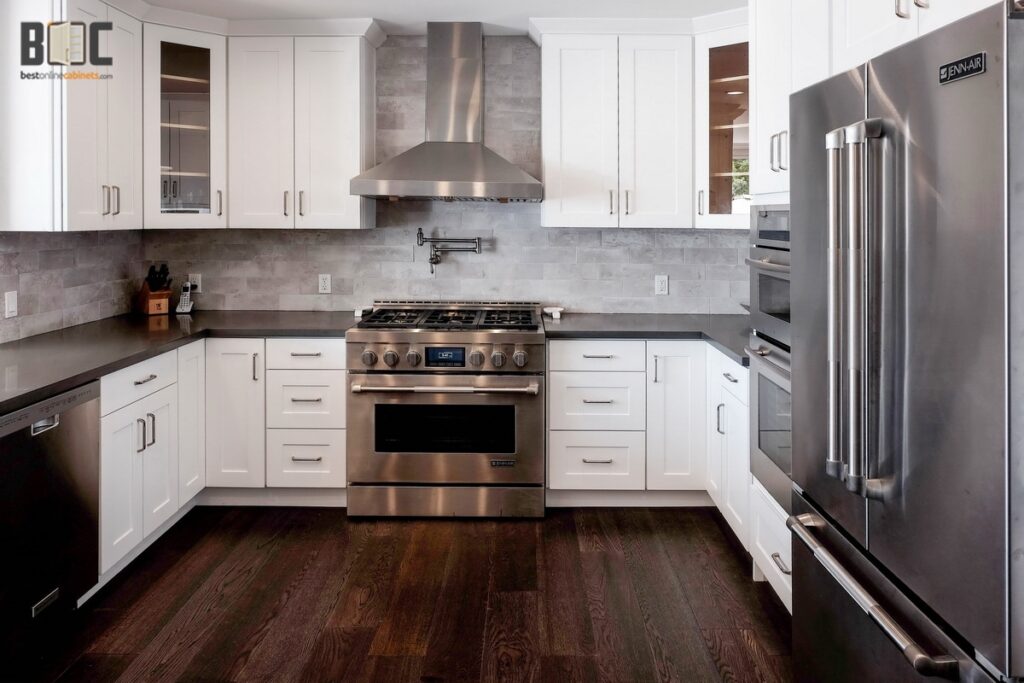 Nothing makes a kitchen look dated quite like an out of date microwave or a barely functioning fridge. A stylish kitchen remodel can draw attention to the fact that your appliances are looking worse for wear. You can also upgrade to new models with life-changing features, like smart fridges with a touchscreen to manage groceries, or energy-efficient appliances to make your kitchen more green — and more cost-efficient too.
4. Change Your Sink and Faucet
Your kitchen needs will change over time as your family grows and changes, and your sink is no exception. For example, you may want a deep apron sink for bathing babies or pets, or a hands-free faucet for busy family meals.
Stainless steel is a classic look for sinks and faucets, but you can always make a statement and go bold with brass, rose gold or matte black. Bold accents like these can amplify the effect of your kitchen remodeling job.
5. Choose the Right Backsplash
A backsplash is a blank canvas. You can use it to create a focal point in your kitchen, or keep it simple to allow the eye to be drawn elsewhere. You can tile your backsplash to the ceiling to create the illusion of height in a smaller kitchen, or create a sleek, streamlined look.
Think about your kitchen's color palette when selecting backsplash. If your shaker cabinets are white and you're looking to keep things minimalist, you might opt for a white subway or herringbone tile. However, if you're wanting something more modern, you might match your backsplash to your countertops by using a bold marble for both.
6. Keep Things Light and Bright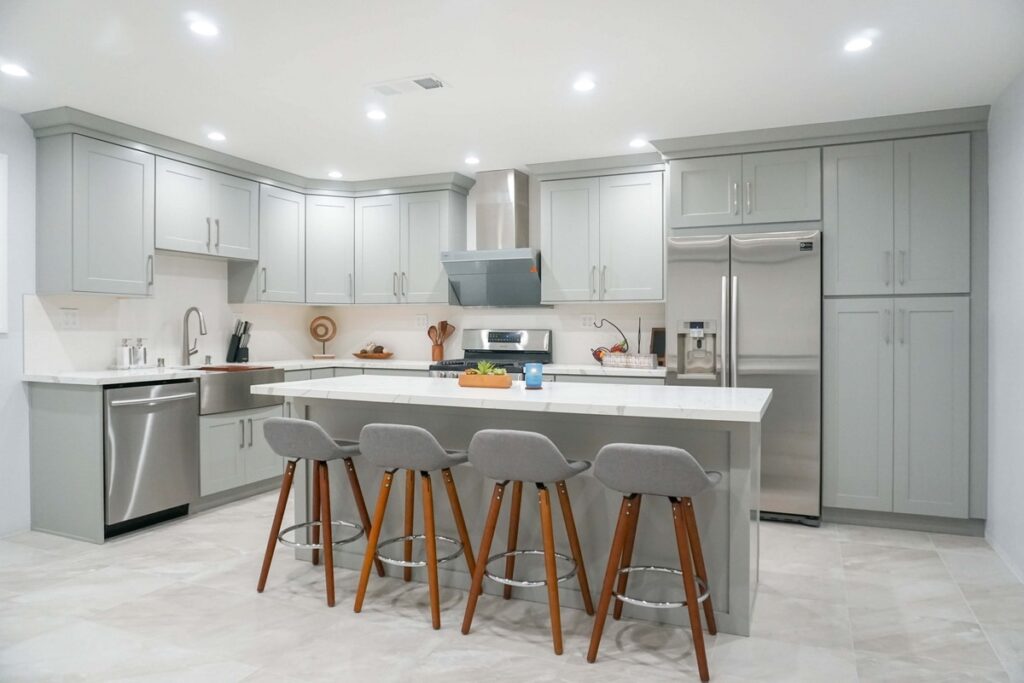 The lighting is a kitchen's secret weapon. Natural light helps a kitchen feel bright and airy, while overhead lighting helps illuminate the space. If you're lucky enough to have a lot of natural light in your home, take advantage of it in your kitchen with large windows and light curtains.
In kitchens, you should layer different types of lighting that serve different purposes. You can have track lighting for general brightness, task lighting for under cabinets or over kitchen islands or decorative pendants or chandeliers for visual interest.
7. Don't Forget Cabinet Hardware
An easy way to change the look of your kitchen is by changing your cabinet hardware. If you want your kitchen to look modern, try a sleek stainless steel pull. If you're going for a farmhouse look, you might want to try oil-rubbed bronze knobs. Best of all, since hardware is relatively inexpensive and easy to switch out, you don't have to feel committed to one style forever!
It's important to make sure your hardware is comfortable and durable enough for daily use. Pulls or knobs that are too sharp or awkwardly shaped might cause discomfort in your hand over time.
8. Add a Kitchen Island
If you have the space in your kitchen, an island is the perfect addition. It can provide extra storage and prep space, as well as a spot for entertaining. Adding bar stools to your kitchen island can give you extra seating in the kitchen and make it a hub for the family to do homework, have breakfast together or just hang out.
If space is an issue, you might want to look into a movable island or a kitchen cart. This will help you maximize available space by rolling it into place when you need the prep space, and putting it away when you're entertaining and need to flow through the room more easily. Don't focus your whole kitchen remodeling job on the island.
9. Use Creative Storage Solutions
Clutter will make you tired of your kitchen more than anything. Making sure everything has a proper place is an important step in your kitchen redesign plan! You can install pull-out organizers in your lower shaker cabinets to store pots and pans or even garbage and recycling bins to keep them out of sight! If you are worried about a lack of space, take advantage of corners by installing Lazy Susans. Your kitchen island can also become a place of additional storage: try installing a pot rack overhead as a decorative element, and extra shelving on the island to keep cookware.