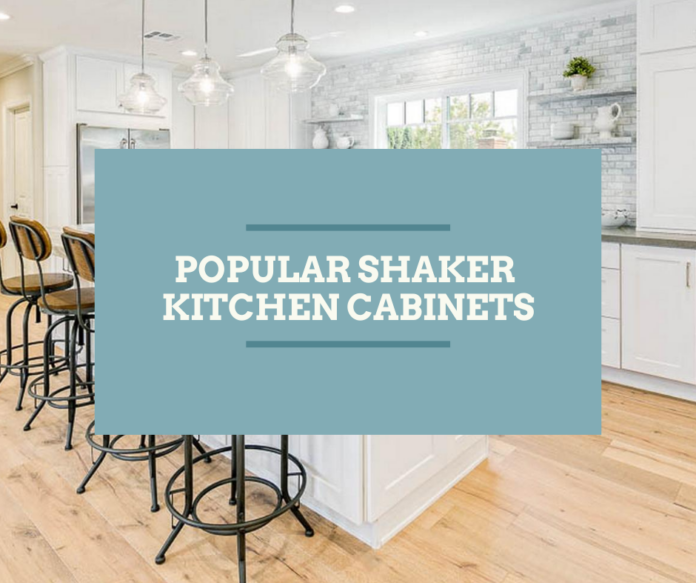 Shaker cabinetry is the gold standard of kitchen cabinets, thanks to their utilitarian appeal and versatile design options. They are essential for storage, but can also be the crown jewel of your kitchen, providing style and design to the space. If you're designing or renovating your kitchen, there are lots of unique ways to style your shaker kitchen cabinets. Check out 10 of styles and colors for the most popular shaker kitchen cabinets.
Use Unique Colors
Playing with the color of your cabinets is one of the easiest ways to liven up your kitchen and give the room personality. Manufacturers offer plenty of bold shades now like black, navy or emerald green, but if you can't find the perfect hue you can always paint them yourself! Customizing the color of your cabinets to perfectly fit the style of your kitchen is a great way to make sure your popular shaker kitchen cabinets really pop.
Add Open Shelving
Open shelving is becoming a popular trend for kitchens of any style, whether it's rustic farmhouse or clean and modern. Keeping your lower shaker cabinets and adding open shelving to the tops can create the illusion of space in a smaller kitchen and also show off knick-knacks or special dinnerware for an extra design touch. You can keep your color scheme flowing through the items you choose to display: for example, dark green cabinets on the bottom can be complimented by a green vase on the open shelves, or an all-white kitchen can make colorful red and orange plates really stand out.
Natural Woods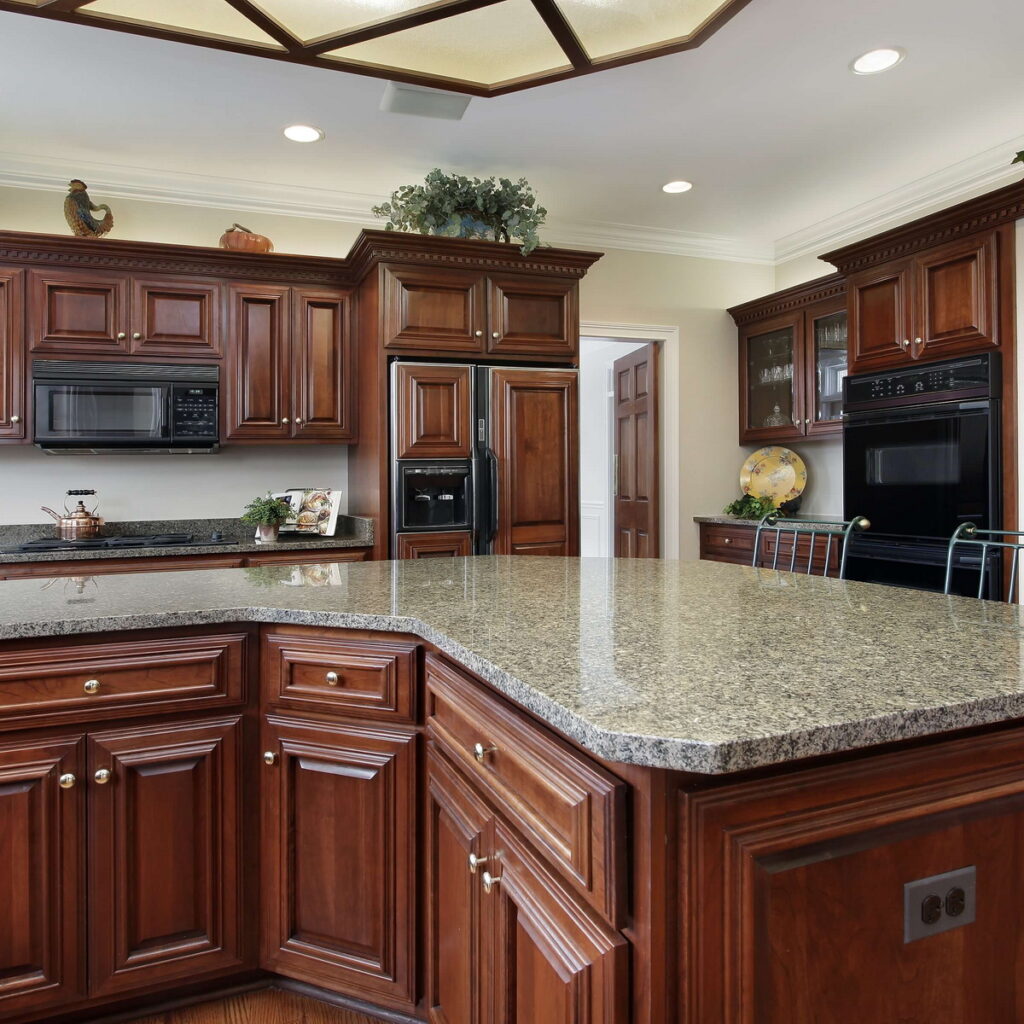 Natural wood cabinets were the choice for homeowners for decades before painted or lacquered cabinets began to rise up, but after a nice break natural woods are starting to make a comeback. Oak wood cabinets are a great choice for their neutral color and versatility — you can find natural oak cabinets in French cottage, Scandinavian style or rustic kitchen.
Go for a Clean and Modern Look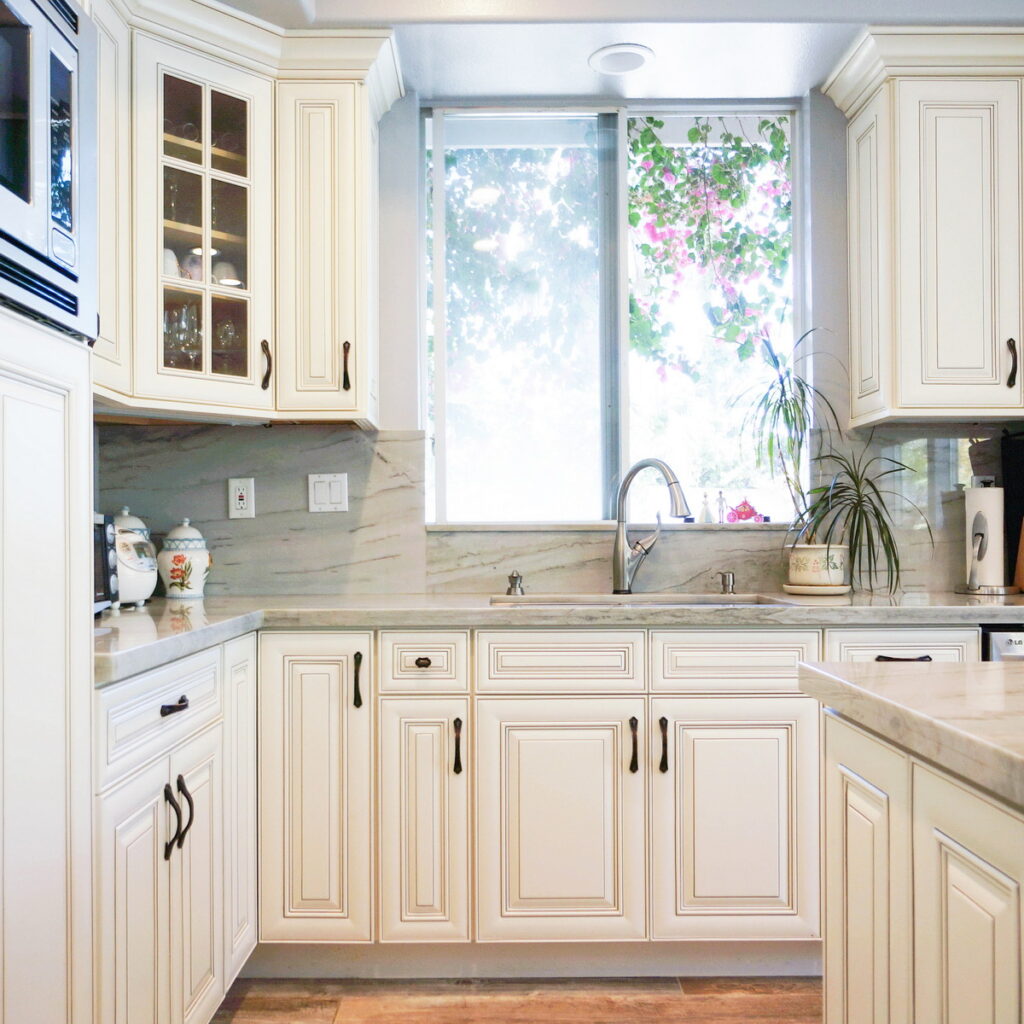 One of the most popular ways to style your shaker kitchen cabinets is to keep the design as clean and modern as possible. Shaker cabinets are renowned for their simple, unfussy design, which makes them a natural choice for modern kitchens! Choose sleek hardware and keep your countertops uncluttered for a minimalist look. This looks particularly striking in white kitchens: you can pair your white cabinets with silver or chrome bar pulls and a white marble countertop for a clean look that isn't too clinical or boring.
Mix and Match Finishes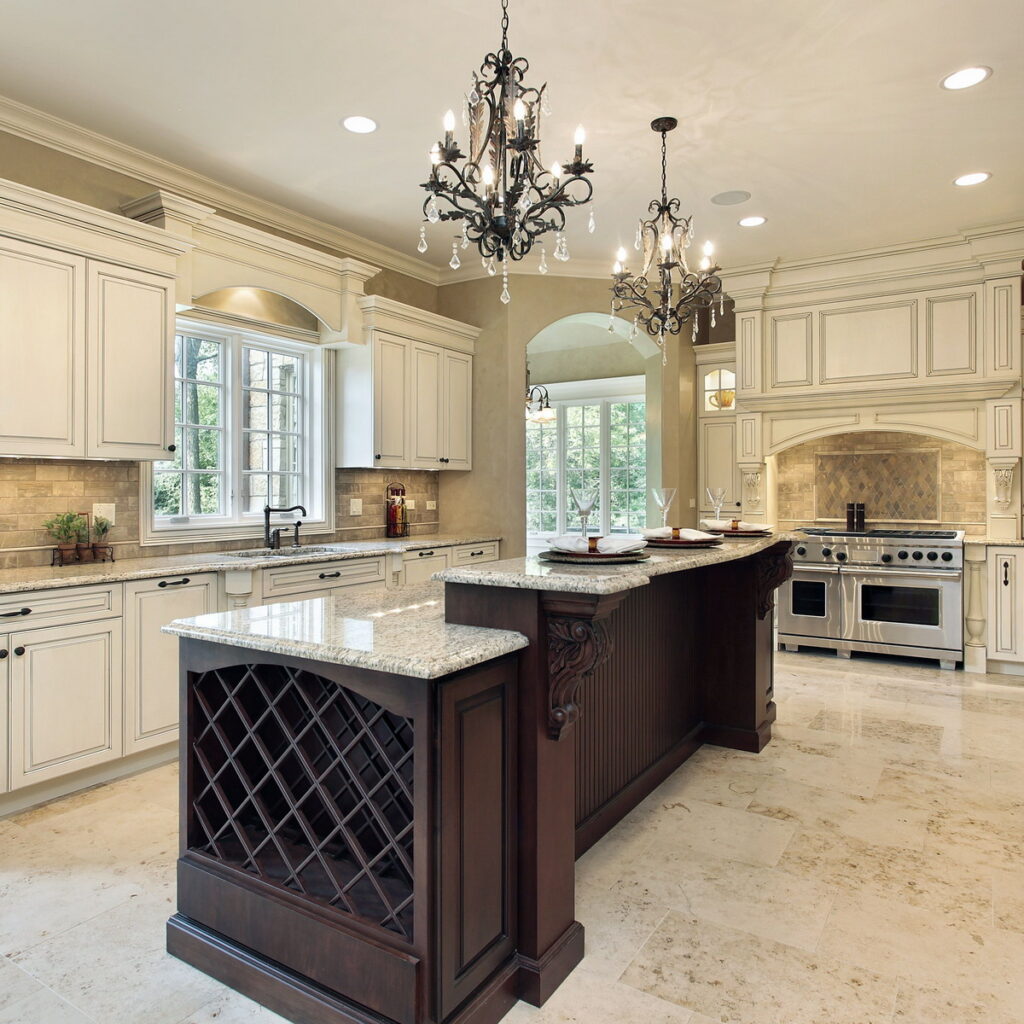 Who says you have to stick to just one style? With so many finishes and colors available, you can mix and match for a completely unique look. Try doing upper cabinets in white and lower cabinets in a dark color like black or navy blue to create a dramatic contrast, or use a different color on your kitchen island cabinetry. Since the island is separate from the other cabinets, you can try something bold like black or chocolate brown to make it stand out from your lighter cabinets. The more neutral you keep the walls, floors and countertops, the more fun you can have with bold color combinations on your cabinets.
Make a Big Impact
One emerging trend in kitchen design is to create unique pieces with your cabinetry, like adding floor to ceiling cabinets or transforming a pantry into a specialized storage space. Just because cabinets are functional doesn't mean they should be boring! A pantry cabinet can get new life with painted shaker doors, decorated feet and lighting, turning it into a dramatic piece that mimics a hutch or an armoire.
White Popular Shaker Kitchen Cabinets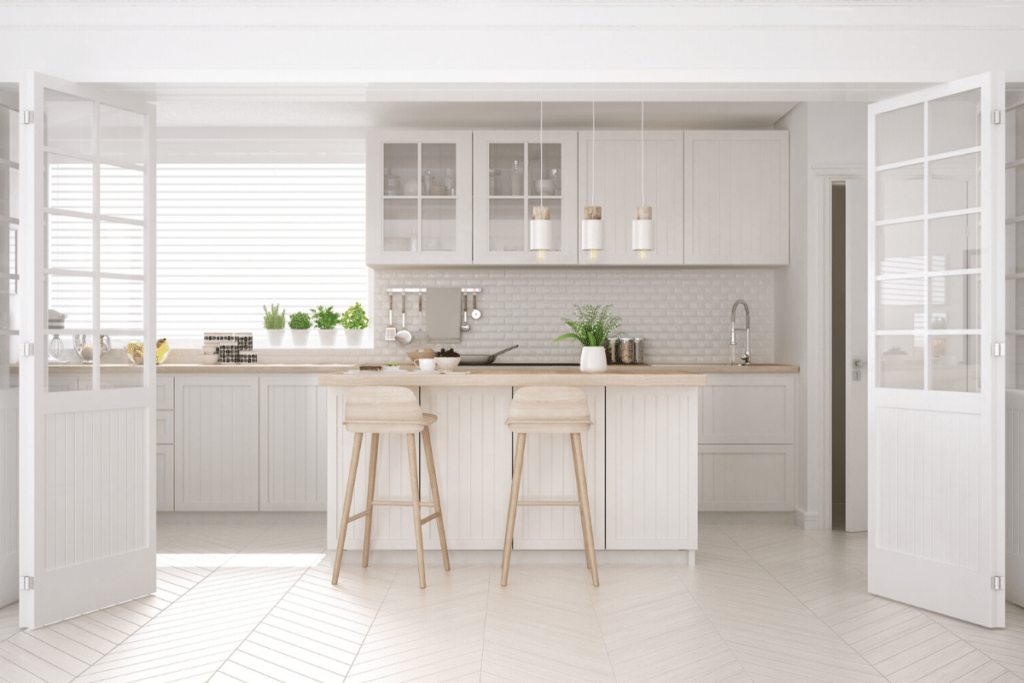 While colorful shaker cabinets are popping up in more and more kitchens, white is still in style! In fact, experts predict white kitchens aren't going out of style anytime soon. White is popular since it's flexible and can work in bright and modern spaces, rustic country looks and even chic, high-end kitchens. White is also a great color choice for smaller kitchens or ones without much natural light, as it brightens the room and creates the illusion of space.
Go Grey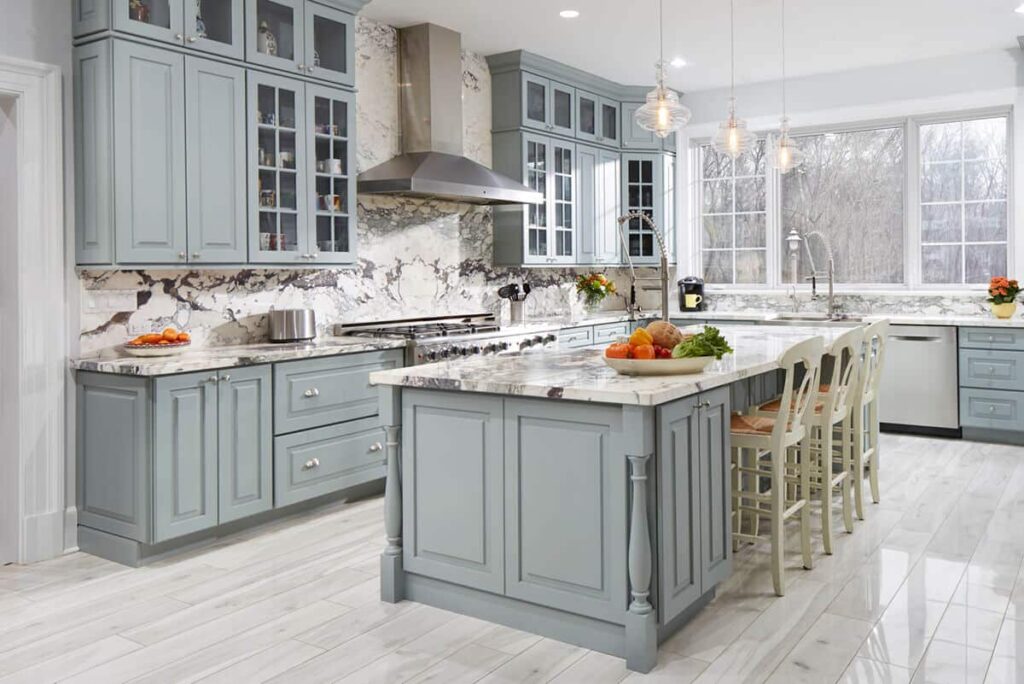 If you want the lightness and neutrality of white but with a bit more dimension, grey is the color for you. Grey is perfect for kitchens: it can be cool or warm-toned, light or dark, and pull in undertones like blue or beige. A lacquered blue-grey shaker kitchen cabinet is a chic style for Scandinavian kitchens, while a dark grey can look modern and trendy, and a grey wash over natural wood is perfect for traditional or transitional kitchens. It's a shade that has plenty of room to play with!
Transitional Never Goes Out of Style
Transitional is a mix of old and new designs, which by definition makes it hard to ever go out of style! Modernizing old pieces is the perfect way to keep the traditional look to your kitchen without having it look dated. You can mix and match old and new styles like traditional wood cabinets with modern hardware.
Another way to blend the modern and traditional in your kitchen is with open frame cabinet doors. These are reminiscent of the kitchen cabinets that were traditionally used to display fine china, but can be updated for a more transitional look by being paired with popular shaker kitchen cabinets. Much like with open shelving, the mix of lower shaker cabinets and upper glass front cabinets can also help your space look brighter and more open.