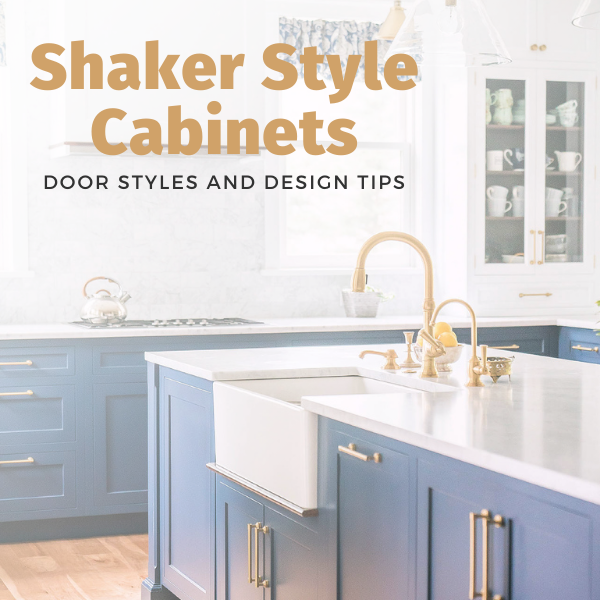 Shaker kitchen cabinets are some of the most popular cabinet door styles. Shaker style cabinets are simple and versatile, fitting effortlessly into any style of kitchen. The style is characterized by a five-piece door with a recessed center panel. This can be adapted into modern kitchens or more traditional spaces. If you're looking for inspiration for your next kitchen remodel, check out these shaker cabinet door styles and design tips.
Simple vs Detailed Cabinet Doors
Shaker style cabinets have been around for hundreds of years and continue to be a popular design choice thanks to their clean lines and classic looks. They also come in a variety of colours and finishes, and can complete your kitchen no matter what style you're aiming for.
Shaker style cabinets are commonly found in modern, farmhouse or Scandinavian-style kitchens, where the clean, simple lines are welcome. However, Shaker cabinets can also be adapted for more traditional and transitional spaces as well by adding extra details. Beadboard or decorative edging on the doors can be used to adapt shaker cabinets into more traditional kitchen spaces. You can also add crown molding above your cabinets to instantly add embellishment to the space.
Style Tips For Shaker Kitchens
How you choose to style your kitchen will depend on lots of factors, like the size of your space, the layout of your kitchen as well as your own personal taste. However there are certain elements that really work with shaker cabinets, and you may want to incorporate into your space.
For example, real wood is a staple in Shaker kitchens. You can either leave the wood natural or painted, particularly in white. This goes for your cabinet doors themselves of free-standing furniture you might want to include in your kitchen. This also includes your kitchen island, which you can use to display decor items.
Hardware Choices for Shaker Style Cabinets
When it comes to styling your kitchen cabinets, there are plenty of options. One of the most simple and effective ways to transform your cabinets is by adding the right hardware. Different knobs or pulls will transform your shaker cabinet doors and create a new and striking look. Here are some tips for choosing the right hardware for your cabinets.
Bar Pulls Are a Classic Choice
Tubular bar pulls are the most popular choice for shaker kitchen cabinets. These sleek and simple pulls are as versatile as the cabinets themselves, and the bars will run parallel to the doors' lines for visual symmetry. Silver is a popular choice for tubular pulls. If you want your kitchen to look more modern or contemporary, opt for flat bar pulls instead of tubular, and use them on both cabinet doors and drawers for a clean and consistent look.
Oil Rubbed Bronze Looks Best in Rustic Kitchens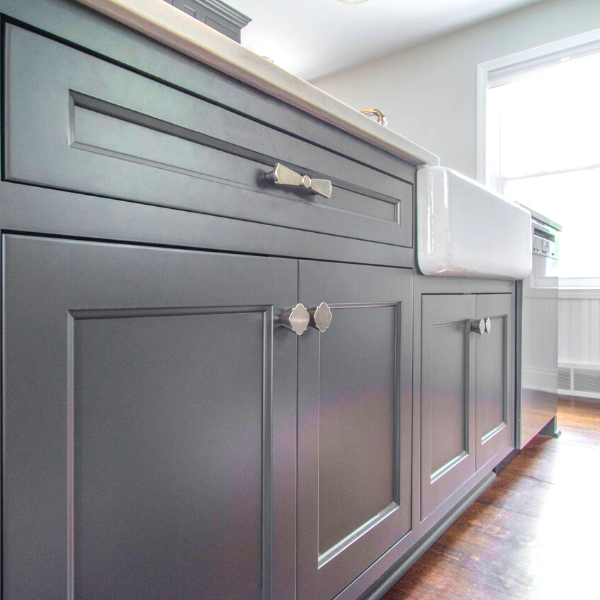 If you are creating a farmhouse or rustic inspired kitchen, you should steer away from chrome or stainless steel finishes and choose something that has more of an unpolished feel. Oil rubbed bronze is the best finish for these kitchens, and can look beautiful when paired with white shaker cabinets. You can alternate between cup pulls and cabinet latches to create a unique look, or stick to one style throughout the space.
Create an Elegant Look Using Glass Knobs
If you're aiming to create a more traditional kitchen, you might want to opt for glass knobs. These are elegant and also have a vintage appeal. Acrylic knobs will give you the same look, but are more durable and oftentimes more affordable than glass. You might want to also try knobs that are more detailed and showy. With the simple shaker style cabinets, a flashy piece of hardware can truly steal the show without making your kitchen look too fussy or gaudy.
You Can Skip Hardware All Together
If you're looking for a truly minimal style for your kitchen, you might want to forgo hardware completely! This will give you the cleanest design possible, perfect for modern minimalist kitchens, particularly Scandinavian style homes. Instead of hardware, you can install magnetic strips inside the cabinets that hold them closed.
Best Colors for Painted Shaker Cabinets
While shaker style kitchen cabinets are often left in their natural wood finish, many homeowners like to paint their cabinets to create unique kitchen appearances. Some of the most popular colors to paint your cabinets are neutral shades, like white, grey or black.
White is the most popular cabinet color and has been for several years now! People love white shaker cabinets because they tend to brighten up the space. White reflects the light and creates the illusion of larger rooms, which can help small or dark kitchens. White can work with modern kitchen designs, as well as farmhouse kitchens, which is another popular home trend. In farmhouse kitchens, you might want a more faded or off-white shade to make the home look lived-in, while a modern kitchen might opt for a pure white cabinet in a glossy lacquer for an extra-sleek look.
Grey is an emerging trend in home decor, particularly with kitchen cabinets. This color is a perfect alternative for those who like the neutrality of white kitchens, but don't want it to look as stark or clinical. Grey shaker cabinets can be warm-toned or cool-toned as well as light or dark, making them a truly versatile choice.
Black cabinets are a look that won't work in every home but can look elegant and dramatic when pulled off properly. Glossy or matte finishes bring extra attention to the dark and dramatic cabinets, but if you're worried about doing too much, you can start with two-toned cabinets. This trend allows you to play with color or more dramatic looks without overwhelming your kitchen. You can paint your lower cabinets black and the uppers white for a simple contrasted look that's perfect for modern kitchens. Two-toned cabinets also work in colors like grey or even shades of blue or green, particularly in Scandinavian style kitchens. A pop of color on your lower cabinets is just enough to create visual interest and make a truly unique space.