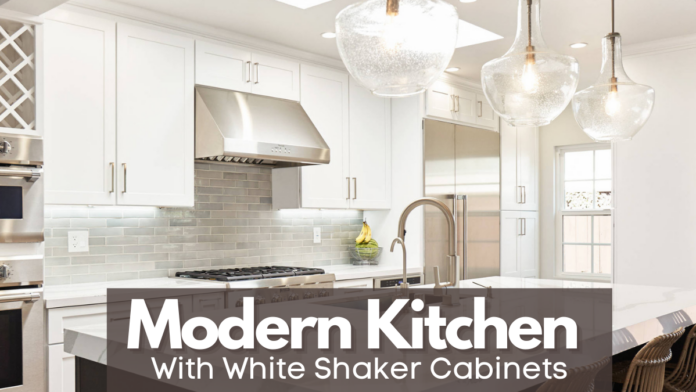 Kitchen design has changed a lot of the years, with new styles and trends constantly emerging. While some items, like white shaker cabinets, are always in style, to create a truly modern kitchen you need to add in clean lines and simple trends. Here are some tips for creating modern kitchen design ideas using white shaker cabinets.
Streamline Your Kitchen
Modern design is characterized by clean lines and simple decor. It's perfect for kitchens since it's the heart of the home and a place you'd like to keep stress-free and without clutter. One way to keep the kitchen looking clean and simple is by removing your upper wall cabinets to open up visual space and allow you to use your countertops more strategically. You can bring in larger appliances on the counters, or install open shelving to keep important items close at hand. It's about the convenience as much as it is the look.
Another way to keep the streamlined look is by cutting down on clutter and using your space more efficiently. Update your shaker cabinets with storage solutions like appliance garages, drawer dividers or roll-out trays. This will help keep your space clean and organized.
Use Color Sparingly
There are lots of places in the kitchen where you can bring in pops of color. White shaker cabinets can be paired with different colors or wood stains for a modern look that isn't as stark or boring as an all-white kitchen. An emerging trend is two-toned cabinets, where the upper and lower cabinets are in different colors. White upper cabinets keep the room looking big and airy, while dark-toned lower cabinets like black, navy or green can ground the room and make the space look more elegant and luxurious. Just make sure the color does not overpower the room, especially as dark colors can make a room feel smaller.
If you'd rather leave the cabinets as is, there are plenty of other places you can incorporate pops of color into your kitchen. You can add color to your kitchen island, hutch, backsplash or even the walls to alter your space. You spend so much time in the kitchen anyway, why not fill it with your favourite color?
Opt for Quartz Countertops
There are a lot of different countertop materials out there, from marble to laminate to concrete, but quartz is ideal for modern kitchen design ideas. It is durable and long-lasting and is much more low maintenance than alternatives like granite or woodblock. Quartz is also a versatile material in terms of style. You can choose natural shades like white, grey or taupe for your countertops, and get a subtle veining that mimics natural stones. If you want to lean into the clean, uniform look, some homes are opting for composite sinks that are made from the same material as the countertops. This not only keeps the modern, streamlined look, but can also make cleaning and maintenance easier. Quartz resists stains and scratches and can withstand high temperatures, making it a good choice for your counters and sinks alike.
Get Creative With Your Flooring
Hardwood flooring and ceramic tiles are two of the most popular options for modern kitchen design ideas, and they each come with their pros and cons. Hardwood is a stylish choice that can warm up a kitchen, but can be difficult to maintain. Some homeowners are getting creative and opting for ceramic tiles that mimic the look of hardwood! This gives you the warm, homey look in a material that is easier to clean and maintain over time.
Ceramic tiles are also a way to bring visual interest or color into your kitchen. You can opt for monochromatic tiles in graphic patterns for a contemporary look that won't feel too busy when paired with your white shaker cabinets. Tiles can also come in different shapes and sizes, from small penny tile to large planks, meaning you can make any kind of statement with your floors.
Bring In A Beautiful Backsplash
Speaking of all the creative things you can do with tile, a backsplash is another blank slate where you can decorate with tile. Subway tiles have been a popular choice in many farmhouse kitchens, but the look can be adapted into modern homes as well by choosing larger tiles with a dark grout for a graphic look. You can also pattern the tiles into different patterns, like chevron or diagonal, to spruce up the classic look.
Another modern way to design your backsplash is by using a large space. Instead of keeping your backsplash confined to the area behind your sink, you can tile up to the ceiling or even around the whole kitchen. Large slabs of marble, quarts or stainless steel can also make eye-catching and unconventional modern backsplashes.
Mix Your Metals
Keeping your kitchen uniform is not the only way to create a modern look. Eclectic kitchens can also look contemporary and stylish. You can achieve this look by mixing metals. You may love the look of a gold faucet, but find gold cabinet hardware that doesn't give the same pop against your white shaker cabinets. You can opt for black on the cabinets with gold at the sink and your space will still look sleek and modern, not completely hodge-podge.
There are lots of other places in the kitchen where you might have metals incorporated, like your light fixtures or bar stools. This is another place you can mix in your materials, choosing different metals completely or opting for pieces in similar colors with different textures. You also have the flexibility of choosing matte or sheen materials: the texture can add a different element without bringing too many different colours into the mix.
Put Your Kitchen Island to Work
The kitchen island is an underrated piece of furniture! It can be a style vocal point, a hub for entertaining, a workspace and a storage solution. Sometimes, it's all of them! For modern kitchen design ideas, your island can be used to make a design statement. You can get a waterfall island, covered in stone to match your countertops, which creates a dramatic look while still keeping your overall space clean and uniform.