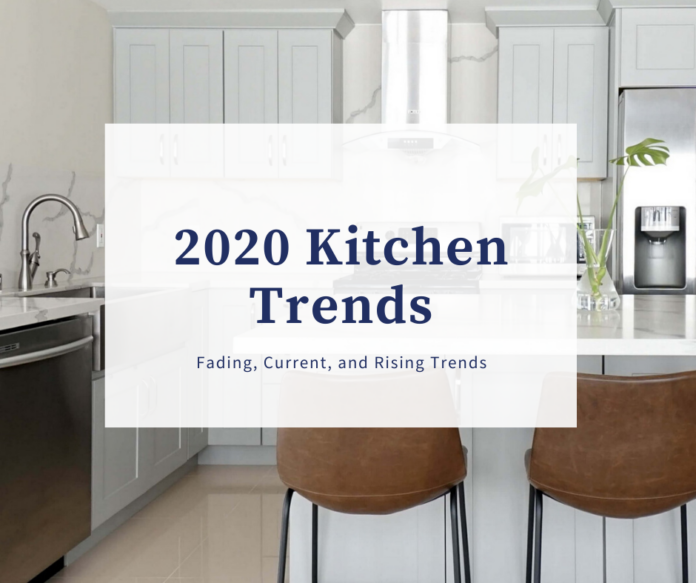 Kitchens are the best areas in the house. It's where everyone wants to be so they can smell the delectable meals cooking in the kitchen. That and to see what it is in the latest 2020 kitchen trends.
Keep your kitchen up to date with the latest trends. To help give you some ideas on how to design your kitchen, see what styles are in, and know which styles are fading.
In this article, you will learn kitchen trends that have been fading, most current trends, and trends that are on the rise. Design your kitchen in any fashion. It's 2020, so it's time to think about a new look. Go above and beyond.
Here are the 2020 kitchen trends.
Fading Kitchen Trends
Stainless Steel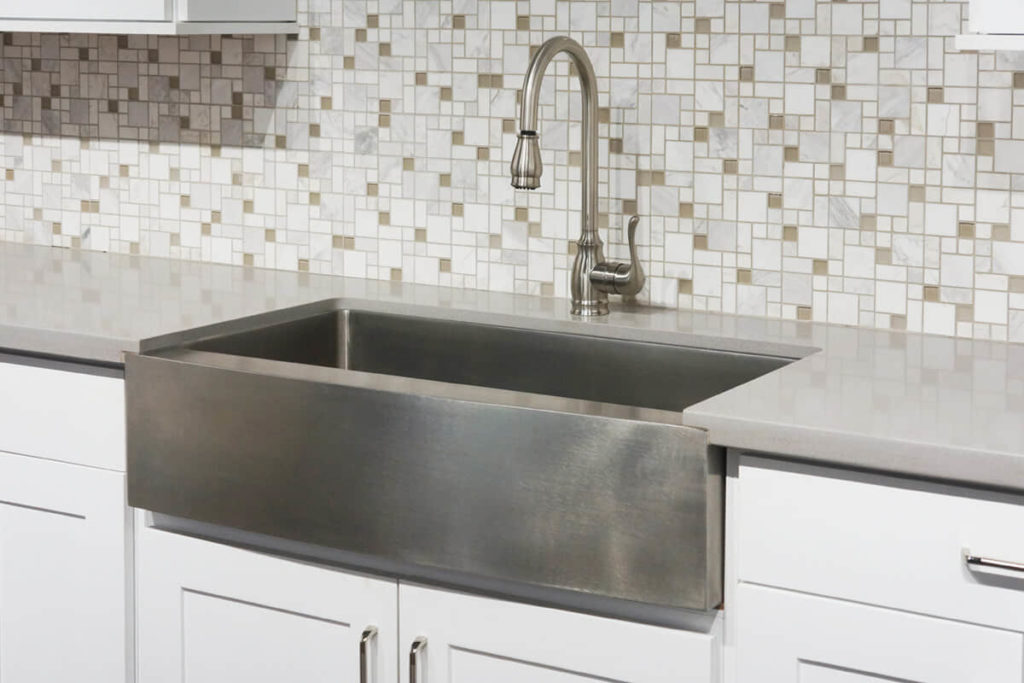 Over time, stainless steel has become an unpopular kitchen trend. Stainless steel is impossible to clean on any surface. Now it is time for a pop of color in the kitchen. There's a broader range of finishes available for your appliances.
Marble
Let's be real. Marble countertops look fantastic. Only you have to admit; marble is not an easy surface to maintain. It scratches, chips, and easily stains. Look into table surfaces that are easier to take care of so you won't have to go to all that work.
Plaster Walls
Plaster walls have been going out of date. They look too plain. Just like marble surfaces, it's not easy keeping them clean. Not to mention, plaster walls stain easily. Give your walls a decorative look, but not one easily damaged from messes in the kitchen.
Open Concept Kitchens
For those who have gotten rid of the walls for their kitchen, that trend will soon be no more. Who wants to keep looking in that open kitchen to find those dirty dishes left in the sink? That's right, nobody. Do yourself a favor and keep those walls in the kitchen. You won't regret the idea.
Ceiling High Cabinets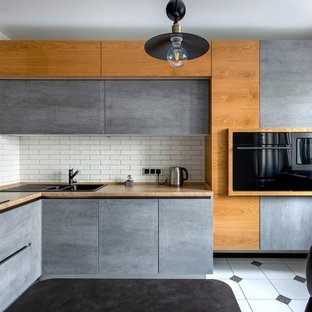 In the kitchen cabinet trends of 2020, cabinets that reach as high as the ceiling are fading out of popularity. Who needs a cabinet that they cannot reach? Cabinets are meant for storing any essential appliances, pots, and pans. Installing cabinets that are lower to the ground are becoming more of the 2020 kitchen trend.
Countertops with Tiles
Tiled ceramic countertops look beautiful, don't they? However, they are a pain to take care of. Have you ever put your drink on the counter only for it to spill and create a nasty stain in between those tiles? Tiles can break easily. You'll save a lot of money if you make your countertop something easier to take care of.
Microwave Installed Over the Stove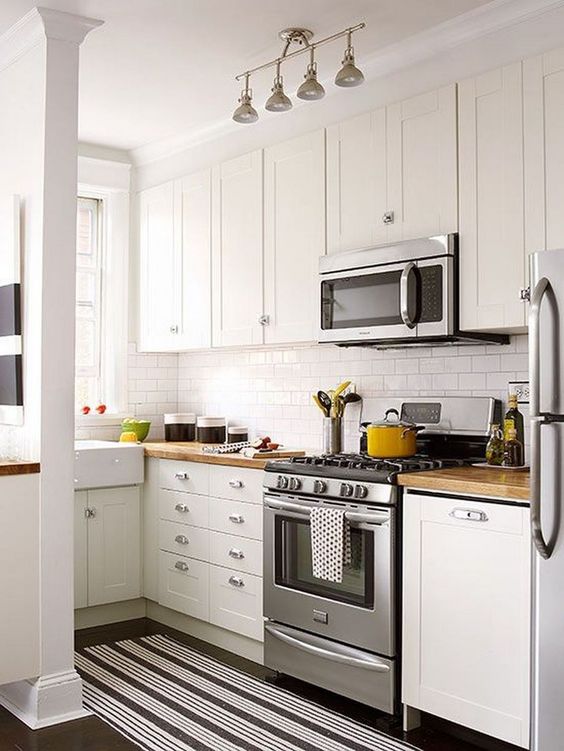 Microwave ovens obtain great use for heating up meals. Do you really need to place one that is over your head? For more suitable space, and safety reasons, countertops are a better home for microwave ovens.
Pot Racks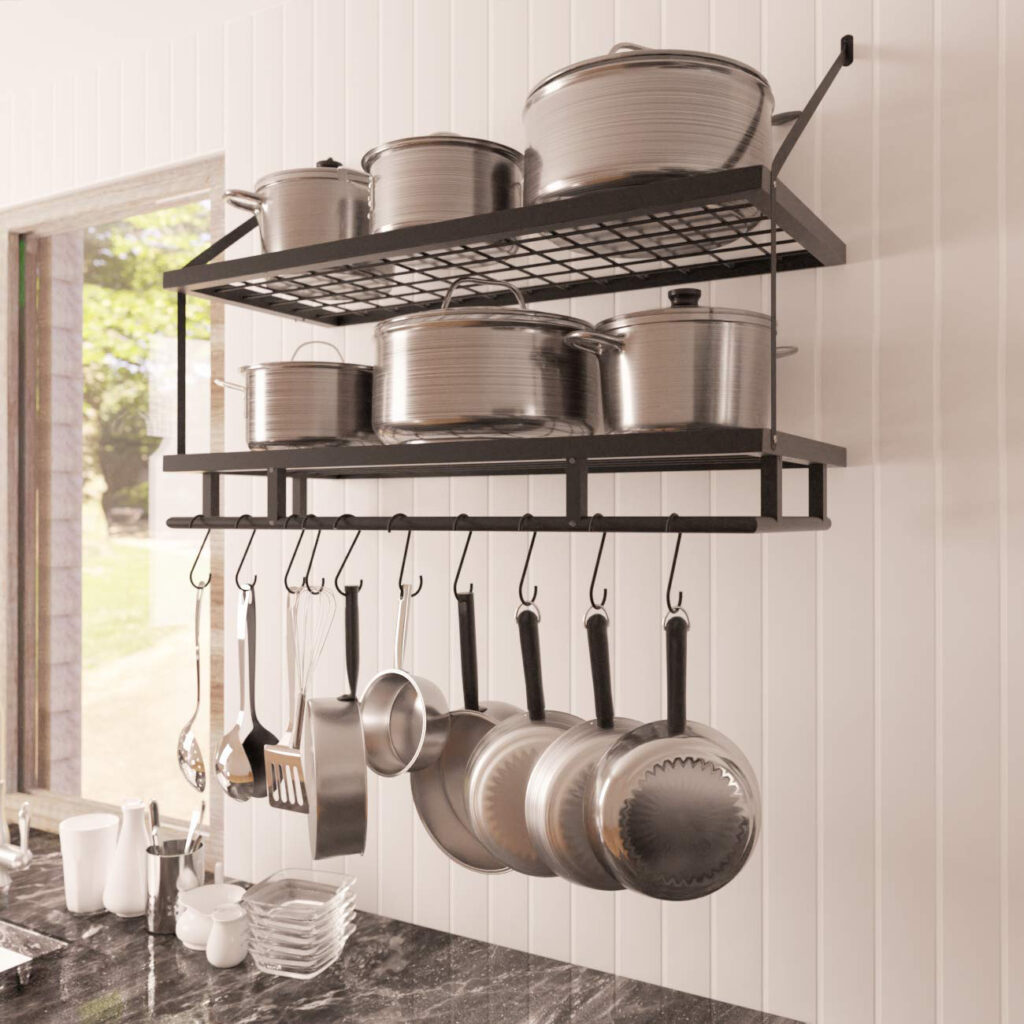 Having a space to put all your pots is great, except do you really need pots swinging over your head? Cookware does not need to be displayed. Dust collects all over the pots. Instead, get rid of the pot rack and make room for the pots in a cabinet. It's easier to grab in the long run.
Brass Hardware in the Kitchen
Metal has become very popular to use in the kitchen. That being said, brass was once a kitchen trend, but now it has been going out the door. Swap out that brass hardware for satin nickel
Current Kitchen Trends
Black and White Design
Black and white kitchens are the #1 on the list of giving your kitchen a crafty new look. Do anything you want with the tiles of the floor, the color of the walls, black cabinets, or white countertops. There's so much that you can do to give your kitchen a trendy look that it deserves. Just make it shout you.
Splashes of Color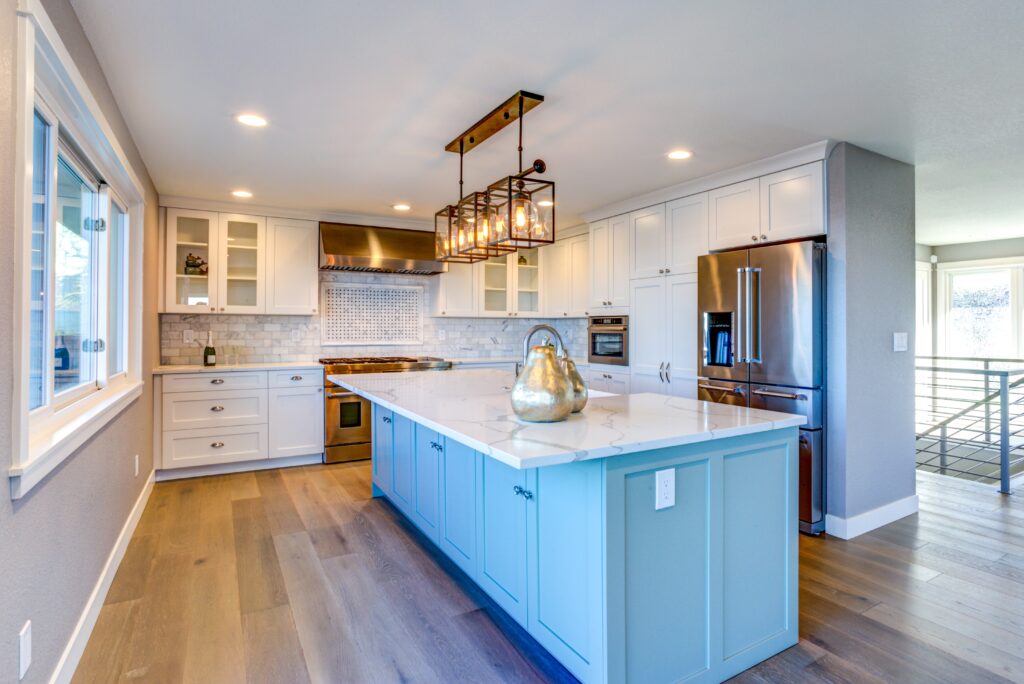 Envision it now. What would it look like if a gigantic wave splashed through your kitchen? That's right; it would look blue! Paint the kitchen with your favorite color. To test out a color, buy an assortment of test colors to see how they'd look on your wall. A bit of advice that we can give to you is never to start painting until you are satisfied with the color.
Pay Attention to the Ceiling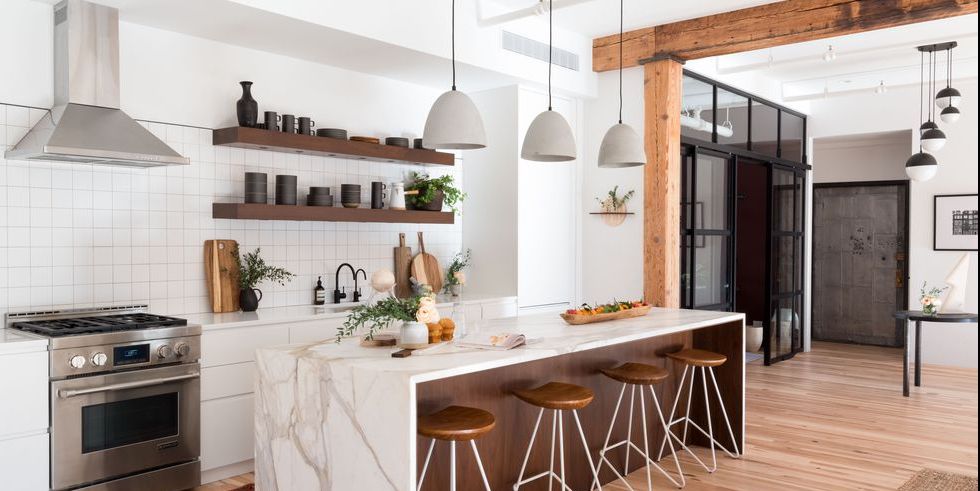 Ceilings should never be left out when it comes to re-designing your kitchen. We all look up at the ceiling at some point during the day. Give your ceiling a unique look compared to the rest of the kitchen. Add in a beam, light fixtures, or a pattern. Make it yours.
Gold Finishes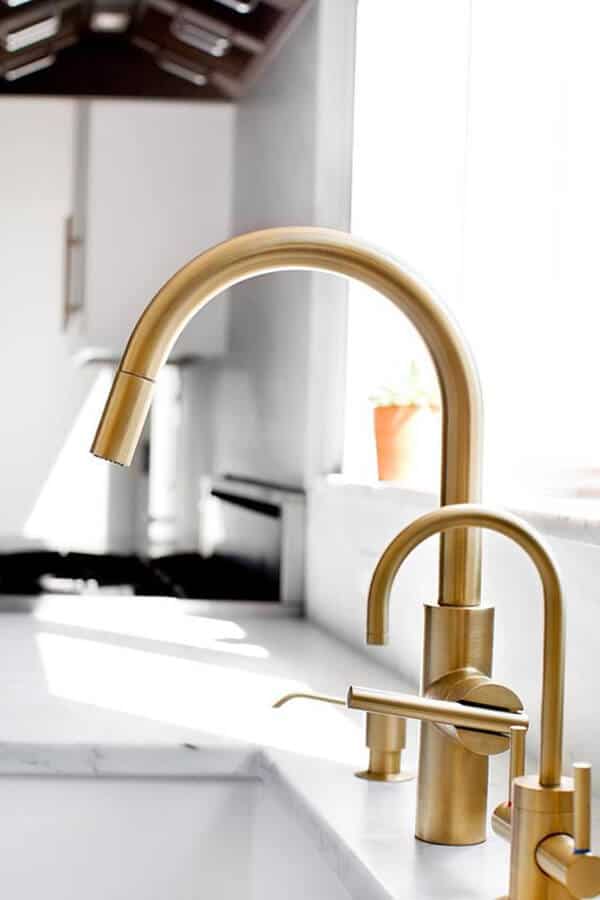 With the touch of a finger, everything will turn gold. That's right; gold has become a popular kitchen trend as of lately. Sinks are following a gold trend, making a statement in style.
Double Islands
Having an island in the middle of your kitchen comes in handy when you need extra space to place all those kitchen necessities. Now that larger kitchens are on the rise, island units have become a widespread addition to the needs of more space.
Walnut Finishes
Walnut cabinetry finishes have been on the rise for 2020 kitchen trends. The walnut wood is a rich, dark grained color that breathes a natural warmth to your kitchen space. Give your kitchen a walnut finish.
Curated Kitchen
Curated Kitchens have gained attention in 2020 kitchen trends. Make your kitchen look lived-in. Add a personal touch. Kitchens are one of the most important rooms in the house because its where meals are cooked. Families get together in the kitchen.
Make the kitchen feel homely. These types of kitchens are thoughtfully designed. It is a visual space. Carefully style the kitchen with artworks, decorative ceramics, cookery books, or anything that is of personal value to you.
Broken-Plan Living
Have you ever heard of 'Broken-Plan' Living? It has become the kitchen trend of 2020. The trend applies to an open plan design. Use screens, freestanding furniture, cabinetry, and house plants to create distinct zones and nest-like nooks intended for cooking, relaxation, and entertainment.
The Food Storage Room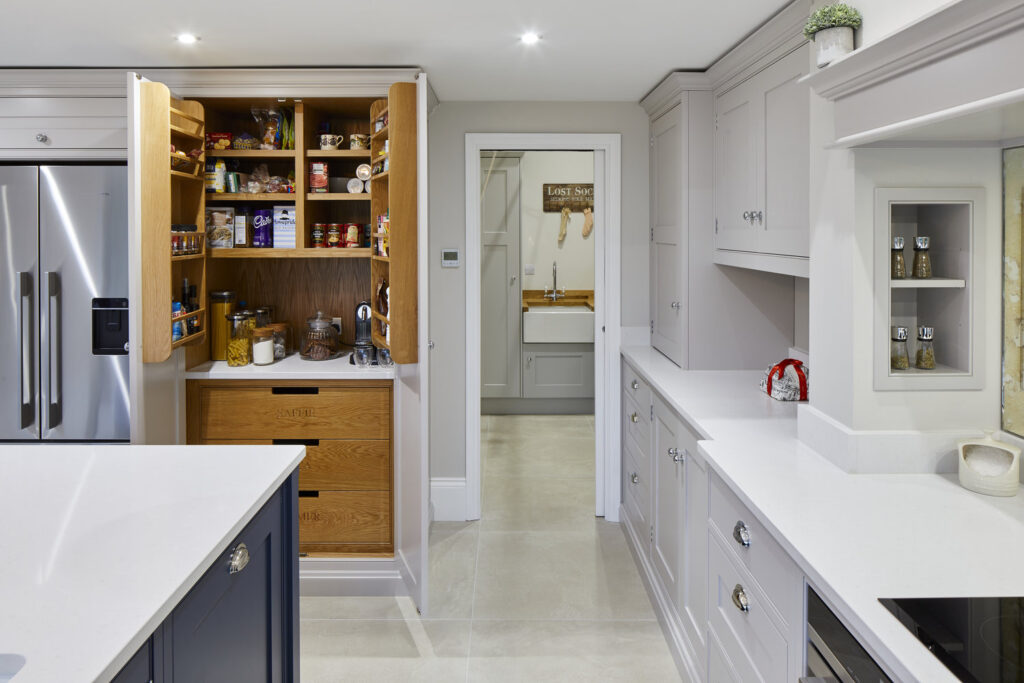 Snack time! Pantry rooms have become a popular trend. Some ideas for you to consider are kitchen larders or your very own pantry room. A kitchen larder is a stand-alone cupboard to keep all the snacks. Instead of shoving snacks into cabinets, create your own pantry.
Rising Kitchen Trends
Smart Kitchen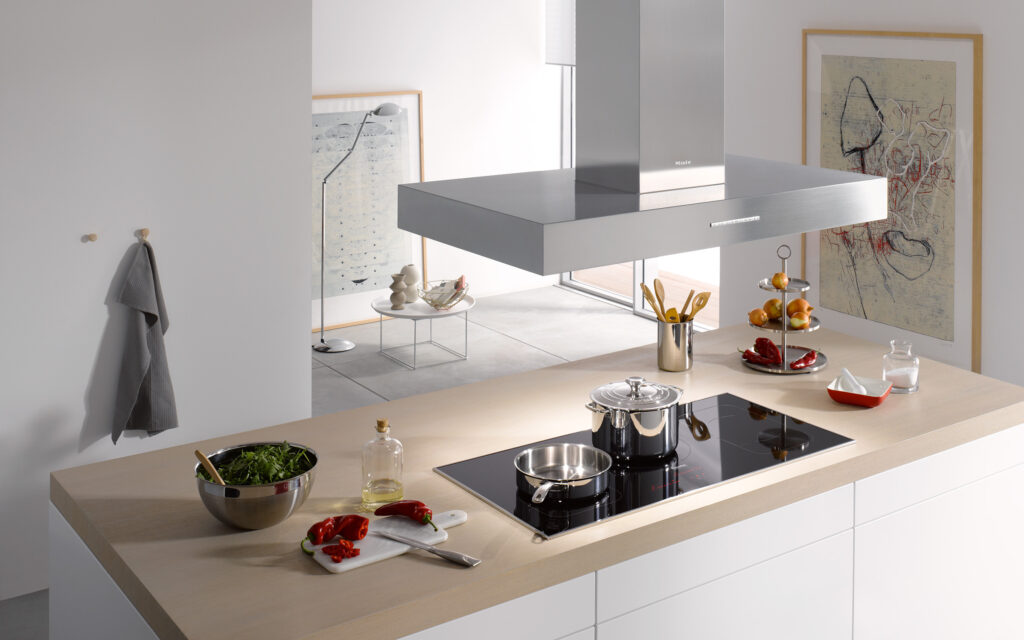 Technology has expanded over the years. Here's an essential rising kitchen trend that you should know. Sensors, smart gadgets, and other devices can be added for convenience to the homeowner. Add in motion sensor kitchen faucets, refrigerators that alert you of what foods you are low on, and an auto controlled lighting system.
Dark Colors in the Trade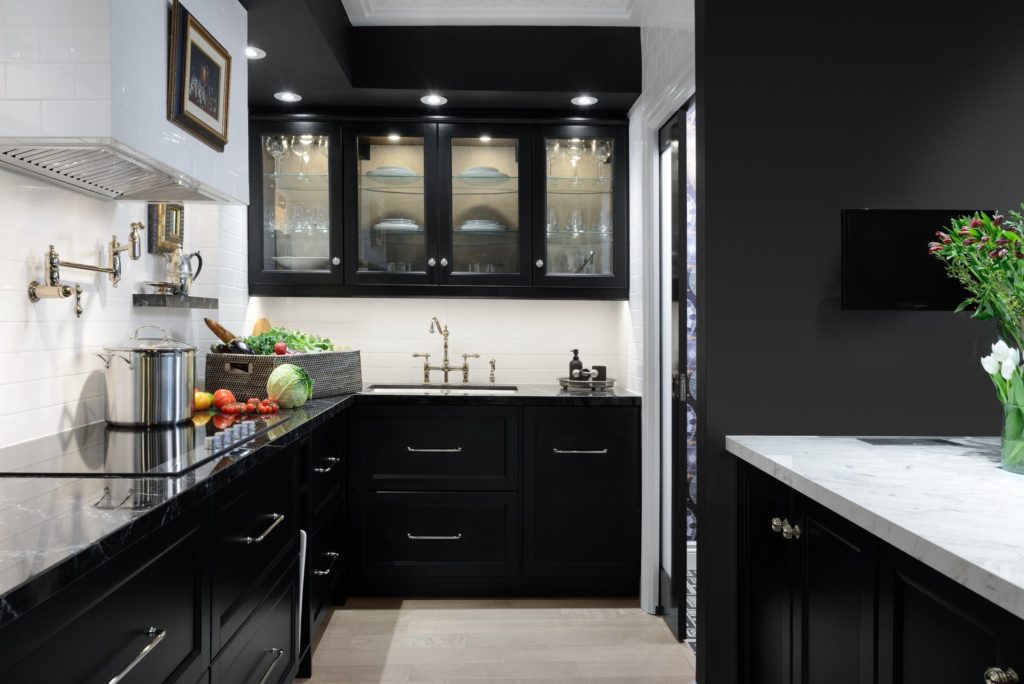 All white colored kitchen cabinets are going out of the trend. While they look nice in the design, the white kitchen cabinets easily get dirty. In the latest kitchen cabinet trends of 2020, dark kitchen cabinets convey a deep rich atmosphere.
Go for a bold look with dark shades of color that will make your home trendy. One tip for all you ambitious design seekers, don't make the kitchen look too dark. Mix finishes creating an accent or an additional pop of color.
More Storage Use in Cabinets
Are you tired of those kitchen cabinets that have space, but they don't have enough space? It's time for a change. Cabinets with more storage space are on the rise. Ways that will make cabinet storage easier are drawer dividers, tray dividers, roll-out trays, and wastebasket cabinets. These separate dividers make it easy to store all sorts of supplies.
Ceramic Tiling is Coming Your Way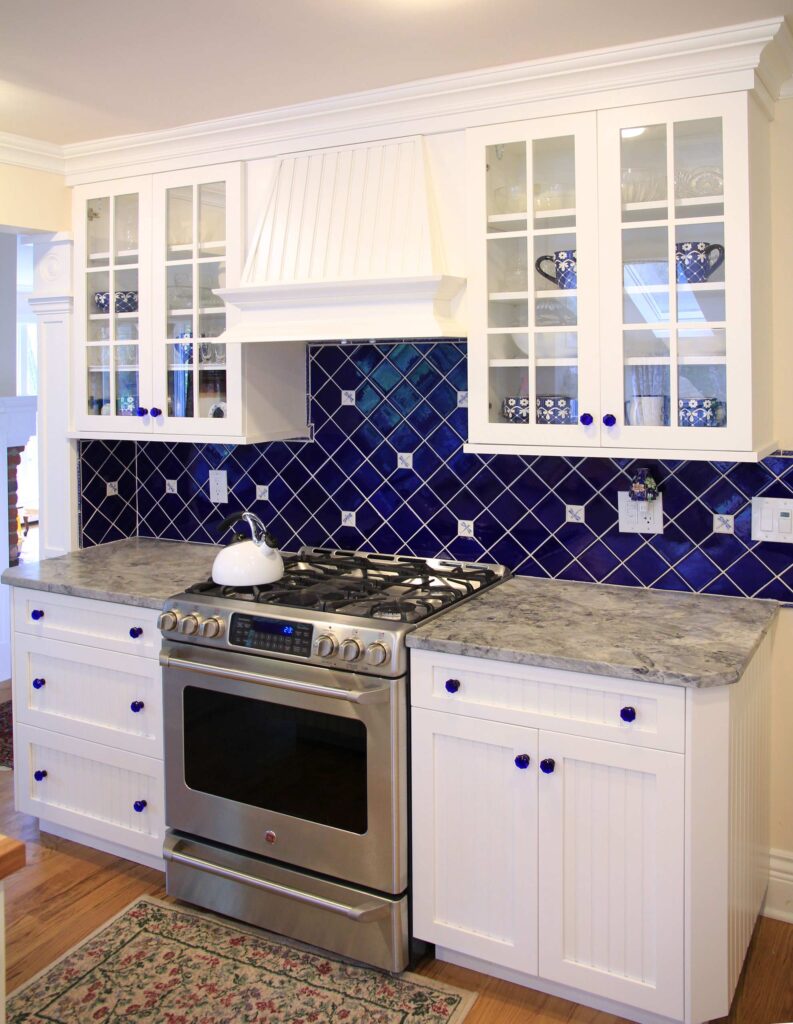 That's right; hardwood floors are slowly starting to fade, making ceramic tiling a more popular kitchen floor trend. Ceramic flooring comes in a variety of designs, styles, and sizes. It even looks like hardwood flooring.
Or even stone. Size your tiles in any format. Remember, these are trends, but you can do whatever you want with your kitchen design. Either get one single plank of tiles or get custom cut tiles to create a unique pattern.
Adding More Pops of Color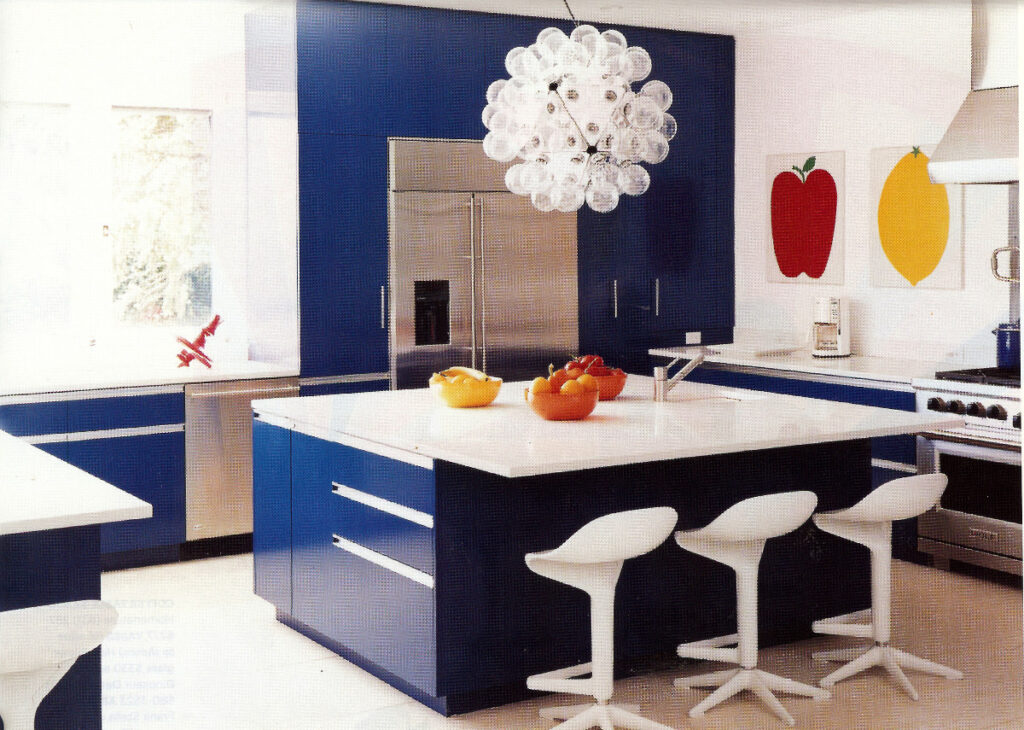 You may be surprised, but colors like orange and lime green are becoming popular again. They were used more in the 1960s, but now they are on the rise. Colors that have been on the rise in 2020 are blues and greens, including pale pink. Color is all up to you. Make the color or the cabinets in your kitchen your favorite color.
Kitchen cabinet trends of 2020 have been on the rise. Research on these trends is recommended before implementing the trending color in your kitchen experiment. Experimentation is the best that anybody can do with their kitchen. Test out trending cabinet colors, or make it your favorite color.
Stone Countertops
Stone Countertops have been on the rise to become a popular kitchen trend. A stone countertop can lead to stone tile floors or backsplashes of a similar hue to coordinate the room.
Kitchens with Streamlined Designs
Kitchens with a simplistic tone have been on the rise. Simple is easy. Kitchens with streamlined designs (or modern clean lines) create a stress-free environment to rid you of all your daily stresses. Remove cabinets from the upper walls.
It allows for more space in the kitchen along with more countertop space. Some ideas to consider so the kitchen won't look too bland are floor tiles, textures, or ceiling makeover.
Quartz is on the Rise
Quartz is a longlasting material. It is easily maintainable for all countertops and widely available in a wide range of colors and finishes. Choose from any unique pattern, swirls, or natural stone. Another option is to choose a neutral color, which has been a popular trend as of lately.
Kitchens Near the Patio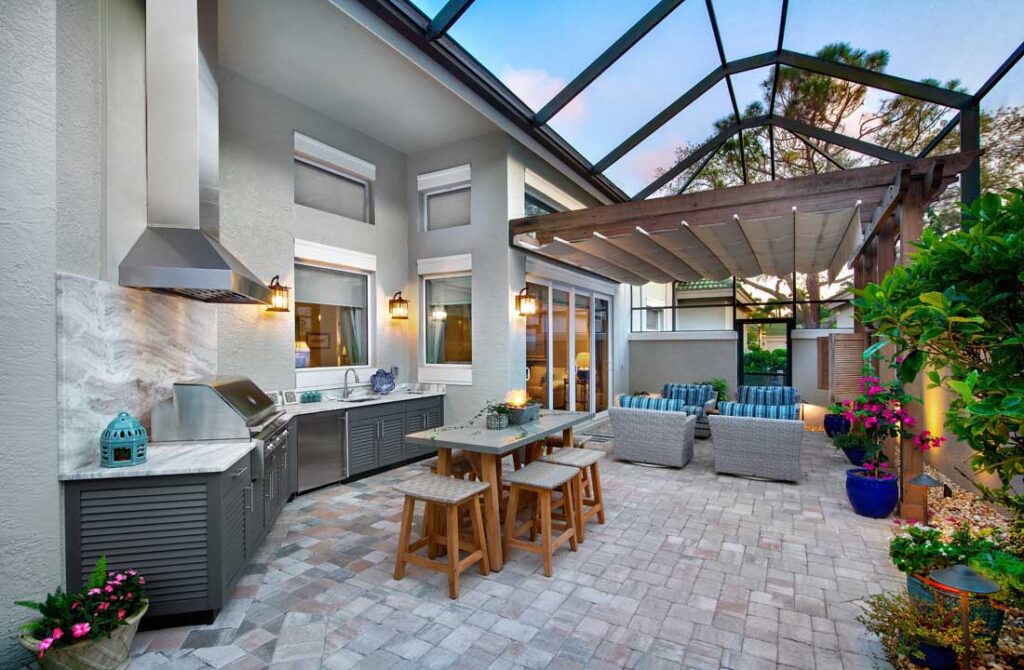 A new kitchen trend that has slowly been gaining more attention is connecting the kitchen to outside. Design factors play a challenging part in this trend because it requires some installations. For those who don't mind removing the wall cabinets, replace the small window over the sink with 6-foot windows so you can look outside.
Which 2020 Kitchen Trends Should You Follow?
Kitchen trends come and go. Some may become popular and expand into more ideas. Others will become a temporary internet sensation and change into a newer fad. Iconic kitchen trends like White Shaker Cabinets will inevitably stay while retro colors will fade in the wind. Whatever trend you see in Pinterest or Instagram, follow what you believe is everlasting or up-and-rising.