Having a less common color, what color and material should you choose for grey shaker cabinet hardware? Grey shaker cabinets have never been more popular, thanks to their design versatility. Shaker-style cabinets can fit into any type of kitchen, whether it's modern or traditional, and a shade like gray can bring anything from lightness to warmth to depth into space. Grey shaker cabinets are timeless and effortless, yet the right hardware is what really cements the look. Check out some tips for finding the right hardware to complement your grey shaker cabinets.
Why Grey Shaker Cabinets?
Grey has taken over the interior design world! The neutral color works just as well in sleek, modern homes as it does in rustic farmhouse spaces. Grey can come in a variety of tones, making it a truly versatile color. Shaker-style cabinets are also known for their versatility, which makes the two a perfect pair. Depending on your personal style, your gray shaker cabinets can work with different backsplash designs, countertops or appliances. Whether you want a Scandinavian-style kitchen or a classic farmhouse look, grey shaker cabinets will work.
Finding the Right Color for Grey Shaker Cabinet Hardware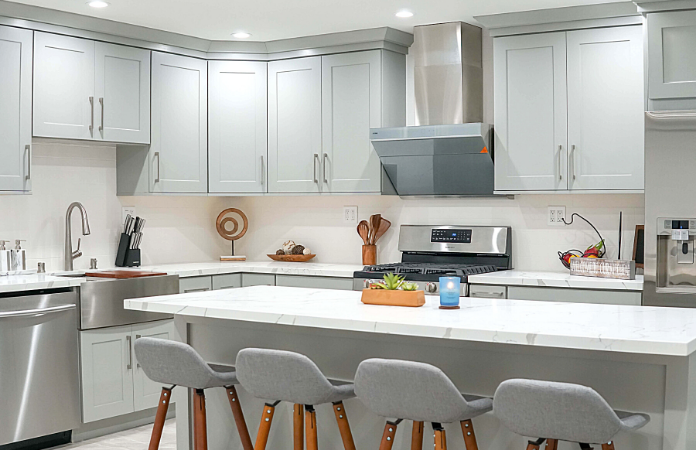 Light Grey
Silver hardware is the most common with grey cabinets as it can look sleek and refined. Nickel, chrome and stainless steel also provide that metallic detail that can pop against your cabinets. With lighter shades of grey on your cabinet, you can also branch out and try contrasting hardware that pops against the cabinets. Something eye-catching, like polished brass or copper, can be the perfect contrast for a light grey cabinet.
Dark Grey
A darker grey color on your cabinets can look sophisticated with black hardware — either a glossy or matte finish. Chrome or stainless steel can also create a sleek, polished look, and particularly dark shades of grey, almost black, can look elegant with gold hardware.
Cool or Warm Undertones
The type of hardware you choose will also depend on the undertones of your grey cabinets. Some greys pull warm, with an almost beige or taupe quality to them, while others are cool-toned with a hint of blue or slate. Warm-toned greys will work better with gold hardware, while cooler greys are more suited to silver. If you're unsure whether your grey pulls more warm or cool, bring a paint sample to the store when you're shopping for hardware. That way you'll be able to hold it next to the hardware and make sure the colors complement each other.
Picking the Best Shape
Knobs
Knobs are the practical choice in hardware for your kitchen cabinets, since they make it for easy opening and closing. They provide a clean and classic look, but you can still step out of the mold with different shapes to the knobs. Square or rectangular knobs can work in modern kitchens, while antique designs and oval shapes work with traditional-style kitchens. Classic round knobs will work in just about any kitchen but are particularly popular on shaker cabinets in farmhouse-style kitchens.
Handles
Handles can be used on both cabinets and drawers for easy functionality and uniform style. Some specific handles look particularly good in matte finishes in modern kitchens, or shiny chrome atop dark slate gray cabinets for a sleek Scandinavian style. Pulls are similar to handles, but often have larger widths and can handle larger weights. You might want to opt for pulls on storage bins or cabinet drawers that house appliances.
Leather Pulls
One of the easiest ways to make your space look luxe is with leather (or faux-leather!) pulls. These trendy accessories can work well with gray cabinets, particularly if you're using a dark brown leather. The contrast looks high-end and casual at the same time. You can mix and match leather pulls on lower cabinets with knobs or handles on the top cabinets for a unique look!