When you have a white shaker kitchen, you can do almost any kind of backsplash! The versatility of shaker cabinets can lend themselves to any style, including modern, farmhouse, and traditional, and white is the perfect backdrop. Whether you want to keep the space light and neutral, create a bold feature or create contrast, you can do so by choosing the right white kitchen backsplash.
Things to Keep In Mind Before Choosing a Backsplash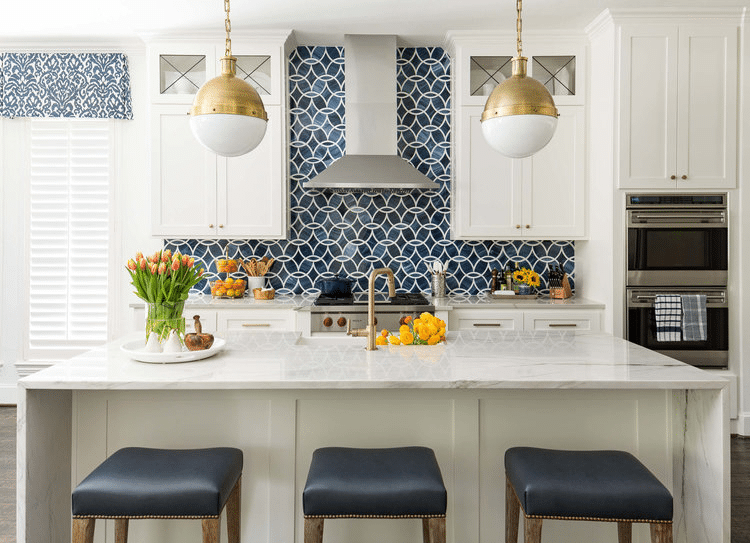 Before picking your white kitchen backsplash, there are a few things you should keep in mind. The size of your backsplash area is important, specifically the height! You can choose to bring the backsplash up to your cabinets or shelves or extend it to the ceiling in areas without cabinets. This can create a focal point for your kitchen, making the tile and pattern you select even more important!
While the white shaker cabinets can go with any tile, the same may not be true for your counters. Choose your countertop style and color first before selecting a backsplash to ensure the look is cohesive.

Once you have the countertops and cabinets ready, you can start looking for tiles. Check out some ideas for the best backsplash options in a white shaker kitchen.
The Ever-Popular Subway Tile
Subway tile is the new classic for backsplashes. This trendy tile is easily customizable: you can pattern them symmetrically, alternating horizontal and vertical, or in a chevron pattern. And don't forget about the grout! A sharp black line separating the tiles can create a modern look while keeping things all white can look sleek and polished.
A Dark and Dramatic Black as White Kitchen Backsplash
Nothing like a bit of contrast! A black and white kitchen can look timeless and sophisticated. You can try a black marble backsplash in a kitchen with white shaker cabinets and a white marble countertop for a high-end look, or try a moody dark charcoal tile in a Scandinavian-style kitchen.
The Most Versatile Color: Blue
An easy way to add drama to a white kitchen backsplash is with a pop of color. Blue is a great option because it can work in so many styles of kitchens. A light blue with grey undertones is often found in farmhouse kitchens, whereas deeper blue glass tiles can create a more contemporary look.
Play With Textures
Why stick to just tile? A stone backsplash is a sophisticated option for all-white kitchens. You can use the same stone as your countertop or kitchen island for a cohesive look, or just stand alone as a statement piece. Brick is also a popular backsplash choice for a distressed, industrial look. Try brick veneer for an affordable way to get the look!
Make a Chalkboard Wall
A statement wall using chalkboard paint has become a favorite feature in many kitchens — you can write recipes, leave notes or let the kids decorate freely! Adding a chalkboard backsplash continues the look throughout the kitchen and gives you more freedom to decorate. You can even draw on patterns to create a tile look, but with a quirky chalk twist!
Create a Unique and Bold Pattern
One of the best things about having white shaker cabinets is that you are free to experiment with the rest of the kitchen. Their simplicity means you can try a bolder pattern for your white kitchen backsplash and not have the room look busy. Try a mosaic wall, geometric prints or floral patterns to create a space that's truly unique.
A backsplash can dramatically update your kitchen, or help you create a stylish new space in the heart of your home. With all manner of colors and materials available, it's easy to find a look that works for your style and compliments your existing cabinetry.