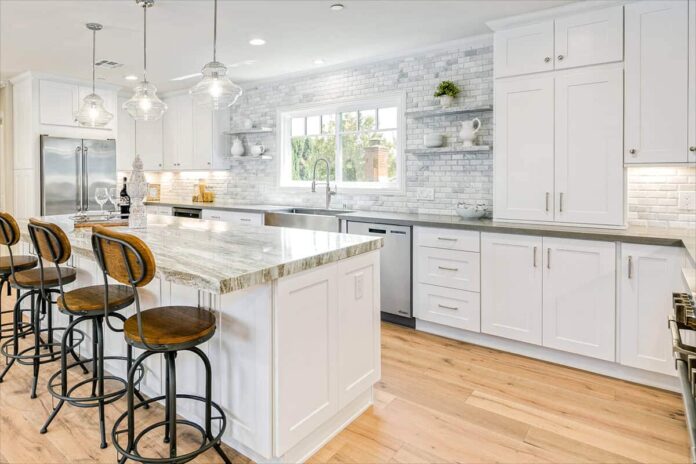 Malibu White Shaker cabinets are a staple color and style for all cabinet companies to have. It is at the forefront of modern styles and expected to remain popular and trending for many years to come. Almost every company will carry this color/style combination, but only those that understand the difficulty of creating White cabinets can give homeowners a high-quality product. White cabinets are among the hardest to perfect since any flaws will be highly noticeable. Since most companies use a 5-piece construction, one of the biggest problems is the connecting lines. You will be able to see the connections where the five pieces meet, and any shrinkage or expansion will distort the lines, ruining the cabinets.
What makes BestOnlineCabinets different? Why are our Malibu White Shaker cabinets so much better than our competitors? Unlike other companies who try to remedy the visible connections problem with thermofoil, we decided to make our doors from a one-piece slab of wood. Our Malibu White Shaker doors are manufactured from a one-piece solid wood with the center routed out to give it the shaker look. Since it is made from one piece, there are absolutely no connecting lines, making this one of the cleanest looking and highest quality products in the industry. This means the cabinet will not be ruined from shrinkage and expansion, as there are no connection lines being distorted. Also, rubberwood is one of the most stable woods and has a low shrinkage value. Besides its unique one-piece construction, our Malibu White Shaker cabinets are made with scratch-resistant paint and come with soft close hinges, soft close undermount drawer tracks, and dovetailed drawers.
We are confident in our products but don't just take our word for it. If you have a contractor, carpenter, or you yourself are skilled at assessing the quality of wood and cabinets, order a sample door of our Malibu White Shaker and see for yourself. Observe the clean look of the door with no visible connecting seams, and then cut the door in half to examine the one-piece construction.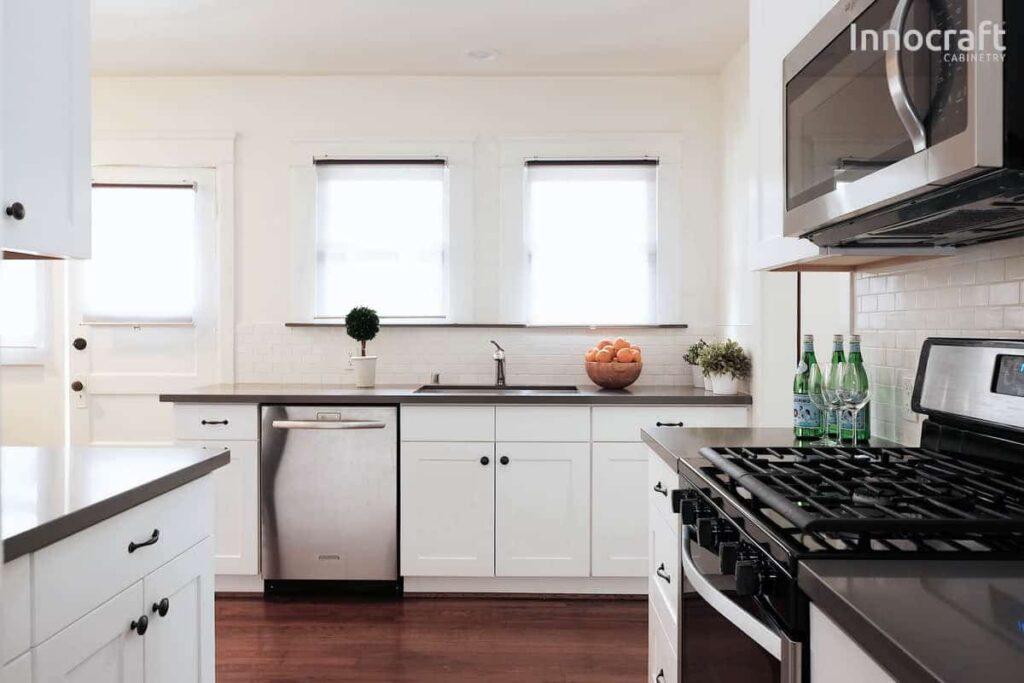 It is common for customers to walk into our showroom, take a look at and learn about our Malibu White Shaker cabinets, go look at other companies around the area, and come back to buy ours. Our Malibu White Shaker cabinets set us apart from other cabinet companies, which is why it is our most popular and bestselling style. This is our most preferred style out of our all selections and it is the #1 style that our contractors recommend to their clients! If you are looking for HIGH QUALITY modern white cabinets, at an affordable price, look no further.
Pros:
One-piece solid wood door
Routed out center panel
Absolutely NO SEAMS
Glossy scratch resistant paint
5/8" Plywood box and side panels
Soft close hinges and tracks
Cons:
Machine to rout out the center is costly and only performs that action
Larger doors have a small chance of warping
backend