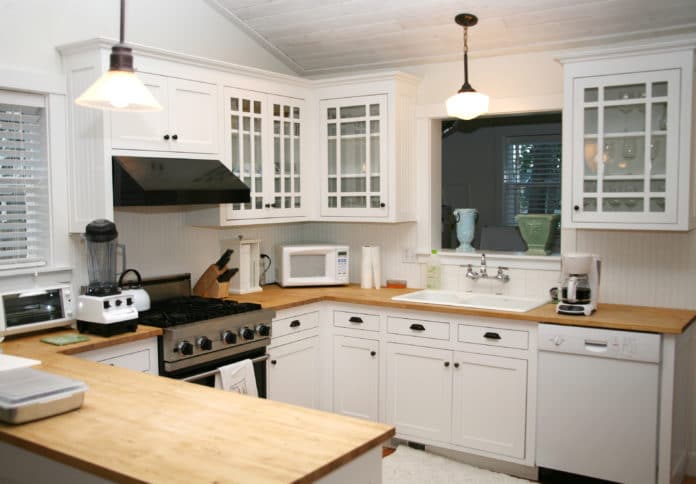 Shaker-style kitchen cabinets are so versatile, they can fit into just about any home! Whether your look is modern, traditional, or something in between, you can use shaker cabinets to style your kitchen. Check out some unique ideas for your kitchen using shaker cabinets below.
1 – Use Glass Fronts for a Modern Look
Want to make your kitchen look more clean and modern? Opt for a dark color like navy blue or dark gray on your lower shaker cabinets, and then add glass front options on the upper cabinets. It creates a two-tone effect that shows off your dishware and mimics Scandinavian style.
2 – Hide Appliances Behind Cabinet Doors
Shaker kitchen cabinets are known for their functionality as well as their clean style, so it's no surprise that people are taking their use to the next level. Use shaker-style doors to conceal appliances like dishwashers and keep a simple, uniform look to your kitchen. This is especially useful for smaller kitchens: instead of the lower cabinets looking crammed next to appliances, a row of all-white shaker cabinets will open up the space.
3 – Create a Retro Space
Paint can be your best friend! A little bit of color can transform your kitchen easily. For a retro 1950s diner-inspired space, you can paint your shaker kitchen cabinets in a color like bright red or teal and add chrome hardware for a mid-century modern finish. Instead of spending thousands sourcing vintage pieces or creating custom cabinets, you can get the unique and quirky look for less.
4 – Make an Upscale Space
If your tastes run more high-end, you can create a sophisticated look for your kitchen by adding crown molding to your shaker cabinets. The beveled edges are more traditional and can add an upscale touch to the room. Opt for luxurious color combinations like black with gold hardware or choose a deep, rich wood to take it to the next level.
5 – Go For Rustic Living
Rustic, farmhouse-style homes aren't going out of fashion anytime soon. Shaker cabinets are a perfect addition thanks to their classic simplicity, but you can even go the extra mile and add open shelving as well. Lower shaker cabinets with wall-mounted wooden shelves create a practical yet stylish combination. Bonus: using wall-mounted shelves above your lower cabinets can be more affordable than using upper cabinets as well.
6 – Get Extra Organized
While you might spend a lot of time perfecting the look of your kitchen, don't let functionality fall to the wayside! Shaker cabinets can be optimized for extra storage. Try putting in tracks on lower cabinets so you can easily pull them out and find your pots and pans, or add wooden inserts to create extra storage space. You can also add hooks to vertical cabinets and store cleaning supplies like brooms and mops for a convenient clean-up.
Shaker cabinets can transform a kitchen into something unique and special. Whether you're picking out new cabinets for your home or just want to refresh what's already there, you can create the look you want with shaker cabinets.