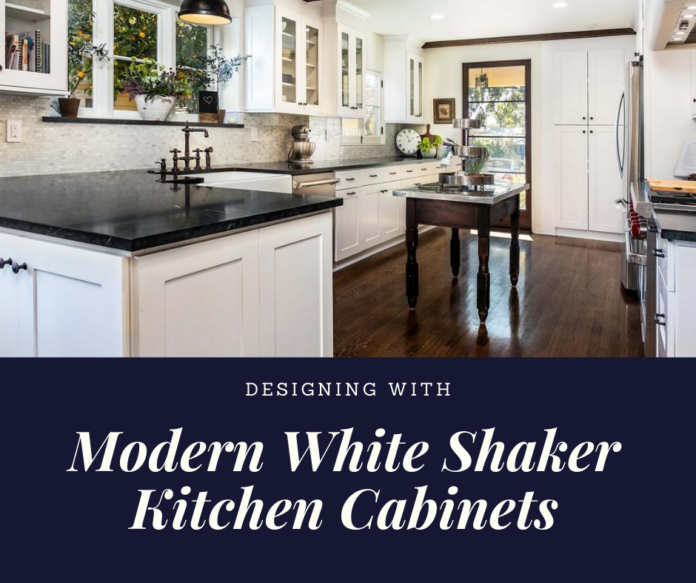 One of the biggest perks of having modern white shaker cabinets in your kitchen is their versatile style. You can make shaker cabinets work with any type of kitchen, from traditional farmhouse to contemporary to transitional. The classic style of a shaker kitchen cabinet might not seem like the obvious choice for a modern kitchen. However, they can easily work with a few tips and tricks.
What is Modern Design?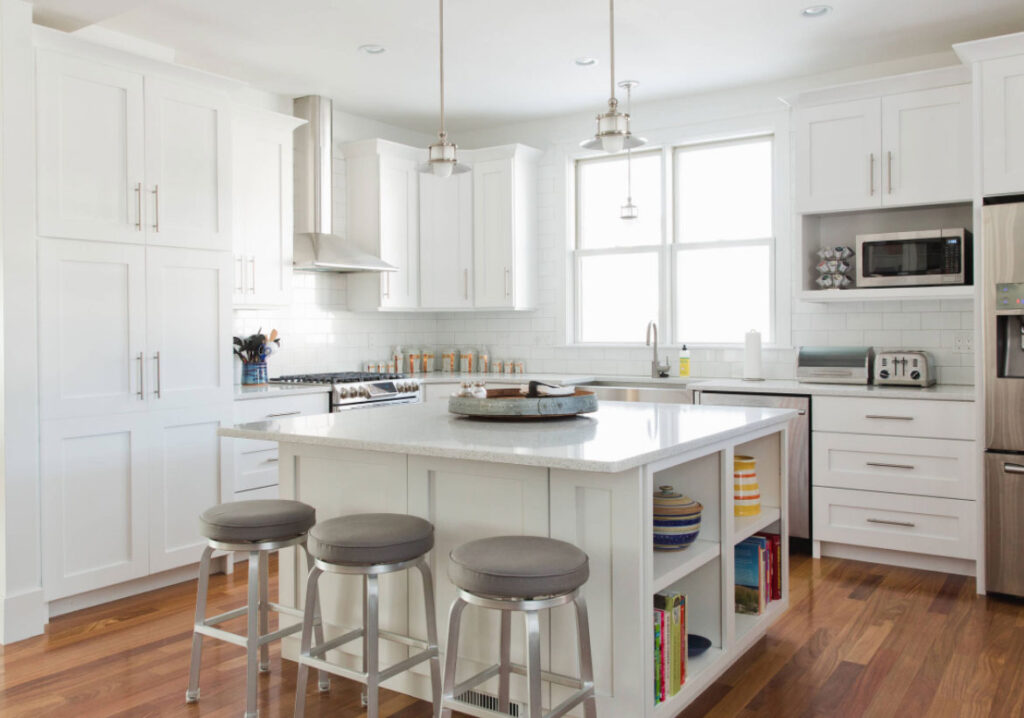 Modern kitchen design can be a broad category — basically anything that's not traditional! — but there are key characteristics that you will see in the design. With a modern design, you'll see lots of clean lines, geometric shapes, and minimal embellishments. The modern design will also incorporate man-made materials like laminate, ceramics, and even plastics. White shaker cabinets can be a great addition to a modern kitchen. They are simply made and unfussy in appearance, which works with the aesthetic of clean lines and minimalism. 
Here are some ways to design with modern white shaker cabinets.
When In Doubt, Go With All-White Shaker Cabinets
Shiny white cabinets and countertops are the perfect duo to make your kitchen look modern. Painting older, dark wood cabinets with a glossy white instantly makes them look more modern and up to date. Match the cabinets with a white countertop like quartz for an all-around sleek look.
All-white kitchens are common in modern design. If you worry about the space looking cold or sterile you can mix it up with different textures and patterns. A subway tile backsplash breaks up the monotony of all-white. Soft grey marble effect in the white countertops can add depth.
Mix and Match Cabinet Styles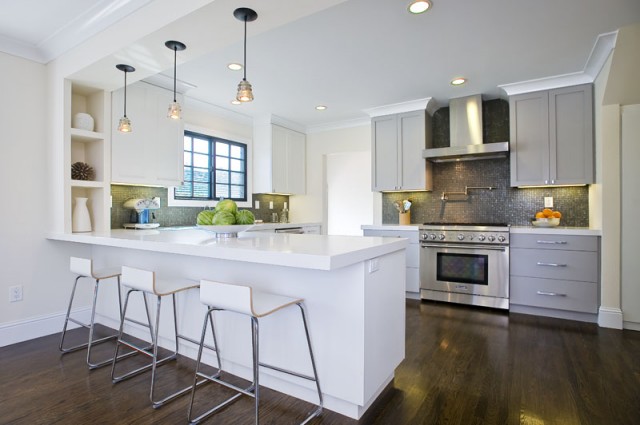 The versatility of shaker cabinets means they look good paired with other shelving options, too! Some kitchens have open shelving on top to make the room feel more spacious and airy. This breaks up the room and also creates more visual interest. You can use the shelves to store knick-knacks or more design elements, like vases or geometric plant holders. You can also store small kitchen appliances that add a pop of color to your kitchen — a bright red stand mixer or turquoise mid-century modern tea kettle can be the visual accent you need to break up a white space. Glass-fronted shaker cabinets are another option for making the space look more open, while still keeping the style modern.
Swap Your Cabinet Hardware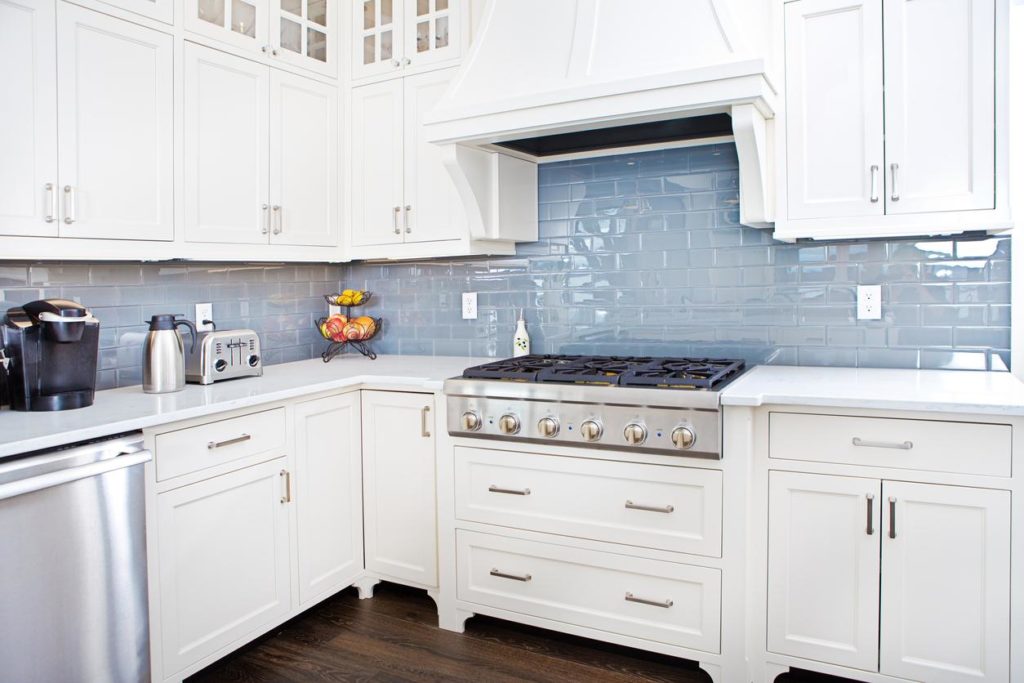 Even the smallest details can have a big impact! Kitchen hardware is like jewelry: you need the right piece to complete the outfit. Traditional kitchen hardware is more ornate, dramatic and fussy, while modern knobs and pulls are sleek and simple. Replacing the existing hardware on your shaker kitchen cabinets can update the look instantly!
For modern hardware, look for something like a chrome cup pull, a long and lean brass pull to create a clean look on the cabinets, or get adventurous with hexagonal or geometric knobs!

Get The Modern Look With Bright Accents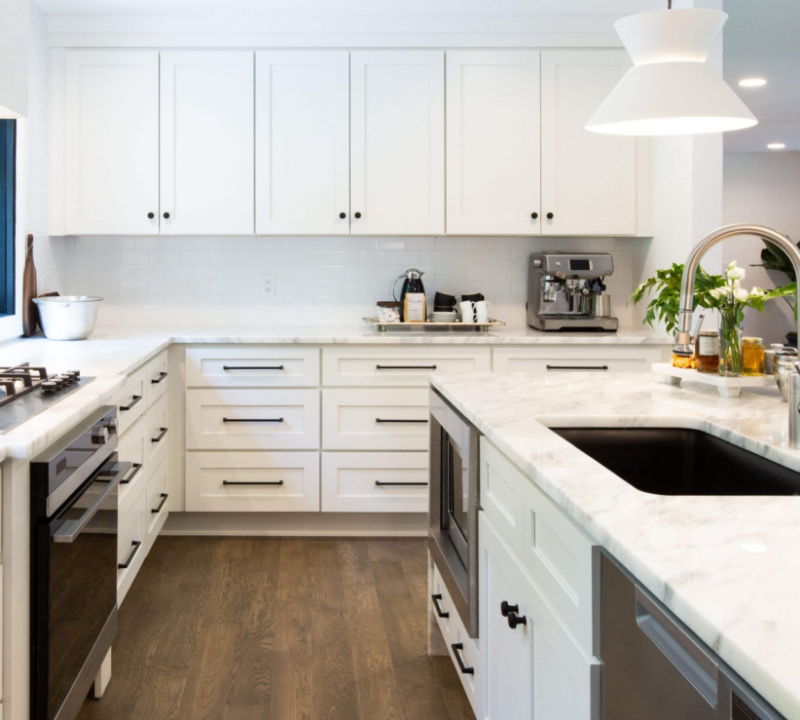 Bold accent walls can help you achieve the modern look by creating visual interest alongside your white cabinets. Blue is a favorite for kitchens in a variety of shades. Light blues can look ethereal, navy can be striking and bright shades of turquoise or aqua add visual interest to the space.
Some interior designers are looking to the fashion world for inspiration and using neon colors. Obviously, these colors are best used sparingly! Instead of painting your walls in a shade of neon yellow or green, you can use it on the inside of the white cabinets for a dramatic accent.
Shades like orange and red are a great way to warm up the space, particularly when the kitchen already has a lot of white or grey accents. Keep it modern by choosing bright, punchier shades like tangerine or poppy.
Another way to use color in a modern kitchen is through color blocking, where you use contrasting colors to create a striking look. For example, you might have navy kitchen cabinets on the bottom and white on the top, with bright colors like aqua or yellow as accents.
Use Other Styles To Add Contrast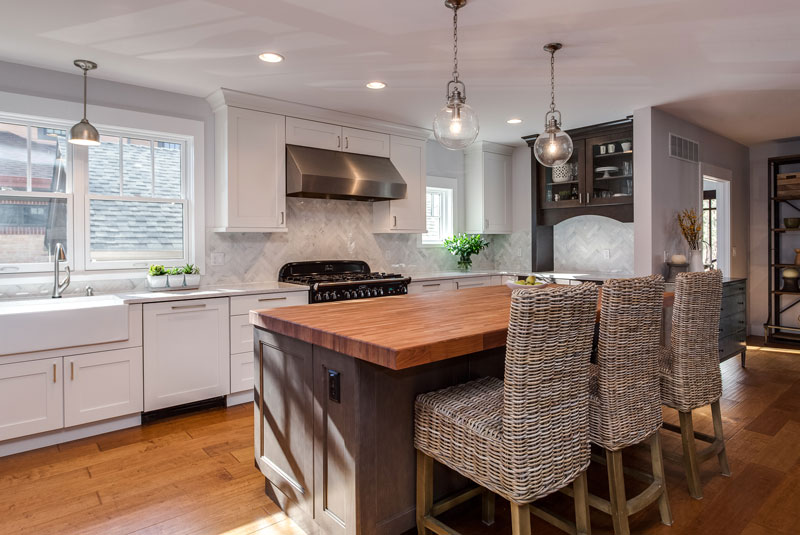 If you want to create contrast in your modern kitchen, don't be afraid to use other kitchen style elements.
Industrial-inspired features create an interesting focal point in contemporary kitchens, which can often be understated and minimal. Use industrial elements like concrete islands or countertops, a faux-brick backsplash or stainless steel finishes.
Scandinavian-style kitchens often use natural materials like wood, which can add warmth to a modern kitchen. Choose a light wood for the kitchen island paired against your white shaker cabinets, or use wood accents on the countertop. For the Scandi look, you can also pull in accent colors like sage green or slate grey, a softer and warmer alternative to the bold shades usually found in modern kitchens.
If you're not ready to commit to a fully modern kitchen, you can marry modern and traditional elements. Details like pendant lights and marble backsplashes keep the look classic while modern white shaker cabinets with brass hardware bring the contemporary vibe.
The Final Touches of Modern White Shaker Cabinets
With your glossy white cabinets, sleek tile backsplash and polished quartz countertops, your contemporary kitchen is ready for the final pieces to complete the look. Choosing things like appliances, lighting and kitchen hardware are just as important to the design of your kitchen as the colors and cabinets. Stainless steel appliances are a favorite in modern kitchens, but many have been getting bold with matte black or glossy white fridges and ovens to create contrast. For lighting, you can get creative! Simple glass orb pendants can add interest without overpowering the space, but a colorful mobile in blue or yellow could be the pop of color your neutral kitchen needs.
No matter how you decide to design your modern kitchen, having white shaker cabinets to anchor the space gives you the flexibility to create the perfect space.