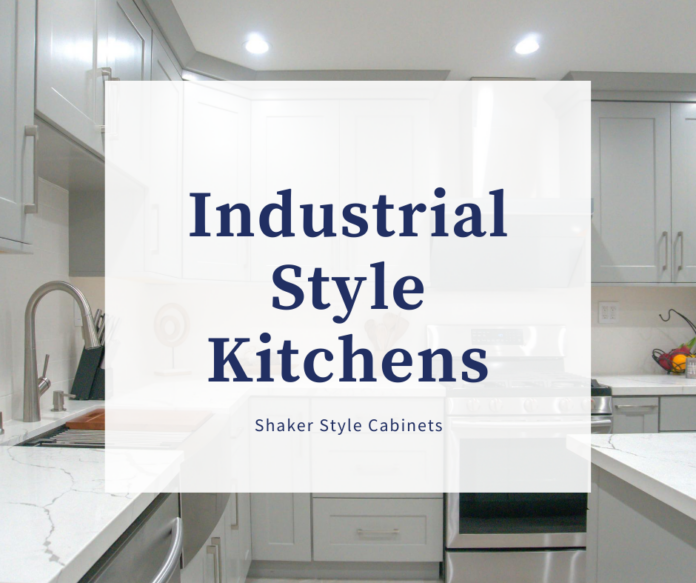 The kitchen is called the heart of the home for a reason. It's where you cook nourishing meals, spend time with family, entertain friends, and fill yourself up before the day begins. That's why the best kitchens are ones that function well — the easier it is to use, the more you'll enjoy your time. Industrial style kitchens are some of the most functional kitchens you can have. There's no frills and distractions, just a straightforward cook space. But that doesn't mean they can't also be beautiful! Read on for some ideas on how to create a stunning industrial kitchen.
Start with Your Cabinets in Industrial Style Kitchens
Having smart, functional storage is an important aspect of any kitchen. Shaker style cabinets are great because of their classic, simple design. Shaker cabinets have a flat front with minimal detailing, which is perfect for an unfussy industrial kitchen. There are a lot of different ways you can use shaker cabinets in your design. You might want to have lower level shaker cabinets with exposed shelves on the top, especially if you want to show off a brick wall. You could also mix and match different colors of your cabinets
Highlight Natural Materials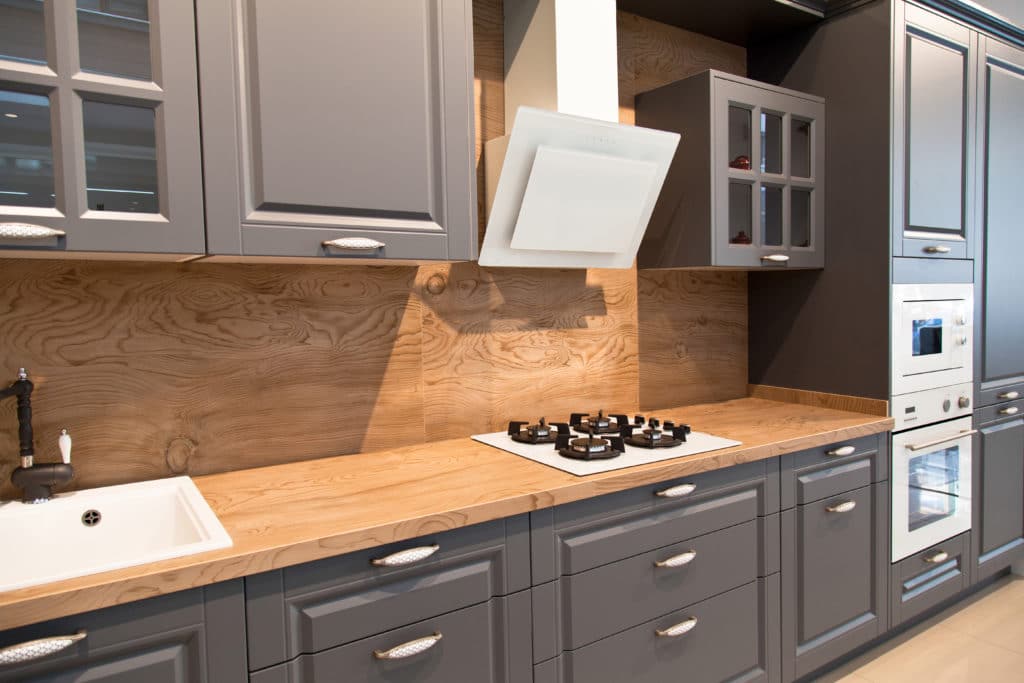 Brick, concrete, and natural wood are all elements you'll see in industrial style kitchens. These materials are easy to clean and are durable, both important factors in a workhorse kitchen. If you're lucky enough to have brick in your home, you can leave it exposed for an accent wall. Concrete can be used on your floors, walls or even on countertops. You can add in natural wood through a butcher block countertop or a raw edge kitchen table.
Bring in Metals for Industrial Style Kitchens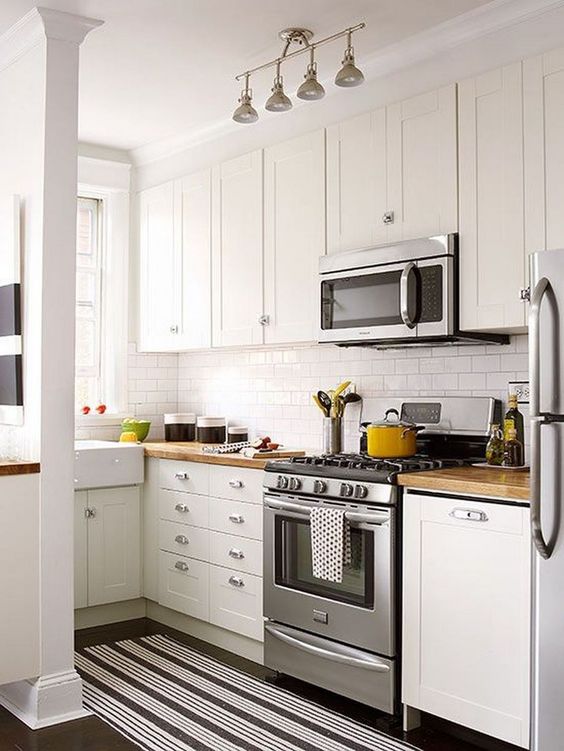 Stainless steel is common in many industrial style kitchens. You can use your stainless steel appliances to set the stage, but don't forget about your hardware or faucets, too! A stainless steel range hood is a good way to marry two different industrial concepts: metals and exposed materials. It creates the look of a professional kitchen. Similarly, you can opt for large appliances and professional quality items to round out your kitchen. A metal stand mixer on top of your counter or an extra sink in your kitchen island will increase the functionality of your kitchen while keeping you on theme.
Add a Kitchen Island to Industrial Style Kitchens
If you have the space, definitely make sure your industrial kitchen has an island. You can outfit it with shaker style cabinets for additional storage and keep your pots and pans close at hand. If budget or space is an issue, you can add a free-standing island made out of metal. This will expand your workspace and add to the industrial look without costing as much money. You also have the ability to move it around your kitchen to suit your needs.
Use the Right Color Palette
Black is a color that works perfectly in industrial style kitchens. It can hide dirt or other marks easily, it's no-nonsense and it can still create a dramatic statement. You can go for a classic black and white design in your kitchen, using black on your cabinets and white on your countertops. Black can make small spaces look cramped, so if you have a kitchen on the smaller side, get a similar effect with grey. Gray also works if you want to do more of a monochromatic look in your kitchen, since it's similar to stainless steel and concrete. The varying shades of grey, all in different finishes, create an industrial style. You can also add a pop of color as an accent in places like the bar stools at your kitchen island. Stick to bold colors like red, yellow or blue.
Choose Your Lighting Fixtures Carefully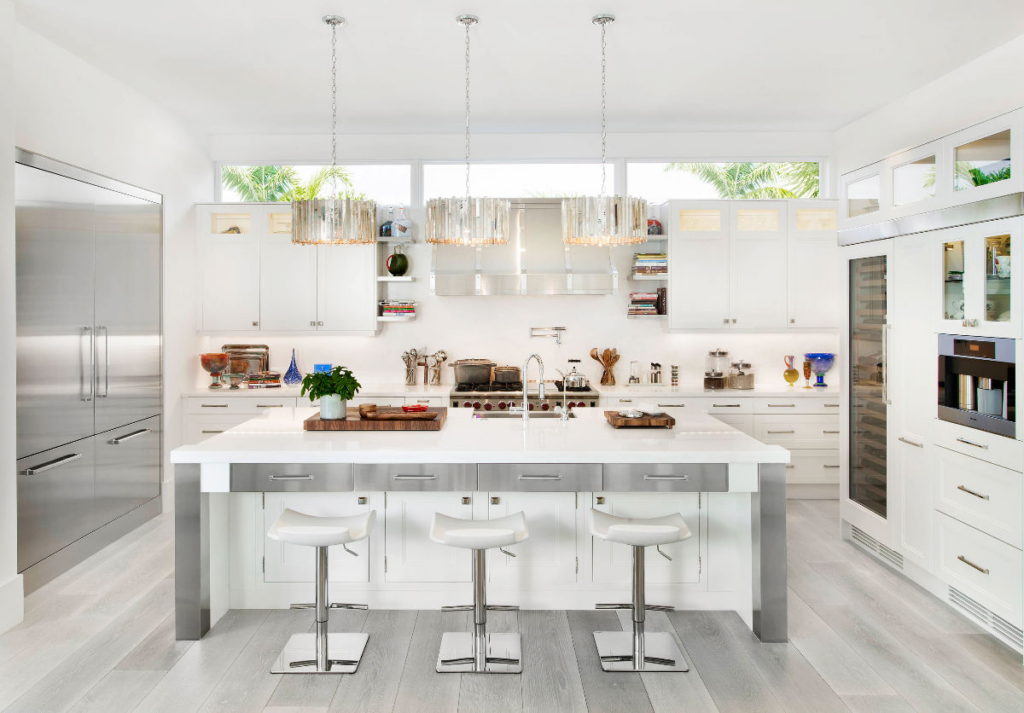 Your light can pull double duty: add to the kitchen's overall look, and provide the necessary task lighting to your workspace. You can choose an oversized metal fixture for the classic industrial vibe, or go for an eye-catching juxtaposition by selecting an elegant chandelier. You can hang your lights over the counter or kitchen island, depending on where you need the most light and want the most impact. You might also want to add more lighting in certain spaces by bringing in an industrial clamp light — this can also add visual interest to your kitchen, as well as the authentically industrial vibe!
Go For No-Frills Furniture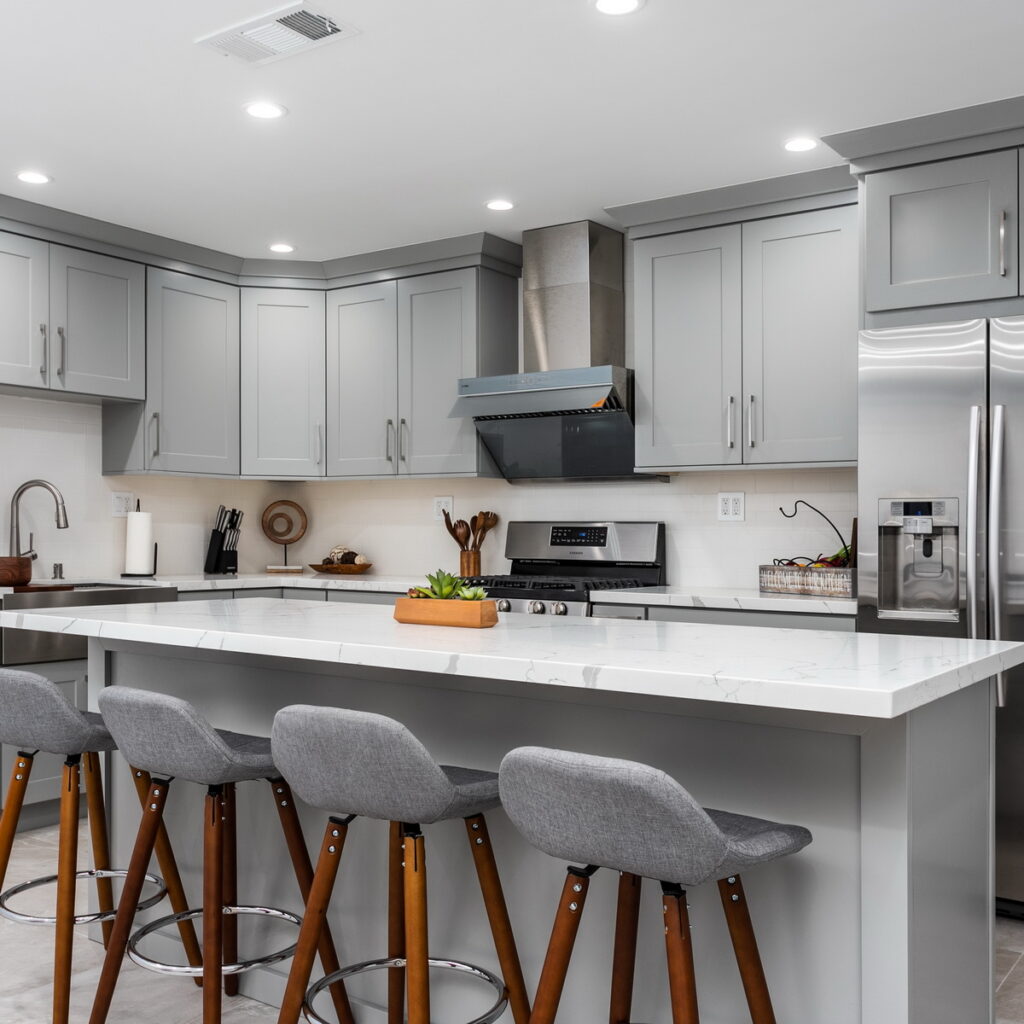 You don't typically see a lot of furniture pieces in industrial kitchens, but when you do, they should be simple and no-nonsense. For your kitchen island seating, you can opt for barstools made from galvanized metal or natural wood. Make sure your pieces have straight lines and don't add too much fuss or bulk to your kitchen.
Use Clean Lines with Exposed Beams
One classic element of industrial design is exposed beams. If you can, leave your kitchen with that unfinished look from exposed beams and echo the effect with the straight lines in your kitchen. You can also emulate the look with faux exposed beams. You can buy faux beams in different styles and textures and install them into your kitchen ceiling. This method can be more cost effective than the natural way, while still providing that exposed-materials look.
All That And the Kitchen Sink
Yes, your sink can be industrial too! A wide, deep sink that is reminiscent of one found in a commercial space will be at home in your industrial kitchen. You can also go for a more farmhouse-style apron sink, as they also have the look and feel of practicality that's so necessary for industrial design. And don't forget the faucet! You can get a commercial-style coiled faucet with a spring and an arm that you can use for heavy-duty cooking. Stainless steel and chrome are still the most popular choices for industrial finishes, but you can also find matte finishes for a more contemporary twist.