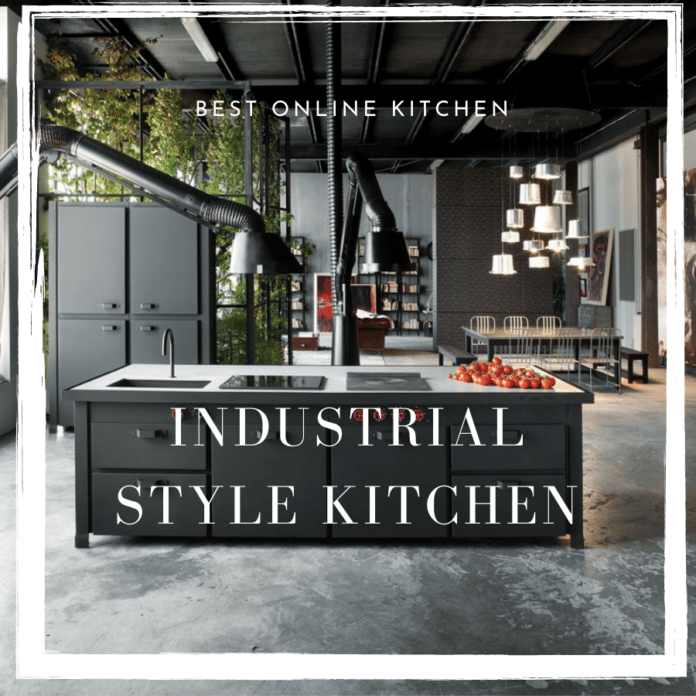 An industrial-style kitchen appeals to a certain design preference. Industrial-style design is inspired by the raw feel of factories and warehouses and gives an organic, unfinished aesthetic. Usually, the style is mixed with natural elements to keep it from being stark and uninviting. Metal and wood accents are paired with hard materials to create a design blend. Homeowners that appreciate the history of living space or are into an unrefined look will gravitate toward an industrial-style kitchen.
What's an Industrial-Style Kitchen?
Industrial style is reminiscent of strong attributes in offices or factories. This style has come a long way since its inception in the early 20th century. In the U.S., the urban industry style came to be in the 1950s when the creative industry, such as artists, painters, and sculptors, was looking for open spaces to mix their personal and professional life. A new style was born that blended both.
Yet industrial design has come a long way since the early 20th century. In more recent times, the style has evolved to include more comfort and less austerity. Industrial style stretches far beyond gray concrete. The use of recycled materials, and the mix of wood and metal are now part of the design. Large windows, high ceilings, and a modern yet minimalistic look create this style.
Industrial-Style Kitchen Features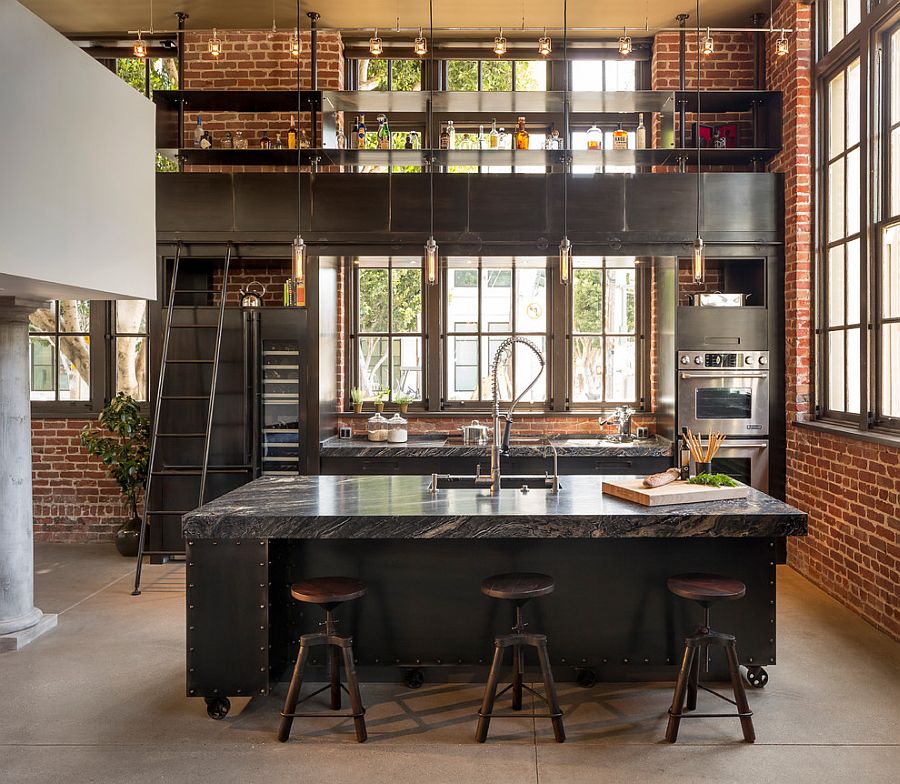 So what features do people use in industrial homes?
Exposed Ceilings. Industrial style exposes what other homes try to conceal, such as pipes and ductwork.
Metal Surfaces. The exposed metal present as columns and beams.
Wood, Concrete, and Bricks. These building materials used in walls.
Vintage Furniture. Some of the furniture may incorporate metal.
Tall Windows. Large windows add light to the space
Often times, the high ceiling exposes the wooden or metal beams. Brick, concrete, and metal pipes and ducts that are uncovered become part of the design. All elements of the kitchen are functional however, cozier pieces are mixed in to create a more homey, and less of a warehouse feel. The mix of natural materials used become part of the design to bring warmth to the space.
The industrial style is easy to achieve and is very functional. This type of design is usually found in spacious layouts in modern, contemporary, or homes or apartments in an urban location, but is certainly not limited to those types of dwellings. The style is versatile enough to be tailored to the homeowner's preferences.
Color Palette
An industrial kitchen is often outfitted in neutral colors consisting of warm or cool tones, or a mix of both. Varying shades of gray, slate, white, and black are used most often. But the color palette does not need to be limited to these colors. For a more colorful kitchen, gray and dark red are a good combination. For warmer palettes, designers prefer shades of beige and brown or blue and warm wood. Or different shades of gray can help it from becoming too monochromatic.
The chosen color combination balance with the metal, concrete, or brickwork. Reclaimed wood accents can also add warmth to the space. The industrial color palette does not incorporate bright or soft colors.
Texture
Different textures are important to the industrial kitchen. A combination of factory-looking materials like an exposed brick wall, metal appliances and wood for a natural accent blend seamlessly in this style. If the kitchen already has exposed brick, incorporate it into the design. Otherwise, vinyl resembles a brick used somewhere in the space. Raw or untreated wood and metal that shows signs of aging if often utilized.
The combination of different materials and textures is the key to making this design work. Without this blend, the atmosphere of the space can be too 'cold'. Rough surfaces and textures can help to break it up. The texture is also brought in by vintage decorative objects like old fans or steel stools and new objects that look vintage.
Cabinets
Because of the open concept and layout of the kitchen, the cabinets are an important part of the industrial-influence kitchen because there are often many of them. Cabinets in an industrial kitchen are simple and unadorned and do not take away from other elements in the space. A flat panel cabinet works well in this kitchen style because it is free from embellishment and complements the rest of the space. People recognize industrial kitchens for their sleek, clean lines. The kitchen's cabinetry often provides plenty of storage, so the space remains uncluttered with small appliances and cookery.
Industrial style kitchens choose to incorporate dark or light gray, brown, or black cabinetry. Black hardware for the cabinets adds a modern touch.
Countertops
There are several options for countertops, which are simple with straight edges no matter the material. A cement finish has become a trendy part of the industrial-style kitchen. This finish is versatile and can be textured or acid-stained for color. Cement is used for the countertops or backsplash because it is resistant to scratches, stains, heat, and abrasion. A heavyweight concrete countertop is cast right in the kitchen.
For a very contemporary look for the kitchen, stainless steel is another choice. Stainless steel countertops are durable, heat resistant, and seamless.
Another option is a glass countertop. Recycled glass blended with resins shaped into countertop slabs. This is a cutting-edge countertop made from recycled material fits the industrial design.
Range Hood
Not all kitchen styles feature a stove hood, but it can be a focal point in an industrial kitchen. Exposing the pipe that leads to the range hood is an iconic industrial kitchen element. They are often stainless steel to match the appliances. A range hood is versatile to install on vaulted ceilings. One will cut the range hood chimney to match the slope of the ceiling since homeowners prefer to install the range top or stovetop on a kitchen island. They would mount the range hood chimney over the island for a modern aesthetic.
Open Floorplan
A functional industrial kitchen has an abundant amount of space and capacity. The height of the ceiling sets open floorplan kitchens apart from other styles. The space is mostly, if not all open, and the ceiling is high. The layout of the kitchen is spacious and practical.
Lighting
Metal is one of the important elements in the design using wood with unpolished edges. Homeowners looking to decorate industrial lighting use iron or steel. Pendant lights with long hanging wires look great in an industrial-style kitchen, especially one with an open floor plan. Pieces with a strong industrial feel like copper, iron or steel are all options. Industrial-influenced kitchens incorporate vintage-looking lighting.
Lighting also often comes from natural sources, such as a sliding door, or skylights in the tall ceilings.
Appliances
In an industrial-style kitchen, the appliances are stainless steel or black. It is essential to make the kitchen look industrial, and the appliances are a way to work more metal elements into the design. Appliances are usually modern-looking and up to date in this type of kitchen.
Furniture
The rough and imperfect furnishing style incorporates steel elements, whether it be in table racks, shelves, or island stools. Homeowners should look to true icons of industrial furniture to put in their kitchen. For example, the Tolix chair is a piece of furniture that is characteristic of an industrial kitchen. Many may prefer a recycled or upcycled table in the dining room. Furniture made of wood and plumbline pipes may add uniqueness to the space. A large table works well in a kitchen that is large and has an open concept.
Vintage furniture features simplicity. This design highlights distressed wood and metal. Industrial design pieces incorporate steel piping or concrete. Simple forms and shapes balance the overall look of the space.
Flooring
Concrete floors are the perfect background for the industrial-style kitchen. They are very durable and resistant to scratches. Many leave floors without any rugs to appreciate their beauty. Micro-cement material is a solid surface that is easy to maintain.
If concrete floors are too stark with the rest of the design, floated hardwood or timber floors can add warmth to the room.
Walls
Walls are an opportunity to further Industrial design. There are several ways to get rough walls. When remodeling, people choose exposed brink or concrete for the walls and leave them in the natural state or painted. Chalkboard walls give an unfinished look to the kitchen. Many homeowners will choose open shelving as a unique option. Bare windows decorate the simplicity of the space.
Sink
Most industrial kitchens have a stainless steel sink. Black matte finish on the faucet is quintessential of this design. This does not mean farmhouse sinks will not be seen in industrial-style kitchens. This trend may include stainless steel farmhouse sinks, but not as popular due to how the basin extends past out the cabinets.
Industrial Kitchen Trends 2021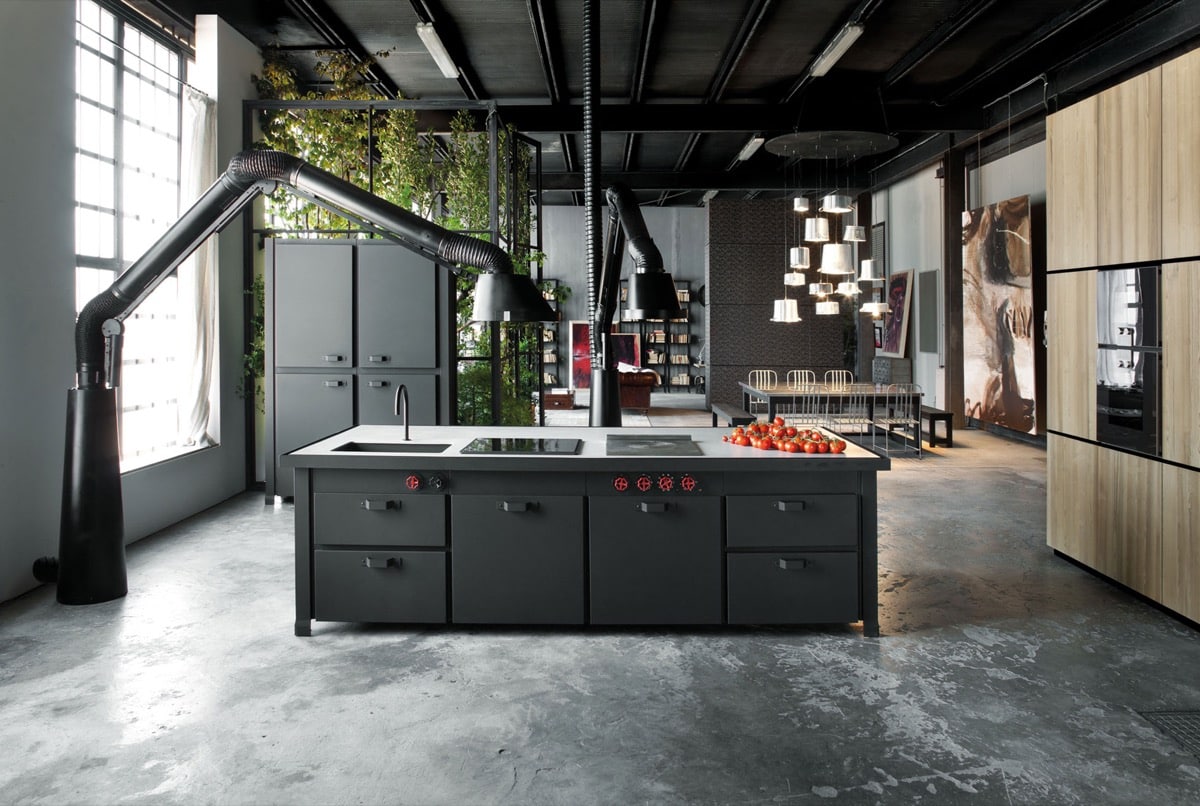 Black, black, and more black. The trend in Industrial kitchens is for black cabinets, countertops, or equipment. This trend includes the use of black wood tones like volcanic oak, black oak, and Tabaco oak. Many homeowners use matte black finishes for fixtures and cabinet pulls. Black slate or black steel makes the kitchen look stylish and sophisticated. This offsets the metal and wood aspects of the industrial-style kitchen well.
The trend in surfaces is cool concrete in innovative shades. There is not limit to traditional gray, but rather the palette ranges from light white concrete over gray to dark black concrete. The combination of concrete colors as well as wood and steel create a harmonious palette.
The industrial-influenced kitchen uses a blend of materials to create a unique atmosphere. The cabinets serve as a focal point that set the stage for the tone of the industrial kitchen.