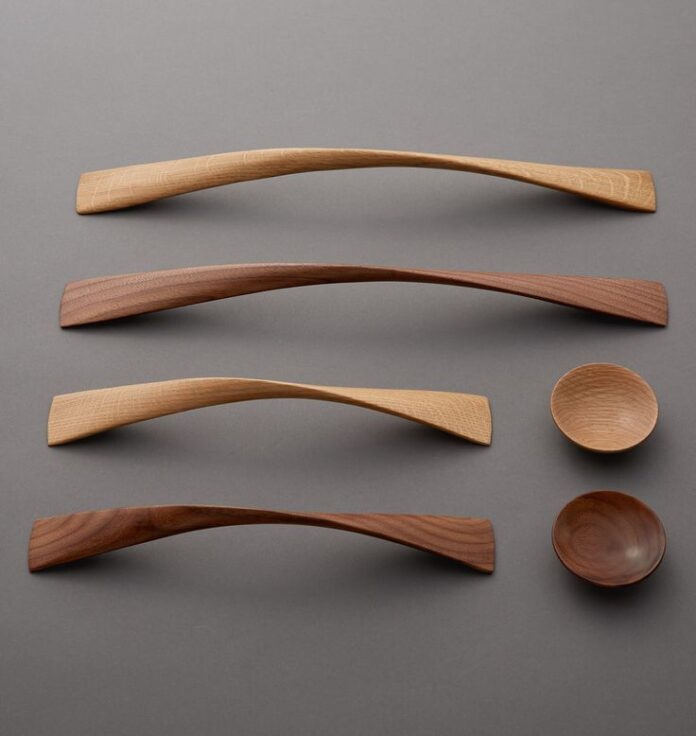 One of the most common subreddit questions under kitchen handles is asking, "What do you call this?" and posting a picture. While different types of hinges and parts are featured, the most surprising are the posts on kitchen handles. These are not merely decorative accents; we need these functional fixtures to open up cabinet doors and drawers.
Kitchen handles are fixtures we interact with most and get a lot of attention, so selecting the right handle is critical. Understanding the visuals and the language will help you search online and to communicate with associates for the handles you need. Here is a guide to help you with getting a handle on handles!
Kitchen Handles: One screw or two?
Knobs
Handles that attach to your door or drawer with ONE screw are knobs. Knobs have the advantages of being easy to install and inexpensive.
Among these knobs, there are various shapes. Taken from MyKnobs.com, these are the most popular shapes fro knobs but is not an exhaustive list of options:
Round
Square
Rectangle
Oval
Hexagon
Octagon
Pulls
Handles that attach to your door or drawer with TWO or more screws as pulls. Pulls have the advantages of being more secure to pull and being more versatile with styles and lengths. Among these pulls, there are various types:
Bar Pulls – These are straightforward bars that attach via two screws into the panel
Arch Pulls – Arch pulls are similar to bar pulls, but the handle length is curved.
Ring Pulls – These are solid circular handles attached to a backplate for extra stability when attached to a panel
Bin Pulls/Cup Pulls – These pulls form an upside-down cup when mounted and are usually on drawers. This allows the user to pull the drawer towards them with an underhand grip.
Drop Bail Pull – These pulls dangle from the hinge and lie vertically flat. These are usually implemented on drawers rather than cabinet doors.
Birdcage Pulls – This is a lattice pattern that forms a three-dimensional pattern across the handle. This is usually a design option found on bar pull.
Styles / Themes
Some people are more inspired by design before they settle on what the physical handle looks like. Here are some terms you will hear often when describing handles and what they mean.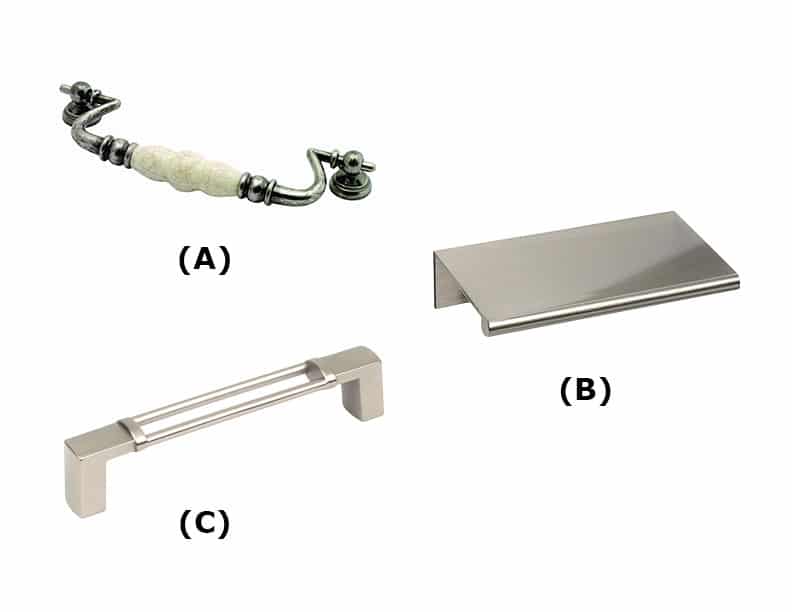 Traditional – Traditional style is inspired by art or a popular design from the past. Most traditional furniture is full of wood, so the handles were complimentary with metals like brass. Traditional handles tend to be on the ornate or even opulent side.
Contemporary – Contemporary styles tend toward sleek and minimalist design. Handles with this aesthetic can be simple shapes and solid colors. Examples of contemporary handles are found in Scandinavian, such as IKEA, or industrial aesthetics.
Transitional – Transitional is a blend of traditional and contemporary, so it is rare for handles to be classified as this genre. Those listed handles have elements of both, like a handle that is metal but a simple, unornate rod.
Finish
To many people, they will look at a handle and say, "There are so many versions of silver and gold!" So how can we tell them apart? The best way is to look at the material of the handle. There are certain characteristics that each particular finish is known for.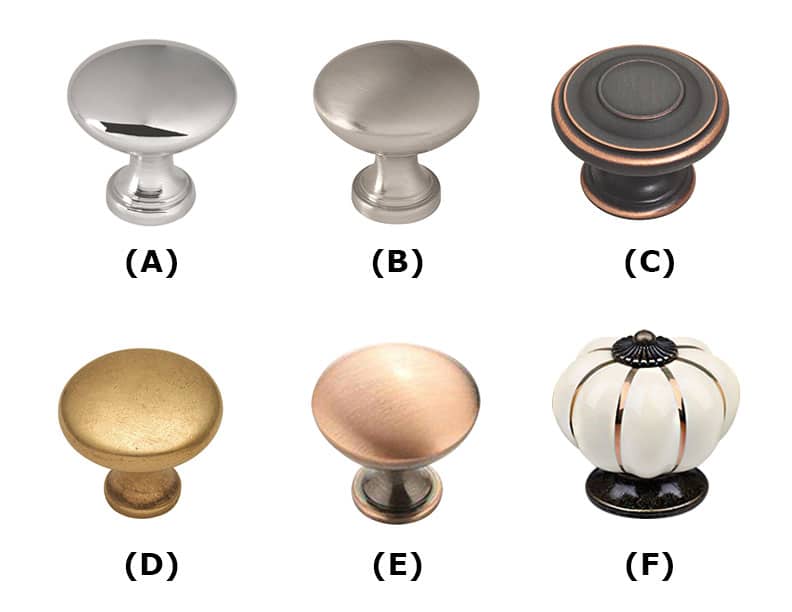 Chrome – Chrome is silver so shiny that it is reflective like a mirror. If you want polished and bright but more subtle not as reflective, then you want "satin chrome."
Nickel – Nickel is silver with a slightly warmer (yellowish) tint, compared to chrome that has a cool (bluish) tint. Nickel is known to tarnish so it can look aged over time, which is a look some people want.
Bronze – This is a yellow-brown metal that has some naturally occurring imperfections that give this finish character.
Oil-rubbed Bronze – This bronze is chemically treated to appear dark brown, like chocolate, with some of the metal sheen coming through.
Brass – This metal is a mixture of copper and zinc and is popular because of its resemblance to gold.
Copper – This reddish-brown metal is more commonly found in copper cookware than in cabinets but gives the cabinet a unique accent.
Ceramic – The decorative look of ceramic knobs come in a wide variety of colors, patterns, and shapes. These are only knobs as they have less durability and strength than their metallic counterparts to function as drawer handles.
There are other colors, such as solid colors that are common and non-metallic with contemporary design. Solid black or white are monochrome and are the most popular colors because the neutral accent goes with anything. There are custom kitchen handles like marble and granite that can be affixed to metal bases with screw threads.
Find more information on kitchen handles and cabinets from Best Online Cabinets.