A well-designed kitchen is one of the most important things you can have in your home. A kitchen that looks good and functions well is a must-have for any homeowner, which is why a kitchen renovation can make a huge difference when you're selling the home. A dated or poorly laid out kitchen can turn many potential buyers away, or even lower the value of your home. Upgrading the kitchen by adding new countertops, or white shaker cabinets for added functionality can increase your home's value and help you find potential buyers quicker.
Should You Renovate Your Kitchen Before Selling?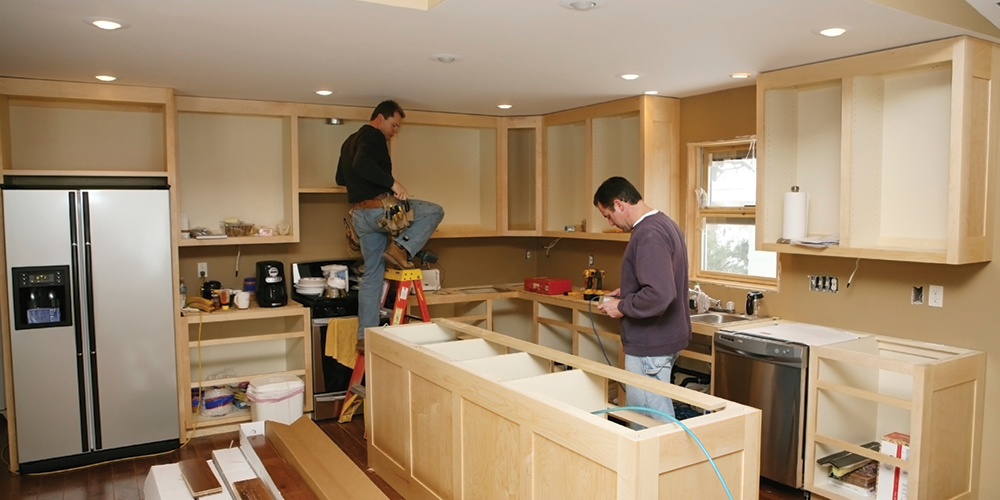 Many realtors will tell you that the kitchen is the most important room that potential buyers will look at before committing to purchase. A nice kitchen will help sell your home, and a more recent remodel will increase your home's value. Before undertaking a kitchen renovation, make sure you calculate your budget so that the money you put into an update will be made back after the sale.
Best Kitchen Updates to Increase Your Home's Value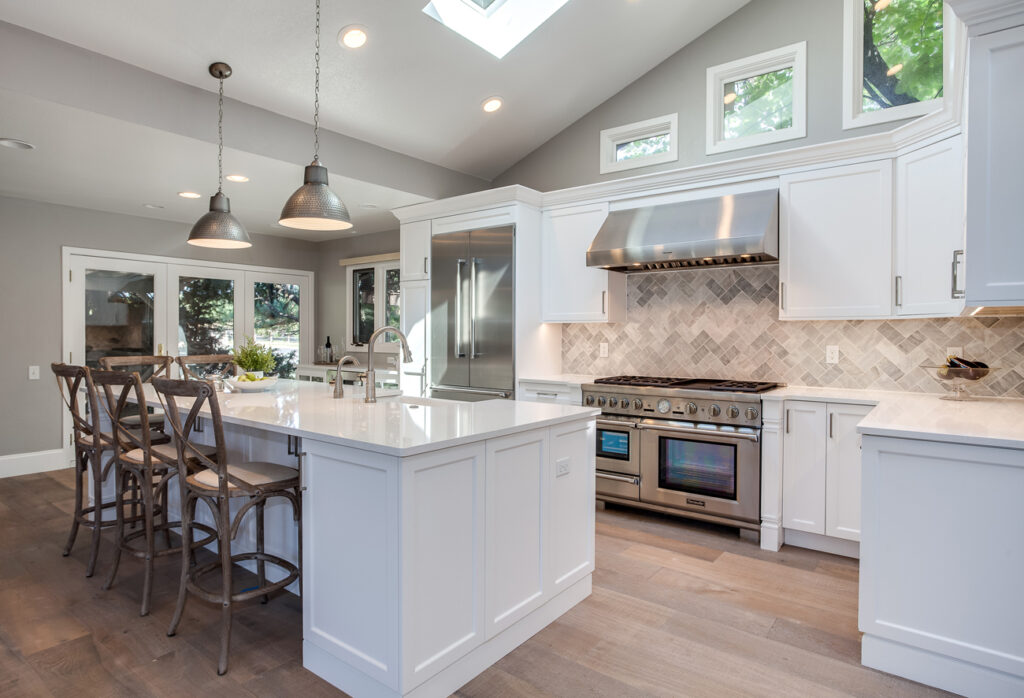 When planning to sell your home, there may be lots of projects that you want to take on. However, sometimes a full-scale renovation isn't possible due to time or budget constraints. In that case, you might want to pick the projects that will add the most value to the kitchen. These projects will help you get more bang for your buck when you need to upgrade before selling to increase your home's value.
White Shaker Kitchen Cabinets
Shaker style cabinets have been around since the 18th century, but they're not going anywhere. These cabinets are known for their simple, clean design and solid workmanship. Shaker cabinets are versatile and can work in just about every style of kitchen, from traditional to farmhouse to modern. These are all important qualities for potential buyers. The simple yet strong and classic shaker cabinets can work for them, no matter what their kitchen style will be.
Cabinets can be one of the most expensive parts of a kitchen renovation, but if you already have shaker style cabinets in place you can just give them a simple upgrade with paint and new hardware. White is the best color to use for painting your cabinets. It can make the kitchen look bright, airy and clean, and you don't have to worry about turning off potential buyers who may be averse to certain colors. For hardware, opt for something simple like stainless steel pulls or oil rubbed bronze knobs. These are some of the most popular choices for cabinet hardware, and can look sleek and polished without taking too much attention away from your shaker style cabinets.
Upgrading Countertops
After the cabinets, the kitchen countertops are the biggest focal point of the space. They can also be incredibly costly or surprisingly affordable, depending on the material you choose. Granite countertops are durable and affordable, and come in a variety of colors to suit the kitchen. For a bolder, more striking look you can try marble, wood butcher block or concrete countertops. However, these countertops may not be as durable as other materials, which may make them less popular with potential buyers. If renovating on a budget is the number one priority, you might want to try laminate countertops. They are affordable and easy to install, but are also durable and come in many colors and styles. Choose something fairly simple that compliments the kitchen well to best appeal to buyers.
Time For Some New Appliances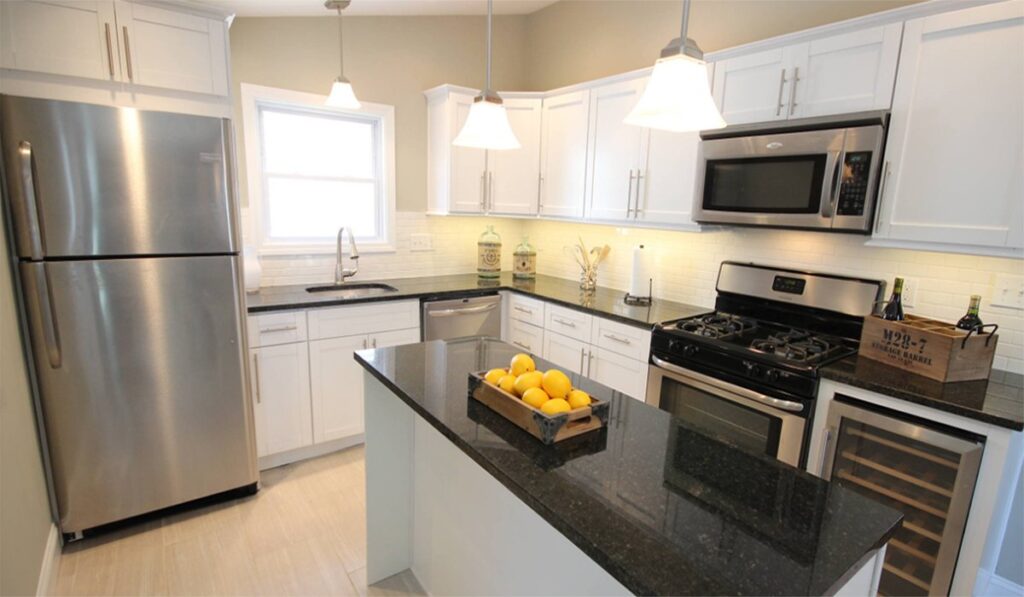 A buyer will envision themselves in your kitchen a lot easier if your appliances are up to date. Even with new cabinets and countertops, a kitchen that has dated appliances will just make potential buyers think about all the changes and renovations they'd have to make on their own. Upgrading your appliances can be costly, but it will add functionality to your space and is a relatively quick and easy renovation.
Stainless steel is the most popular finish for appliances, but you could also try something slightly more eye-catching with black stainless steel appliances. They have all the benefits of stainless steel — available from every major manufacture, matches all cabinet styles, simple and elegant — but stands out from the crowd. White finishes are also a good choice, particularly if you want your kitchen to look bright and airy.
Put In New Lights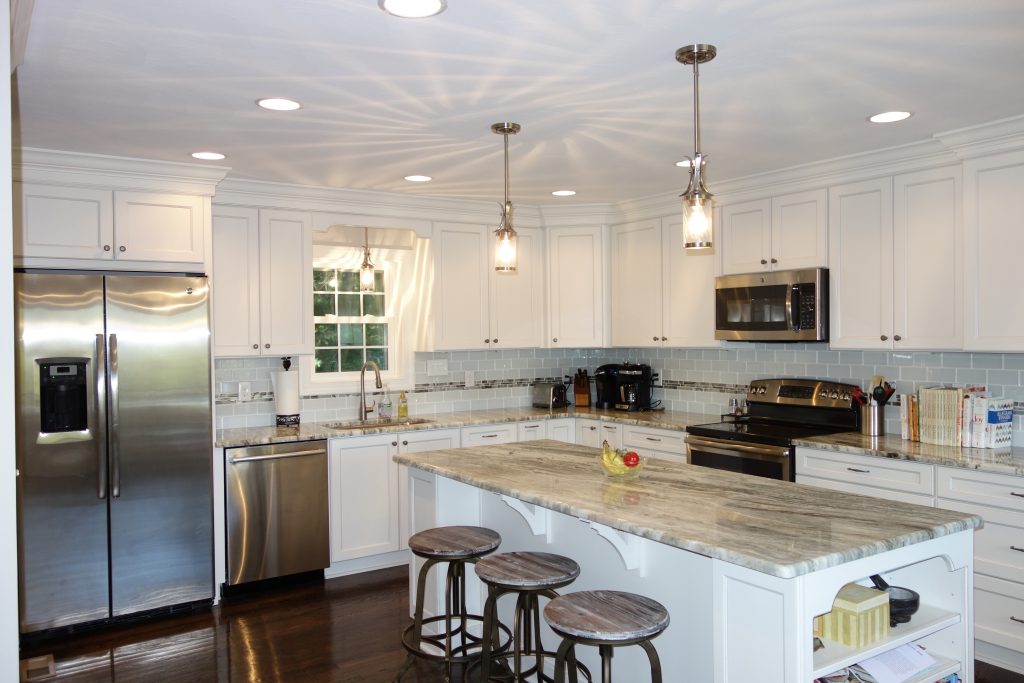 Lighting fixtures may not always seem like the most glamorous addition, but they can truly take the kitchen to the next level. You can add a show-stopping fixture like a chandelier or modern pendant light to create a dramatic focal point, or focus on the all-important task lighting above the kitchen island or cooktop.
Another way to increase the value of the kitchen is by adding under-cabinet lighting. These light fixtures fit under the kitchen cabinets to add functional lighting to countertops and workspaces, making them a practical addition that makes the kitchen look and feel extra special.
Think About the Colors of Your Kitchen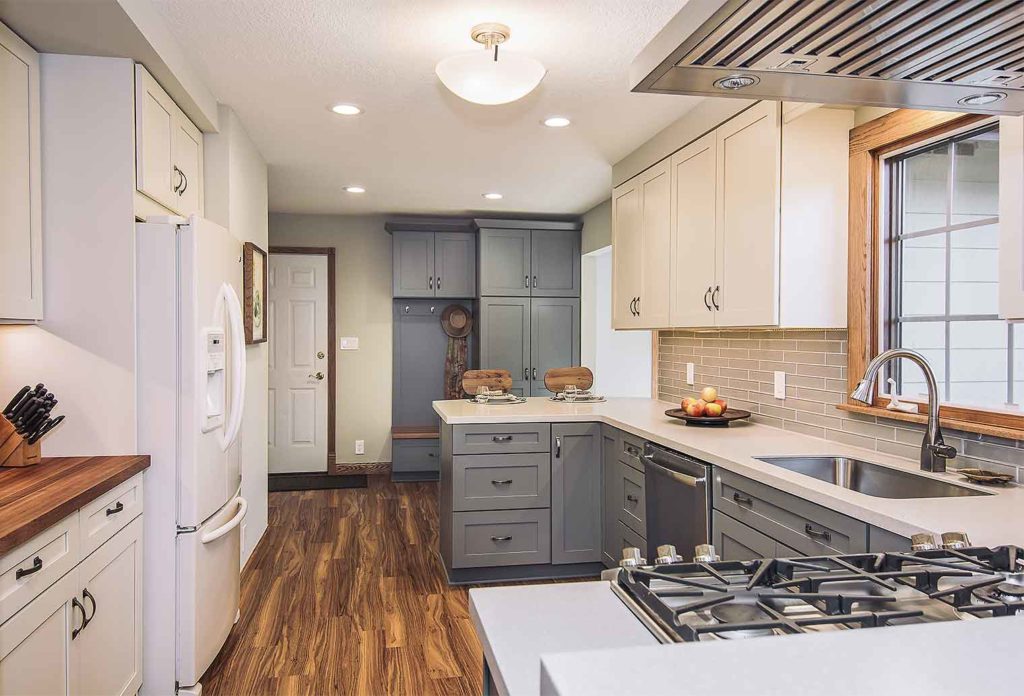 Remodeling your kitchen, even partially, comes with a lot of different decisions that need to be made. Having a big picture idea at the start, including a cohesive color scheme, will make all the decisions along the way come much easier.
With white shaker cabinets as your base, you have the opportunity to do a lot with color. For something simple and understated, you might want to pair your white cabinets with a grey countertop and white backsplash. This look will make your kitchen appear bigger and brighter, and is subtle yet sophisticated. You can go for a warm-toned white, with yellow or cream undertones, to make the kitchen feel more homey, while cool tones can feel more modern. You can also pull in pops of color in places like your backsplash, curtains, or countertop decor. This is especially important when you begin staging and showing your home. Having an overall design scheme will make your kitchen, and your home, look more polished and move-in ready.
By making smart, simple updates to your kitchen, you can increase your home's value. Buyers will be willing to pay more for a house that has high-end finishes, modern appliances and versatile features like your white shaker cabinets.