Choosing the correct cabinet hardware dictates the tone and style of the shaker kitchen. Since shaker-style cabinets are one of the most versatile options for your kitchen, it means that there are lots of different ways you can personalize them. You can blend shaker cabinets into modern spaces, traditional kitchens, farmhouse or French country-style rooms, or even kitschy retro styles with the right touches, and the right hardware. Hardware is a small detail that can have a big impact on your kitchen, no matter what style you're emulating. Read on for our tips on how to pick the best hardware for shaker-style cabinets.
Knobs vs Pulls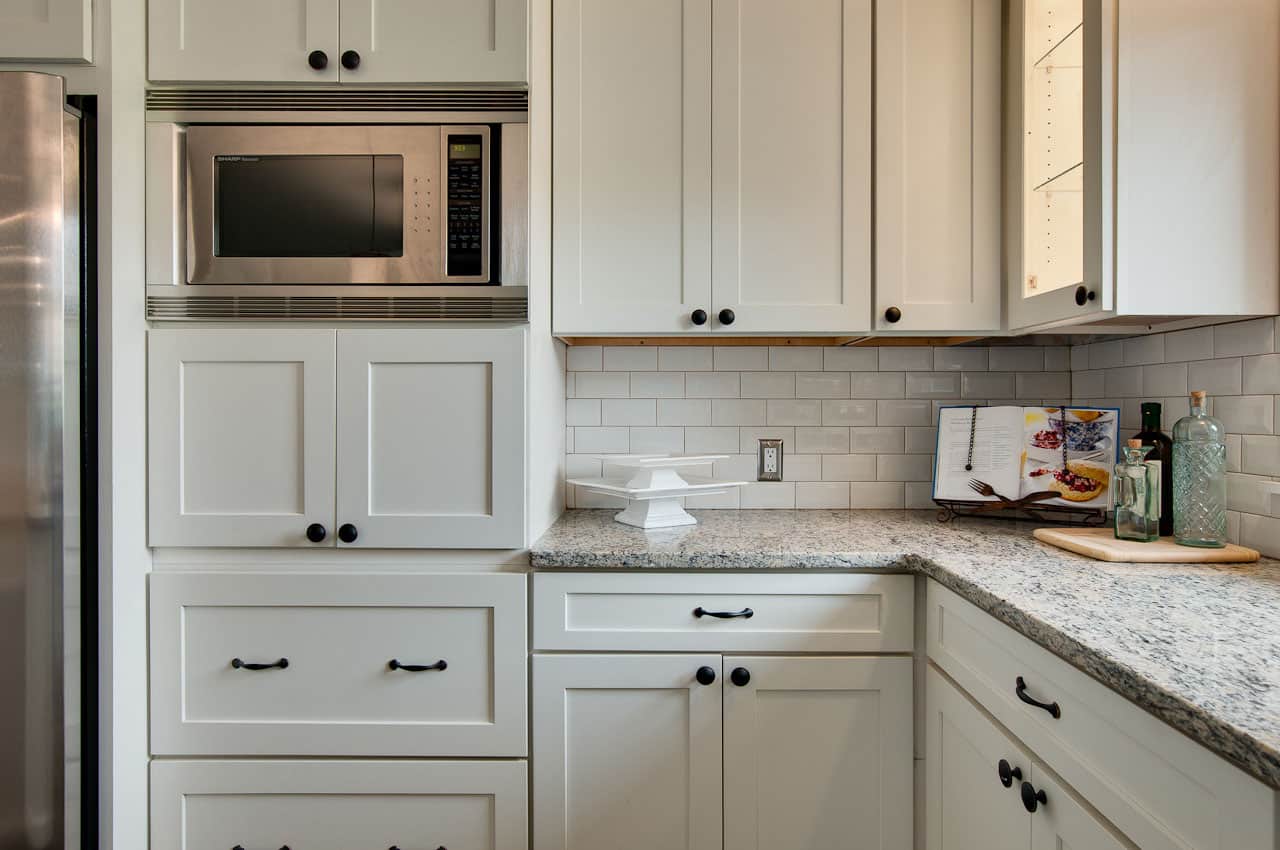 Decorative cabinet hardware typically comes in two types: knobs and pulls. Knobs are small handles and usually only require a single screw, whereas pulls are larger and thinner, and typically require two screws to attach to the cabinet door.
Knobs are typically rounded but can come in different shapes like a mushroom to a square. They can also be available in 'novelty' styles shaped like food, flowers or even animals. Glass or ceramic knobs are often used in traditional homes as they are more classic and elegant-looking.

Pulls are often found in more modern homes and can be attached vertically or horizontally on cabinets. Either way, measuring the door to find the appropriate size pull before attaching is important. You want to ensure you have enough room to grab the pull and open the cabinet door easily. Common types of pulls include bar, ring, and cups, which have a recess to place your fingers.
Of course, you can mix and match both knobs and pulls in your kitchen. You may choose to do this for the style, giving your kitchen more character, or for functionality. Some cabinets might be better suited for a knob than a pull or vice versa, and you may find it best to use both in different parts of your kitchen. For example, you might choose to use knobs on your upper-level shaker style cabinets, and pulls for lower-level pullout drawers.
Flaws of Cabinet Hardware?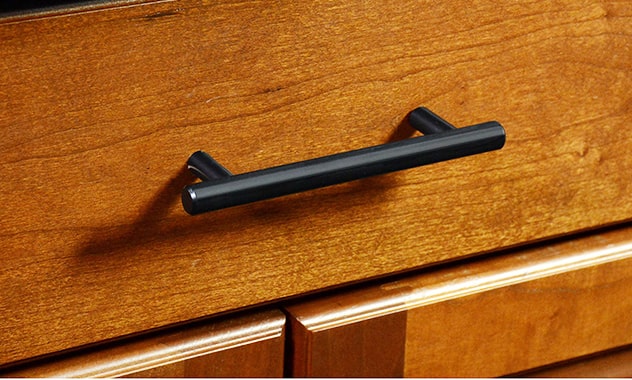 Even though some cabinet hardware looks more fancy or shiny, it does not make it better. Aesthetically the handle may be appealing, but functionally may be flawed. Certain pulls with an extended overhang and even knobs are extremely common in materials and colors to be versatile on any shaker cabinet. Walking past these can catch clothing unwillingly. Pulls with overhang ends can also be a hazard to some young children who may walk into the cabinet handle accidentally, hitting the protruding end. Cabinet style aesthetic is important, but this differs from user to user.
Does that mean cup-shaped handles reign supreme? Of course not. All handles have a pro and a con. The cup-shaped handle typically is found on drawers and not doors. They are not viable on doors that swing open, as that would be inconvenient for the homeowner to use. They also are meant to be gripped underhand, making bar handles more flexible. Some parents need to childproof a cabinet to prevent children from accessing hazardous material. Bar pulls without protruding ends may be most viable, but some designers find less character in the design. Is design supreme to have a specific handle or is functionality more important?
Finding the Right Style and Finish
Your kitchen's style will be the most important factor in deciding the hardware. Your hardware needs to match the overall decor of the room, and certain styles look more at home in different spaces than others. When mixing different hardware types, it's recommended to have both in the same finish to keep the space from looking too mismatched.
Traditional: In a traditional kitchen, your space is likely to have more elaborate and decorative touches like crown molding or beveled edges to your shaker cabinets. You should use hardware that is more detailed, like an intricate floral design on a ceramic knob.
Modern: Modern or contemporary styles are all about clean lines and minimalism. You might have glossy white cabinets with a simple backsplash or other unfussy details. For hardware, it's best to keep it simple with stainless steel pulls.
Transitional: These kitchens are a mix of modern and traditional and can utilize elements from both styles. You might have natural wood cabinets with a detailed backsplash, or pops of color like navy blue, which creates a completely personalized look. Traditional cabinets with modern-looking hardware might be a good option for a transitional kitchen.
Eclectic: If your style is eclectic, you might have a 'themed' kitchen like a black and white 50s diner or a coastal, seaside look. In that case, stick with your chosen look and find fun and informal knobs to match.
Popular Styles for Shaker Cabinet Hardware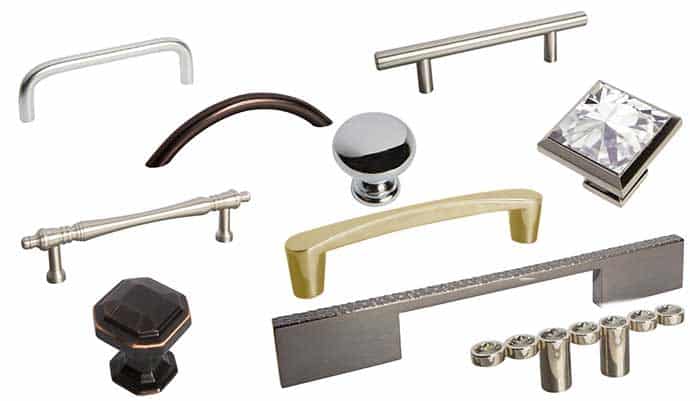 Cup Pulls: Cup pulls can look stylish and modern or rustic and farmhouse, depending on your finish and kitchen style! A Scandinavian style kitchen with slate grey cabinets can look elegant with sleek stainless steel or brass cup pulls, while a dark oil-rubbed bronze is the perfect rustic touch for farmhouse-style kitchens.
Bar Pulls: One of the most popular choices for white shaker cabinets is the classic bar pull. These pulls are sleek and simple, and in silver, they create a bright, clean look. Tubular bars work well in modern kitchens and can be attached vertically or horizontally. Flat bar pulls are a trendy alternative, and in gold or bronze can add a punch to darker colored cabinets.
Glass Knobs: Glass knobs are a classic and elegant option for your shaker-style cabinets. They can also give off a vintage look without looking dated. Glass knobs can come completely round, square, beveled like an old-fashioned whisky decanter, or even shaped like stars or flowers. If you're worried about the durability (or the price!) of glass knobs, acrylic knobs have the same appearance.
Metal Knobs: Some things are classic for a reason! Brass and nickel knobs are some of the most popular cabinet hardware choices, thanks to their simple appearance and durability. In kitchens with a lot of visual focal points, like open-shelving decor, elaborate backsplash or industrial-style elements, choosing uncomplicated hardware like a metal knob is the best choice.
Exposed Screws: Industrial kitchens usually have several 'unfinished' elements, like exposed brick, cement counters or uncovered pipes. Get the ultimate warehouse style by adding pulls with exposed screws to your cabinets! Stainless steel appliances and black shaker cabinets complete the look.
Matte Black Hardware: One of the biggest trends in kitchens right now is matte black! The matte finish brings modernity to the kitchen, often popping against bright-white spaces. Black faucets on a white, farmhouse sink bring a touch of drama, as do matte black pulls on white shaker cabinets. High contrast is in!
Curved Wire Pulls: A practical option, curved wire pulls are functional, affordable and suit almost any kitchen style. These pulls are often found in contemporary and traditional style kitchens in finishes like oil-rubbed bronze or chrome.
What About No Cabinet Hardware At All?
Some kitchens have gone completely handless with their cabinets. These cabinet doors have a groove predrilled in to allow the user to open the cabinet door without the need of hardware. However, not all cabinets have this option available. If you'd like the minimalist, modern look of shaker cabinets without any hardware at all, there are invisible hardware options you can try. A push latch (also known as BLUM Tip-On) is installed on the inside of the cabinet, leaving no hardware visible, and opens by having you press on the cabinet door. This accessory may not be applicable to all cabinet doors. Check with your designer to see if these work with your cabinets.
You can also opt for a hidden pull, which is common on lower cabinets and drawers. Hidden pulls are attached to the top of the door with just a sliver of the pull jutting out, blending visually into the countertop but still leaving enough room for you to grasp. Certain cabinet doors may even have a cut groove on the door itself.