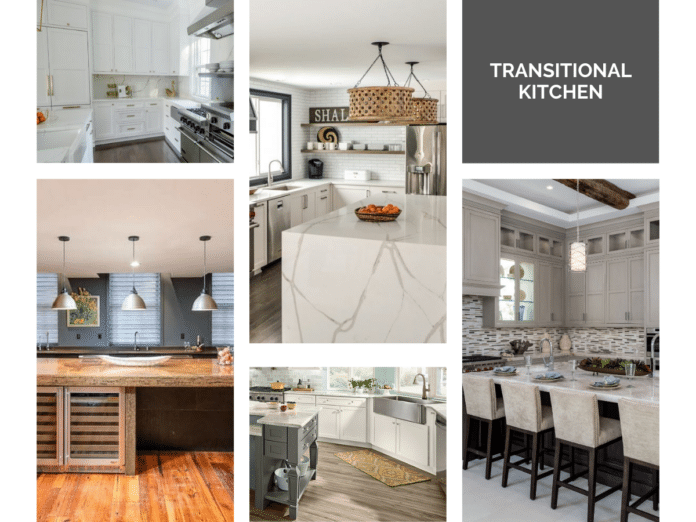 A transitional kitchen style is for homeowners that want to blend both a traditional and contemporary look. The design, colors, and textures are combined together to create a cohesive style that is warm yet modern. Because this style is a mix of elements, no two transitional kitchens are exactly the same. However, there are some common features that are found in transitional kitchens.
What is Transitional Kitchen Style?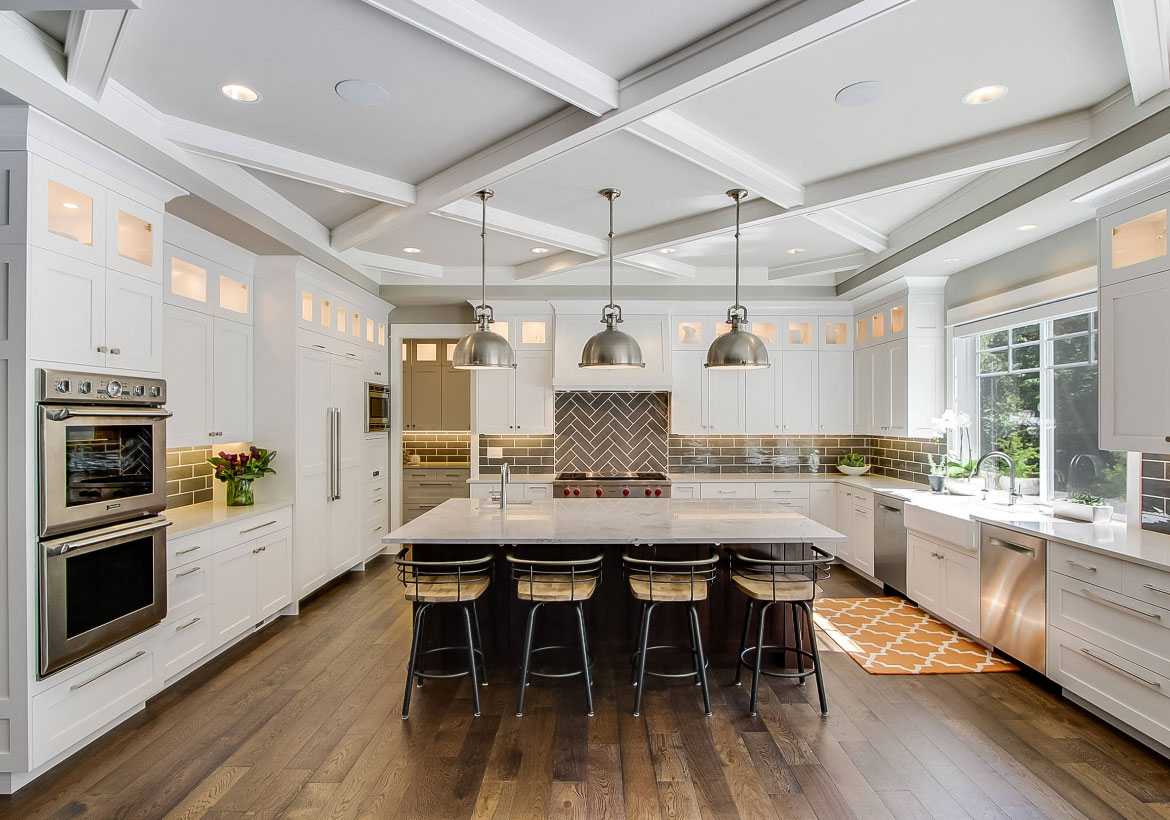 A transitional kitchen style blends some elements from traditional kitchens and some elements from modern ones. The blend is not necessarily split evenly, as more of one style might be present than the other, depending on the homeowner's preferences. Transitional kitchens often have a blend of organic and man-made materials. They are bright, relaxed, and have a lot of storage.
One of the most appealing aspects of a transitional kitchen for homeowners is that they can be as creative as they like to get the exact kitchen they want without having to conform to one specific style. Some homeowners like to include a touch of decorative ornamentation that adds extra elegance, but it is a small amount. Others might go more towards the contemporary style and no decorative accents.
Loretta Willis, an interior designer based in Atlanta says that "Transitional-style kitchens display an airy and casual elegance that draws you in. Its clean architectural lines and often neutral finishes speak to an ageless and classic style that borrows the best of traditional and contemporary design."  Since this style draws from surrounding spaces, it is particularly effective for houses that have a large or open layout. 
Transitional design does not have ornate cabinetry, corbels, or crown molding. The design aims to stay simple, with the goal of creating a light and open area, without being bogged down by details.
Transitional kitchens are very popular with homeowners. According to the National Kitchen and Bath Association, design preferences in kitchens will continue to be contemporary and transitional in 2021, with additional influence from natural and organic elements. Homeowners that want flexibility in design are gravitating towards transitional kitchen styles.  And those that are looking to renovate to sell find that transitional kitchens appeal to a large range of buyers.
Elements of a Transitional Kitchen
The elements of the transitional kitchen style include geometric, clean, and practical lines throughout the space, including cabinets and crown molding. Traditional light fixtures on the ceiling of above the countertops. It usually uses a combination of natural and man-made materials with neutral colors. Homeowners that are looking to create a transitional kitchen should focus on the following:
Cabinets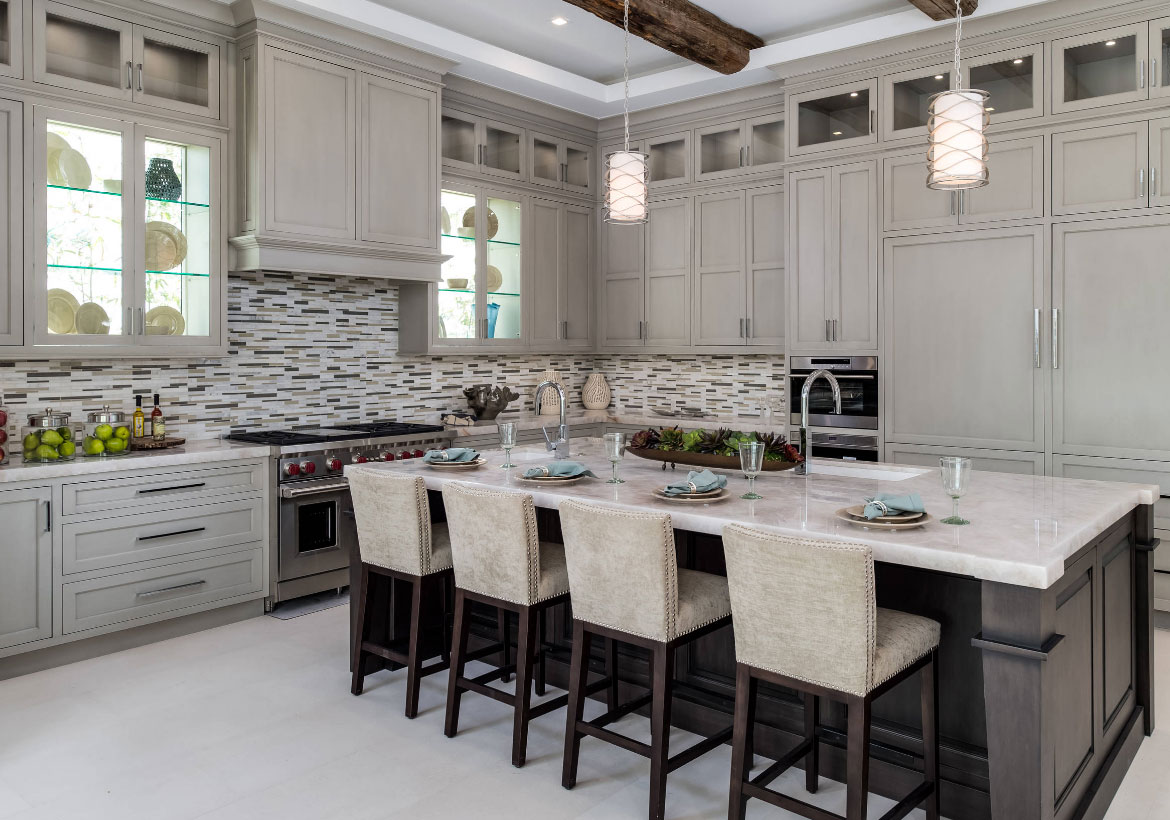 Transitional kitchen cabinets always have a streamlined profile. They often are made of wood rather than the lacquer that can be found in modern kitchens. The cabinets have recessed or paneled style doors and naturally blend in with the rest of the kitchen's style.
Shaker cabinets are the go-to option for transitional kitchens.  With their clean lines and paneled doors, they are the perfect backdrop for an uncluttered look. They also allow the homeowner to be creative elsewhere within the space. With the right hardware and wood color, Shaker cabinets can lean either more contemporary or traditional. 
The cabinetry does need to be all-white but should be in a neutral tone such as beige, light grey, cream, or even blue. The neutral palette of the cabinets allows for the kitchen to be bright and airy. No matter the color, a transitional kitchen has plenty of storage. This keeps kitchen items and small appliances off of the counters, so the space remains free of clutter.
Kitchen Island
Because they have an open concept, many transitional kitchens have a center island. One of the more recent kitchen trends is choosing a different color for the island than the cabinets. For example, white perimeter cabinets with a contrasting or complementary island in a different color like gray or dark blue. A multi-tiered island is also seen in transitional kitchens, as are those that provide a lot of storage.
The island works seamlessly with the design and allows ease of movement within the space. An L-shaped kitchen with an island, for example, allows for an eat-in area or casual breakfast nook. An upcoming trend in larger kitchens is creating two kitchen islands—one for prep and one for a sitting area. Another trend is larger islands, of at least 24 square feet which can serve as both prep and sitting areas.
Hardware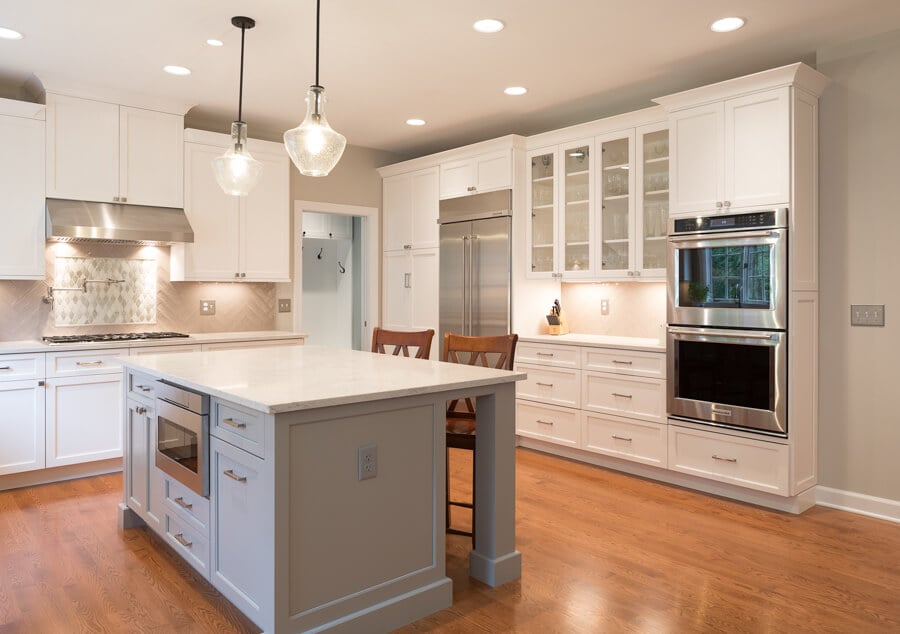 Hardware in a transitional kitchen is often more contemporary. Tubular bar pulls, sometimes called barrel pulls, available in many sizes and finishes which can add some modern to a more traditional cabinet style. Long silver rods with chrome bands, for example, creates a transitional look. 
Transitional kitchens commonly use a mixture of wood and metal. Silver rectangular handles against a dark wood Shaker cabinet will give a modern feel, but with a traditional element by incorporating the silver.  More modern transitional kitchens include black and brass accents. Homeowners have many choices when it comes to hardware.
Tile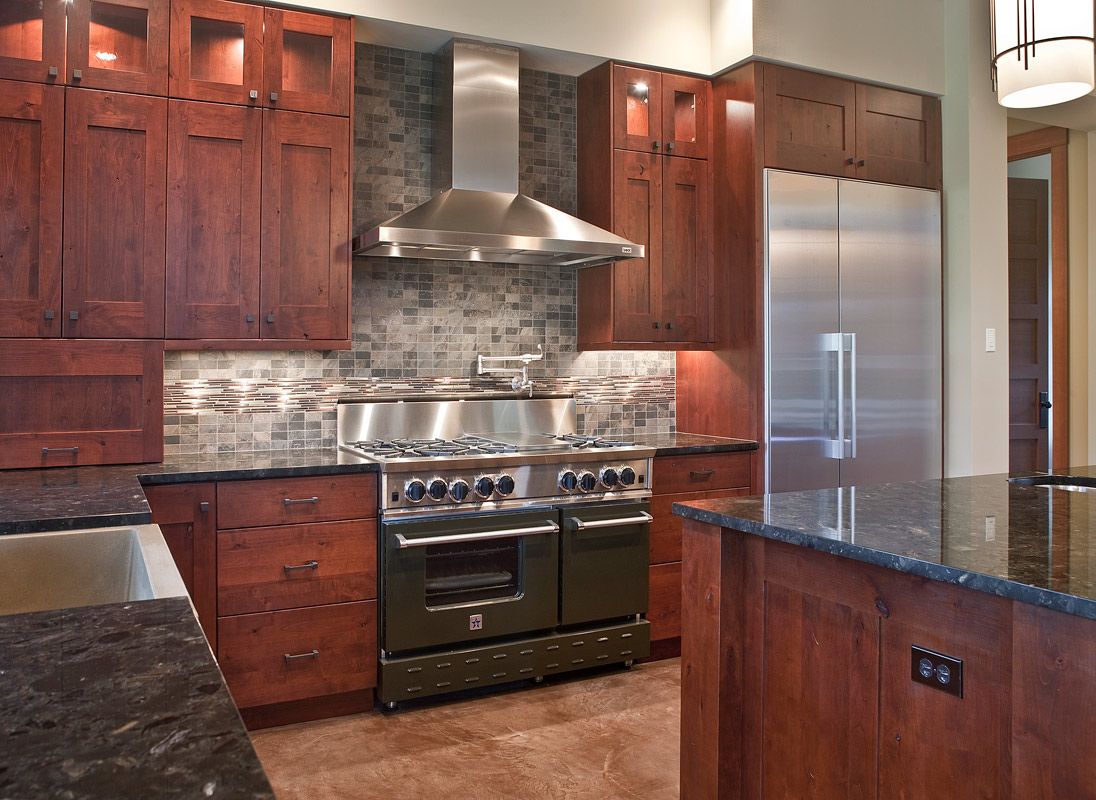 Tile can also be used in a transitional kitchen style, either on the wall or on the floor. Most tiles are not categorized as transitional on their own but can be used to accentuate a transitional style. Traditional tiles such as mosaics or marble can be mixed with contemporary ones, like large tiles. While traditional tiles can be incorporated, but the tile pattern can represent a transitional style, such as stacking them horizontally or vertically.
The color scheme does not all need to fit the neutral palette. Some homeowners use tile to create a statement backsplash behind the stove and use other simple tile, such as subway tile, for the rest of the backsplash. The tilework in a transitional kitchen is never busy.
Backsplash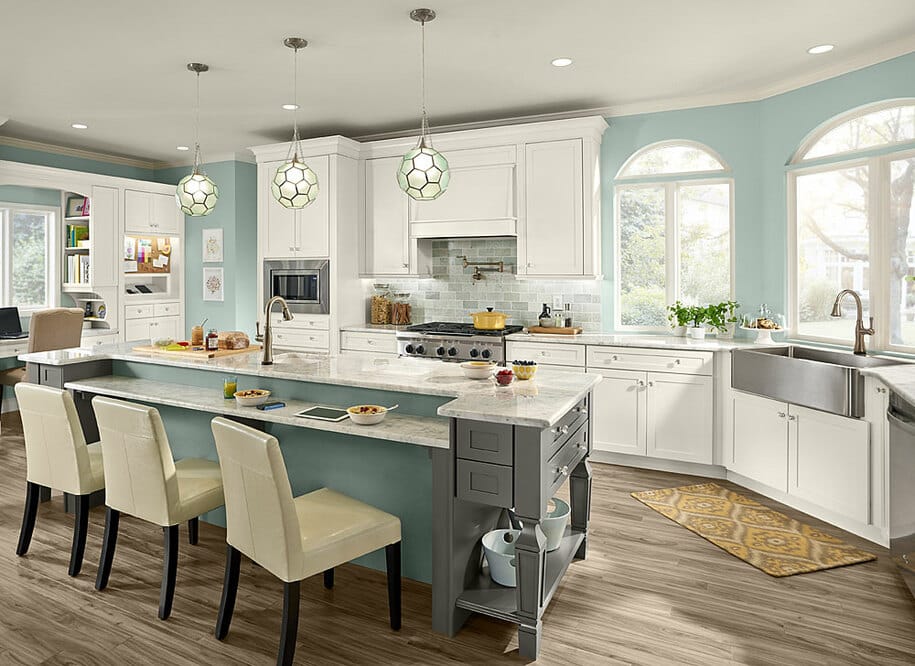 Backsplash adds color and texture to the space. This is where accent colors are most often used in transitional kitchens. With a neutral color palette and cabinets, the backsplash can be as bold and colorful as the homeowner wants. For example, a mosaic grid tile comes in many colors and textures.
Sometimes the backsplash is a continuation of the countertops, such as a marble countertop that continues up onto the wall. Or the backsplash might keep with the neutral palette of the kitchen. For example, herringbone is classic pattern that is used often.
Countertops
Marble, limestone, granite, and quartz are often seen in a transitional kitchen. Materials are made of natural surfaces and have clean lines. There are no edge treatments or ornate decorations on the countertops.
The countertop choice is versatile, depending on the homeowner's preferences, although quartz has become one of the most popular picks. A thick countertop profile and waterfall countertops on an island are also often seen with this style.
Lighting
Options are endless for lighting with the transitional kitchen style. One option is recessed lighting, which is often seen in traditional kitchens. It can be used alone or with another lighting source.
Pendant lighting is the one of the most noteworthy design elements in this type of kitchen. Some are oversized and slightly industrial and lean more towards modern, but traditional pendant lights work well too. Metallic pendant lamps in classic silhouettes blend both traditional and contemporary styles.
Color Palette
The color scheme should be kept simple, and it does not have many patterns. Neutral colors are used on the walls, countertops, and cabinets. Gray and beige walls paired with wood tones fit the transitional color palette. Homeowners looking for something with a little more pop are turning to shades of blue, which is on-trend.
Because the color scheme is neutral, transitional kitchens add textural elements in other areas of the kitchen, such as the backsplash.
Storage
Accessible storage is important in every kitchen and transitional kitchens always include a lot of storage so that the space remains clutter-free. Much of the impact then, comes from the cabinetry. Cabinets can be customized to create additional storage have the countertops remain clear. A large, tall pantry cabinet can take the place of a stand-alone pantry. Smaller kitchens will benefit from utilizing vertical storage as well. 
With more people spending time at home, appliances like the refrigerator and freezer will also have more storage options. Since the freezer is one of the best places to store food long-term, homeowners are looking to replace current refrigerators with larger options.
Flooring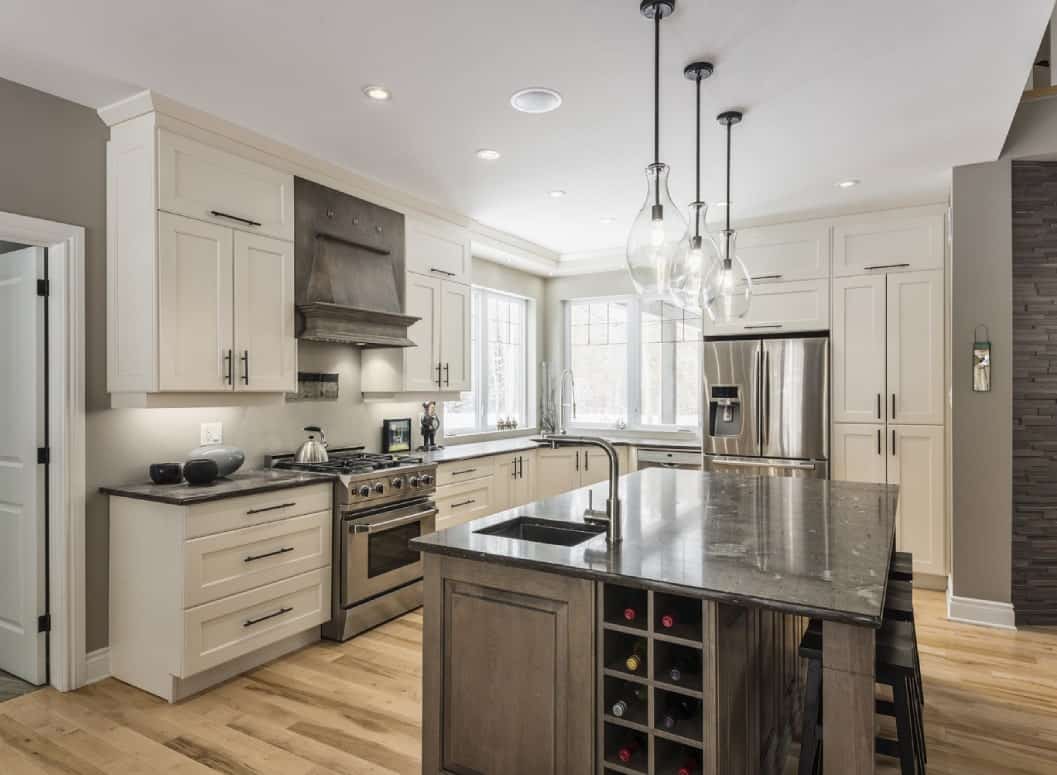 There is no set standard for flooring when it comes to transitional kitchens. Plank flooring is the preferred default option. The materials for the floor are either wood or a material that looks like wood. The flooring can be dark or light. The richness of certain floor tones will bring a traditional touch to the space.
Some homeowners are still opting for tiles, either ceramic, porcelain, or stone. The individual tiles should be large, because smaller square floor tile will date the kitchen.
Appliances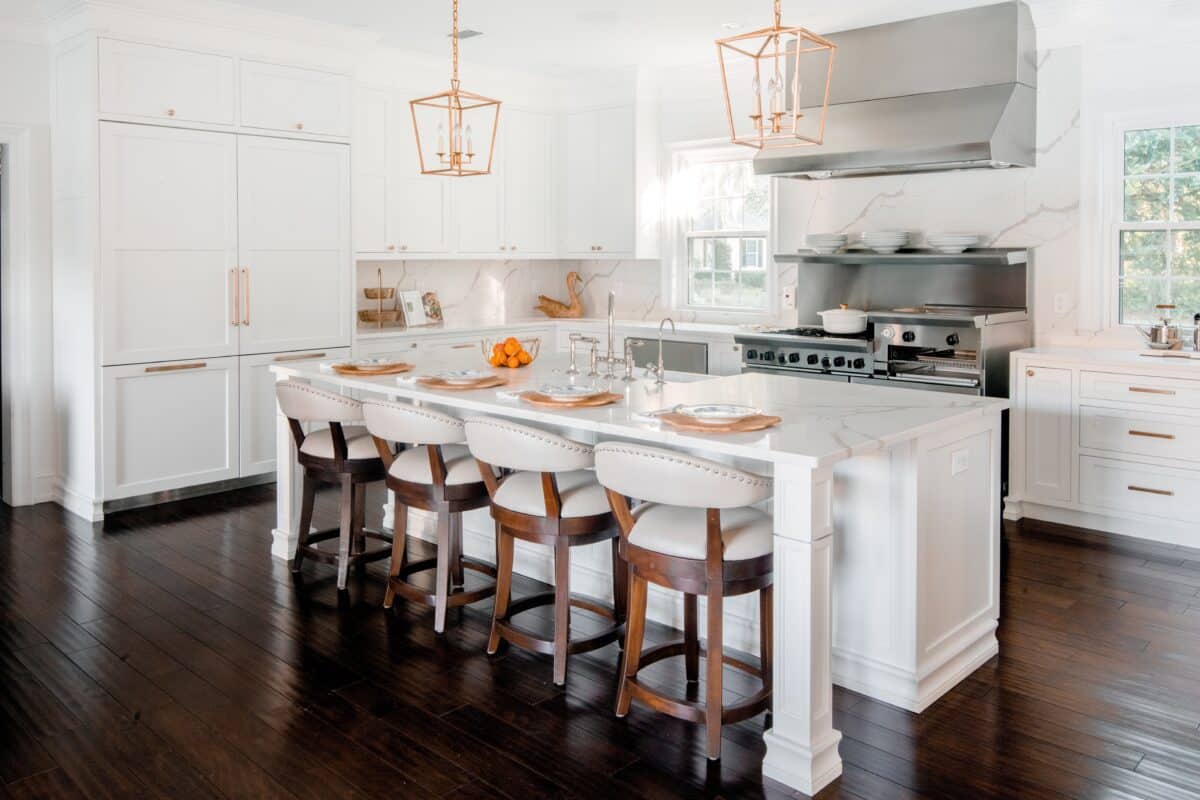 Appliances have a visual effect because other elements are kept simple.  Many times, stainless steel is the finish of choice, but paneling is a nod to the traditional elements of this style. Appliances are leaning toward innovative, and energy-efficient designs.  Range hoods are usually built-in and do not take away from the design of the room.
Sink
An apron-front sink is a prominent feature of a transitional kitchen. This sink style is versatile and found in many different types of kitchens. A second sink might also be located in the kitchen island. This sink might be used as a prep sink so that the island becomes a workspace. They look good on any type of countertop—quartz, granite, or even wood.
The transitional kitchen style allows the homeowner to mix different elements from several styles to create one that fits their needs. It gives flexibility that appeals to many homeowners. The neutral and clean-lined cabinets are the starting point for creating this design.