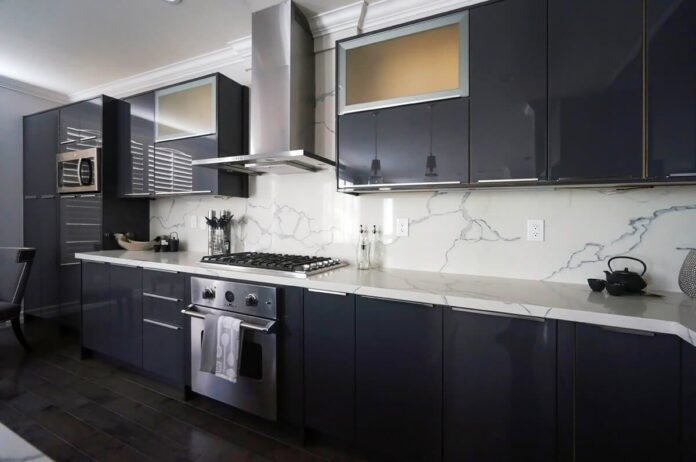 While all-white kitchens continue to dominate social media and design shows, we are starting to see a move towards the more dramatic and striking dark kitchens. Dark colors can make your kitchen look elegant, luxurious and modern. This makes them a perfect pairing for European style kitchen cabinets, which are already chic and contemporary. Read on for some tips on how to style your kitchen with dark European cabinets.
Choose the Right Style For Your European Style Kitchen Cabinets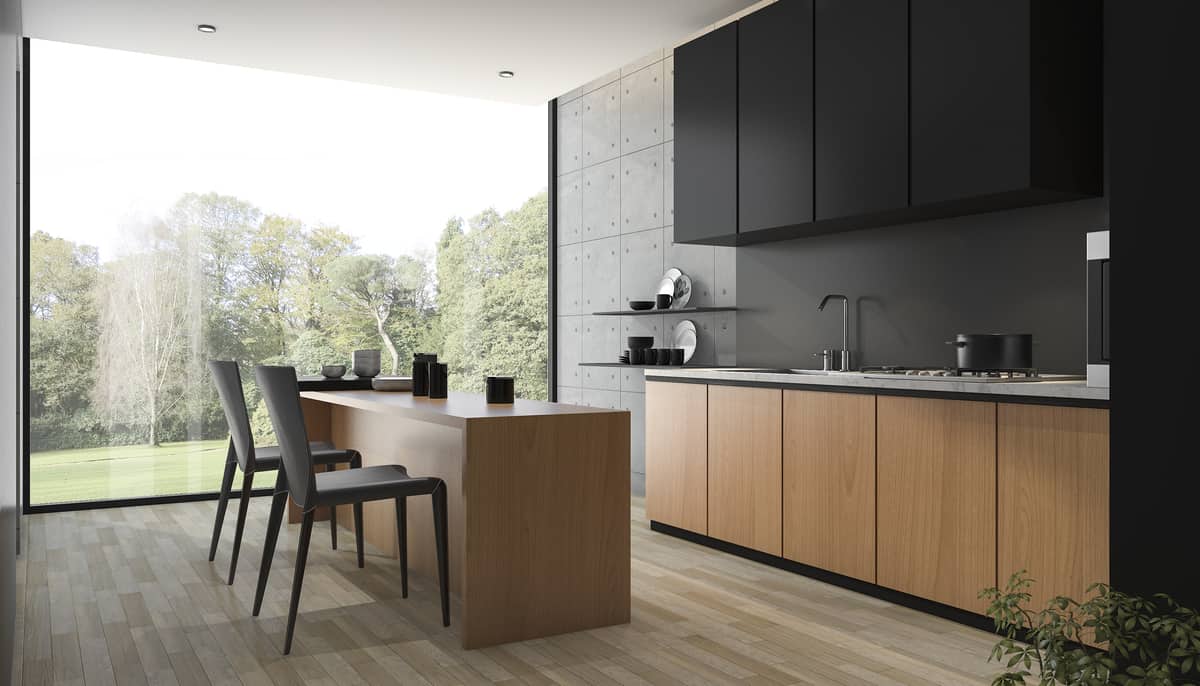 European style cabinets are available in a variety or colors, ranging from natural woods to painted laminate. You can opt for a dark wood grain, like walnut, oak or mahogany. These options tend to look very luxe and elegant. A painted finish in black or dark blue will look more modern and sleek. Decide which style you want to create in your kitchen, and the colors you choose will compliment that.
Create a Balanced Space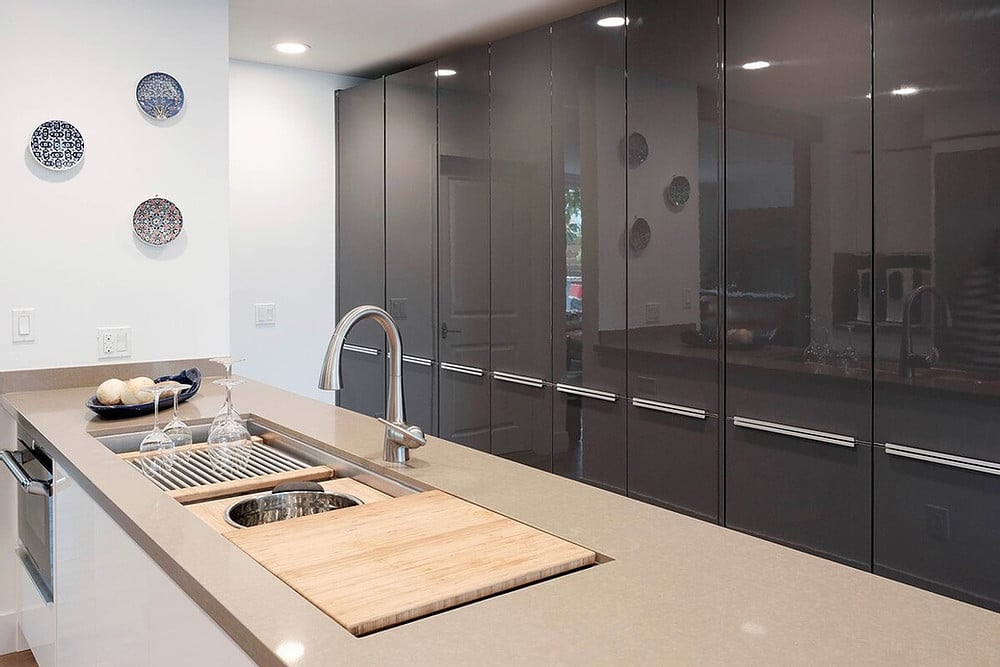 If you don't have a lot of natural light in your kitchen, then the dark colors of your cabinets could look too imposing or cramped. Break up the darkness of your kitchen by mixing and matching different colors and textures. You can bring in lighter elements, like backsplash tiles, to offset the dark cabinets.
Another way to break up the space in your kitchen is by utilizing open shelving. You can opt for lower cabinets in a dark color, with open shelves on top. This way, it not only opens up the kitchen and creates the illusion of more space, but it also can give you an extra spot for decor. You can use the shelves to show off your dishes, colorful vases or even a cookbook collection.
Play With Colors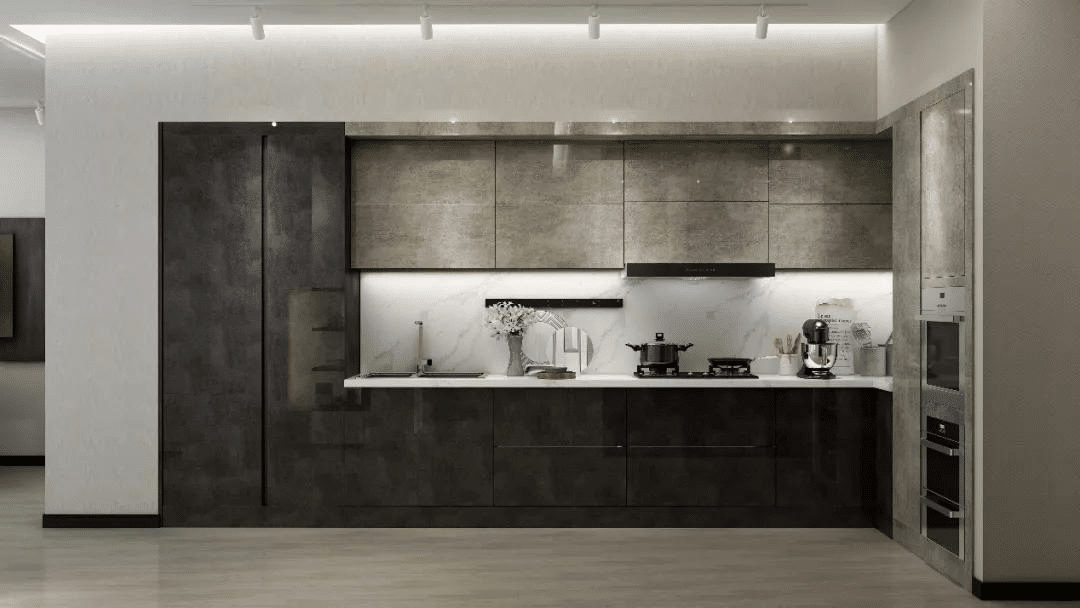 Just because you're opting for dark cabinets doesn't mean you can't incorporate other colors! Having two-tone cabinets is a great way to bring contrast into the space. You can opt for a lighter shade on the upper cabinets to balance out the dark cabinets below, or keep the wall cabinets one color and your kitchen island cabinets in another. Find a complimentary color to the dark shade you've chosen: for example, black and white are a classic contrasting pair, while a deep navy blue can work with a soft pastel or dove grey.
Another way to bring colors into the room is with small accent pieces. You can use your backsplash to play against the dark colors, with lighting fixtures and textiles to match. If you'd rather keep the color to a minimum, opt for a few decor pieces like vases or small appliances. With bold colors like red or yellow, a little can go a long way! 
Undertones Are Important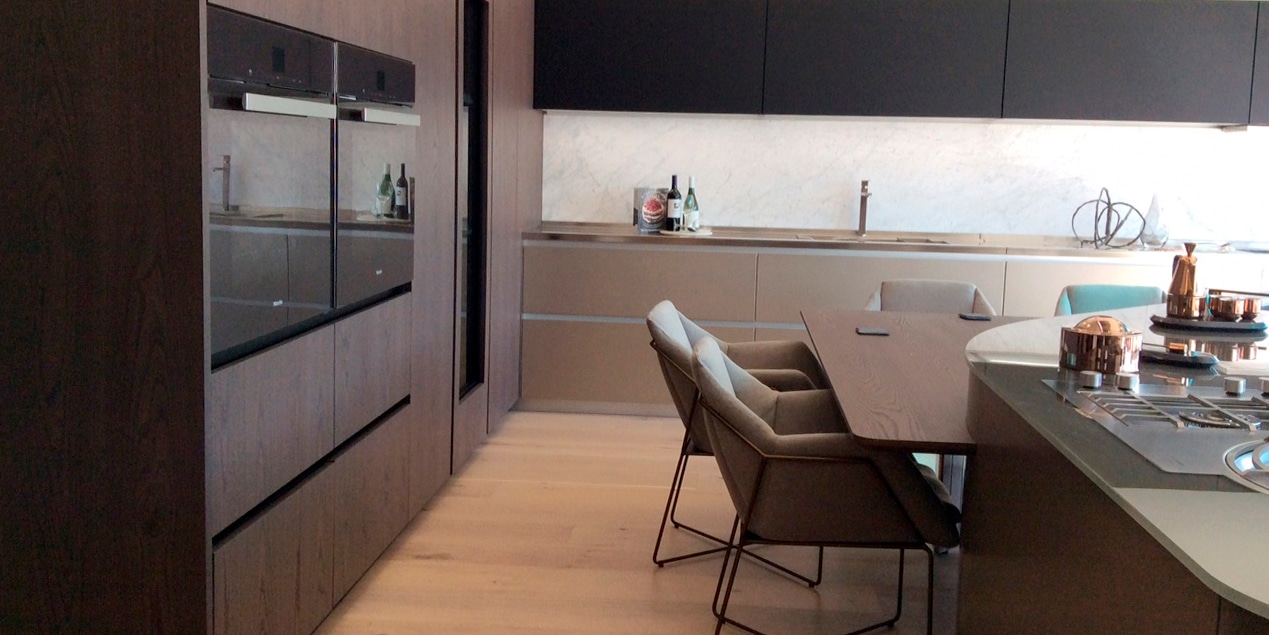 You know you want a deep, dark shade for your kitchen, but do you want warm or cool? The undertones of your cabinet color, especially if you are opting for a dark grey or brown, will help you style the rest of your kitchen. A warm toned shade, with beige or yellow undertones, will look better with warm colors like reds, yellows, oranges and browns. Cool tones, on the other hand, will pair better with blues and greens.
Bring In Wooden Elements in European Style Kitchen Cabinets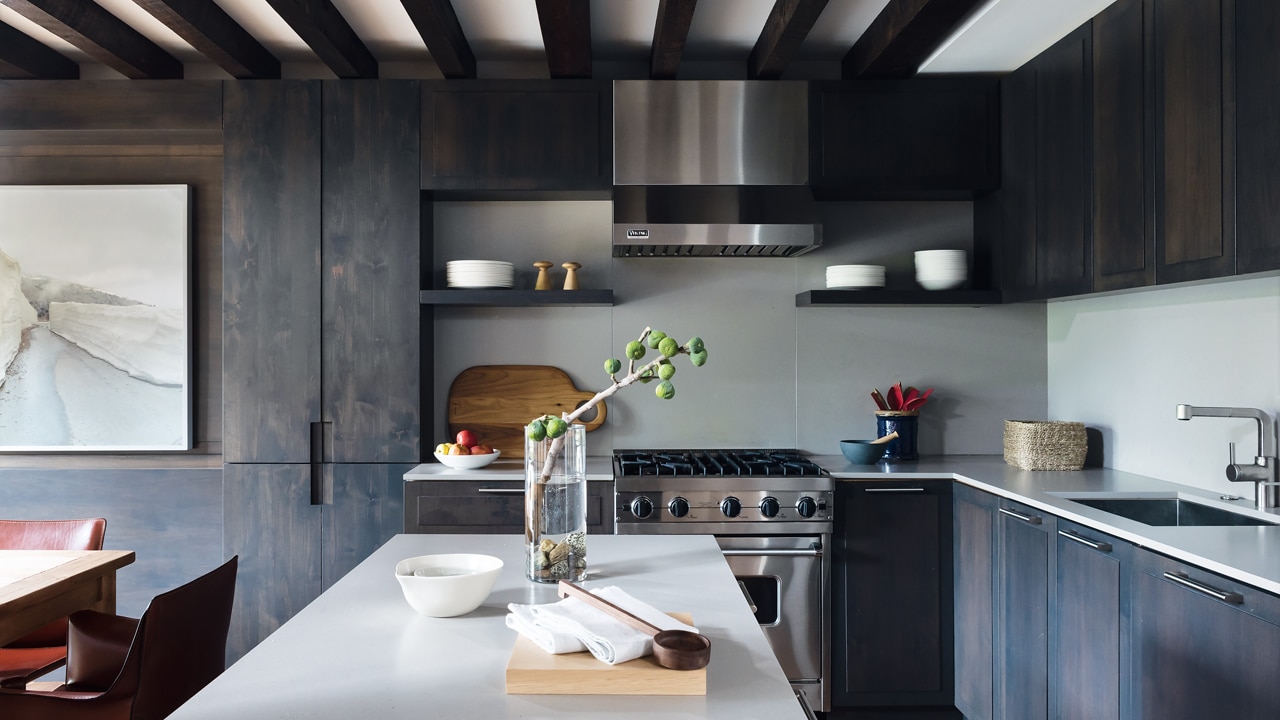 Painted cabinets aren't the only way to bring dark shades into your home. You can opt for a natural wood tone to create a more simple or Scandinavian-inspired look in your kitchen. You can also get that look by using natural wood elements that may already exist in your kitchen, like exposed beams in the ceiling or wooden floors.
Brighten With Blue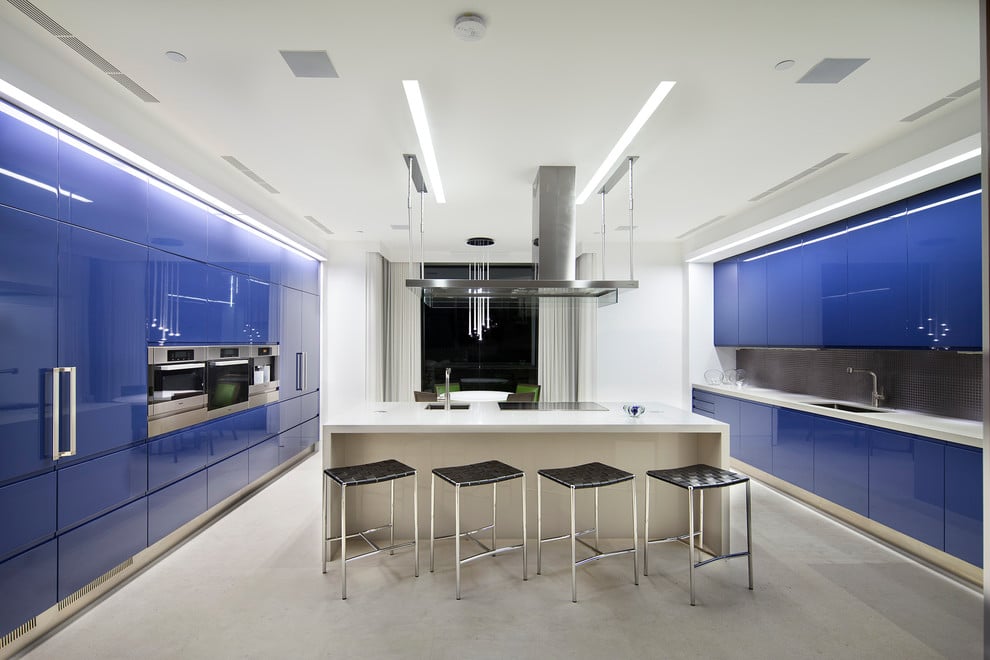 A black kitchen might feel too dramatic for everyone. Instead, you can get the dark effect with a less intimidating shade: blue. A rich, deep blue can work in many styles of kitchens: coastal, French, Scandinavian or modern. Contrast the blue cabinets with white walls to make it pop, and bring in brass hardware to complete the look.
Find the Right Hardware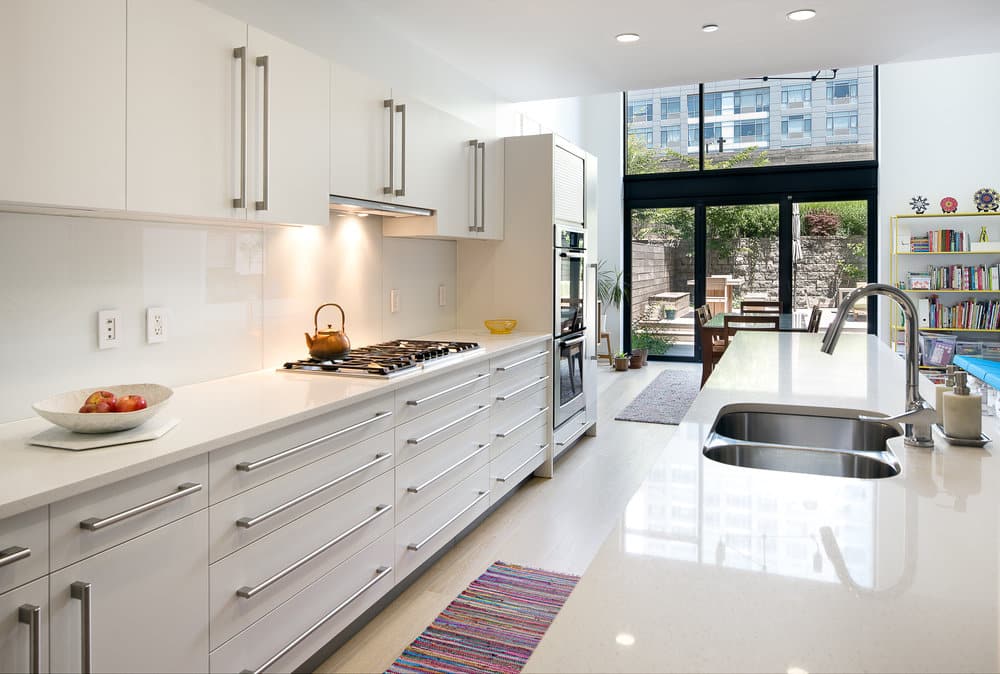 Once you've selected the right colors for your European style kitchen cabinets, you can bring out the best in them with your hardware. Choosing the right knobs and pulls will elevate your kitchen cabinets and make your overall look seamless. A stainless steel or chrome finish will stand out against dark cabinet doors and create contrast, while brass or gold are a warmer option. Pulls are typically more modern, especially when they are sleek and streamlined. However, for an ultra-modern look, you can forgo pulls altogether and opt for push-touch cabinets. This will create an ultra sleek line in your kitchen and allow the dark cabinets to take center stage.
Try Colors On Your Island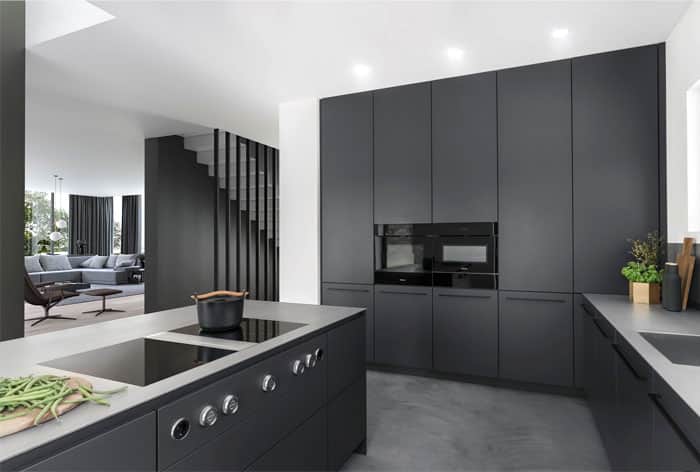 One way to bring dark colors into your kitchen without taking over the whole space is with a kitchen island. You can use a dark island in a lighter kitchen to create depth and dimension. This is a great option if your kitchen doesn't have a lot of natural light, and you're worried that the dark colors will make it look small or cramped. This way, you still have light colors on the walls to reflect the light, and your kitchen island can bring the dramatic shades.
Warm Up a Dark Space With Patterns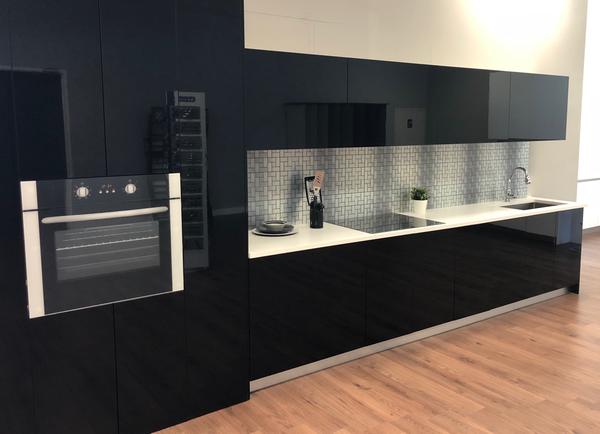 Just because you're opting for dark European style kitchen cabinets doesn't mean your home has to rely on dark solids and monochrome elements. You can bring in a lot of visual interest through pattern instead of color! Try a patterned backsplash in Moroccan-inspired print or geometrical designs, or tiled floors in a chevron pattern. These elements will transform your kitchen easily!
Don't Forget Your Appliances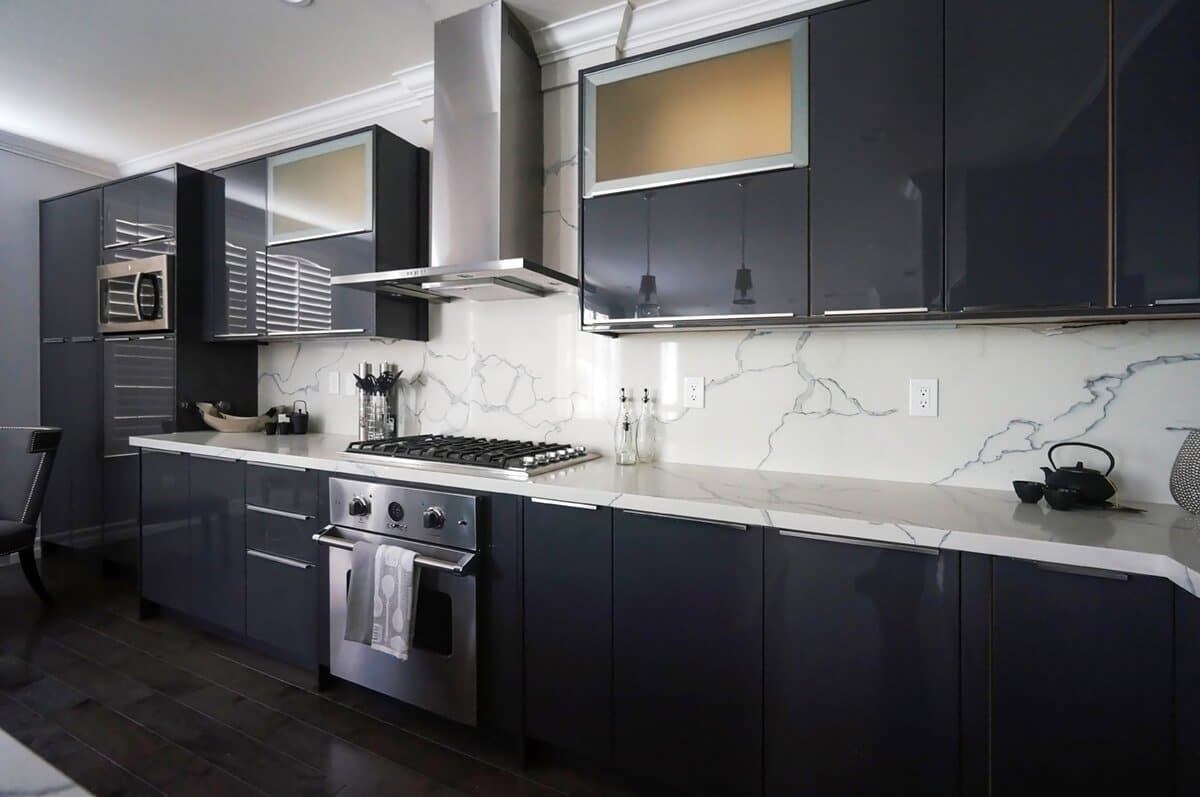 Appliances are a big part of your kitchen, so it's important to factor them into your design! Instead of creating a chic space around your fridge, let your fridge be a part of the overall look. Typically, major appliances will come in either white, black or stainless steel. All three options can work in your dark kitchen. White appliances can create a bold contrast with black cabinets and countertops for a unique look, while stainless steel can look contemporary and cool. Black appliances, particularly matte black, can make your kitchen look ultra-modern but sophisticated.