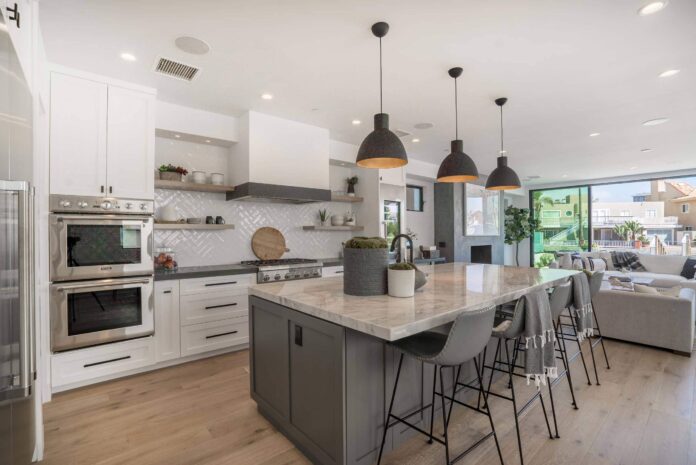 While shaker-style cabinets are a mainstay of rustic farmhouse kitchens, don't think that your options are limited! The sleek, clean lines of shaker cabinets mean they can fit right into a modern and contemporary kitchen as well. With the right decor and accents, you can create stylish contemporary kitchens using shaker-style cabinets.
What Is Contemporary Kitchens Style?
Contemporary style kitchens are characterized by sleek, minimalist design. While still functional, contemporary kitchens cut down on decor and highlight clean lines and neutral colors.
How to Make Your Shaker Cabinets Look More Contemporary
In order to make your kitchen cabinets have that contemporary look and feel, start with the color. Contemporary kitchens often come in neutral shades and colors like beige, cream, white and grey, with the occasional shot of color in an accent piece. For your cabinets, you might want to paint them in a cool-toned grey, navy blue, or even black.
You can also play around with the finish on your cabinets. A shiny, lacquered cabinet can look particularly sleek, especially when painted in a color like a blue-toned grey or white. An all-white kitchen, with lacquered cabinets, white countertops and gold or brass toned pulls is an effortless way to create a chic and modern space.
You'll also want to keep your cabinet hardware as simple as possible. Look for sleek, minimal pieces without intricate detailing or beveled edges. Simple gold bar pulls are a popular option, as are brass knobs in simple shapes like circles and octagons.
If you have a kitchen island, you can use a different style of cabinets to cover the island. Wood cabinets on an island can offset a white cabinet, or vice versa. You can pull in a stool with a pop of color like turquoise or red to create visual interest.
Contemporary Kitchens Details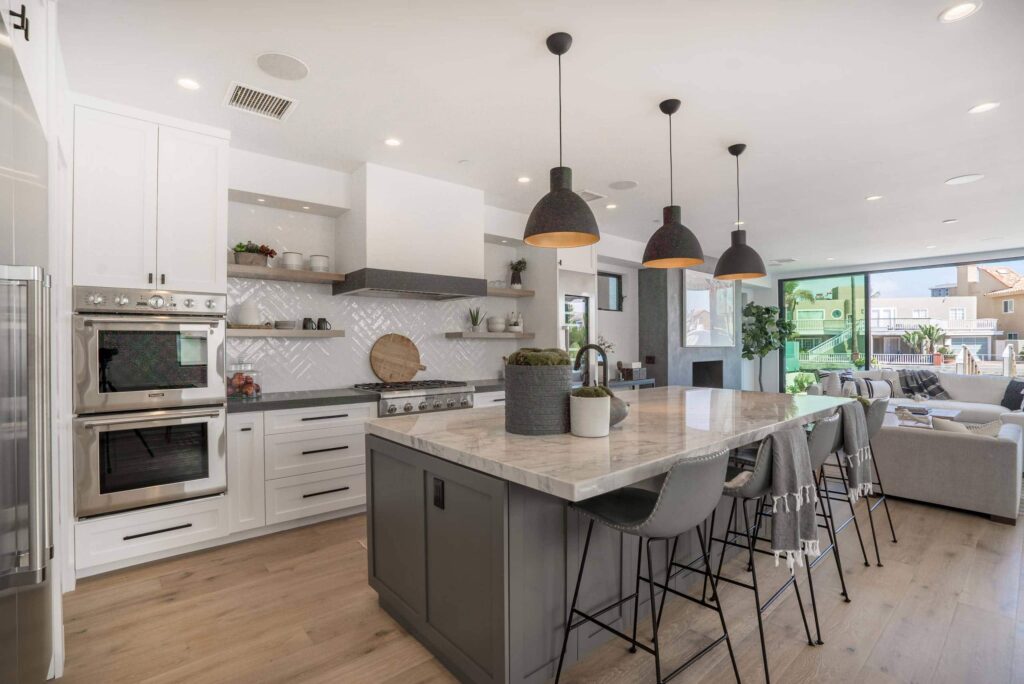 Creating a contemporary kitchen requires lots of pieces working together to make a coherent look. Alongside your shaker kitchen cabinets, look for these items to complete the look.
Countertops
Choosing the right countertop that compliments the rest of your kitchen is important. For a sleek, ultra modern look you can opt for white marble or granite countertops. These especially pair well with darker colored shaker kitchen cabinets, like black or dark grey, to create a visually interesting contrast.
You could also opt for unexpected materials in your contemporary kitchen, like stainless steel or wood. These countertops have sleek lines and are a perfect way to either warm up or cool down a kitchen, depending on the look you're going for. Pair a wooden countertop with grey cabinets and exposed brick for a contemporary, loft-inspired vibe, while stainless steel counters look chic above black cabinets with silver hardware.
Backsplash
When selecting the backsplash for your contemporary kitchen, you have a lot of choices available to you. You can opt for a simple, understated backsplash that keeps the focus elsewhere or opt for something that creates a bold look to enhance your kitchen.
You can also choose how much of the wall you wish to cover with tiles. Your backsplash could cover the entire area above your countertops or only a small portion of the wall, depending on the look you have in mind for your kitchen. Simple subway tile can cover the entire wall and help your kitchen look clean and sleek, while a bolder pattern tile might look more effective and less overpowering if contained to one area. You can opt for a colored ceramic tile backsplash to add interest to the kitchen. For example, a kitchen with grey shaker cabinets and natural wood counters can benefit from a warm-toned pattern tile to give more life to the space.
Flooring
When it comes to flooring, you should play it safe and stick with simple options. Subtle flooring blends better in contemporary kitchen styles as it makes the space look simple and chic. Slate grey tiles or white marble floors can tie the room together and leave the room open for more pops of visual interest in other areas, like countertop decor.
Natural wood floors are another option for contemporary kitchens. Dark solid woods create a warm and luxurious look that can elevate your kitchen's look and feel, while light wood is a timeless design feature that enlarges and brightens the room.
Lighting
When choosing lighting for your kitchen, make sure to consider general lighting, accent lighting and task lighting. These can be ceiling lights, wall lamps, track lighting or cabinet lighting, depending on your kitchen's needs. Pendant lights are a popular choice in contemporary kitchens, particularly installed over dining tables or kitchen islands. Silver, black or white pendants are sleek and simple, but a glass or copper pendant can create a visual interest while still keeping lines clean.
You can also include LED backlights, under-cabinet lighting or ceiling pot lights to add additional light sources without taking away from the clean lines of your contemporary kitchen.