White kitchen cabinets are still a top choice by many, thanks to their timeless appeal and ability to fit any kitchen style. However, the ubiquity of white has caused many homeowners to want to branch out and try something different in their kitchen. That's where grey comes in! Grey shaker cabinets are just as timeless and versatile as white. Depending on how you style them, you can have a traditional, rustic kitchen or a sleek and modern space. Whether you want to go classic or go contemporary, grey shaker cabinets can work for you.
Finding the Right Shade of Grey For Your Kitchen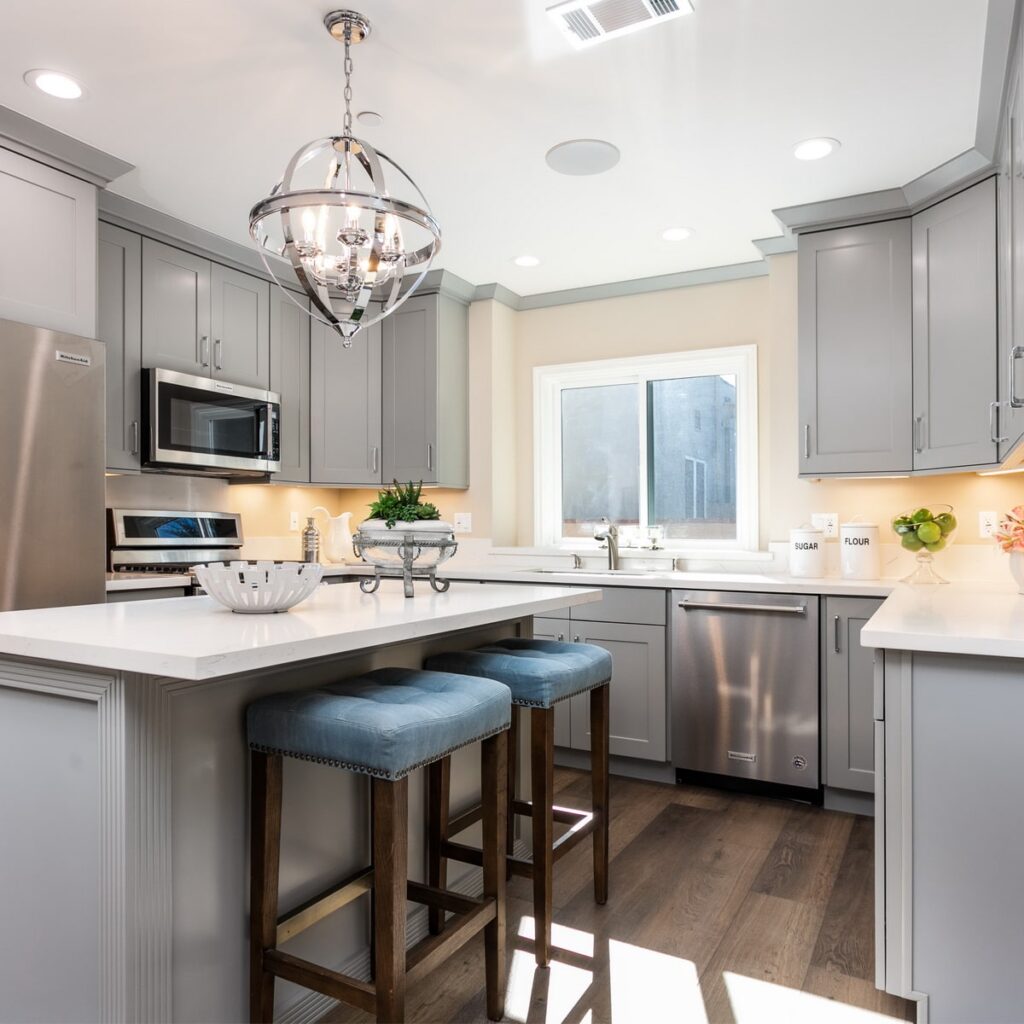 Grey for Classic Kitchens
Finding the right shade of grey is always your first step. Grey has a lot of different undertones which can drastically alter the look and feel of your kitchen.
For a classic kitchen, you might want to choose a lighter shade like dove grey. This color complements both lighter and darker shades, and comes in both warm and cool undertones. This makes it the perfect transitional shade for your kitchen. Pair it with a white marble countertop and gold or silver hardware to create a light, airy kitchen.
If you're looking for more color or dimension in your kitchen, try a shade of green-grey. This especially works in traditional kitchens as the hint of color is reminiscent of a cottage kitchen, but the grey makes it feel more mature. Pair your green-grey shaker cabinets with a wood countertop kitchen island and an apron-front sink to create an updated farmhouse look.
Grey in Contemporary Kitchens
A charcoal grey is a great choice for a more modern kitchen. The dark, cool-toned color can elevate a kitchen and create the moody depth that black would without looking as stark. You can pair your charcoal grey shaker cabinets with brass hardware and lots of neutrals for a Scandinavian-inspired look, or go bold with pops of orange, light green or sky blue.
If charcoal is too dark, you can also use a lighter shade like elephant grey to offset your bright pops of color. Elephant grey is cool toned mid-shade that stands out against natural marble or dark wood, but also becomes the perfect neutral when paired with brights like orange or red.
How to Style Your Grey Shaker Cabinets
Design Tips for Classic Kitchens with Grey Shaker Cabinets
In your classic or traditional kitchen, you want to use lots of details and decorative accents to complement your grey shaker cabinets. You can add additional crown molding above the cabinets toward your ceiling, or use touches of wainscotting on your kitchen island. Using embellishments and additional architectural features is what takes your kitchen to a traditional place.
You should also keep your color palette neutral. If your grey shaker cabinets are warm toned, you can pull in other neutrals like a warm beige or off-white. You can use similar colors in your countertops: for example a marble that is white with elements of grey, or a dark granite. The same goes for your backsplash: forgo a busy pattern for a simple and understated tile. White subway tile is also popular, but a diamond pattern can take it to the next level.
The last thing that you need to do to pull your traditional kitchen together is by using decorative lighting. Ornate chandeliers can create a statement in a kitchen, but be careful not to overpower the space. Interior designers will recommend leaving the lighting to last so you can see the space without it and know how much weight it needs to carry.
Design Tips for Contemporary Kitchens
While classic kitchens are known for luxurious details, a contemporary style is more about minimalism. Contemporary kitchens often have clean lines and simple features, and may use color for visual interest. A pop of color in an accent wall, backsplash or even just the accessories on your counter in an otherwise neutral space is an easy way to create a modern look.
If you have large windows and lots of natural light, you're already halfway to having a contemporary kitchen. The look has a light and airy feel, compared to the sometimes darker traditional kitchens. The lines are also very important in contemporary kitchens: you want it to be clean and tidy, but the use of horizontal lines can also trick the eye into thinking the kitchen is larger than it really is.
For your grey shaker cabinets, use a simple hardware for the knobs and pulls. You want everything about the space to be effortless and minimal. Brass or gold pulls can work on warm-toned grey, while you might go with a silver or pewter on cooler-toned shades.
You can also lean towards a more industrial style with your contemporary kitchen. Pair your grey shaker cabinets with stainless steel appliances, exposed brick and wood or concrete countertops.
Whether you're looking to go for a classic, traditional kitchen or a modern and contemporary look, you can achieve that style with grey shaker kitchen cabinets. It is the perfect neutral blank slate on which you can build your dream kitchen without worrying about it going out of style anytime soon.