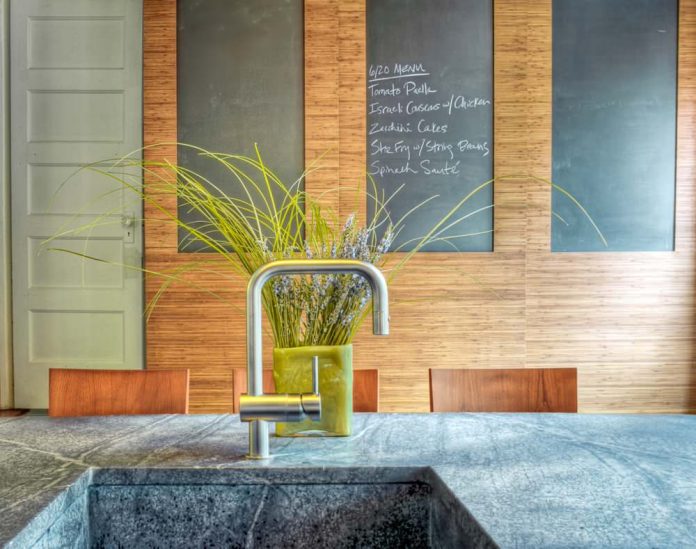 Defying the countertop mainstream
For years, granite has managed to remain among the most popular materials used for household countertops. Surveys indicate that for nearly 64% of all homeowners it remains preferred. They favor the durability and longevity granite offers as both tabletops and floors, although the ever-increasing price tag has become a bit of a deterrent. Plus, it is not entirely hassle-free and it requires regular maintenance – all the more reason that alternatives to granite are being considered more than ever before.
It's a fact – there are a number of extremely high quality countertop options that are giving granite a bit of competition. They, too, are attractive and durable. They appeal to practical interests because they are available at lower price points. As a result, a growing number of current kitchen remodels are opting for something new, unique and affordable…
Quartz (Engineered)
A composite material that features the durability of natural stone and the consistency of a manufactured product, engineered quartz is made through a process that mixes 90 percent natural quartz that is fully grounded, with 5 percent polymer resins. The result is an extremely hard natural looking countertop that is available in a wide range of colors. It is reasonably scratch- and heat resistant (in moderation) and minimal maintenance is needed.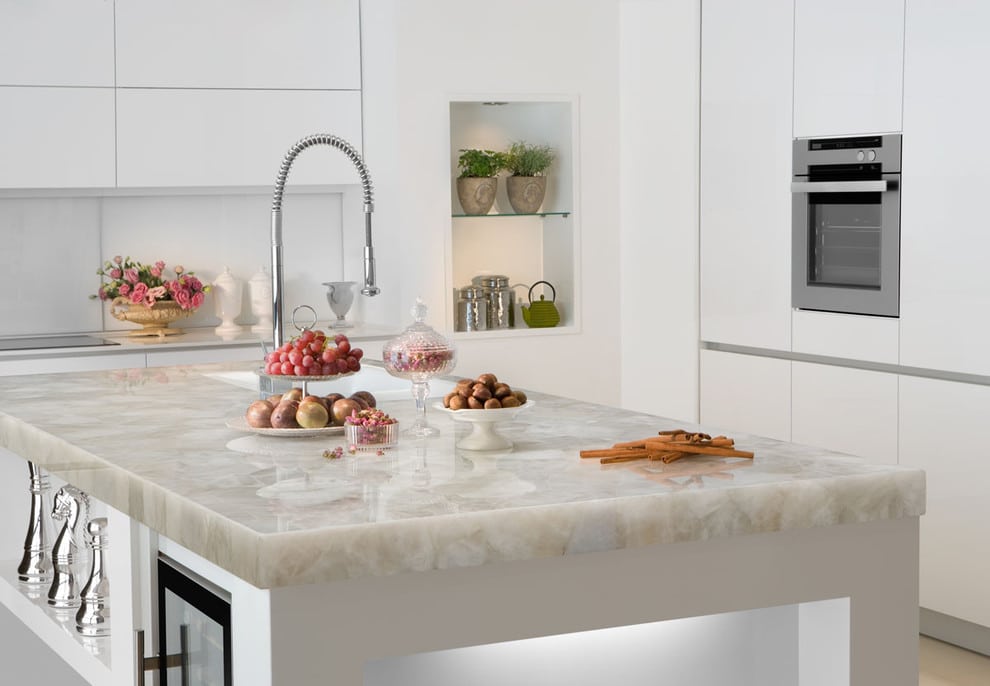 A natural stone that features a smooth matte surface, soapstone can be found in any specific set of hues that range from soft grey to charcoal. It is entirely stain resistant – not even acid can penetrate its tough surface. Naturally it is also heat resistant, making it perfect for a variety of food prep tasks that take up a lot of room. You don't need to buy special cleaners for the stone just wiping it down should maintain it well. However, if you wish to enhance the depth of color and design, there are special mineral oils available that will bring out the beauty of the object.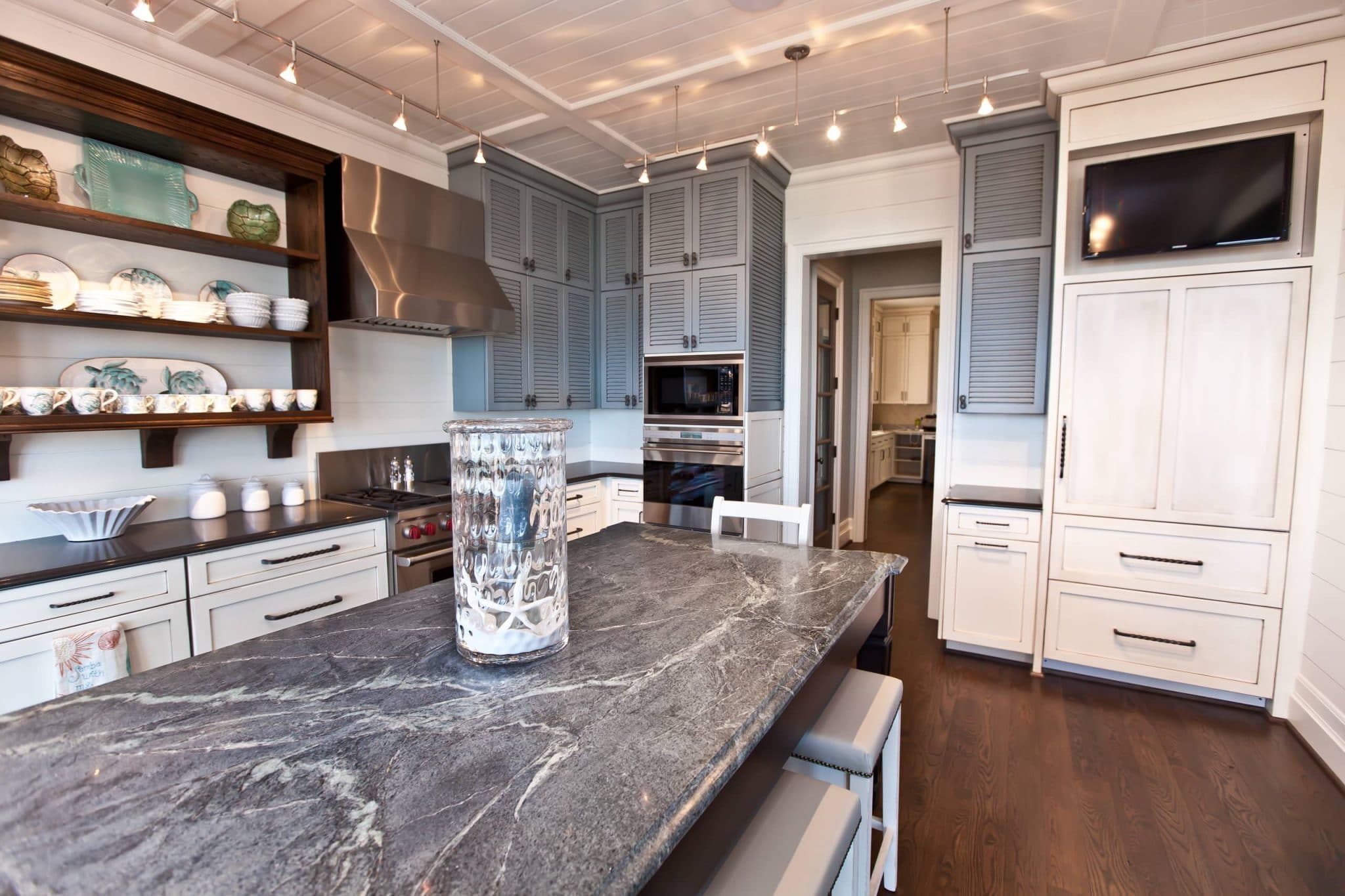 Carrara marble
Known to be softer than granite, carrara marble actually makes a good thing out of potential damage such as scratches or stains – they serve to add to the character of the countertop, thereby creating its own patina in the process. It is ideal for providing a sense of warmth in the kitchen. Its aging process develops elegantly and slowly reveals an appearance unique to each slab.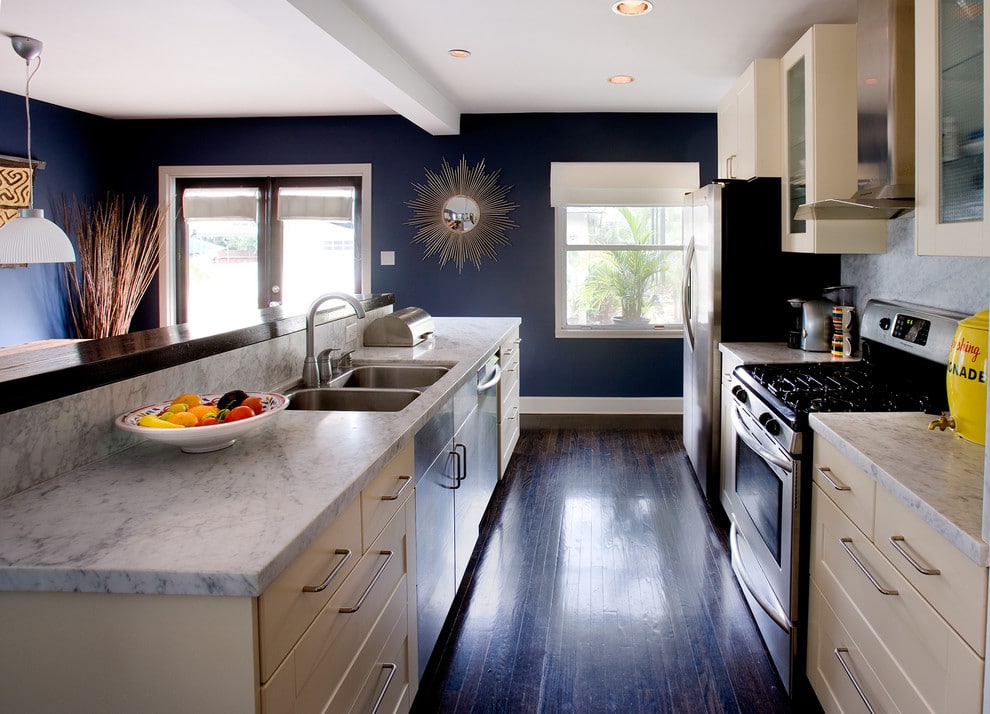 Wood
Once, wood was the undisputed champ of countertops. Technical innovations forced it to take the backseat. Lately a resurgence of popularity has put it back on the map. Long recognized for its durability and style, "butcher block" is the most common type of countertop although there is a variety of woods from which slabs are crafted, such as cherry and bamboo. With periodic oiling wood maintains a wonderful and elegant patina.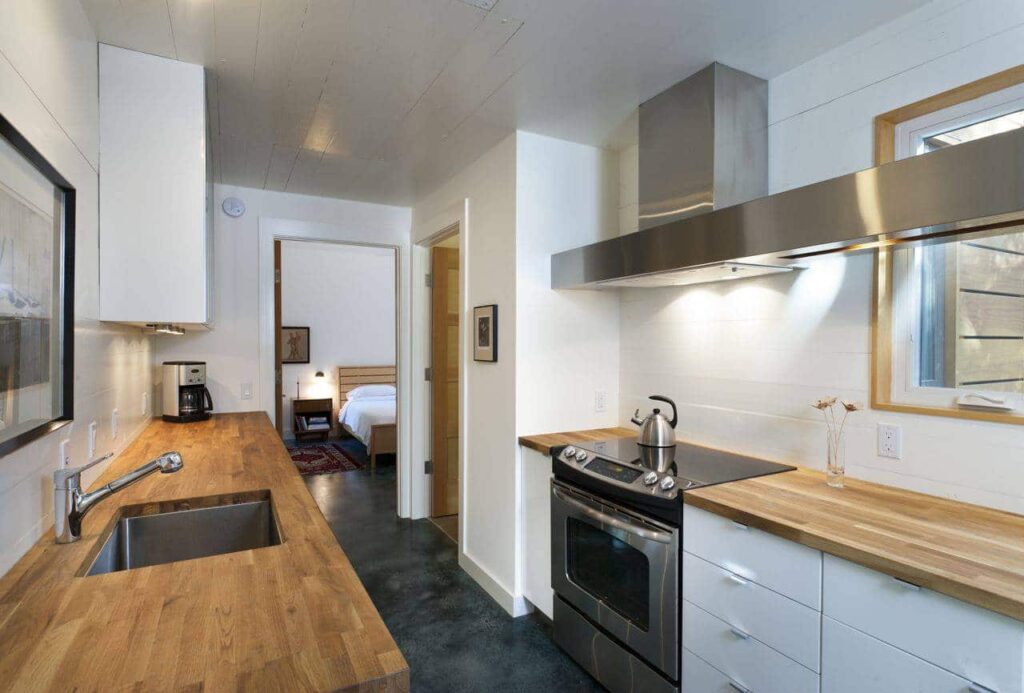 Concrete
Thanks to stain and color techniques, concrete counters have emerged as a competitively popular countertop material. It's a relatively new craft, where any size, shape or color may be created. You may even request the added depth of embedded stones, tile or silicone chips to be visible in the mix. It's like creating a work of art. Concrete is quite heavy and durable, reasonably scratch and heat resistant as well. Unlike some of its contemporaries, concrete is susceptible to acidic liquids and needs to be sealed and maintained often to resist staining.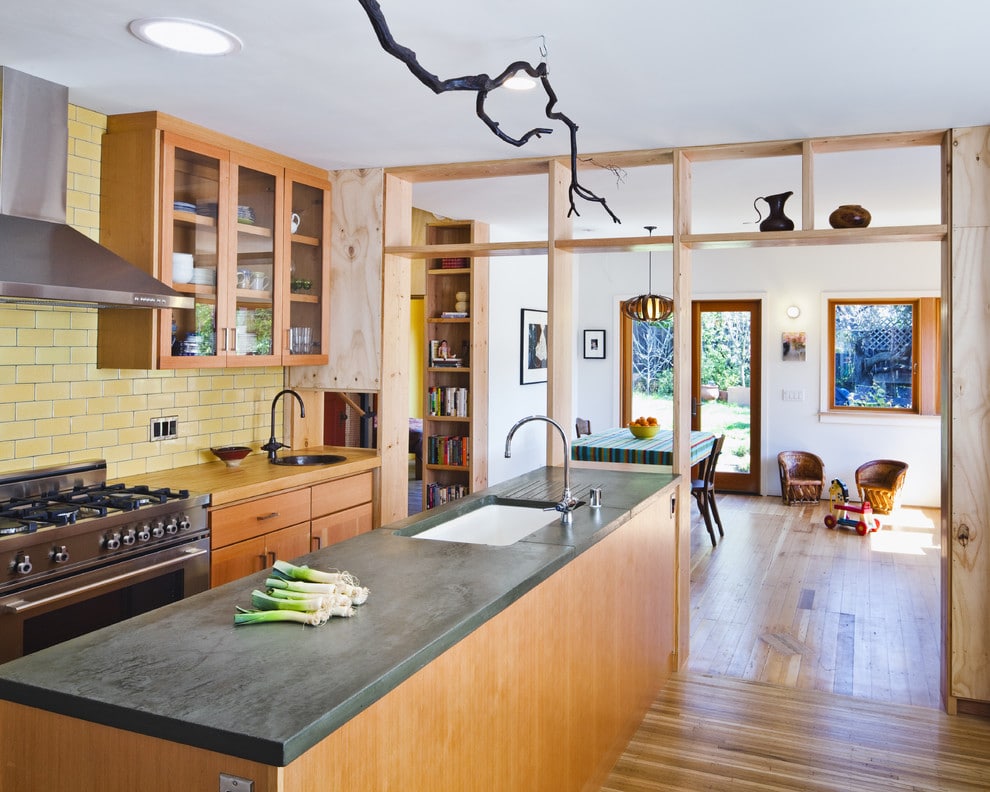 Glass
Noticing a trend? Natural materials are more common than ever. Glass is very hygienic. They're non-porous and versatile. Contrary to common misconception they are engineered so well they can endure high temperatures without cracking or scorching. It is generally three-quarters to one and a quarter inches thick and tempered. Polished square edge finishing or edge banding is usually recommended. Since it is transparent, under mounts are not suggested, obviously.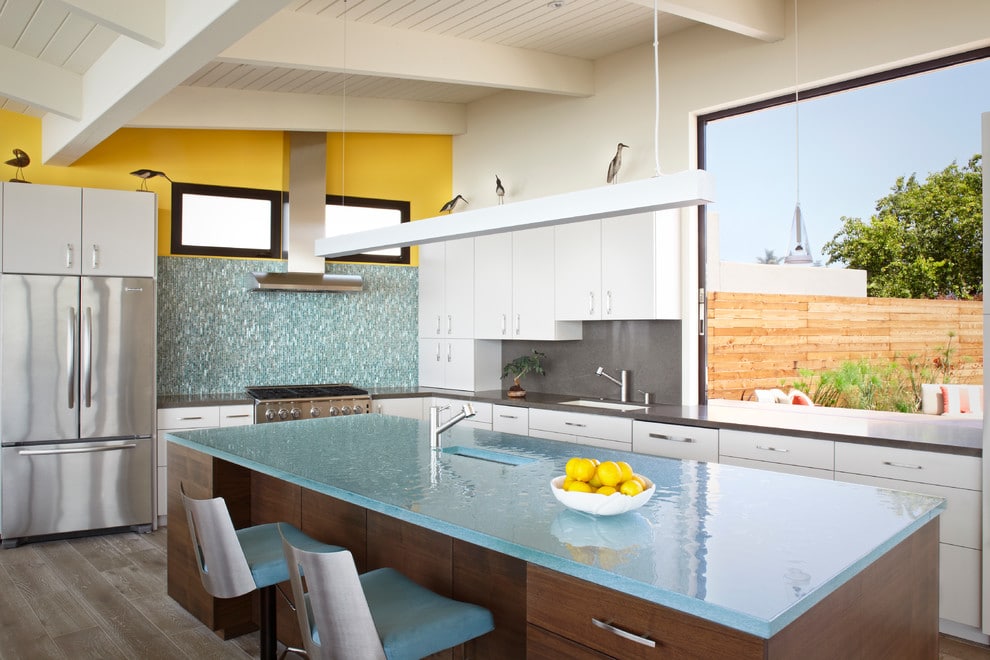 Steel
Despite being stain and heat resistant, stainless steel can be damaged in the form of scratching, dents and even stains. On the other hand it is great because they can breezily fit in with nearly any kitchen style. From traditional to contemporary, the inclusion of steel just works and it serves to compliment many current appliances as well. It's a powerhouse among metal countertop options that also include copper, pewter and zinc.
Solid Surfaces
Often mistaken for natural stone, solid surface countertops are actually less expensive and require less maintenance than its more famous counterpart. They can be manufactured to be seamless which makes for a great look that doesn't require an abundance of upkeep. They are heat and moisture resistant and easy to clean. They're durable although they may suffer scorching and scratching.
So there you have it, eight countertop substances that are widely recognized as quality alternatives, each with their own advantages. All are comparably priced to, or more affordable than, the mellowing mainstay known as granite.