What white kitchen combination colors are there when looking for complementary pieces for your remodel? When it comes to clothing, people say black goes with everything. When it comes to kitchen cabinets, white is often seen as the versatile "go-to" color. White kitchen cabinets can provide a clean and fresh look to any kitchen, and they can also help to make the space appear larger and more open. Whether you're looking for a traditional style or something more modern, white cabinets can be the perfect choice. However, white cabinets do require more upkeep than other colors, as they are prone to showing dirt and fingerprints more easily. If you're considering white kitchen cabinets for your home, be sure to take into account the amount of care required to keep them looking their best.
Everyone loves white shaker cabinets. They are timeless, versatile, and a neutral color to be incorporated in many cabinet styles. So when it comes to actually selecting your complimentary items to match your white cabinets, what do you choose? Where do you even start? We have a list of options that can help you start choosing what colors to go with.
Countertop
Avoid going white countertops with white cabinets. It may see like the most logical option, but the end result is that combination will appear too sterile. Sterile resembles much like a hospital that requires constant disinfecting. When it comes to white cabinets, a light gray or an off white with veining adds a subtle contrast without adding contrasting options.
When it comes to the material, you have many options to choose from. Granite and marble are natural stone options for ones looking for the choices for you. With natural stones, the elegant natural veining on granite or any marble can run up the overall total of a person's kitchen cabinet total. Quartz is a suitable and more budget friendly option for those looking for something that can replicate marble.
Another beautiful combination is ading in wood aspects into the cabinet surfaces. Butcher Block is a beautiful option that enables one to create nice contrast. They have the natural wood feel for those who like the feeling of working on a larger cutting board throughout their kitchen. Like woods, they come in multiple different wood options. This allows one to choose how dark and how durable the countertop surfaces are.
When working with modern European white cabinets, a popular option is a gray quartz counter. We see gray being a very common color in modern kitchens to a point where they act as secondary colors in the kitchen. Many homeowners are changing from a singular cabinet color to double colors. Thus, homeowners that want to keep just one color will choose gray as the secondary color for their countertops.
Handles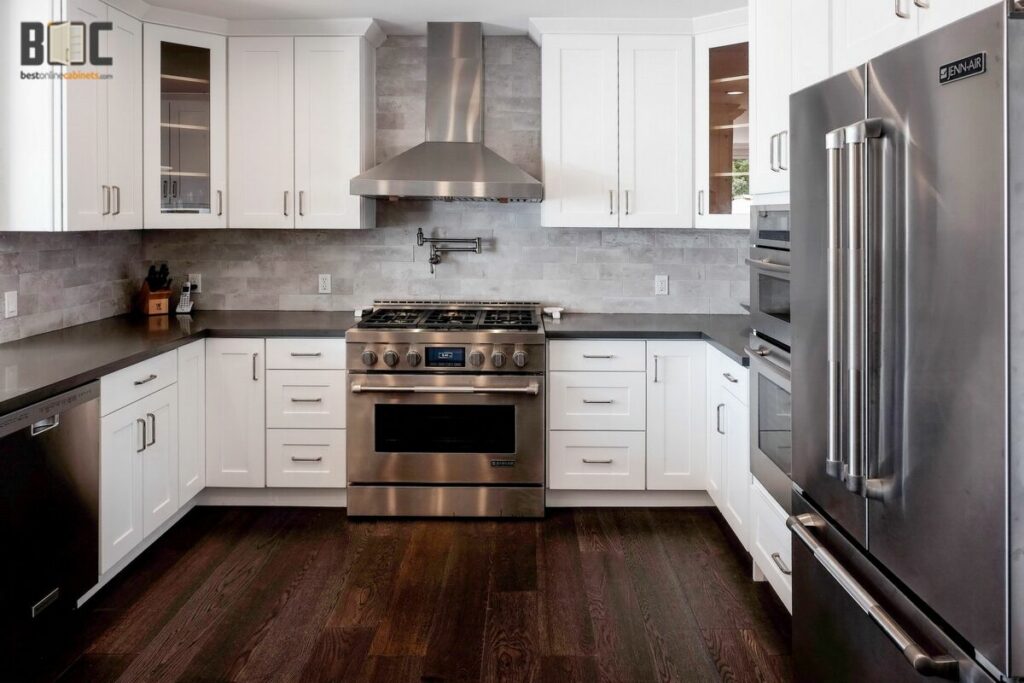 When choosing handles for white cabinets, there are a few things to keep in mind. First, the overall style of the kitchen should be taken into account. For a more traditional look, white cabinets can be paired with handle styles such as brass or bronze. For a more contemporary look, white cabinets can be paired with stainless steel or glass handles. Second, the size of the handles should be considered. Smaller handles may work well for a kitchen with limited space, while larger handles may be more appropriate for a kitchen with plenty of countertop space. Third, the finish of the handles should be taken into consideration. A high-gloss finish will create a more sleek and modern look, while a matte finish will provide a more subtle and classic look. Ultimately, the best way to choose handles for white cabinets is to experiment with different styles until you find the perfect combination for your kitchen.
Backsplash
One popular option is white subway tile. This classic look works well with both traditional and contemporary styles. For a more modern take, try using white glass tiles. They can add reflective surface and depth to your kitchen. Another option is white mosaic tile, which can add visual interest and texture. Whatever white cabinet backsplash option you choose, be sure to complement it with other white accents in your kitchen to create a cohesive look.
Flooring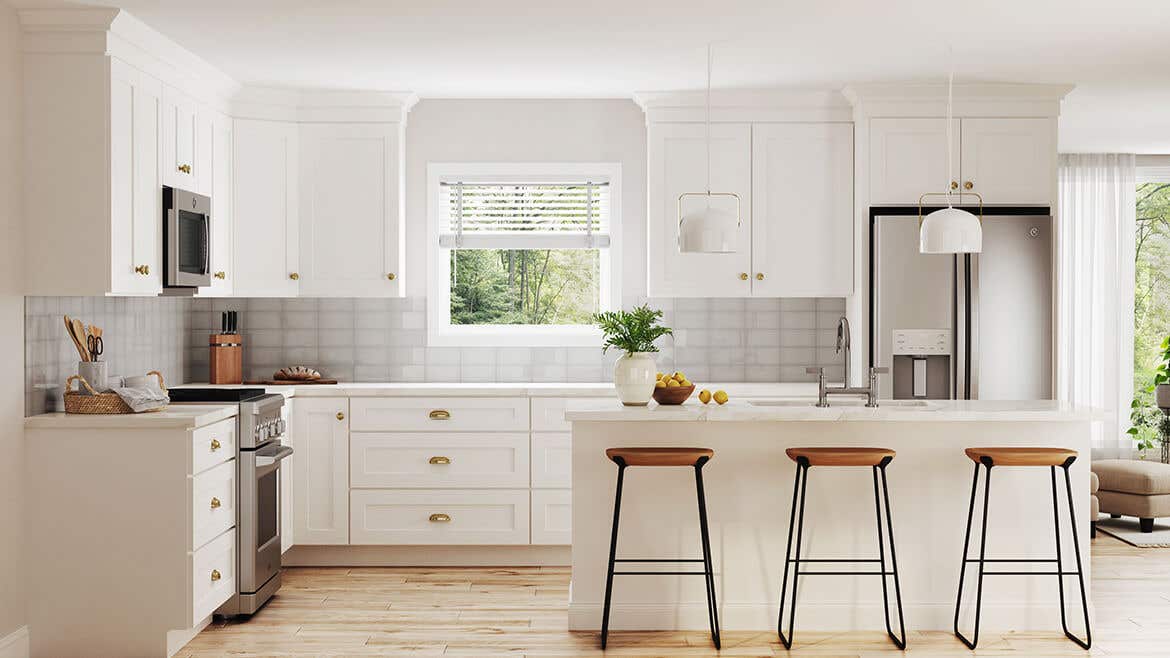 When choosing flooring to pair with white cabinets, there are a few options that are particularly popular. Light-colored wood floors can help to create an airy and open feel in the space. tile is another good option, as it is easy to keep clean and can resist staining. If you want to add a pop of color to the space, brightly colored area rugs are a good way to do so. Whatever flooring you choose, white cabinets can provide a fresh and stylish look for your kitchen.
One popular option is tile. Tile is durable and easy to clean, making it an ideal choice for busy families. Plus, there are many different styles and colors of tile available, so you can find the perfect match for your white cabinets.
If you're on a budget, laminate or vinyl floors are also good choices for white kitchens. These materials are durable and easy to care for, and they come in a variety of colors and styles that will complement your white cabinets. No matter what type of flooring you choose, white cabinets are a timeless choice that will give your kitchen a fresh, clean look.
Appliances
The combination of white cabinets and stainless steel appliances can give a kitchen a clean, modern look. Additionally, white cabinets help to reflect light and make the space appear brighter and more open. Stainless steel appliances are also easy to keep clean, which is an important consideration for busy families. When choosing appliances for a white kitchen, be sure to choose a style that complements the overall design scheme. With careful selection, white cabinets and stainless steel appliances can create a beautiful and timeless kitchen.
If you're looking for a way to minimize the amount of stainless steel in your kitchen, built-in appliances or panel ready appliances may be the way to go. With white kitchen cabinets, you can get the clean look you want without the need for a lot of stainless steel. Built-in appliances are designed to seamlessly blend in with your cabinetry, and panel ready appliances come with special panels that allow them to match the look of your cabinets. Either way, you can achieve the white kitchen of your dreams without compromising on style or function.
Should one go with unique color appliances
Color appliances are a trend that deviates away from the traditional stainless steel options found at local hardware stores like Home Depot, Best Buy, or Lowes. These appliances are typically the refrigerator and very seldomly the stove. These appliances are not your standard size appliances as well. Smeg is one of the well known companies for creating refrigerators and ranges with colors varying from yellow to even green. These appliances are nods to the retro-style where color appliances were the biggest fad. As fashionable as the may look, these colors may not always compliment white colored cabinets. It may be best to stick with stainless steel.
Rather than trying to find an orange colored refrigerator, a different option is to choose panel ready appliances. These are your standard refrigerator, typically cabinet depth double door with a freezer unit at the bottom. Many cabinet companies can custom make a cabinet door to match your cabinets. This will reduce the amount of stainless steel visible in the kitchen and keep the consistent look on the dishwasher and the refrigerator.