It's the beginning of 2020, and we already see predicting this year's trends of kitchen interiors vary widely among sources. When you read different interior design sites, one will say that open-plan kitchens are in. Another site will say that open-plan kitchens are trending out. One place will suggest that white subway tile backsplashes are in, and another will disagree with bold, unusual backsplash colors. Yet how do we know what is truly popular among home designers?
Style is personal, and these different decorators will at least show you various perspectives you have not considered before. However, if you compare several suggestions from different sites, you will find some commonalities among them.
For this article, I searched "kitchen trends 2020" on Google and picked ten sites appearing in the first three pages. When possible, I selected posts written in 2020 and places that did not copy another source for their critique. It was also important that each blog or post cited their reasons why they thought a feature was trending.
Among the ten interior design sites, these themes are the TEN most commonly agreed on trends in 2020:
Blue Colored Cabinets
The color blue remains very popular across several interior design sites, which continues the trend from last year. With natural associations with the sky and sea, it's a hue that puts us in touch with nature. The most favored of all the blues is on the darker side, such as navy and cobalt. There is a firm nod to lighter blue-green hues like aqua, usually used as bold, bright accents. The darker blues are a colorful alternative to black, which is on-trend as a neutral this season.
Marble Countertops
This luxurious stone material is making a comeback in fashionable kitchen surfaces everywhere, especially countertops. The lightning-like veining on marble fits with the trend towards natural texture and feels classic. Designers prefer complex marbling on their surfaces: the more veins, the better. House Beautiful is lauding Calacatta Marble for its rarity and clearly defined veins against a white background.
Kitchen Larder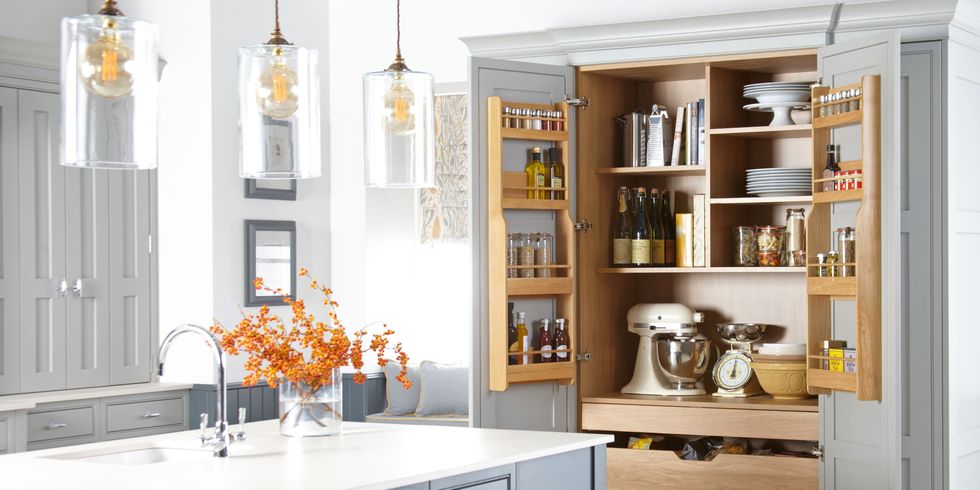 Many people don't know the term "larder," but it is a tall cupboard where you store food like a pantry. It is like a "refrigerator without refrigeration," in fact, that was the primary storage for food before they were invented. However, the organized drawers and shelving make this a "must-have" in homes without dedicated storerooms for dry goods. Homes and Antiques called it a "wardrobe for food," which is an accurate description of its use and method.
Colorful Appliances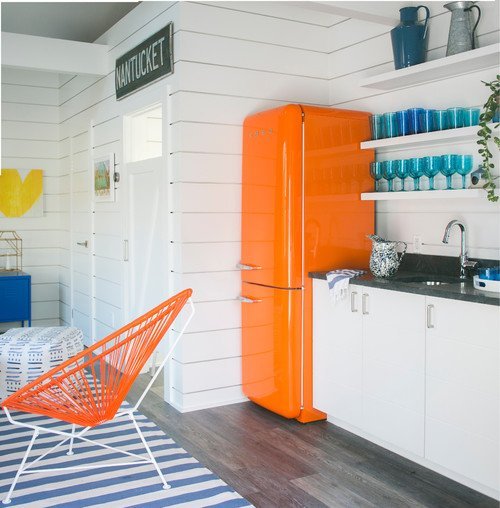 Major appliances like refrigerators and ovens are usually black, white, or stainless steel. This ensured that your appliances would fit in any décor by staying in a neutral palette. However, appliance manufacturers like Smeg and Big Chill have been going in the opposite direction by making refrigerators in attention-grabbing colors. As a result, we are starting to see the reverse trend where neutral walls and environment highlight the bold appliances. It's one of the reasons why "pops of color" are trending in interior design as a nod to this movement.
Hidden Kitchen Appliances (beneath cabinet facades)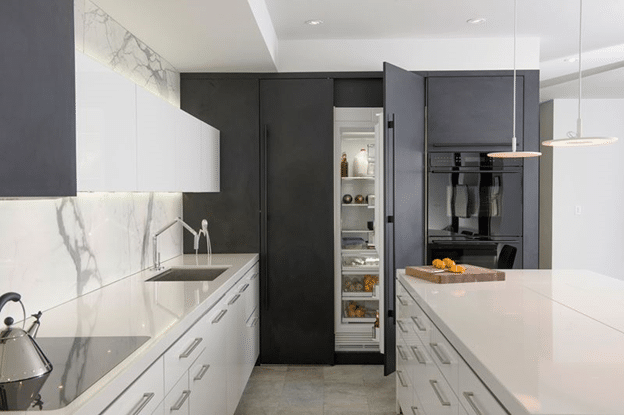 It is not surprising if people are fascinated with a trend, the opposite is likely gaining attention. In this case, if select people like bold retro-style refrigerators, others want to blend them into the cabinetry. Matching panels from your cabinets can be added to refrigerators and dishwashers to make a clean, seamless look. This is especially true with incorporating rubbish or waste cabinets into cabinetry rather than have standalone trash cans. Small appliances can hide behind custom compartments for a neat countertop appearance.
Gold and Brass Finishes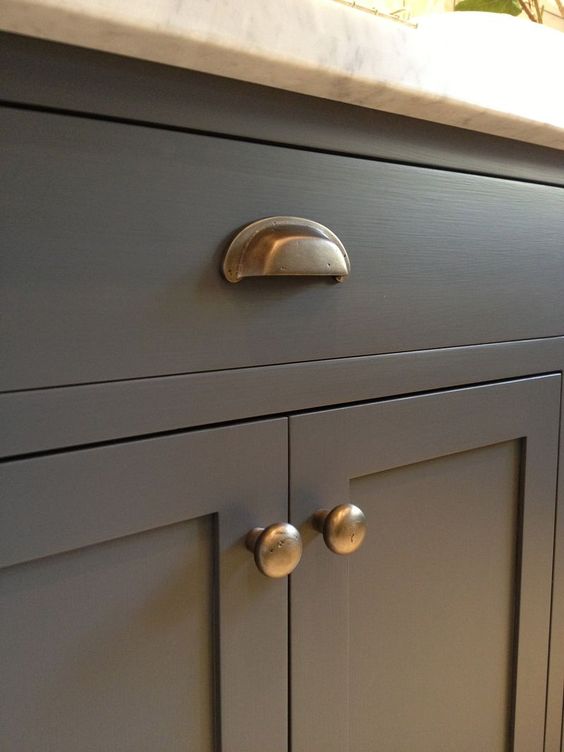 Continuing its popularity from last year, gold and it's more economical alternative, brass) remain steadfast in this market. The yellow sheen of gold on kitchen sink taps and hardware allude to classic luxury. According to the Ideal Home website, the warm tones in gold enhance and compliment the cool hues of blue. Dark blue is an alternative to black, and we know how "black and gold" is a classic, established sophisticated combination for the hardware.
Shaker Doors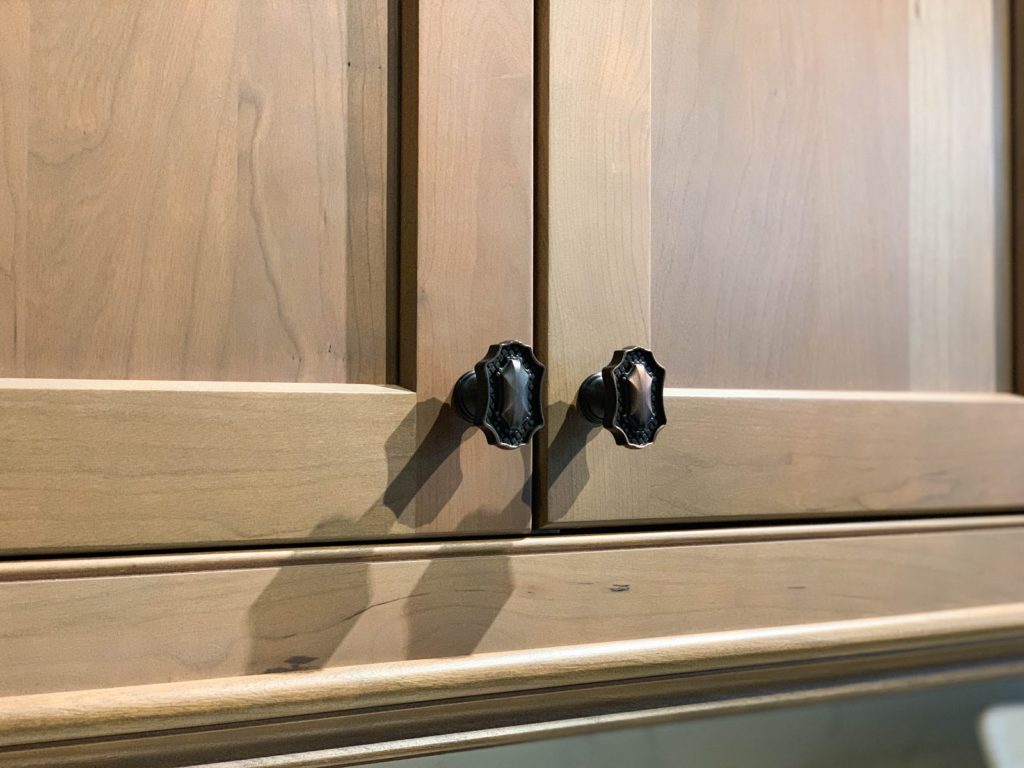 It might be strange to put down a design feature that has been popular for nearly five or six years. Yet Shaker doors are STILL very popular in 2020 and do not have any signs of fading any time soon. The proportional recessed rectangle panel is minimal and straightforward enough to be noticed but not overwhelm the interior. Their design may be traditional, but Shaker transcends style categories. Aside from classic interiors, they appear in some contemporary designs, but this style is key in many transitional styles.
Kitchen Islands (including double islands)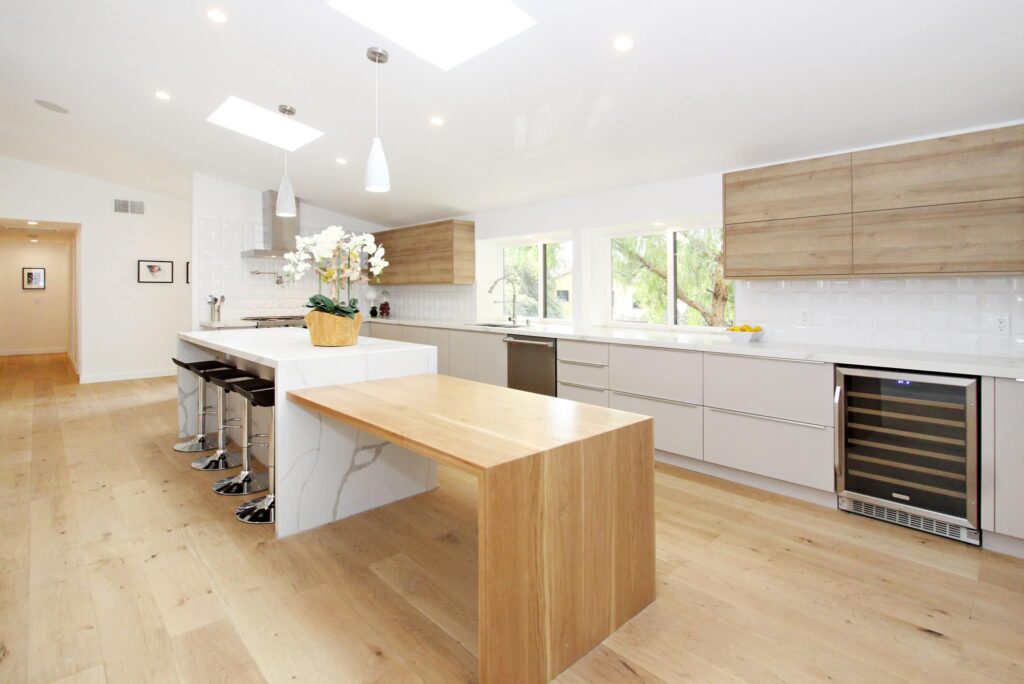 According to the 2020 Houzz Kitchen Trends Study, two-thirds of all renovations added or upgraded kitchen islands. Additional countertop surfaces are so useful that interior design sites have noted that "double islands" will be popular this year. While double islands can only be put into larger kitchens, finding ways to add counter space to your kitchen is invaluable. In addition, kitchen islands have become prominent eating areas in cozier homes without dedicated dining spaces. This almost makes the island a more vital part of the kitchen than it had been a decade ago.
Transitional Style (mix of traditional and contemporary)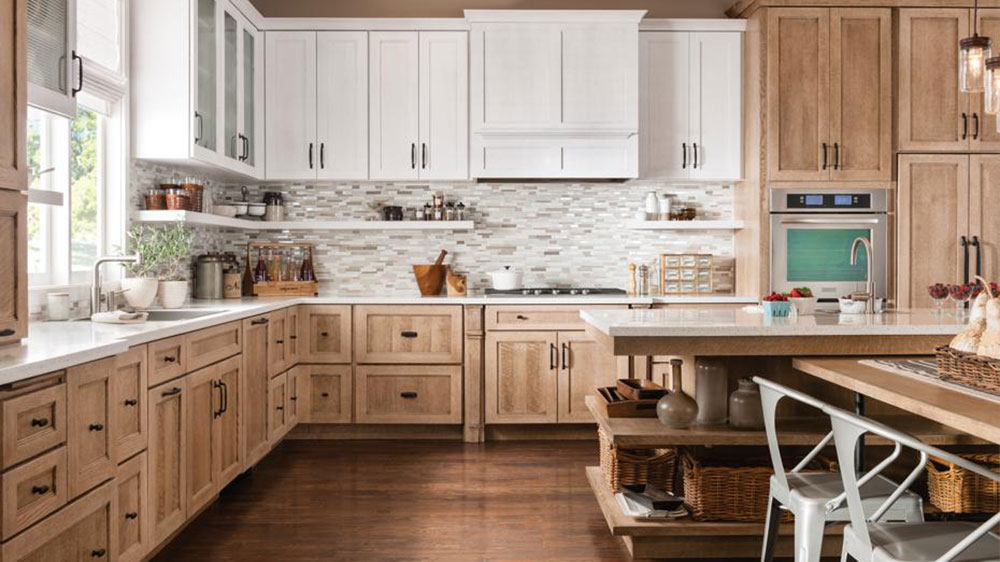 While several interior design sites have their vision, an essential theme in 2020 is the personalization of your space. Transitional style incorporates aspects of both traditional and contemporary décor, and more websites are featuring this fashion.  It is projected that modern areas with rustic décor, vintage elements, and humble materials are favorite contrasts this year. The transitional style sounds like a mixture of things; however, transitional kitchens follow set patterns to make the assortment looking cohesive. 
Embracing Nature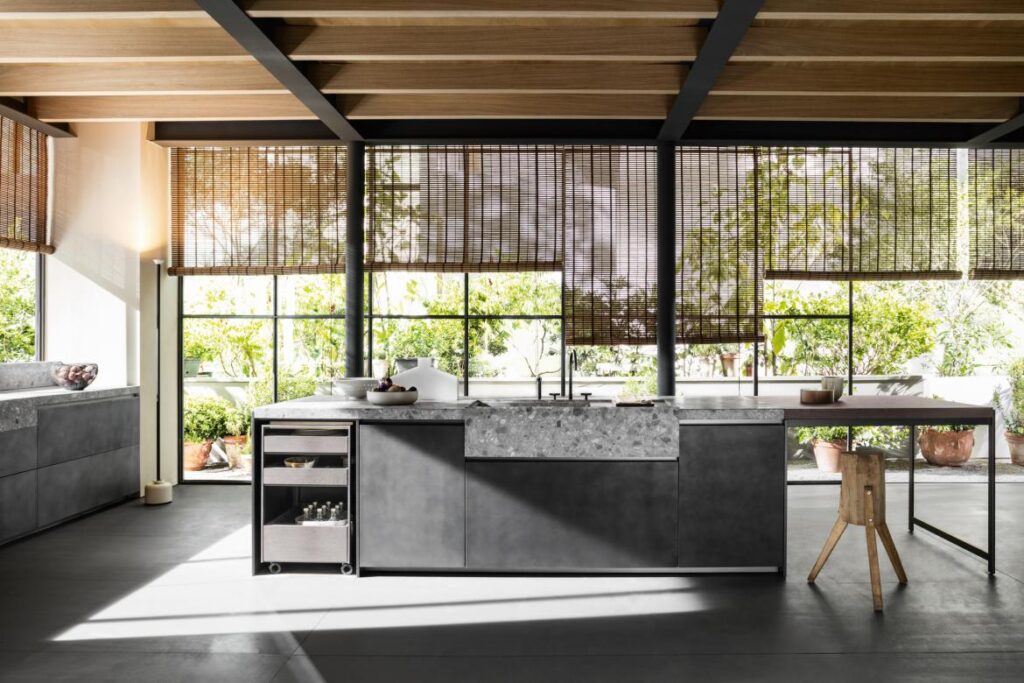 In 2020, there is a conscientious move to embrace sustainability with materials as well as nature decor in our interiors. Along with blue, green is also becoming a popular fresh hue and adding live plants or floral motifs are in. Natural grain texture is preferred over painted surfaces in cabinetry; using these cerused wood techniques makes the grain more pronounced. Bigger windows bring more natural light into the space, complemented by matte surfaces to augment brightness without the overwhelming gloss.