What is a transitional kitchen? All definitions of transitional interior design say it is the space between traditional and contemporary design mixing both worlds. This sounds like a random hodgepodge but when viewing pictures of transitional design, there is a "look" to it. It does not look at all classic and yet there's something that keeps us from calling those rooms modern.
I began to question if this is a look that interior designers made up. But there's a certain appeal in creating your own unique aesthetic that defies being locked in a box.
After looking at several different pictures on Pinterest, these seem to be the elements of a transitional kitchen when deconstructed:
1. Neutral palettes and materials go with EVERYTHING
In order to make a transitional kitchen, it appears most of the colors for the room are always neutral. This usually means lots of whites, browns, and greys or tints based on those hues. Many browns and greys are the colors of wood and metals so there are a lot incorporated in these designs. You will see a lot of emphasis on the material more so than the color itself.
Almost every example of a transitional kitchen in interior design magazines has some level of white space. It's the equivalent of using white gesso on canvas as part of your design rather than painting things white. It also explains the prevalence of white and grey shakers in these rooms as these structures work in transitional kitchens.
Sometimes this reads as transitional designed rooms "lack color." For brick backgrounds or animal patterns to stand out, other areas need to be muted.
2. Details in furniture become even more important
There is a saying in interior design that handles and knobs are the jewelry in a room. It's an area that is both functional but decorative so whatever you pick can emphasize the transitional design.
The transitional look is not based on a single item of furniture as it is a juxtaposition of styles. A white marble countertop on top of a rustic shaker base cabinet can look striking in its visual contrast. Rustic brick wall with a sleek silver oven range and hood is a contrast of old and new. Contrast naturally draws your eyes' attention as the mind makes sense of your aesthetic positions and choices.
This also means you will not see a lot of oversized patterns in this kind of design. Not because people don't appreciate boldness, but the focus on the details means largish things became part of the background.
3. Lighting is a key visual piece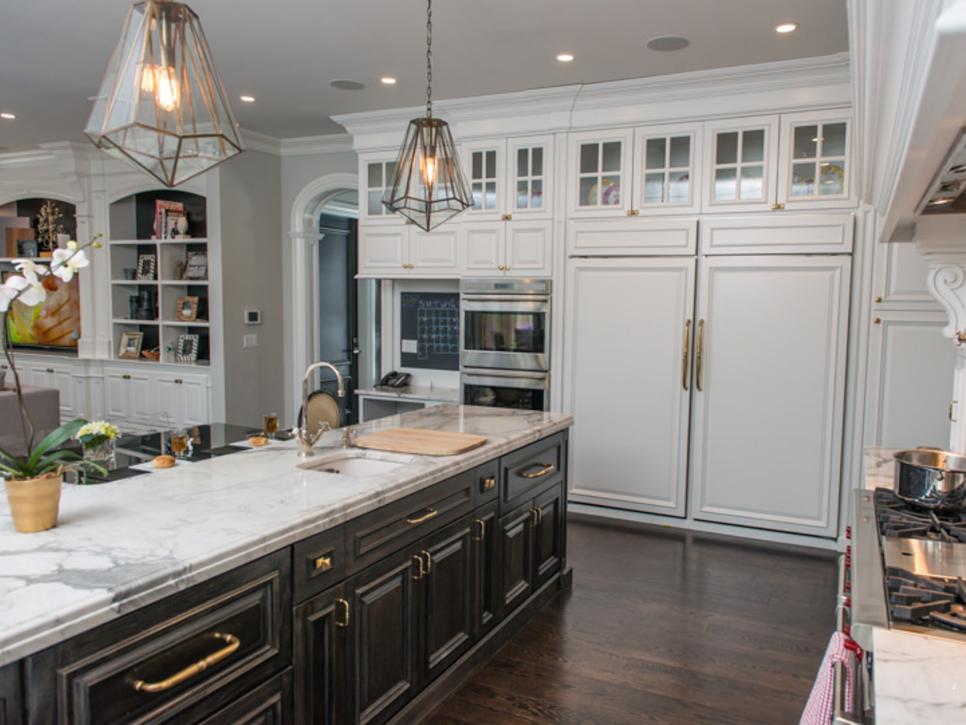 Lighting fixtures are most likely to stand out in a transitional design compared to traditional or contemporary. In traditional design, lights are used mostly for illumination and more attention is drawn to the lamp or lampshade. In contemporary design, the lighting showcases the room and sometimes, they are recessed to be out of the way.
However, in transitional design, lighting fixtures themselves can be statements, as either sculptural pieces or a style frozen in time. Overhead pendant lights, rustic lanterns, and wire chandeliers will appear as floating figures drawing attention to themselves.
For a kitchen, lighting is essential since you need lots of light to handle food, especially if dealing with heat. So for lighting, this is not a choice of choosing style over substance when thinking of the artistry of this element. You can (and should) have both.
4. Pick one or two strong statement pieces to inspire the design and color of your room
Using strong elements as the focus for the rest of the room design will naturally tie a room together. A tiled patterned backsplash or a unique texture of the lamp can spark your imagination.
For example, let's say that you have a peacock-inspired backsplash behind the range. You can use the blues, greens, browns, and yellows of the feathers to select chairs with cushions of those colors. You can use the ridged feather motif for art that hangs on the wall. Pieces that echo off of each other will make the design look purposeful and whole.
However, for effect, you may want to try two inspirations with little in common from different worlds. If your peacock backsplash is one inspiration, your state-of-the-art silver range could be the other. So along with the blue chairs and feather art, you can have sliver pendant lamps and silver arch cabinet handles. The end result is a décor that addresses components of each theme but is unified in one transitional room.
5. Flooring can be a foundation for your transitional look
In many examples of transitional décor like living rooms and bedrooms, rugs and carpet add splashes of texture and pattern. However, in a kitchen with many potential spills, carpets are not standard and rugs may not work in all kitchens.
Right now, the most popular textured flooring in transitional décor are tiles and parquet floors in geometric patterns. Patterns like herringbone, the wood strip pattern and basket weaves are seen all over interior design for this look. Also repeating squares, hexagons and subway patterns of rectangles are popular layouts for stone and tile. Each presents a clean organized look without leaving your floor blank and uninspired.
What if you feel that committing to flooring is too much for your kitchen? Then a little rug next to the kitchen sink that grips to your floor can add a splash of pattern. And save the floor from an excess splash from your sink.
6. There's not a "right" way to do transitional
Even though we showed many elements found in interior design sites and Pinterest, transitional design ultimately means "personal style." It's the mixing and matching parts from different eras without regard to worrying about what is proper or always done. Traditional design prefers furniture pieces to come from the same collection. Contemporary can sometimes be so minimalist that you have to hold back expressing what you want to see.
Of all the design styles, transitional design is the one that is the most inherently unique. However, it takes time to be confident knowing that certain accessories belong in an area without much outside validation.