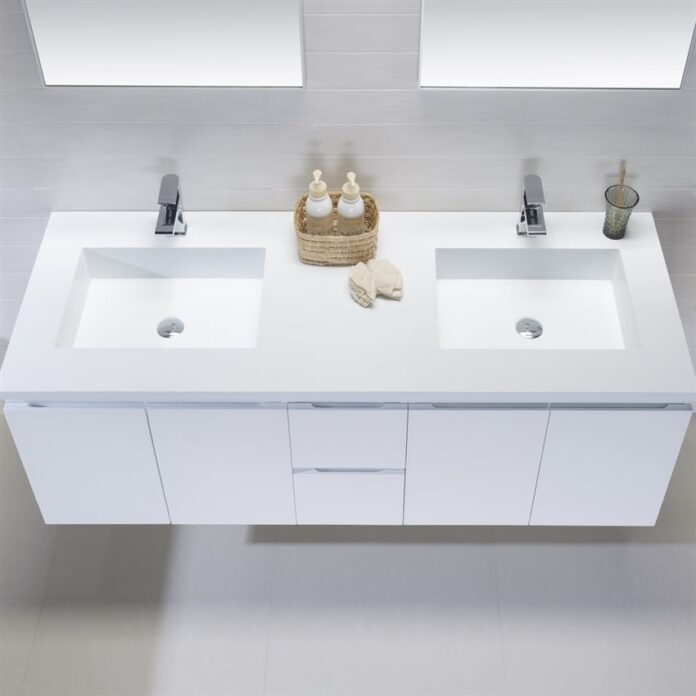 The bathroom is the most personal room in the house where you do your "personal business." The bathroom vanity is the most common remodel for the bathroom. This room handles your needs whether it's cleaning up or preparing for the day.
Bathroom vanities are the main table surface of the bathroom as well as the central storage of the room. Installing a new vanity is a major bathroom remodel. It's important to know your vanity options so you can pick one that fits both your style and your lifestyle.
What types of bathroom vanities are there?
Let's look at style since that will affect and inspire the mood of your bathroom: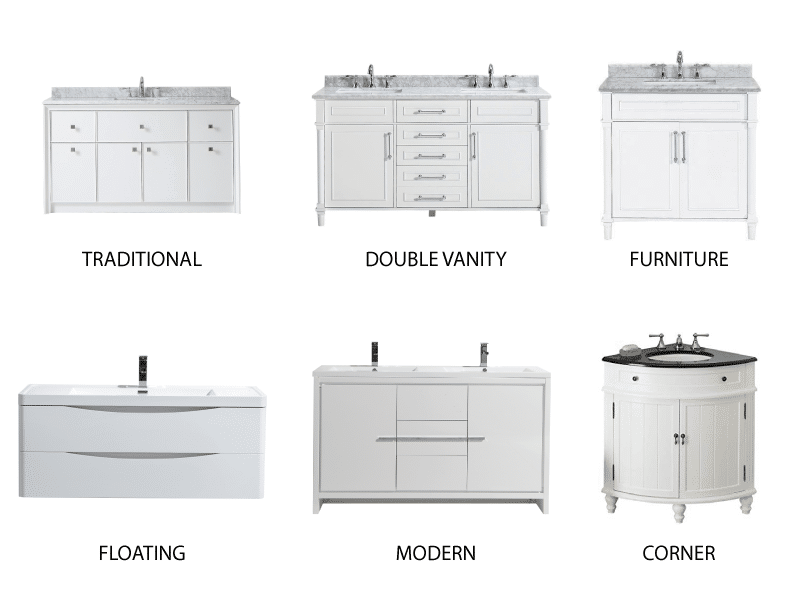 Traditional – Traditional bathroom vanities are made with wood or have that appearance even when stained or painted. The most popular types of doors and drawers are either raised or recessed panels. The handles are metal and the rest of the bathroom fixtures tend to match them for a consistent look.
Modern/Contemporary – Modern vanities are these days look very similar to traditional with few nuanced differences with an emphasis on minimalism. Slab (solid) doors and drawers tend to be dominant in this style. Instead of having standard pulls, some modern vanities have handleless drawers or recessed handles to keep the panel face clean.
Furniture/Free-standing – Furniture vanities stand on legs so there is a space beneath the structure rather than a solid baseboard. This is for those who like having that space to placemats or store flat objects like scales.
Floating/Wall-mounted – Floating vanities are directly secured and mounted to the wall, leaving the space empty beneath the structure. This is good for people who would like or need ample space beneath this area.
Corner – Corner vanities have a unique design to fit in corners. This structure takes the smallest amount of space with minimal countertop and storage, only enough to fit the sink.
Double vanity – This option of having double sinks on the same countertop is its own category. This double vanity is perfect for people who need to share the bathroom space when getting ready.
Who is using your bathroom vanity?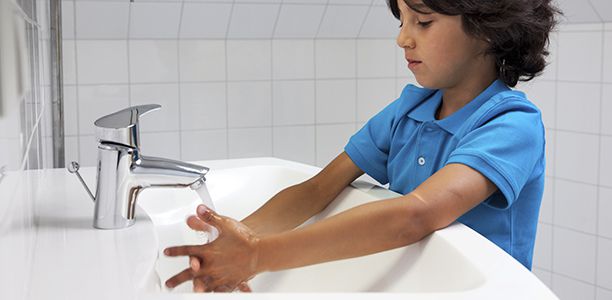 We may want the most beautiful vanity in our bathroom, but it's no good if it can't handle our practical needs.
As mentioned earlier, if multiple people need to get ready at once, like sibling children, double vanities are useful.
People who are using a lot of products like makeup, you will want more countertop space for your vanity.
For those that have mobility needs, like being in a wheelchair, a floating vanity would be essential to give you accessibility.
If young children are using the vanity, you may want a countertop close to the ground. Tall people will find the convenience of a higher set countertop.
Where will the vanity be located in the bathroom?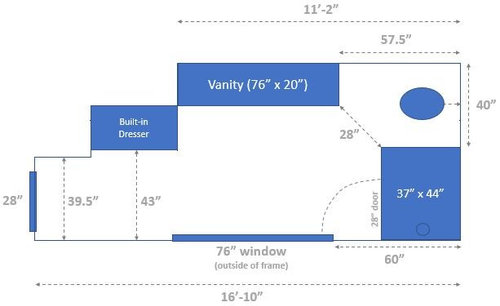 While you can want the biggest vanity with several compartments, it must work in conjunction with everything in your bathroom. These are the things you need to account for when selecting a bathroom vanity:
Plumbing – The biggest consideration when installing a new bathroom vanity will be the location of the plumbing. This determines where the vanity placement and positioning. If you want to move this away from the current plumbing area, this increases the cost of the install.
Relationship to other appliances – The other consideration is finding the position of the vanity in relation to the other fixtures of the room. Aside from local building codes, you don't want to place it too close to other structures to save on space. Many sites mention that the vanity's edge needs to be at least 18 inches from the center of the toilet.
Clearance for your compartments – You need to consider the clearance spaces to open your cabinet doors and drawers so they can open unobstructed. If your drawers and doors cannot open wide enough for you to use conveniently, you may need a smaller vanity.
Pathway/Flow – The vanity should not be in the way of normal foot traffic to the facilities. If you must walk around the vanity going to the toilet, that vanity is likely too big or not positioned correctly. If you don't adjust the position, you'll end up bumping into it constantly.
Choosing your sink and counter
To complete your bathroom vanity, you need to choose your sink and counter to go on top and ideally, together. The bathroom sink will be dependent on the counter you choose since the openings have to accommodate that faucet.
Counters come in different materials that vary in look, cost, and practicality and lend themselves to certain types of sinks:
Granite – Cut from natural stone, granite has the most details on the surface compared to other materials. Unlike the kitchen, granite is not exposed to food stains.
Laminate – This is the most affordable countertop compared to other countertops and is usually paired with many drop-in/standard sinks. It is also fairly low-maintenance and comes in a variety of colors and patterns.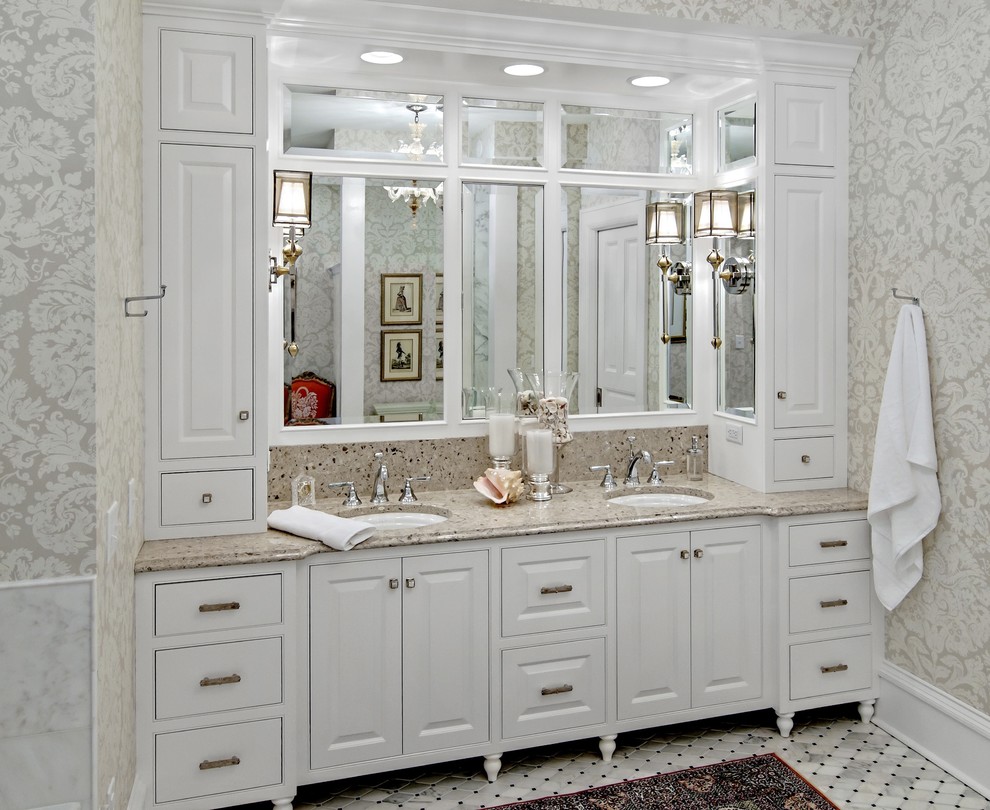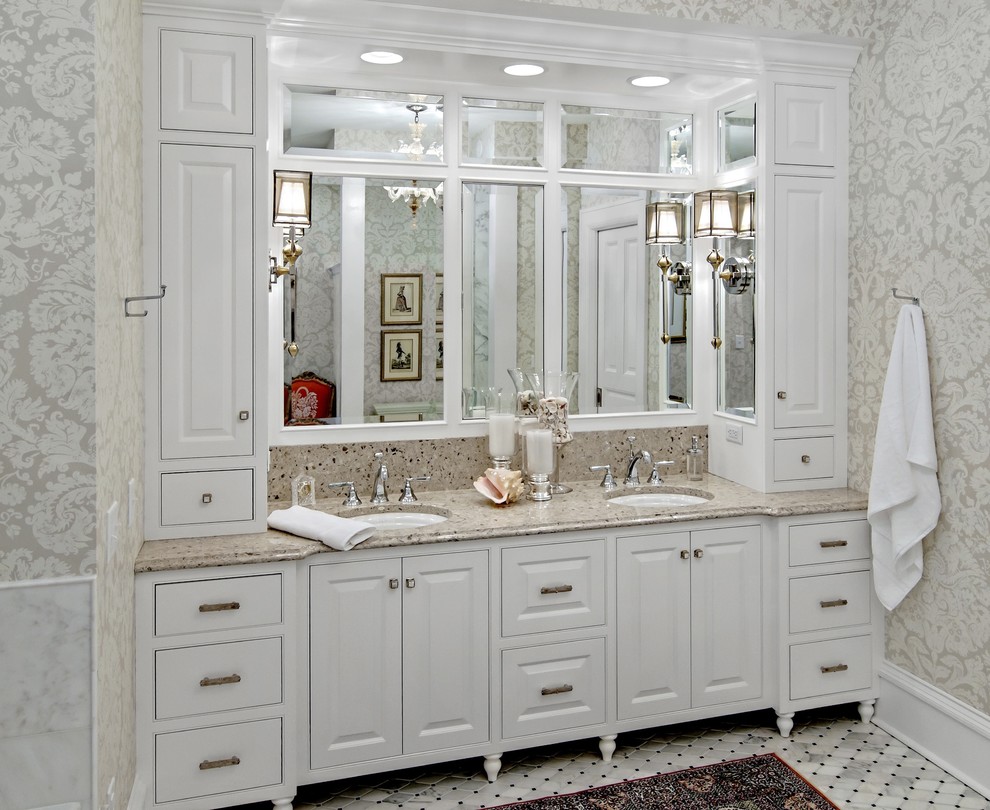 Quartz – Quartz provides a stone look and pattern and is scratch resistant because of the material's hardness. It comes in different natural colors and usually paired with undermounted sinks.
Solid surface – This is a stain-resistant resin that can mimic the appearance of other materials. Many of these are vanity bathroom tops that have the sinks seamlessly built into the top.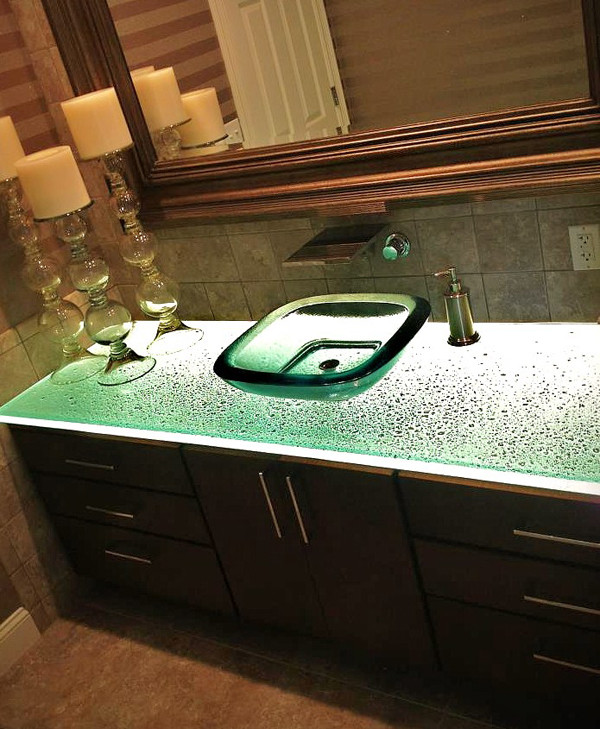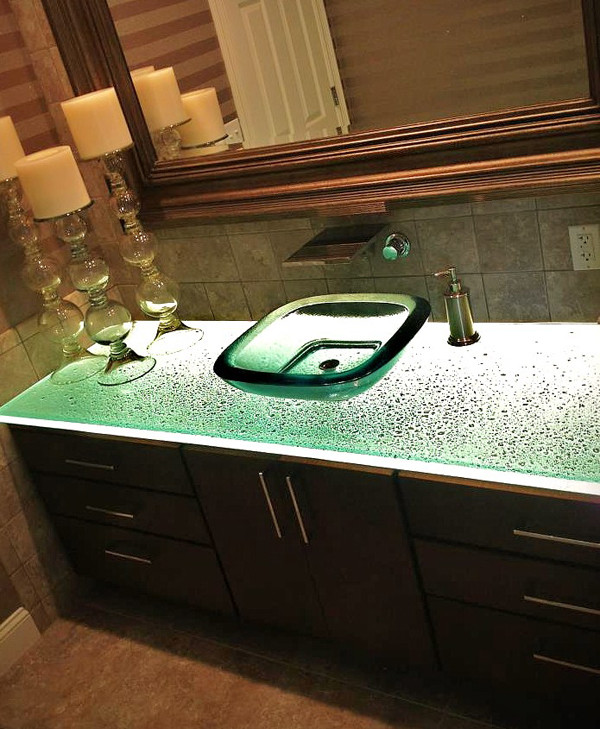 Glass – Glass is used exclusively in modern vanities where the sink is built into the countertop. This material has a translucent quality and while various colors are available, the most popular is a semitransparent blue-green. However, glass is often used as a vessel sink on top of another material of countertop.
Marble – For the luxury high-end look, nothing exemplifies that posh feeling like marble. However, maintenance is needed to keep that surface looking elegant. Marble is easily scratched and stained and cannot be cleaned with harsh abrasives.
Storage
The drawers and cabinets of your bathroom vanities will be some of your most essential storage in that room. Yet with plumbing as a priority to make your sink functional, what options of storage are available for a vanity?
Standard cabinet doors – There is usually at least one door so you can access you're the plumbing beneath the sink. This can be either a single or double door opening, depending on preference.
Standard cabinet drawers – Many bathroom vanity layouts tend to be symmetrical from left to right. For a single sink vanity, there will tend to be a column of drawers on either side of the sink. For a double sink vanity, a central column of drawers is in the center. Smaller vanities may have one column or other variations.
Double drawers – On the exterior of traditional vanities, these can look like multiple drawer panels. But when you pull it, there is a large deep drawer. In contemporary vanities that have a slab drawer, they do with that surface appearance and embrace the oversized drawer.
Toe kick drawers – For those who want to take advantage of every inch available, the baseboards are replaced by toe kick drawers.
Shallow drawers – As an option to maximize space, some vanities have shallow drawers to hold flat items that you use every day. These are usually at the top of the vanity beneath the counter for convenience.
Tip out drawers – For those with even LESS space than a shallow drawer, panels located near the sink can open for miniature storage. This few inches of pocket compartment space can hold smaller items like combs, makeup, and pillboxes.