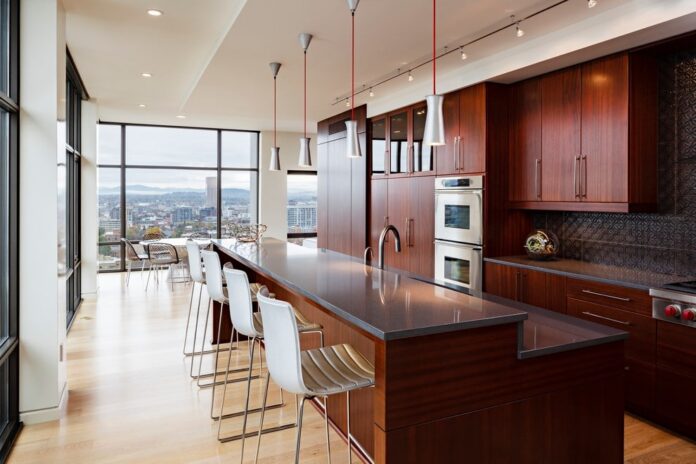 The kitchen is the heart of your home. It's a gathering place for friends and family through times of joy and through times of need. This is really one space in your home where you want to make sure that you are both comfortable and happy. This often involves designing a kitchen based entirely on your preferences. Whether you're trying to update an old space, or you're trying to completely build a new one, cabinetry is going to be a pretty big deal. This is something that you're going to come in contact with every single day. You're going to need to store things in it, and it's going to need to operate on both an aesthetic and functional level. Cabinetry is actually one of the most important components of your kitchen. It can also set the décor and design ideas for the rest of the space.
This is one thing that many people find extremely daunting. The cost of cabinetry can go into the tens of thousands of dollars when you're trying to get custom-made or high end materials used. This can be a deterrent for many people, and they end up with either very cheap or outdated cabinets that make their kitchen look dingy, and actually brings down the value of their home as a whole. Your cabinetry is truly an investment in the future of your home. Getting the right models can save you money in replacement costs over the long run. You get what you pay for, and if you're willing to pay for something that's a little bit higher end you can expect it to last longer and perform better.
That being said, there are ways to get a high-end product at a cheaper price. One of these ways just so happens to be using ready to assemble kitchen cabinets. These are the same models that you see in those super expensive kitchens that you covet, but at a fraction of the price. The reason? You receive all the supplies, and you will be able to assemble these cabinets yourself! This isn't nearly as daunting as it seems, because they come with very detailed instructions and necessary Hardware. This also allows you the opportunity to customize the design based on your needs and your skill level. You can have the solid wood kitchen cabinets that you've always wanted, and enough money left over to get that stainless steel fridge! These are just a few of the fantastic products that you can find out there:
Mahogany Cabinetry
This is a rich dark wood that can set off either a classic or a traditionally designed kitchen. You can find mahogany cabinetry in a huge variety of different styles, that can provide for all of your kitchen needs. Mahogany is a hardwood that will stand up to the test of time. It also has a gorgeous grain, and can work well with almost any color scheme. Using the right handles and the right fixtures alongside mahogany Cabinetry can create a space that will be both beautiful and functional for many years to come. You can find a huge variety of different cabinets and islands available in mahogany. It's a very versatile wood, and it's easy to see why it's so popular in kitchens today!
Maple
This is another gorgeous wood that actually sits on the other end of the color scale. It is extremely light and even white at times. Maple has a very clean appearance, and is a great addition to any modern kitchen design. A shaker style maple cabinet can provide you with the clean lines that you need to compliment even the fanciest counter. It works in conjunction with both modern and traditional styles.