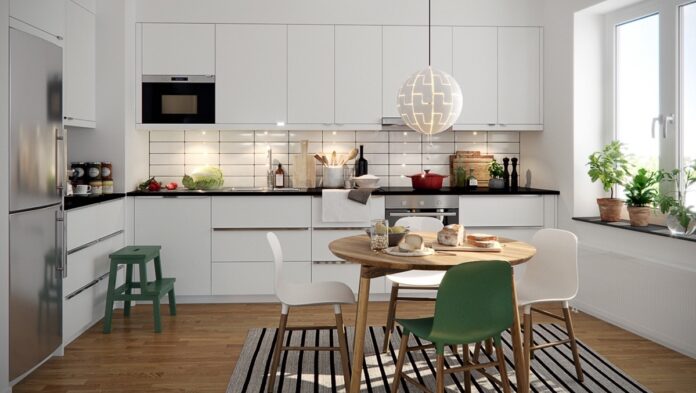 The Scandinavian kitchen, which has become increasingly popular in recent years, is a well-thought-out minimalist design. Homeowners that value functionality will be drawn to the Scandinavian kitchens as every piece has value. Clean lines, a neutral color palette, and natural elements like wood characterize this type of kitchen. This type of design is ideal for small kitchens as well as larger kitchens. Scandinavian kitchen design is an excellent choice for apartments and townhouses as the lightness of the space makes the room seem more significant.

What is Scandinavian Kitchen Design?

The Scandinavian design comes from a Nordic tradition where efficiency and functionality are a priority in the home. Scandinavian design is a movement that has influenced everything from architecture to product design. This movement came about in the early 20th century in the Nordic countries of Norway, Sweden, Denmark, and Finland and became known worldwide in the 1950s and is still popular today.

Scandinavian design is a solution for simple living that has become a popular movement within contemporary design. The style originally came about as a way to counteract the bleakness of the landscape of Scandinavian countries. The shorter, dark winter days were balanced by light and bright spaces that capitalize on any daylight.

The utility is another important part of this type of kitchen. Furniture is for function, and decorative items are at a minimum. Architect Mette Aamodt explains, "The modern movement was called 'Functionalism' in Scandinavia and architecture and design were intended first and foremost to be useful. Function combined with inspiration from nature creates a warm strain of modernism that is easy to relate to and continues to appeal to many people."

Less is more in this design, so there are a limited number of accessories and furnishings in the kitchen. The space is balanced with pieces in relation to one another. A good balance of minimalism creates an open and airy design.
Characteristics of Scandinavian Design
The main elements of this design are simplicity, functionality, and craftsmanship. Most of this style centers around an understated, minimalist aesthetic. Scandinavian design is characterized by the following:
Clean lines
Design that follows function
White-washed finishes
Clutter-free
Abundant natural light
Neutral color palette
Wood Furniture and Accents

Scandinavian design can work well for homeowners on a budget since the minimalist look can be achieved for less than other styles.
Cabinets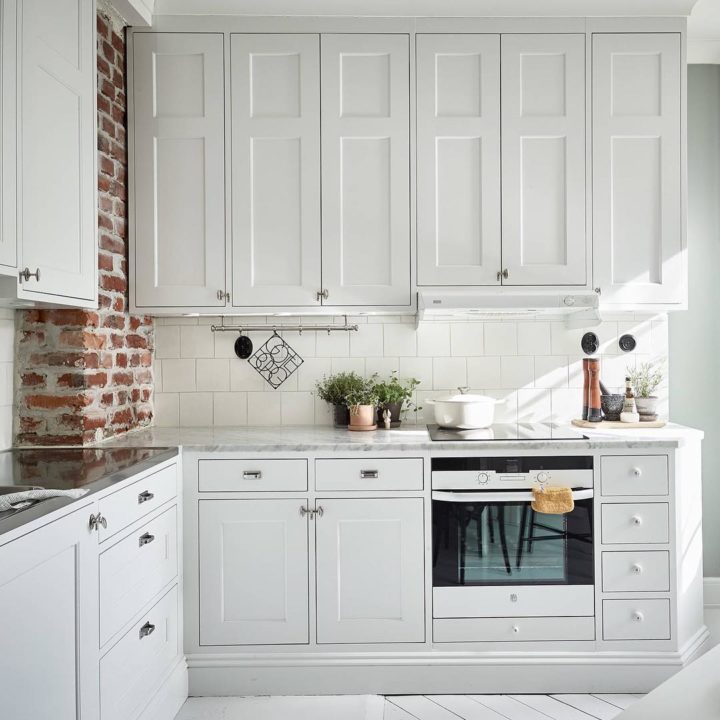 Because cabinets take up a large portion of the space, they must fit the design and be both functional and light. The shaker cabinet is a staple in this kitchen style. With a five-piece flat panel door, this minimalist cabinet has no ornamentation. The clean lines of the shaker style create an understated feel.

The cabinet color is often white or very light-colored to match the rest of the design and add to the space's lightness. For example, two-toned cabinets that feature white on the upper cabinets and a different color on the bottom add to the visual interest. In a larger kitchen, the cabinets can be darker in color as long as there is enough light so that the kitchen does not appear dark.
Hardware is simple yet functional and includes muted finishes such as brass knobs or brushed silver pulls.
Backsplash
The backsplash can either be simple with clean lines or add some interest to the room with a pattern. Most often, the color scheme of whites, blues, grays, or other neutrals is used. Natural wood paneling that has been treated with a water-resistant coating adds warmth to the space without being too dark or busy. For example, a Scandinavian kitchen may feature white backsplashes in a herringbone pattern tile. Another color combination is a light gray tile against white cabinets.
A glass backsplash is sleek and modern with clean lines. This material is low maintenance and offers texture, hue, and size options to match the kitchen color scheme.
Countertops
In a Scandinavian kitchen, countertops are streamlined. One option is a wooden butcher block that is a practical choice for food prep and gives the room a natural feel. White marble or quartz will match the rest of the room's color scheme for a monochromatic kitchen and are more modern than butcher block. However, white or neutrals are not the only choice. A black countertop looks sleek in an open-concept kitchen as long as it is paired with lighter cabinets and flooring.
Color Palette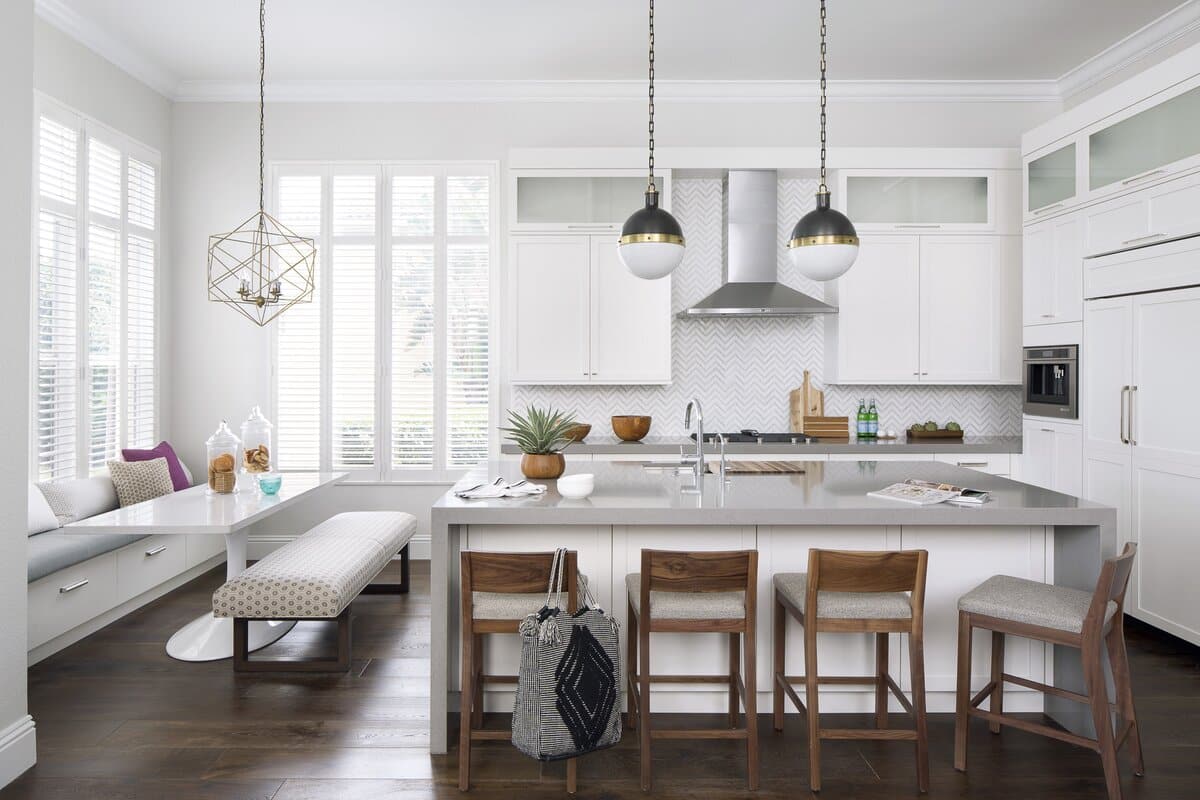 While white kitchens have become popular in recent years, they have been part of the Scandinavian color scheme for years. The basic color palette for this type of kitchen is neutral and muted shades of whites and dove greys, light blues, sage greens. Darker colors like black can be used as an accent color to create a bold contrast. Other options are beige and cream colors as well a muted browns usually found in wood flooring and furniture.

Many Scandinavian kitchens feature a complete monochrome color scheme. For example, white walls with white cabinets with white tiles and black grouting is an unusual twist. Large windows in the kitchen allow for natural light to fill the kitchen, so even if some darker accents are used, the overall feel remains open and airy.
Texture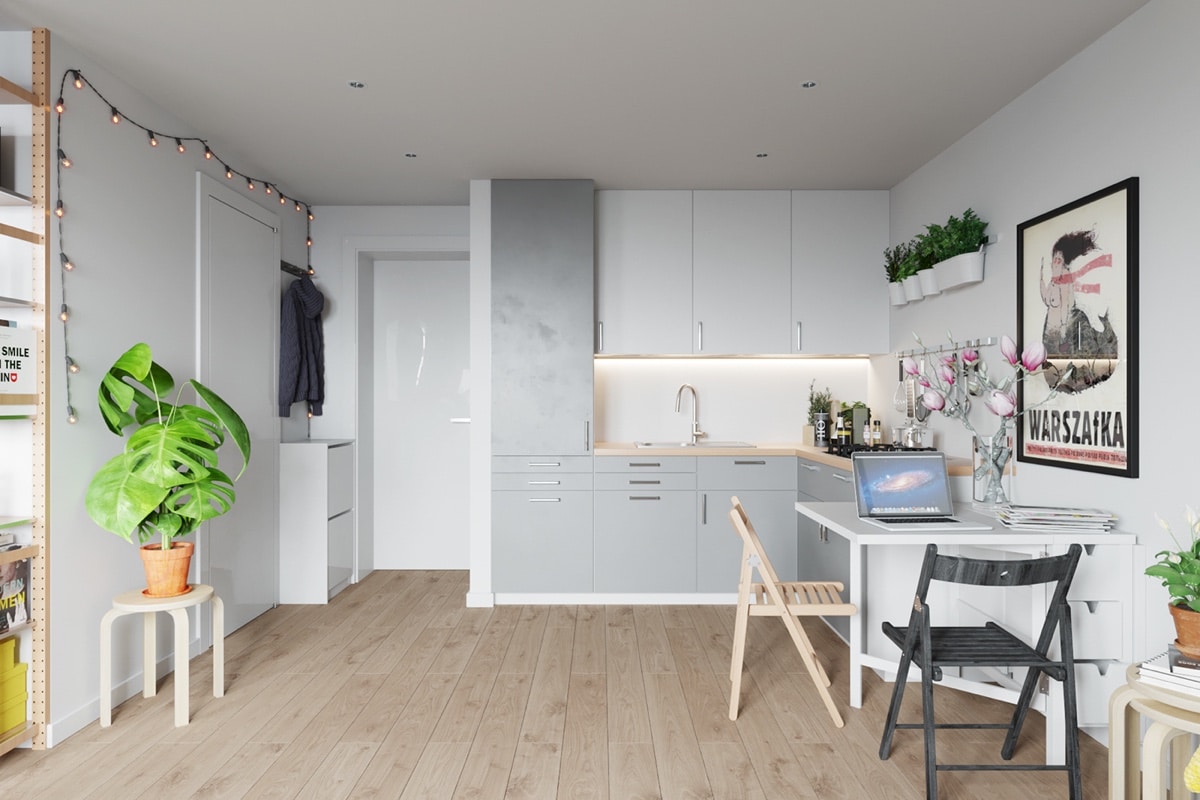 With such a neutral backdrop, the caution with this kitchen style is that it can seem austere. However, there are a few opportunities to add texture to the room. Potted plants or other greenery prevent the space from appearing sterile. The use of other natural materials like linen or leather works well with wood surfaces. For example, a hessian rug near the sink introduces texture to keep the space from being boring.

Since this interior design style emphasizes aging, peeling paint or a deteriorating brick wall are seen as focal points. The beauty of the old and decay can sometimes be seen in this type of kitchen. However, it should appear intentional by adding a mix of modern and traditional finishes. For example, a bright white kitchen with modern white cabinets and stainless steel appliances might also show off a part of the home's original brick wall. This is a blend of both old and new.

Kitchen tools are sometimes on full display in this style but always in an organized manner. Wooden cutting boards, utensils, and ceramic dishware are shown on counters and open shelving. Wood can also be seen with decorative pieces such as wooden bowls or wooden vases holding a branch.
Walls are often white or a neutral color. Wooden beams on the ceiling can create a cozy, Nordic feel. Artwork is used in the kitchen, but minimally. Any number of decorative items like the artwork is in traditional Nordic patterns that follow Scandinavian design principles.
Flooring
Flooring in the Scandinavian kitchen is often made of wood. Scandinavian woods are those found in the countries of Norway, Finland, Sweden, Denmark, and Iceland. Flooring is usually in light colors and matte finishes, for example, bleached wood. For a natural effect, wood has visible grain, various tones, and signs of aging.
For smaller kitchens, wide planks make the room look larger. In bigger kitchens, wide planks cover a lot of space with a low-profile look.
Furniture
Scandinavian interior design focuses on minimalist, simple, and practical furniture. The function is at the core of furniture design, with the form being almost as important. Materials like solid wood are often used for furniture like tables and chairs, which feature clean lines. Traditionally crafted items might also be part of the décor. The furniture can help the overall feeling of the space be either modern or rustic. Woods in lighter in color has a subtle grain and with minimal to no knots or dark marks.

In the kitchen, cleverly hidden storage, modular shelving, and flexible designs with the furniture make for a functional space. A big farmhouse-style kitchen in untreated wood can be used in a Scandinavian-style kitchen for a rustic feel.
Lighting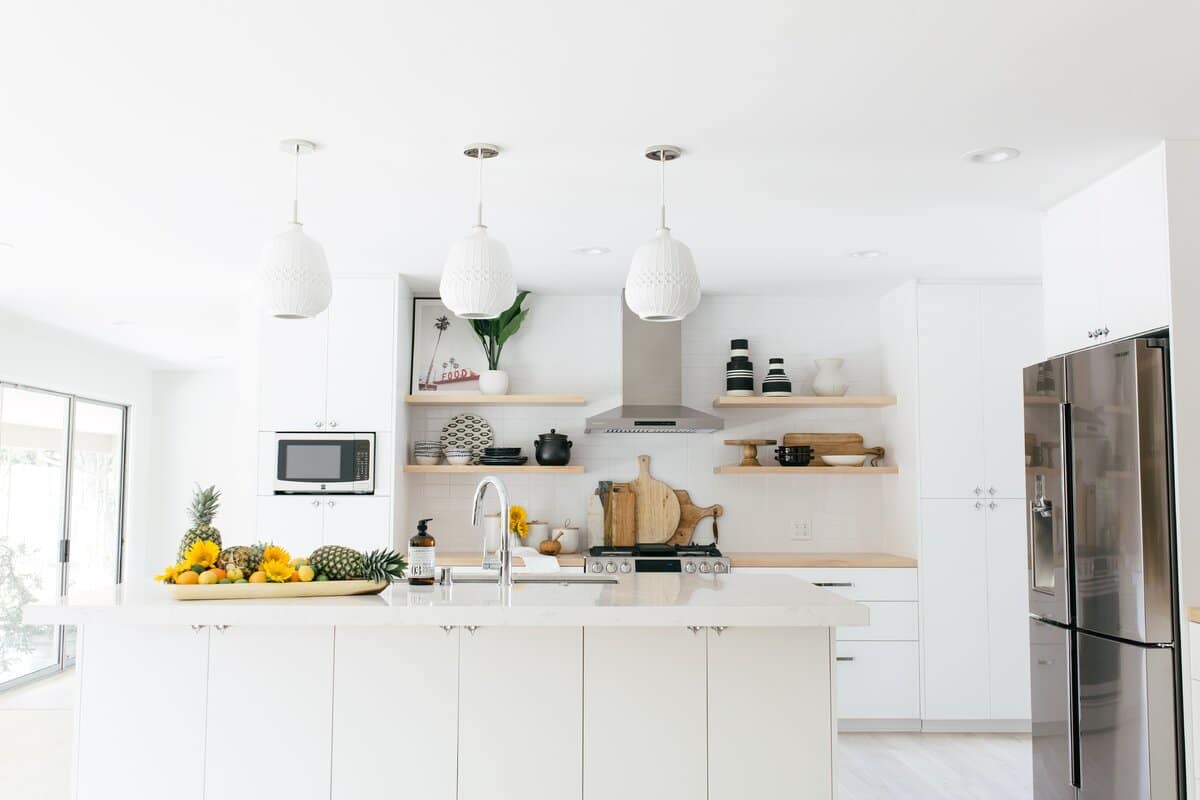 Natural lighting is a key component of this type of kitchen, with many and large windows to let in the sunlight. Windows are left without any adornment to allow as much light in as possible. If privacy is needed, simple wooden roller blinds or gauzy curtains will not take away from the lightness of the room.

For additional lighting, simple pendant lighting is a modern choice that fits with the design. Lighting that incorporates a Nordic design can add texture to the space.
Appliances and Sink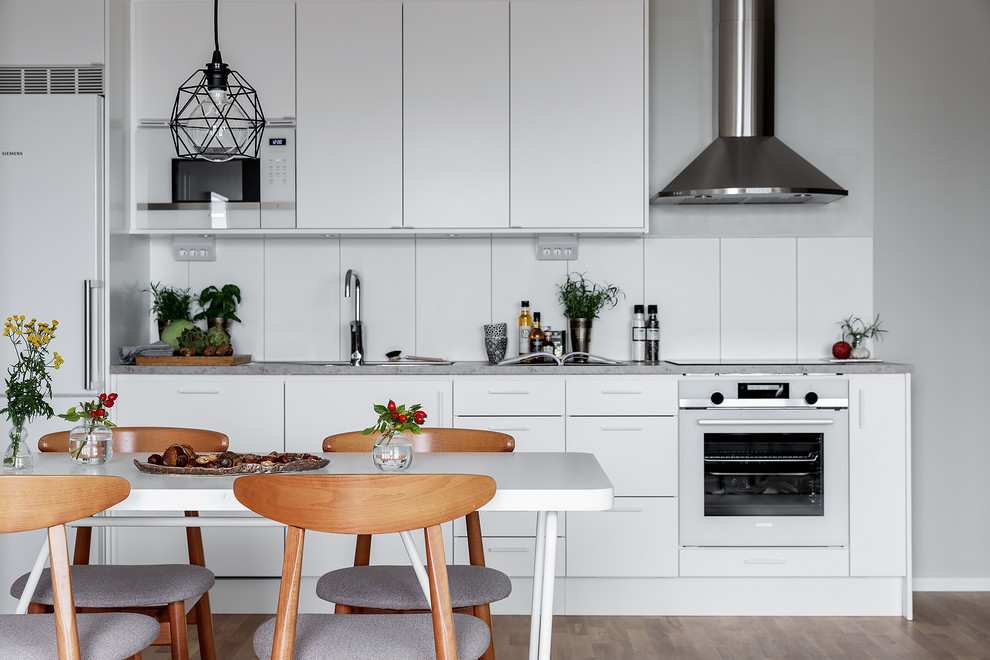 Appliances that blend into the design create a cohesive look. For example, a high-tech smart fridge that matches the style of the kitchen in either stainless steel or matte black will not detract from the rest of the design. In keeping with the minimalism of Scandinavian design, the sink should be simple. A farmhouse stainless steel sink goes well in this type of kitchen.
Storage
Whether small or large, Scandinavian kitchens maximize space by providing adequate storage. Every element in the kitchen is practical, so the space does not become cluttered. Since the Scandinavian kitchen is centered on functionality, clever storage solutions allow for kitchen equipment, pots, pans, and other kitchen items. Wall shelves and floating units keep items off the floor and can be used to house wooden cutting boards and utensils that double as décor. For smaller kitchens, in particular, uncluttered space makes the room appear larger.
Scandinavian Kitchen Trends 2021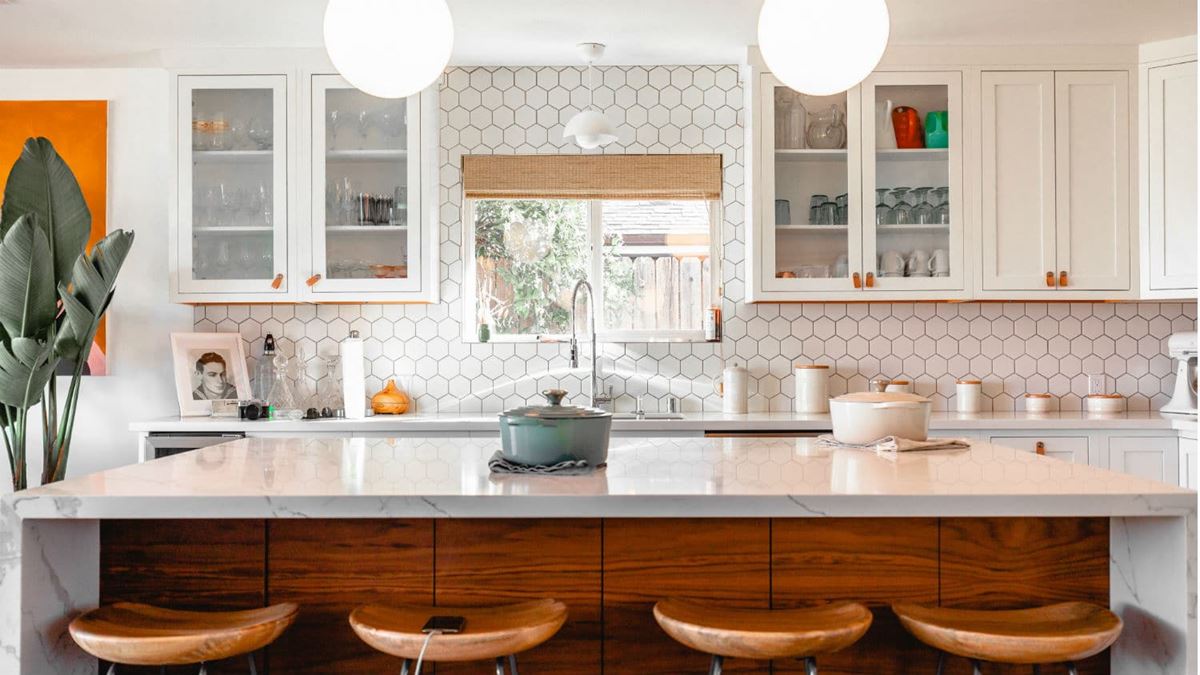 The kitchen island is being used as a multi-purpose station that provides ample counter space for prepping, cooking, and eating. But it also houses a recycling and garbage center, dishwasher, and additional storage room, so the room is free from clutter. Another trend for this year is tall cabinets that go to the ceiling. Glass panels allow for collectibles and other items to be showcased. While the artwork has always been used in Scandinavian kitchens, more items that are usually reserved for living rooms are creeping into kitchens. For example, a small lamp can be used to illuminate the island.

Scandinavian design kitchens have remained popular for their minimalist and simple style. Homeowners should choose cabinets that keep with the simplicity of the space.