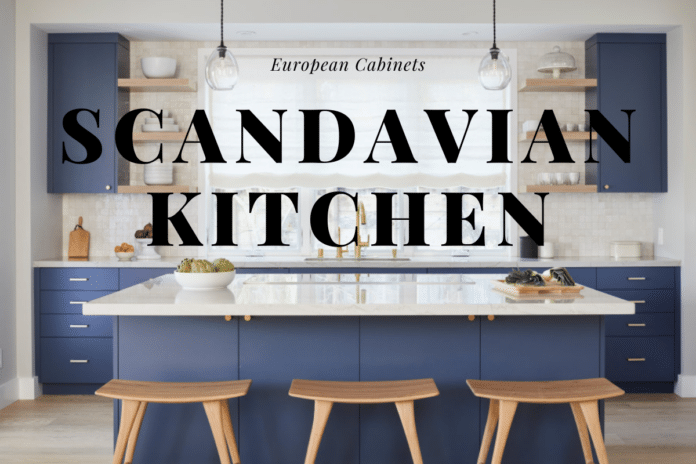 A Scandinavian kitchen is the embodiment of simplicity. The 'less is more' philosophy of Scandinavian design creates a minimalist and functional space that is bright, light and full of clean lines. European style cabinets are a mainstay in the Scandinavian style because they carry many of the same traits: simple, functional and stylish. With a set of European cabinets in your kitchen, just a few extra steps can transform your space into a classic Scandinavian style home.
1.Paint Your Scandinavian Kitchen White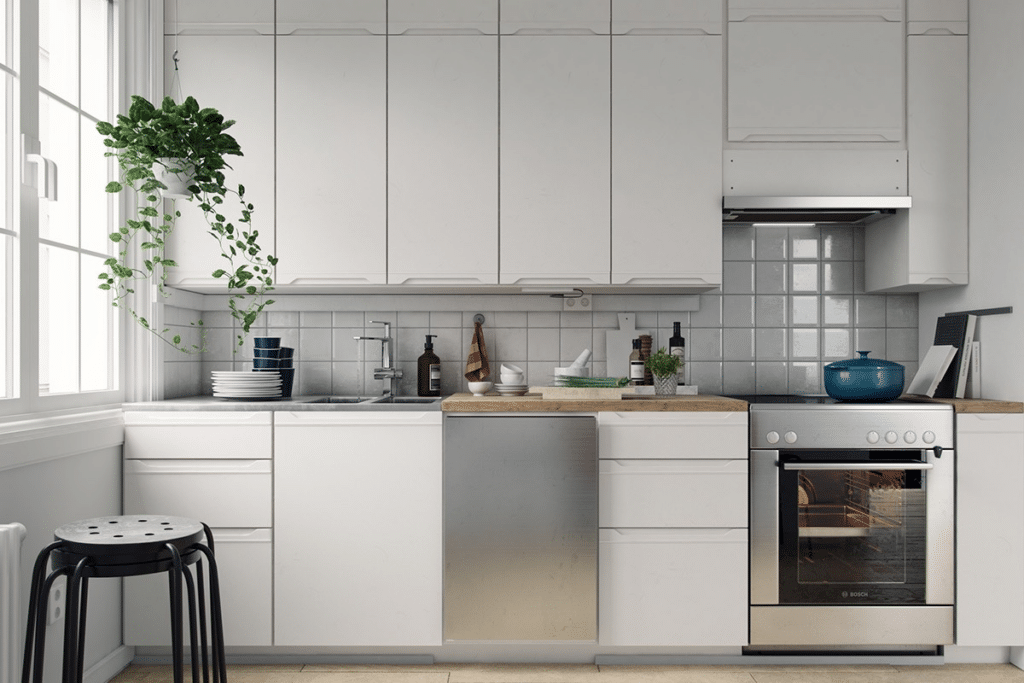 One of the easiest ways to bring Scandinavian style into your kitchen is by keeping the space white and bright. Scandinavian kitchens are often painted white, which allows more light to enter the room and reflect off the walls. This brightens the room easily (important for those long Scandi winters!), and creates the illusion of more space. You can opt for white walls, or paint your European style cabinets white to match.
2. Bring in Elements of Wood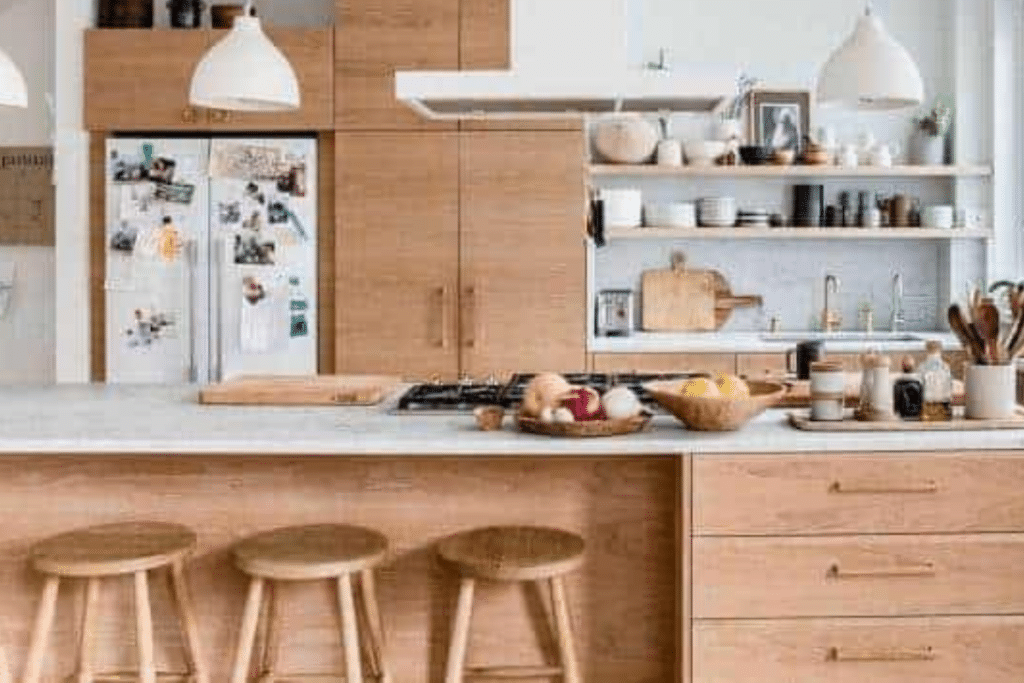 Scandinavian kitchens also use lots of natural wood, typically in lighter shades like beech or pine. This adds warmth and texture to the kitchen and can break up the monotony of an all-white space. You can bring in the wood on your floors, or by adding a simple wooden table, bar stools or kitchen island. If you wanted to make a bolder statement, you might want to try a two-toned effect by having white European cabinets on top, and a natural wood finish on the bottom. The look is modern and stylish and perfectly in line with the Scandinavian style.
3. Try Hands-Free Cabinet Doors
One way to keep the clean lines of your kitchen intact is by forgoing cabinet hardware. Instead of bulky bars and handles, you can opt for a push-open mechanism on your European cabinets. This will keep the sleek look of your cabinets without decreasing functionality. You can simply push the cabinets to swing them open, and again to close. If you'd rather stick with hardware, make sure to choose simple, minimalist pieces. Bronze cup pulls or bars will fit the aesthetic better than oversized knobs or anything that looks too intricate.
4. Be Intentional With Your Color Choices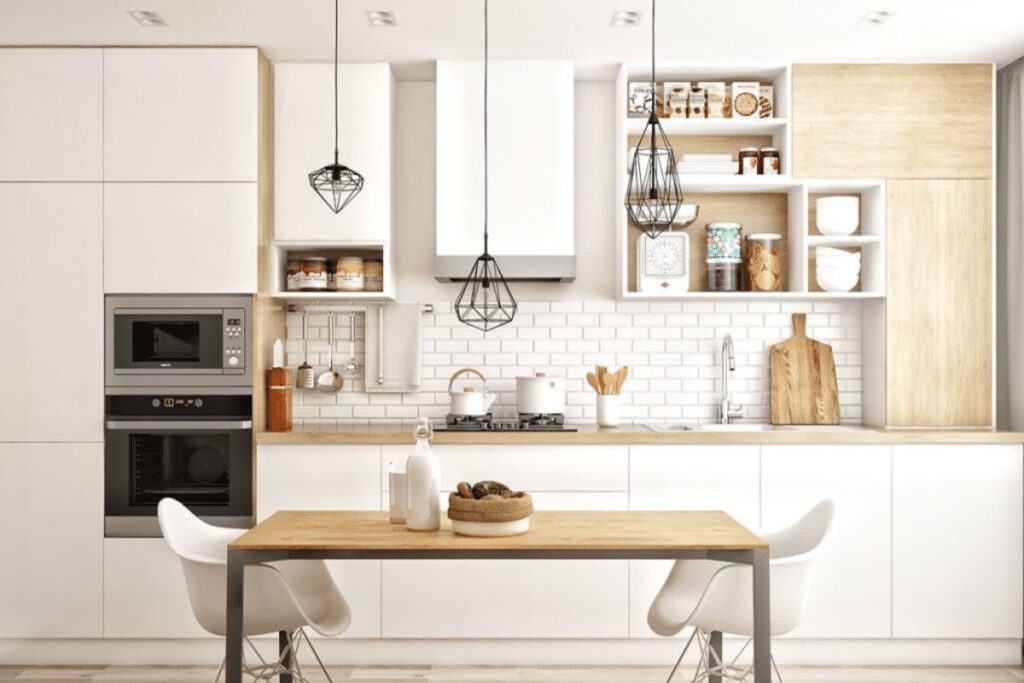 While white and light wood is the most common color combination in Scandinavian kitchens, that doesn't mean they are your only options. You can experiment with color carefully. You can create a cozier kitchen by using dark, moody colors. Paint your European cabinets in a dark shade like black, navy blue or sage green.
5. Use a Few Bold Decor Pieces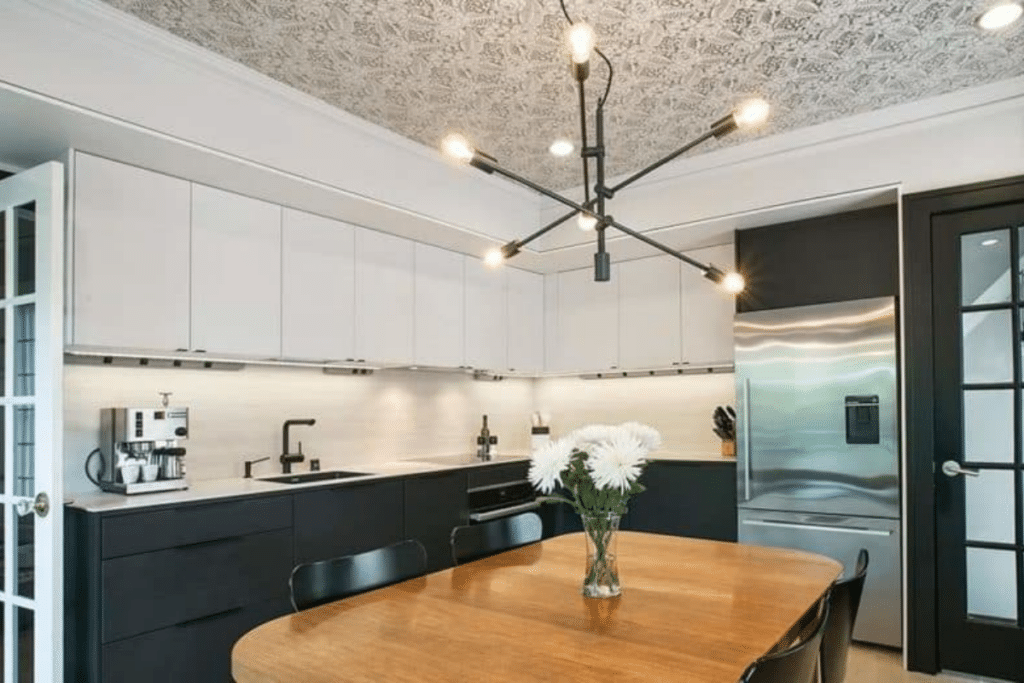 Since Scandinavian style is all about minimalism, you don't want to overwhelm your kitchen with too many decor pieces or colorful touches. But that doesn't mean you shouldn't incorporate any at all. Instead, show your personality in subtle ways, like kitchen textiles. You can bring in bold patterned tea towels and coasters to add a pop of pattern to your kitchen. You might also want to try some pastel pieces, like the curtains or a rug, to add a soft and subtle warmth.
6. Add Lots of Light
Scandinavian kitchens need to be light and bright. If you can't achieve that with natural light, focus on the lighting in your kitchen. You can use spotlights for a minimalistic look, or add decorative hanging lights to add more character to the room. Pendant lights over kitchen islands or countertops are a great way to add task lighting while still keeping your design at the forefront.
7. Try a Touch of Metallic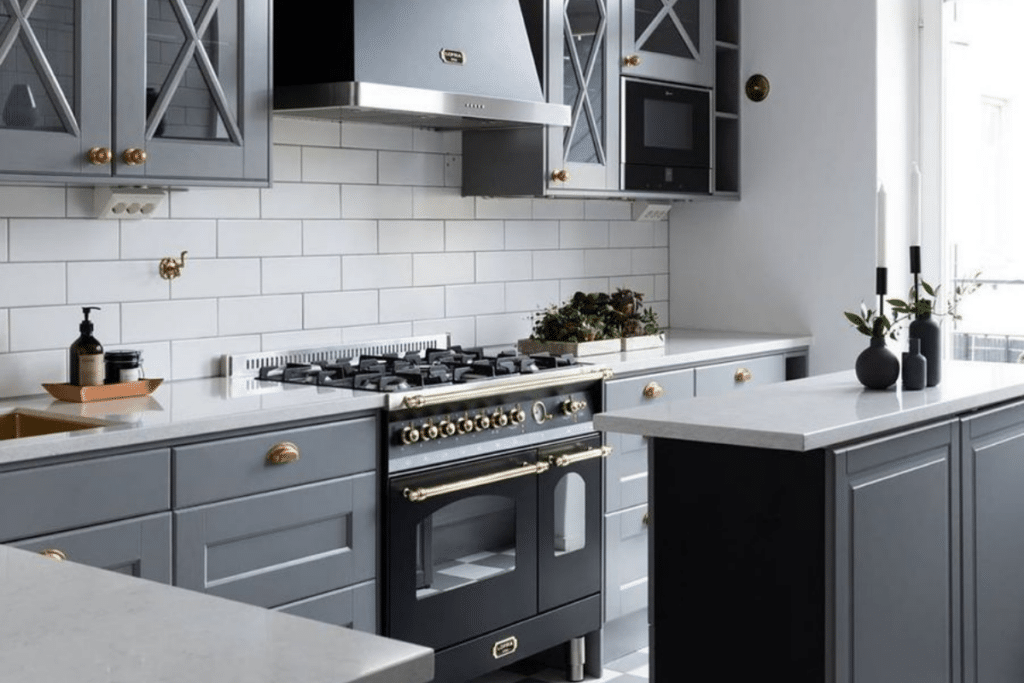 When looking for accents in your kitchen, try looking at metallic finishes. You can use them in the hardware on your European-style cabinets, lighting fixtures, faucets and much more. You can even pull metallics into your tile backsplash to create a unique, eye-catching piece. Chrome, copper, gold or steel can all work in a Scandinavian style kitchen.
8. Keep Things Minimal
When you've finished the major projects of your kitchen, like the cabinets, flooring and appliances, you can start on things like the decor. However, keep in mind the adage that "less is more." This is especially true in Scandinavian style kitchens, which embody minimalism. Keep your decor and accent pieces simple, and don't overwhelm the space. You should also keep your countertops clear, so the kitchen doesn't look too cluttered. Add spice racks to the interior of your European cabinets, or add hooks to the inner doors so that you can keep more items safely tucked away. This gives the kitchen a more clean look.
9. Incorporate Appliances Into Your Design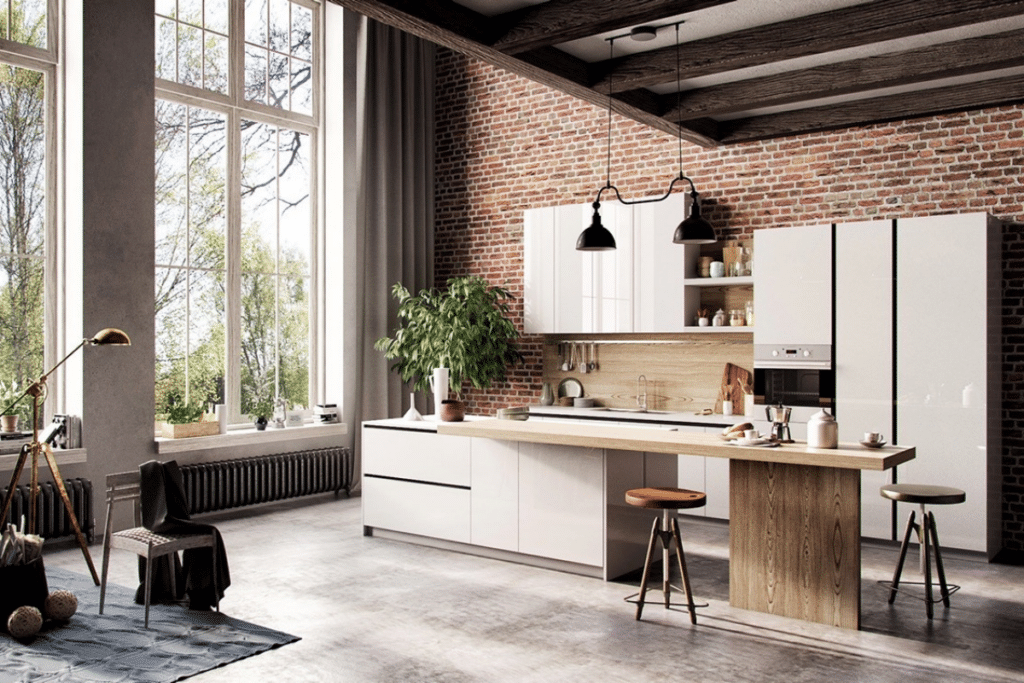 A fridge is a necessity in the kitchen, but that doesn't mean it has to look boring. You can blend your appliances into your kitchen design to create a cohesive look. For example, you can pick a retro-style fridge in a bright color to bring a pop of the unexpected, or keep one shiny and white to match the sleek style of your kitchen. A high-tech smart fridge will also look stylish, and you can opt for a color that matches your style like stainless steel (that metallic finish) or matte black. If you feel the appliances don't perfectly fit your Scandinavian kitchen, try installing an appliance garage in your cabinets to keep them hidden.
10. The Finishing Touches
Scandinavians love art! A portrait hanging in the kitchen might not be your first idea, but it's a popular style in Scandi homes. A piece of modern artwork will brighten up your kitchen and bring an element of color and texture into your kitchen. However, remember you don't want to overwhelm the space. If you've already chosen a focal point, like a dramatic backsplash or a bold patterned rug, you might want to skip the colorful canvas. Instead, you can bring some warmth into the kitchen by adding lots of potted plants. This colorful splash of nature will fit perfectly in a Scandinavian kitchen without making the room look too busy.