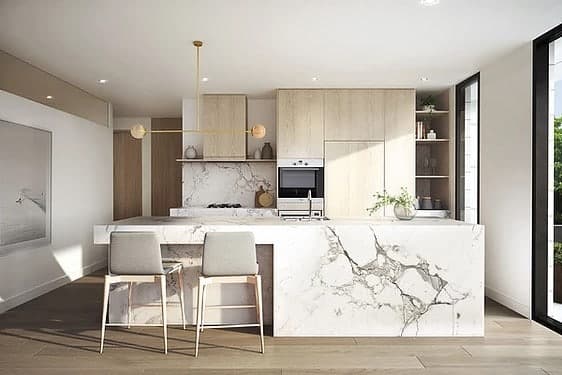 A mid-century modern kitchen is one for homeowners looking for a classic yet on-trend kitchen. The style is flexible and able to be mixed and matched with other design preferences such as classic, traditional, and modern. In addition, mid-century modern kitchen design colors and materials can easily be mixed with newer materials and more contemporary styles. Creating a kitchen that is mid-century modern inspired is a fun way to add life and a little quirkiness to the space, even if the goal is just to add a few mid-century modern touches.
What is Mid-century Modern Kitchen?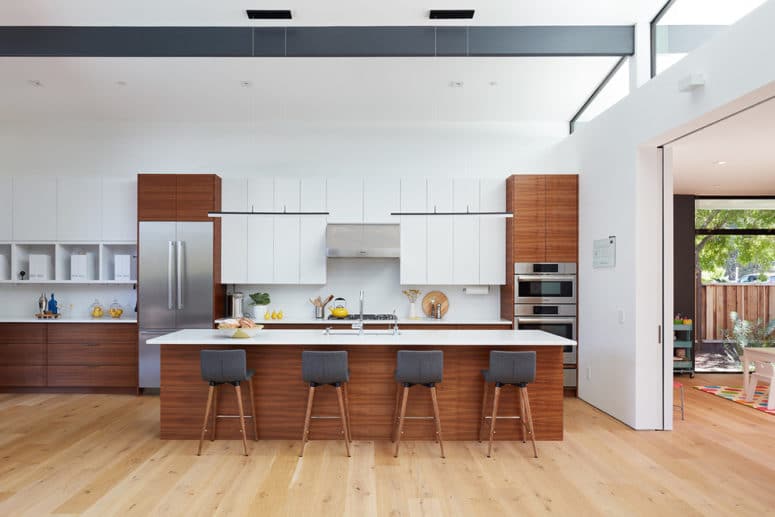 Mid-century modern design became popular during the 1940s, following the Second World War, and has been considered a timeless style since. With so many young families building and buying their first homes after the war, the design reflects the booming economy and optimistic outlook. It was appealing to many because it allowed for more freedom than other design styles, such as traditional. Additionally, homeowners wanted more efficient and functional designs and coveted new materials and textures resulting from advances in technology.

During this time, floor plans in the new house were designed with a purpose. In addition, multipurpose furniture helped conserve space, and pieces could be stacked or nested to conserve space further. This style of interior design focuses on the functionality of the space. Similar to Scandinavian design, which rose in popularity around the same time, mid-century modern design does not have any clutter or ornamentation. Instead, the décor is streamlined—practical and durable but also incorporates vintage styling. In addition, it highlights the materials used with a focus on their function.

Mid-century modern design was a catalyst for open floor plan concepts, but the kitchens of that era were nowhere near the size of kitchens today. True mid-century kitchens are galley style with one long space of counter running down each side. That is why this style of kitchen works in any size.
Characteristics of Mid-century Modern Kitchen Design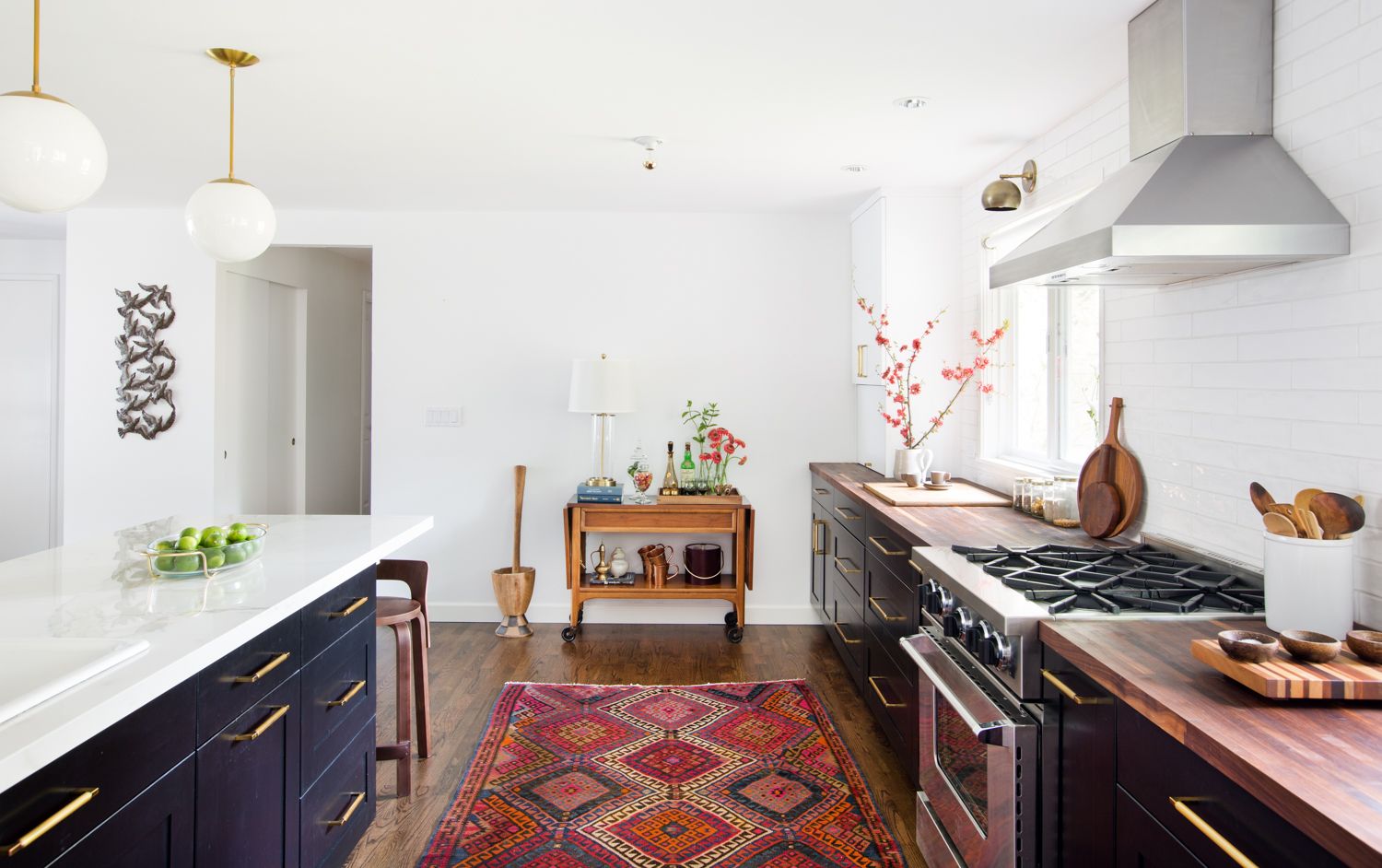 Characteristics of Mid-century Modern Design
Mid-century design is easy to identify because it has features not found in any other design style. The mid-century design commonly features some of the following:
Use of different colors, some of which are bold
Graphic patterns
Understated design
Use of wood
Organic and geometric shapes
Minimal or simple décor
Opposing materials and textures
Natural elements such as plants
Large continuous countertop
After the inception of this style, new manufacturing methods were producing new materials such as plastic, Plexiglass, and Lucite, which are also used within the design.
Color Palette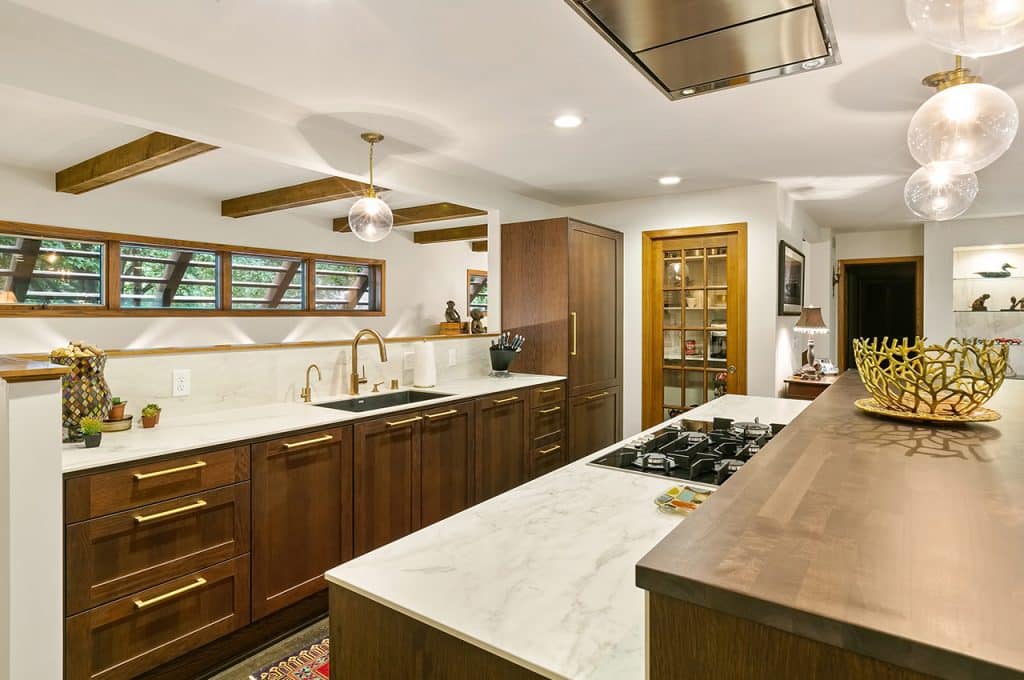 The color palette of a mid-century kitchen is very flexible and can cater to the homeowner's preferences. The neutrals used in the mid-century modern design are always in style. However, this style also uses bright hues or warm colors in addition to a neutral base. For example, use neutral tones for the cabinets and countertop with a bold color in the backsplash or the island stools. Want colors to pop in the kitchen? Bright colors like apple green, bright red, and turquoise contradict the heaviness of wood grains. In former mid-century design, large amounts of colors were used, for example, in a bright orange countertop.

However, in today's design, one colorful statement piece is balanced with muted colors. Pale yellows and greens on the walls help balance the use of wood and can help add light. With colored cabinets, it is best to use white or off-white walls so the space does not become overwhelming.
Cabinets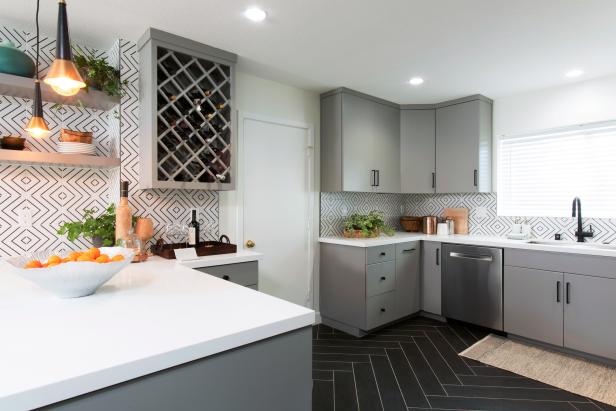 Cabinets in a mid-century kitchen are generally modern with simple, clean lines. It is important that there is no ornamentation on them. Flat front panels are ideal for this style due to their sleek look. They can be paired with simple satin nickel pulls that do not detract from the rest of the design. Walnut Grain was a popular choice for cabinets in true mid-century design and can be made to look modern again with the correct use of other materials in the kitchen. The overall look, no matter what color cabinets, is clean and modern.

Homeowners that want to re-create more of a true, vintage feel can look into metal cabinets that were used in this design when it first came out. Wood eventually replaced the metal in the 1960s.
Countertops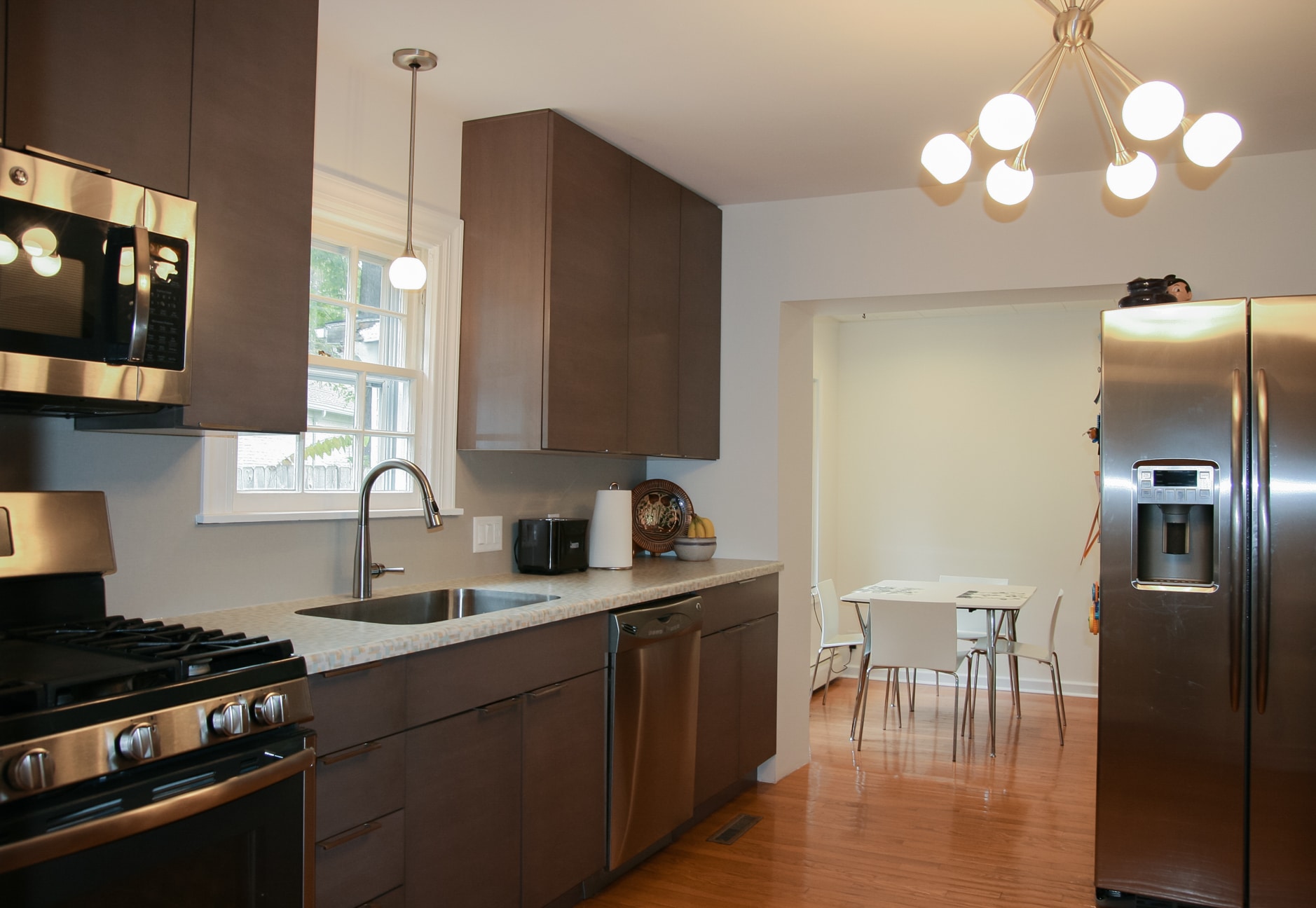 Who said laminate countertops were out of style? Laminate countertops were trendy in the 1940s, the 1950s, 1960s, and beyond, but innovations in the material have improved them, so they have come a long way since then. A big bonus: laminate is an affordable and durable material for homeowners on a budget. The wide range of colors and patterns that are available in the laminate can be a good fit for a mid-century modern kitchen.

Another option is a ceramic tile which was a popular choice for countertops in original mid-century homes. Different colors and patterns can be used to add texture to the room, but bold tile choices should be paired with neutral cabinets.
Quartz can also be used in this kind of kitchen because it pairs well with any chosen color scheme and goes well with bold colors. Since it is non-porous, it will not stain and is durable.
Backsplash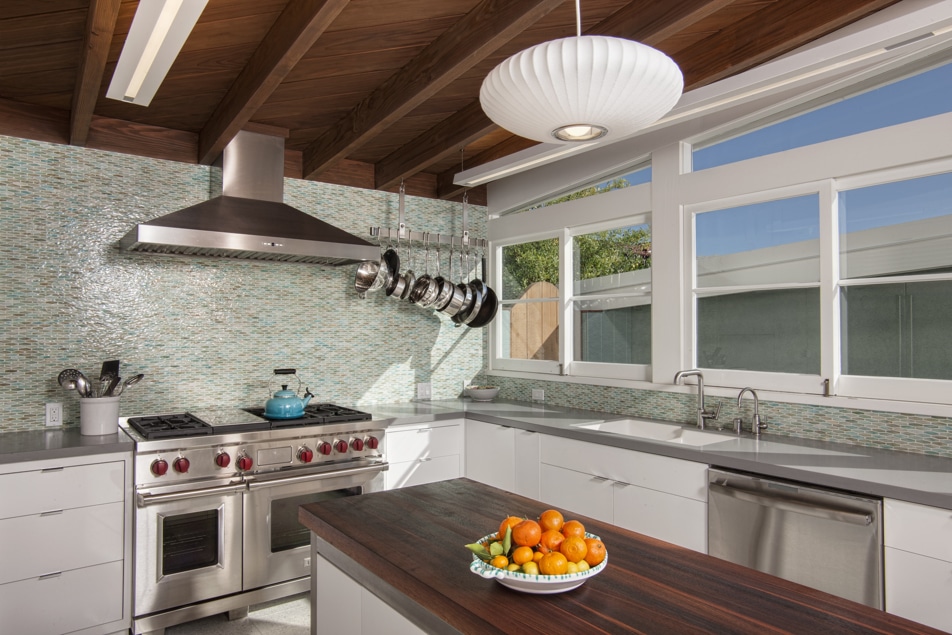 Mid-century modern homes often use ceramic tile for the backsplash as well, and the use of bold color as an accent is often used here. Today, the design and style choices are endless. A black tile border around colorful tile modernizes it. Squares and rectangles are more classic choices, but mid-century modern kitchens have hexagons, circles, and other geometric shapes in the backsplash. Even classic shapes like squares become unique when they incorporate a retro graphic design. For example, a half-circle tile design in pastel colors fits the mid-century modern aesthetic.
Furniture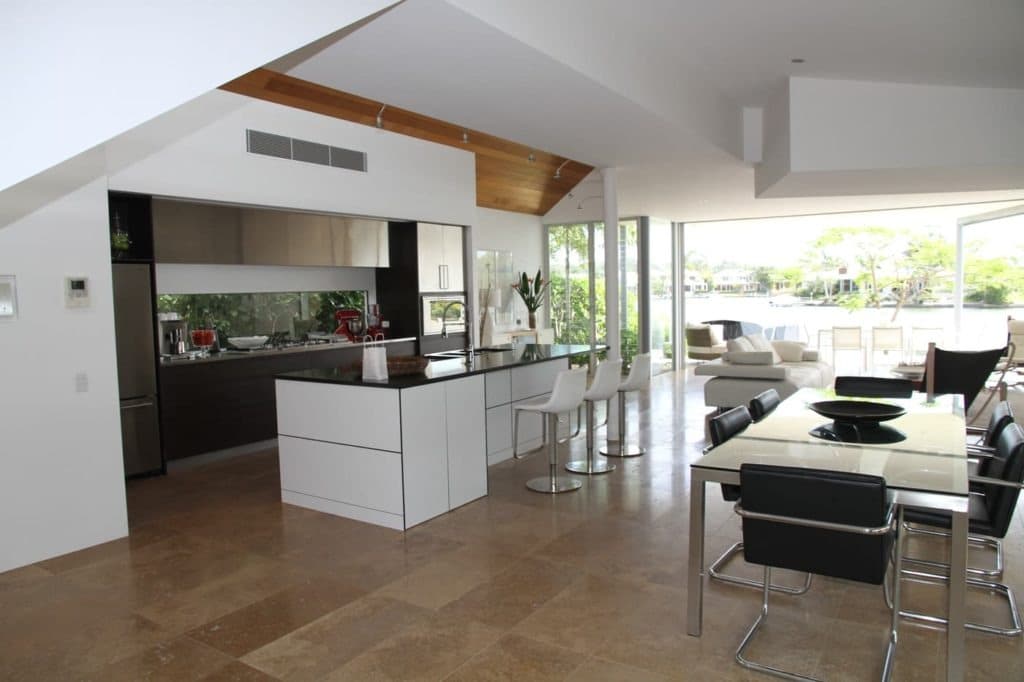 Mid-century furniture is very easy to define with a mix of organic and geometric shapes. Hairpin legs, low, streamlined seating, and plastic shell chairs can all be found in this type of kitchen. Kitchen table or kitchen island chairs are simple, purely functional, with minimal elaboration. Wood and wood veneer are elements of this style but are mixed with other synthetic and organic materials in furniture. Furniture that has geometric, curving lines and multiple uses provide continuity in style throughout the space.
Flooring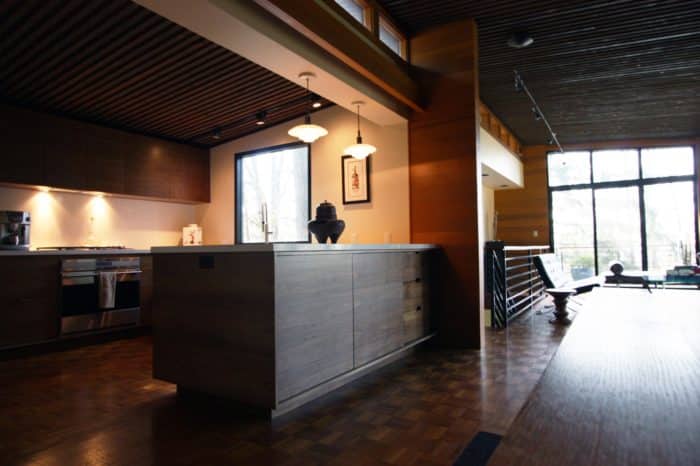 Traditional mid-century modern kitchens had a natural stone floor such as slate, travertine, or bluestone. Many new tiles are more affordable but offer the same look.
Other flooring options include wood and cork. There are many choices for the wood flooring, from hardwood to vinyl planks that look like wood. The type of wood is not as important as the color, which should be a rich, warm brown with grain to be true mid-century modern.
Texture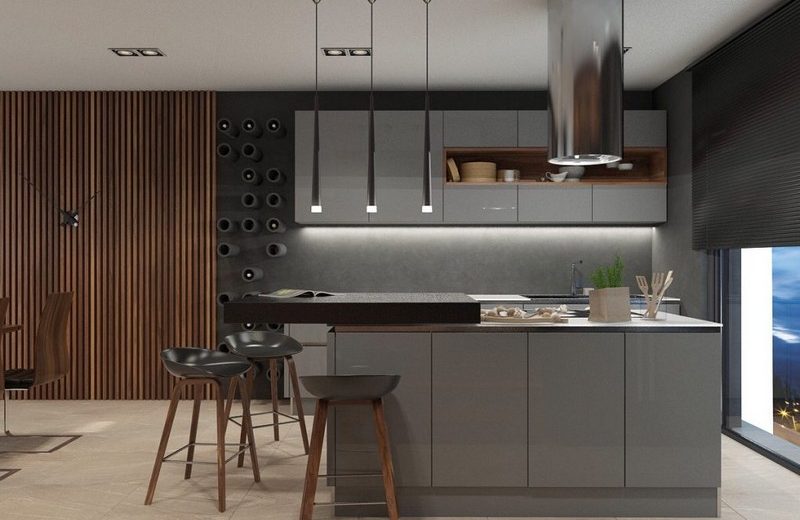 Part of the appeal of this type of kitchen is the mixture of different textures and materials. The use of wood in the kitchen became popular in the 1950s. Wood textures have a natural feeling used on the ceiling and walls. Now the wood is mixed with other materials and not relatively as abundant as in years past. Different textures and materials such as greenery help offset the wood texture. Other natural materials like leather and metal are commonly found in mid-century modern kitchens.

Bold patterns in abstract or repeated geometric are paired with the clean lines of the furniture to make for an uncomplicated statement piece. Materials like Plexiglass and fiberglass are sometimes part of the furniture, usually molded and bent to fit the piece's curve. Furniture might have textiles in colors, for example, avocado-green kitchen nook upholstered bench.

Open shelving is either a major feature of the kitchen or just an accent. Open shelves can be placed over the sink or in another area of the room. This is a great place to add bold color. Even in a kitchen that features a lot of wood, open shelving can help lighten the heaviness of its use it.
Breakfast Nook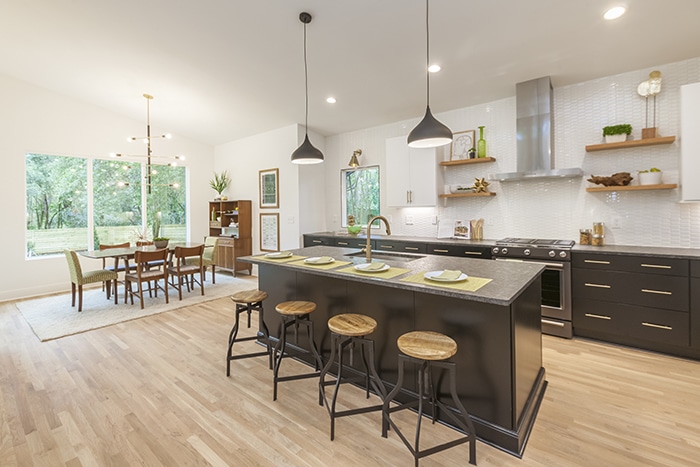 When mid-century modern kitchens first came into play, the breakfast nook served as an efficient place to serve meals. Even as kitchens became more significant over time, homeowners still want a defined area for meals. The breakfast nook is often used in the mid-century kitchen as a specific space for eating. Built-in seats with a patterned material can add texture to the room.
Lighting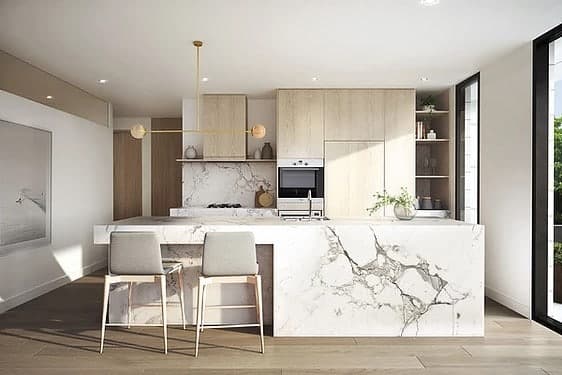 Lighting in the mid-century modern kitchen is inspired by European and Scandinavian designs. Newer trends are silhouettes that mirror space technology. Designers experimented with new materials like plastics as well as traditional ones like wood, brass, and steel. One of the most well-known lighting fixtures from this design is the starburst, which features metal round bulbs in spiky designs. These were inspired by the launch of spacecraft in the 1950s and 1960s.

Since there is an emphasis on natural features, large windows that let a large amount of natural light in are favorable. In terms of window treatments, sheer drapes or blinds can be retracted to allow as much natural light as possible.
Appliances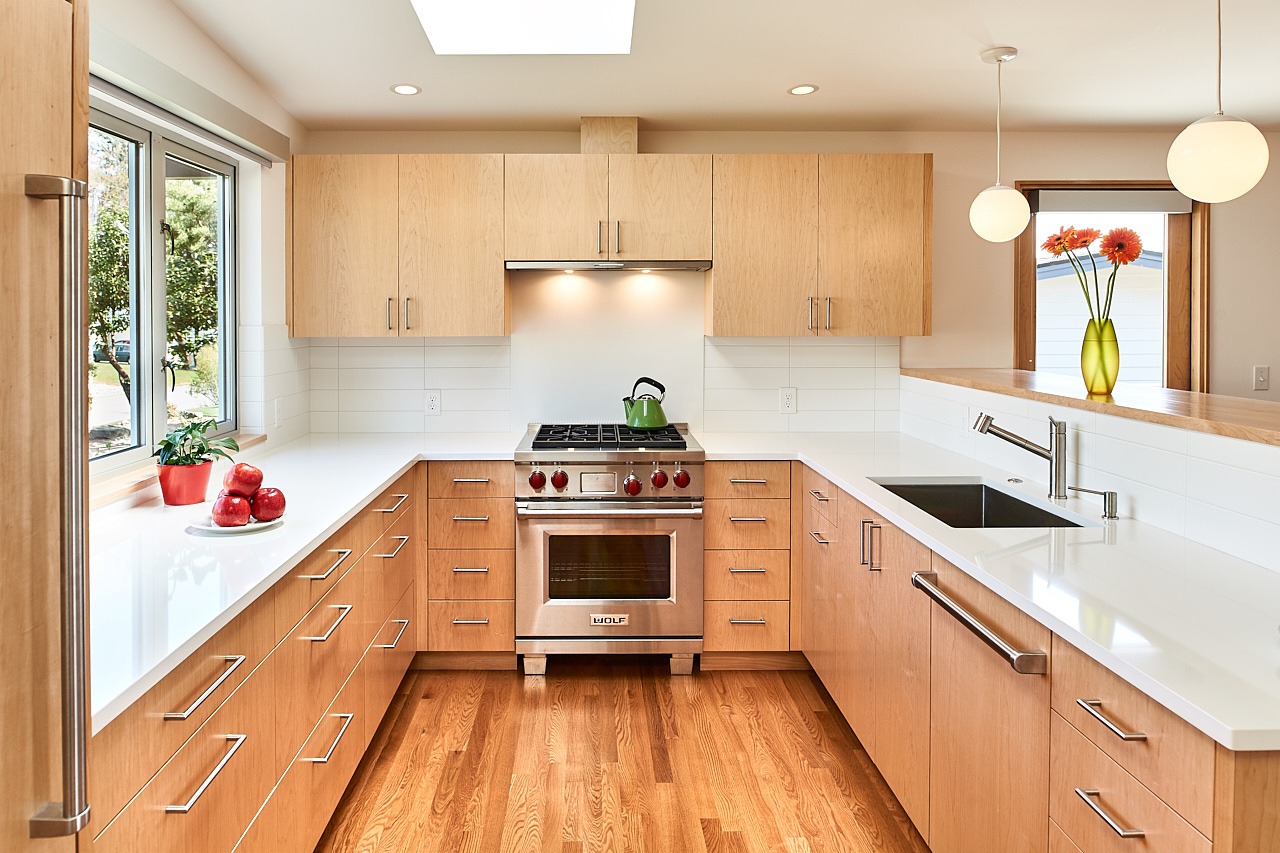 The appliances in a mid-century modern kitchen do not need to be stainless steel. Instead, some appliance designers make them in bright or pastel colors, giving the space a retro look. For example, a cherry red refrigerator can serve as a statement piece in the room.
Sink
The sink is not a focal point in this type of kitchen. Instead, one can use either a stainless steel or apron-style sink. Keeping it stainless steel will not detract from the rest of the kitchen design.

Mid-century modern remains popular because of the versatility it offers. As more people live in small urban environments like apartments and condos, this style has been highly sought after. The simple, mixed materials design makes it easy to recreate. In addition, simple, sleek cabinets play a large part in creating this style.