Whether you're looking for small changes or a big overhaul, there are lots of ways to redo your kitchen. You can make small changes by swapping out the paint colors or adding a new backsplash or go big by tearing down what's there and starting with a fresh, new space. Either way, your best bet is to start with shaker style cabinets for your kitchen design idea. These simple and versatile cabinets will look at home in any kitchen, no matter the size or style. Once you have shaker cabinets as your base, you can create anything with your kitchen. Read on for kitchen design idea featuring shaker style cabinets.
Before You Start a Kitchen Design Idea
Before you grab the sledgehammer and start demolition on your old space, you should evaluate what you want your final project to look like and, most importantly, how much money you have to spend. If you are planning to use a contractor, you can work with them on your plans. Contractors can help you plan your blueprint of the final space and give input on design and style, as well as materials. They can also give you a detailed budget ahead of time. If you're forgoing a contractor and doing the renovation on your own, make sure to have a clear plan and budget, plus a good chunk of contingency money set aside in case of any emergencies that pop up along the way.
Once you have your budget settled, you can pick a style for your kitchen design idea.
Go Modern 
Modern kitchen design is all about being sleek, sophisticated and most importantly, clean. Your surfaces should be clutter-free for the most part, and as reflective and shiny as possible. Stainless steel appliances and lots of high-tech gadgets help keep your kitchen looking as modern as possible.
The simple and clean lines of shaker kitchen cabinets make them a perfect choice for modern kitchens. A glossy lacquered finish in a bold color to offset your stainless steel appliances is a chic and unexpected look, but you can also go with classic white and or highly polished natural wood. Make sure to choose simple hardware to match.
Go Farmhouse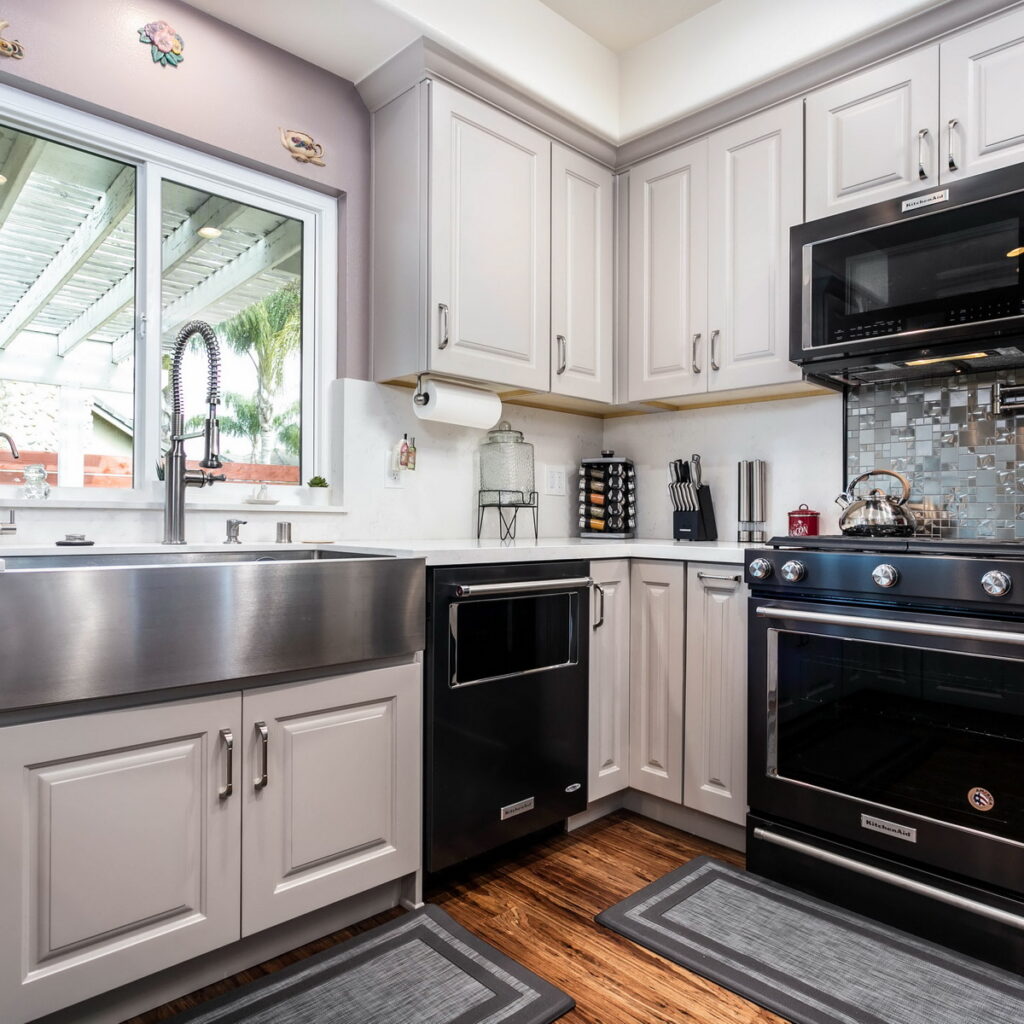 Farmhouse style kitchens have been a popular design choice in recent years. These country-style kitchens are open and inviting and often have the rustic feel of a farm or cottage, no matter where you live!
White shaker cabinets are a good selection for farmhouse style kitchens, but you can also paint them in shades of cream or pale yellow to create the same homey effect. Your decor items should be eclectic and rugged: think highway signs on the wall, mason jars and kitschy finds like a rooster-shaped vase full of fresh flowers. You don't want anything to look too finished or polished. Wood block counters and apron-style sinks complete the look.
Go Traditional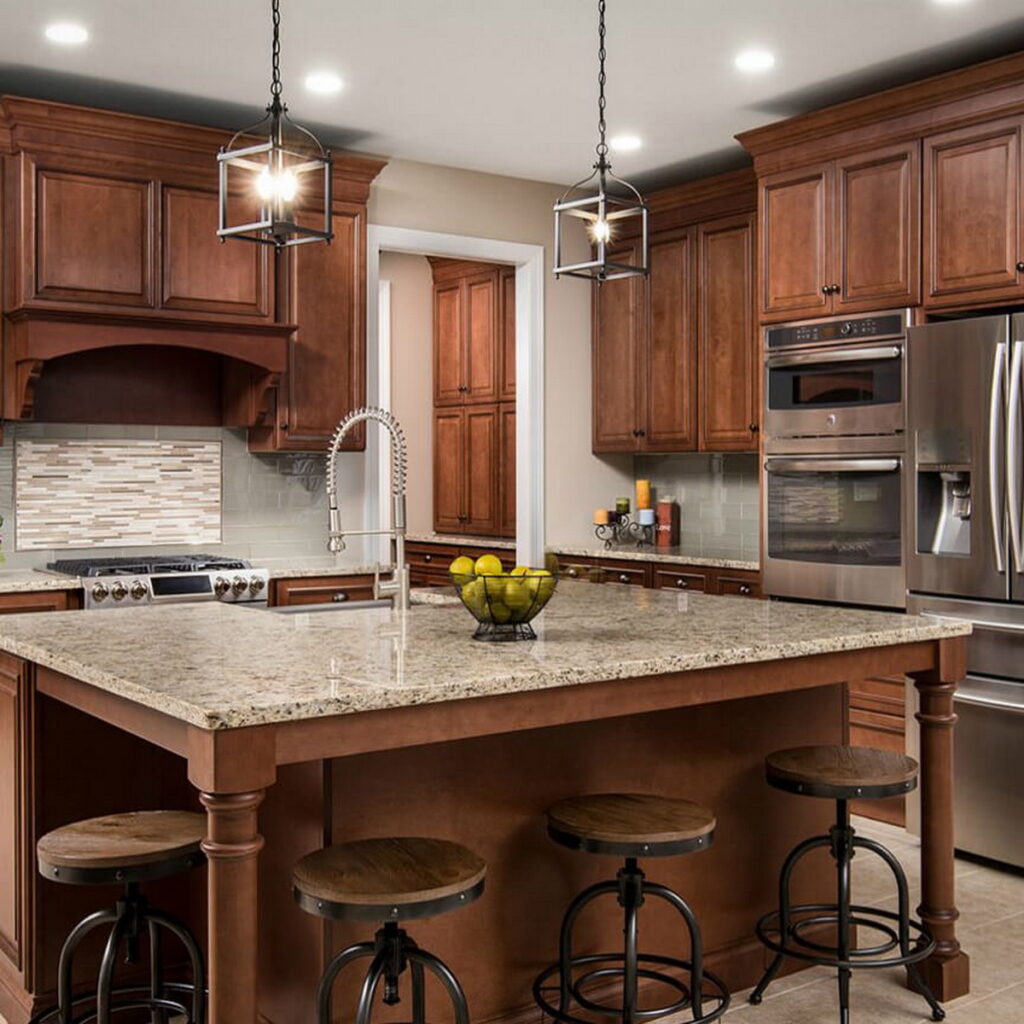 Traditional doesn't mean old-fashioned. You can create a traditional style kitchen that still looks fresh and stylish by making a comfortable and welcoming space. Your shaker style cabinets can go darker, in woods like walnut or mahogany, or shades of grey.
Traditional kitchens often look luxe with extra details and embellishments that help them stand out. You can add vintage-looking light fixtures or chandeliers, crown moldings, and classic marble countertops and backsplash to add a special touch. For your shaker cabinets, you may want to add some glass panels or doors to help create that timeless style and show off some of your finest wares.
If you have (or are adding!) a kitchen island, you might want to think about using upholstered chairs instead of bar stools for a more classic look.
Go Industrial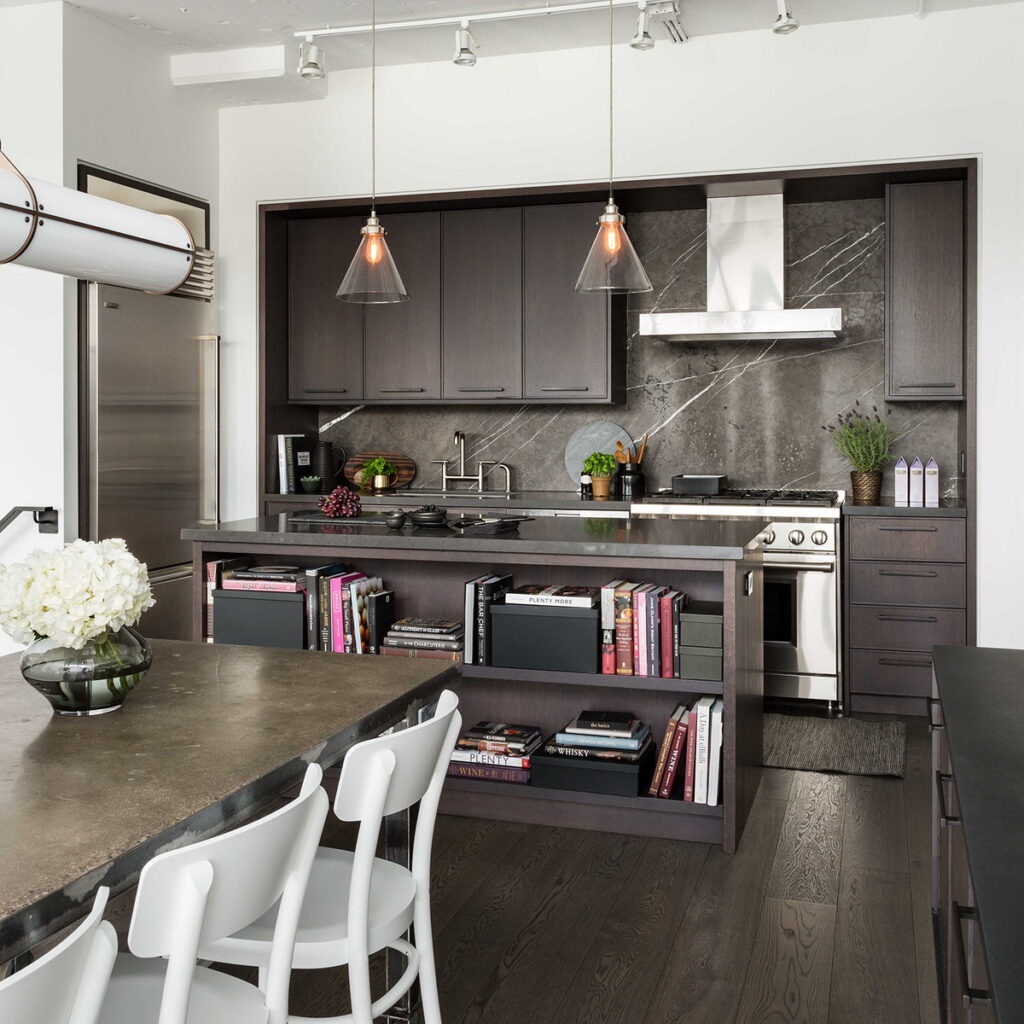 If you're lucky enough to have a space with exposed brick or wood beams, an industrial kitchen will be the perfect choice for you. But even without those staples of industrial design, you can bring the look into your kitchen. It's all about choosing the right materials: stainless steel appliances, concrete worktops, and natural wood shelves can all give the industrial look. For your bar stools, try leather upholstered seats with metal legs.
You will want to have a simple, neutral color palette in this style kitchen. With all the materials like concrete and brick, you will want to keep your shaker cabinets to a neutral shade like black or grey. You should choose polished brass or matte black kitchen hardware that's simple like cup pulls or bars.
Go Coastal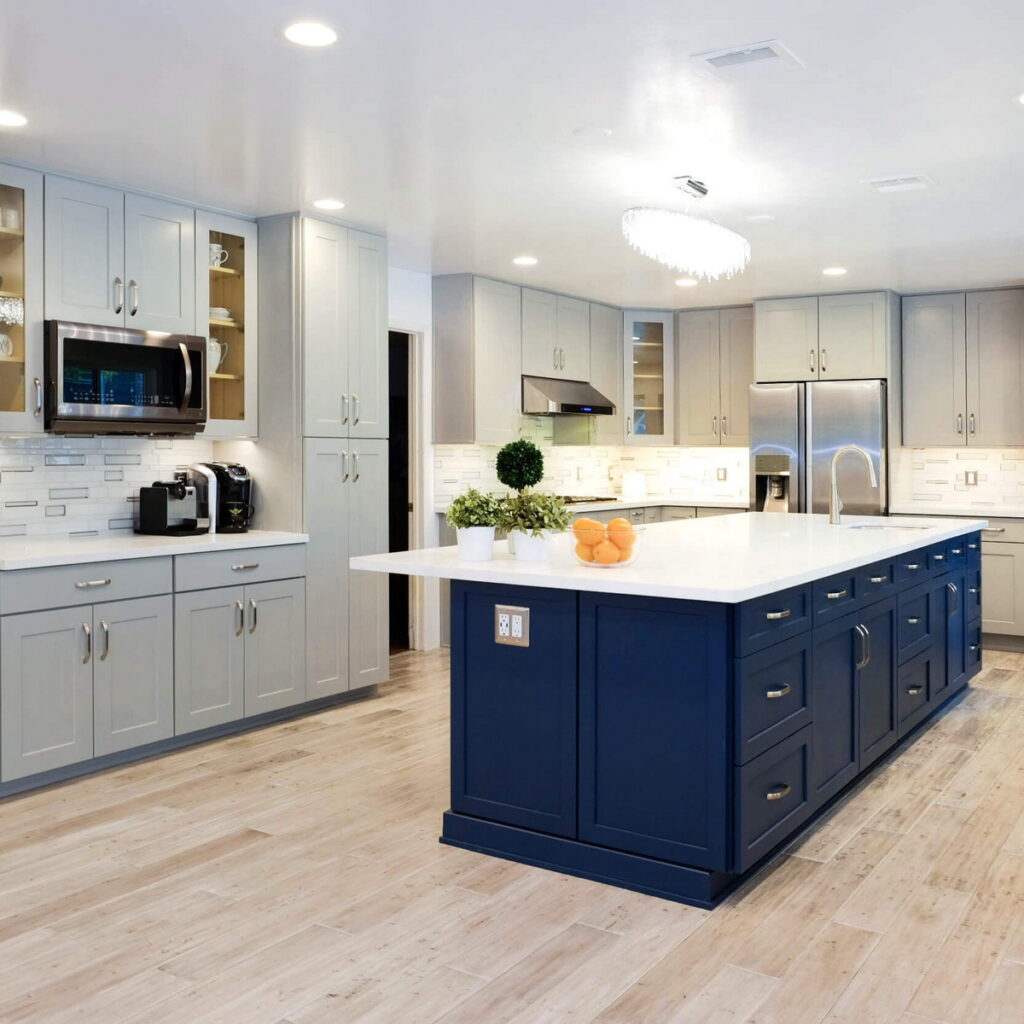 A coastal-style kitchen is an easy way to bring that relaxed beach living into your home. Colors like blue, green and white will be obvious staples of a coastal kitchen, creating a sea-inspired color palette.
A coastal design works best with lots of natural light. Ideally, you should have large windows and high ceilings to create an airy atmosphere, but the right window treatments and a light color scheme can trick the eye into thinking a kitchen is bigger and brighter than it really is.
You can go bold by installing a blue tile backsplash next to your white shaker cabinets and using blue as an accent color in places like your kitchen island or breakfast nook. For your seating, you can opt for white wicker or rattan chairs to complete the beach vibes.
Go Contemporary
A contemporary kitchen and a modern kitchen are not the same things, although sometimes the phrases can be used interchangeably. A contemporary kitchen might also be called a transitional kitchen. It's a careful mix of modern and traditional, and often open-concept to create a unique space that's functional for families and entertaining.
A contemporary kitchen design idea might have the polish of a modern kitchen with luxurious details. You might have stainless steel appliances and glossy countertops, but with white shaker cabinets and a kitchen island with furniture-like detailing. Use earth tones and neutral colors with a statement lighting fixture to make an elegant space that pops in the right ways.