The politics of saving money on kitchen storage
After the bills are paid, few of us have enough cash left to indulge in some home improvement project. But if you simply cannot delay replacing your kitchen cabinets a single extra day, all is not lost. You won't even have to sacrifice personal taste or quality. There are ways of buying kitchen cabinets that won't break your budget.
There are a number of factors that you need to understand when you are considering the price of cabinets. Sometimes the choice of wood can make all the difference in the world – when it comes to affordability. So can the number of drawers involved. Read on to learn the basic yet oft-neglected tips for buying cabinets on limited funds.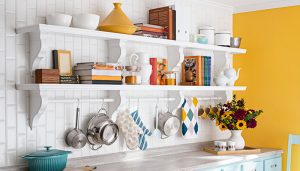 Oddly enough, you can go all-out by abandoning cabinets entirely. How is this possible? By installing shelves; they are a simple alternative that essentially provide the same function. You could save a ton of money opting for them over new cabinetry. They don't feature storage per se, and they require frequent maintenance in the form of dusting, but the price difference is dramatic. If your kitchen is typically sparse and you really don't have much to store, the shelf system may be best for you.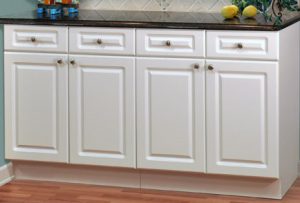 But if you can't do without cabinets, start your mission by picking an affordable wood. Since the cost between the types of wood varies so wildly, you could easily save money by picking one from the lower end of the price scale. In fact, you could even bypass wood completely and go for other construction types. A popular plastic finish that is adhered to mid-weight fiberboard (or other type of machined wood concoction) is thermofoil. At a price certainly less than wood, it is appreciated for the ease of cleaning it facilitates. It is also quite durable. Like thermofoil, laminate is also less expensive than its wood counterparts. It can endure for years although it has proven to eventually be vulnerable to moisture damage.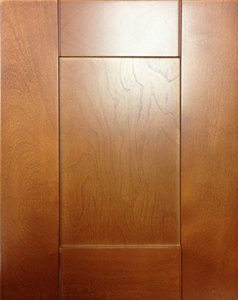 Do you have a specific door style in mind? To provide options for pricing, narrow your preferences to two or three. Raised panel and inset door styles are among the most costly. Generally, Shaker-styles are less expensive. Slab door fronts, meanwhile, are cheaper all-around (a favorite of the cost-conscious folks who want a contemporary kitchen). And opt for fewer drawers! Drawer bases can run hundreds more than a standard base cabinet.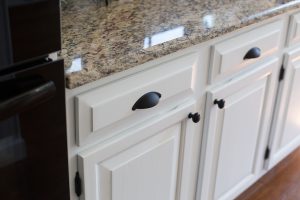 Don't take upgrades for granted. By forgoing common features such as soft-close drawers or full-extension slides, umpteen dollars may be saved. You may even choose door pulls to continue to conserve funds. They're great in environments where they'd suffer a lot of wear and tear, with little obvious surface damage to show for it all. Since these enhancements don't affect basic functionality, you've nothing to lose, really.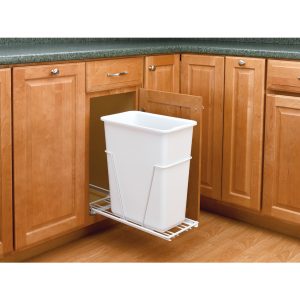 Everybody enjoys the convenience of having a pullout drawer, especially when it contains a waste basket. Just pull, insert trash, and close. But is it really that necessary or efficient? You could just as easily place the wastebasket in the pantry or other nondescript place. Similarly, you don't need a miracle corner or Lazy Susan. Simply put, you hold on to more cash by keeping it basic. If image is a concern, be aware that standard blind corners and base cabinets do not appear cheap – not at all. Most visitors won't even give them a second thought. They're just elemental and affordable.
Of course, you should be practical. Dismiss most of your ideas for customization. You can go without decorative legs, corbels and matching panels, and still have a beautiful home without them. And with a good eye you can effectively utilize minimum customization with maximum results. Add some crown molding or other inexpensive small detail and you'll be surprised how much it can spruce things up.
You just need the basics. A smart shopper considers all aspects of an important purchase. Buy your cabinets ready to assemble – and you're ready to go! It goes without saying, cover your bases. If you buy a naked product in need of stain or glazing, it will only drive your costs further up. Avoid mistakes like that. You're in the game of saving money, and the goal is to win!