Rustic-style kitchen design is often used as a general term to describe a certain style, but there are several components that need to be in place for a room to qualify as this type of design. A rustic-style kitchen is often found in cabins and mountainside homes but can be used anywhere as this style is not limited to location. Popular for their warm, natural feeling, homeowners that prefer simplicity will be drawn to this type of design. Now done with a modern twist, this type of kitchen is growing in popularity.
What is Rustic-Style Kitchen Design?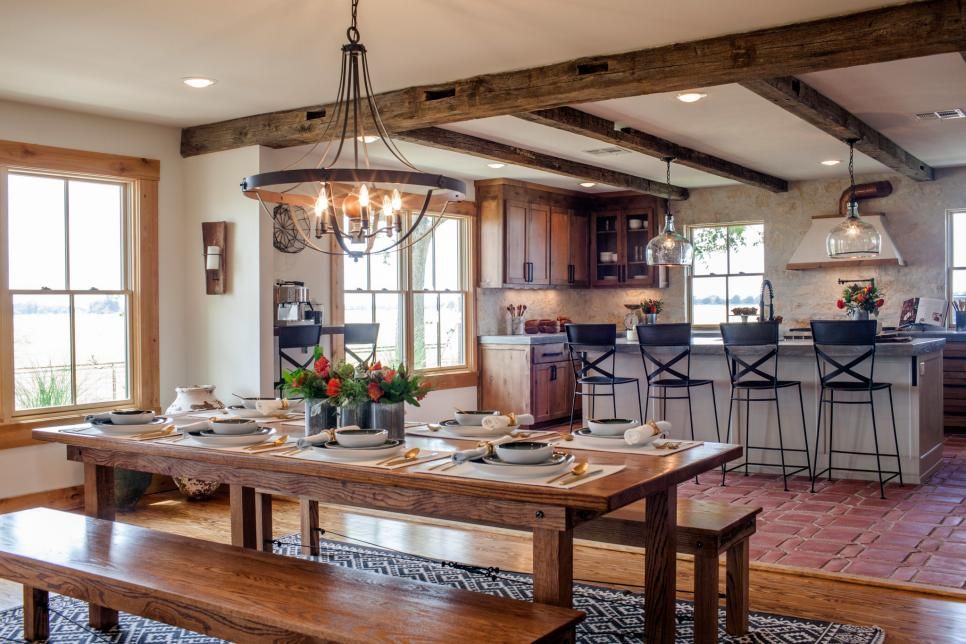 Rustic design is a style that is raw, earthy, natural, and aged. The use of natural materials (often in their natural state) is one of the defining characteristics of this style. It is warm and welcoming. It can be described as simple and coarse. Often the design is imperfect and gritty, with the use of natural materials such as raw wood, stone, and metals. Natural flaws such as knots in wood or uneven grain are highlighted as opposed to sleek or glossy wood finishes.
The goal is to replicate the simplicity and beauty found outside with an organic aesthetic that creates comfort and warmth. Rustic can be described as the opposite of modern or contemporary design.
The following elements are common in rustic-style kitchens:
Warm wood tones
Wrought iron hardware
Burnished copper fixtures
Raw materials
Organic textures
Reclaimed materials
Use of stone
There is a variety of rustic design styles and a number of rustic elements that can be used to achieve the look. Interior designer Tracy Svendsen and the editor of Canadian Log Homes says that the trend "leans closely toward the rustic utilitarian, with a surge of interest towards clean lines, natural materials, and pared-down décor. The new rustic provides for a fresh interpretation with the pairing of reclaimed wood and natural elements with existing modern pieces." 
The rustic look can be achieved with the right accessories and finishes. Items should have a hand-crafted look. For example, metal hardware will match exposed wood in the kitchen. A rustic piece of furniture has a distressed or weathered finished in a color that can be found in nature, and with old-fashioned warmth. The details make all the difference.
Cabinets
Rustic-style cabinets are simple, without ornamentation. They are usually built from reclaimed lumber or wood from old barns. They can also be manufactured from woods like cedar, hickory, and pine. The wood usually shows imperfections, and the grain is visible.
The style of the door is flat panels. For example, a Shaker cabinet will keep with the simple style of the space. The cabinets may also have hand carvings for those that are truly rustic and made from scratch. Or they can remain unpainted and natural.
Color Palette
The color palette in this kitchen is calm and neutral. Natural colors like white, beige, brown and grays are common, but warmer tones are key. For example, whitewashed walls complement natural wood features, and allow the wood to become a focal point.
There are no splashes of bold color used in this style. However, rich jewel colors like green and blue work well with rustic design. Think a dark red leather kitchen chair complement the neutral palette while adding a layer of warmth. As long as the colors mimic those that are found in nature, there is no color scheme that is off limits.
Texture
Texture is used throughout the space, with grainy, rough woods and natural materials that are varied. Rugs made of animal hide or jute, stone fireplaces, and reclaimed wood furniture should be utilized to add texture. Exposed beams add warmth and interest in the kitchen.
Paneling on the wall also brings texture to the room. Paneling might be a dark, distressed wood, or a whitewashed wood for a lighter and more modern rustic look. Walls and floors can be left raw and unpainted.
Handmade pieces with character can also be used for texture. Curtains or cushions can be handmade. A patterned rug might also be used. The local flea market is a great place to find items with textural interest to incorporate in the space. Etsy is another option for unique, handmade items.
Countertops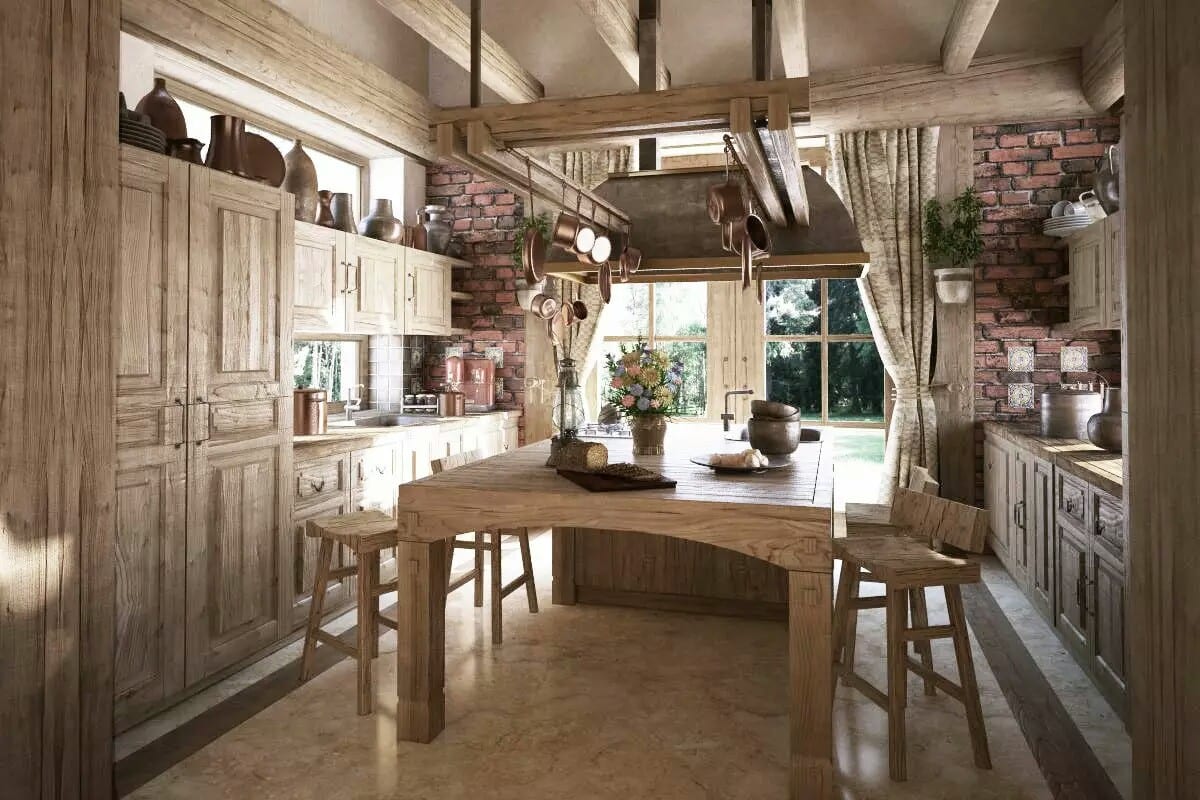 Homeowners have a lot of natural options for countertops. The raw wood edge can be used on countertops, the island, or both. A block of reclaimed wood is not only environmentally friendly, but can also be imperfect, which is perfect for a rustic kitchen.
Butcher block style can be used for the regular countertops or for the island. The choices of wood include bamboo, black walnut, cherry, maple, and hickory. Other options include natural stone countertops, or even granite to break up the use of wood throughout the space.
Backsplash
Instead of tile, wood can be used for the rustic kitchen. Vertical white wooden slats, which mimics mini shiplap, is a complement to a shaker cabinet. Rough barnwood is another option. An exposed brick backsplash also further highlights the rusticness of the space.
For a truly different backsplash copper with a patina can be visually interesting. It just needs a coating to waterproof it so it does not increase the patina too much.
Flooring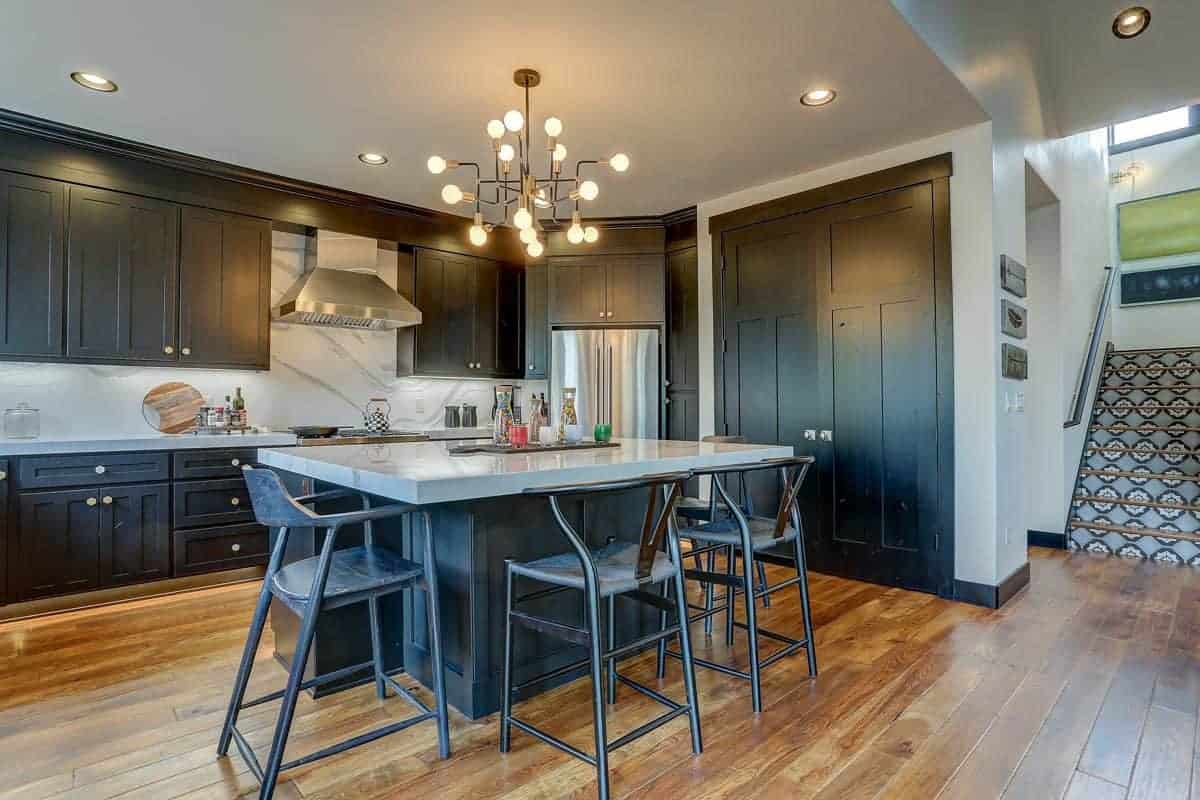 The two most common options for the floor are wood or stone. Wide-planked wood floors are used and are often weathered. Options include cherry, pine, alder, and hickory woods. After installing and sanding, the staining and preserving can be skipped for a true rustic feel. Using reclaimed wood can help save money on the flooring budget.
On the other hand, the use of stone gives a more earthy, country feel, rather than a modern rustic one. Flagstone flooring is natural and durable but still feels warm and cozy.
Brick is another option for a rustic kitchen floor, but the baked clay can wear. Tile flooring that looks just like bricks will be a more durable option for a kitchen. Either way, installing it in a herringbone pattern is classic yet updated at the same time.
Furniture
Furniture is handmade, heavy, and square. It is often made of weathered or distressed wood possible with unfinished edges for a timeworn appearance. And it can be recycled or reclaimed that reinforces repurposing. There is usually a mix of materials with the furniture. Bar stools or kitchen chairs might also have a dark, rich leather or suede for fabric. Fabrics like cotton, wool, or linen might also be used. Since this design is simple, the focus is on the natural material, not an elaborate design.
Other natural materials used are branches, bark, or twigs. They can be used as extra stools or shelving. Some homeowners might find this to be too rustic, so weathered wood is another option. Another way to soften the rawness is by balancing it with white elsewhere in the kitchen.
The furniture does not need to be completely rustic. Interior designer Katie Hodges says, "Side tables, accent chairs, and logs are my go-to's for a dash of rustic without going full-on in that design direction."
Hardware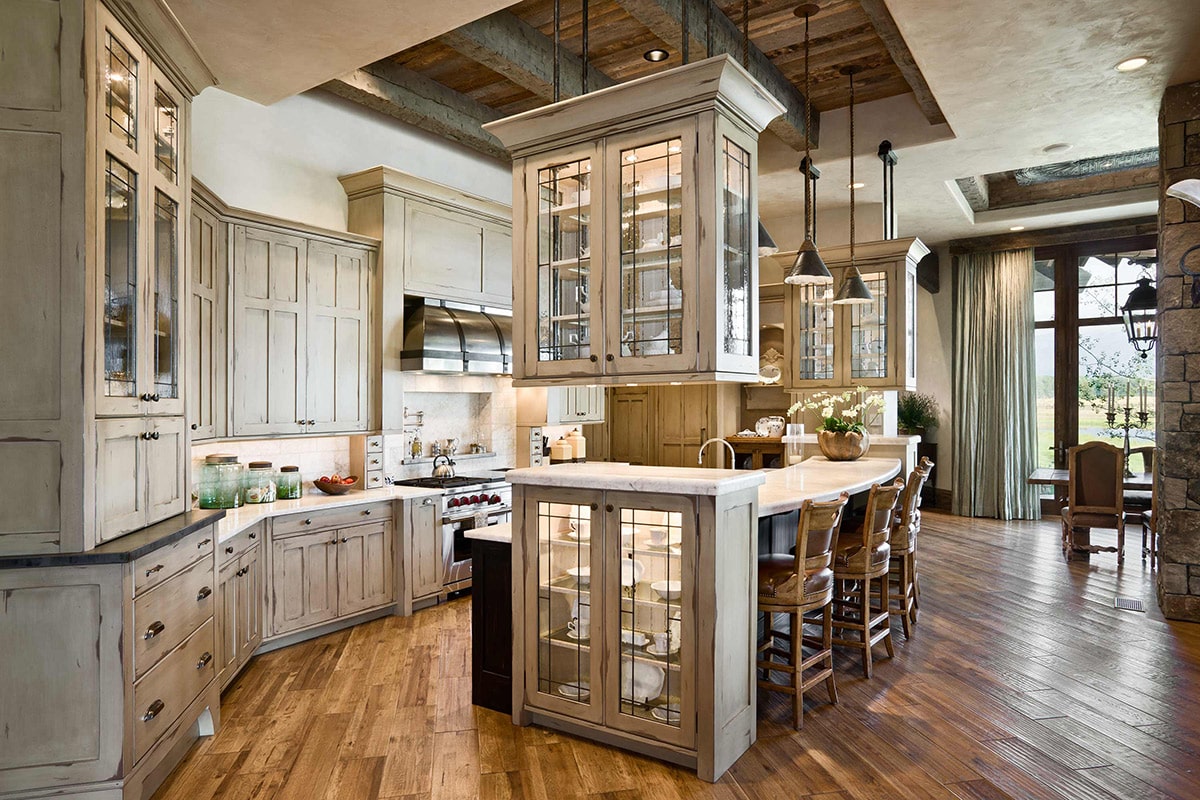 Antique metals can be used as the hardware. Instead of sleek silver hardware, rubbed brass, wrought iron, or distressed gold or bronze pulls and knobs give the cozy aesthetic. Pewter is a metal that turns silver as it ages, which can also be used.
A mix of cup pulls and cabinet latches in a dark oil rubbed bronze work well in a rustic kitchen. The oil rubbed bronze adds to the vintage look of the kitchen and complement shaker cabinets well.
Lighting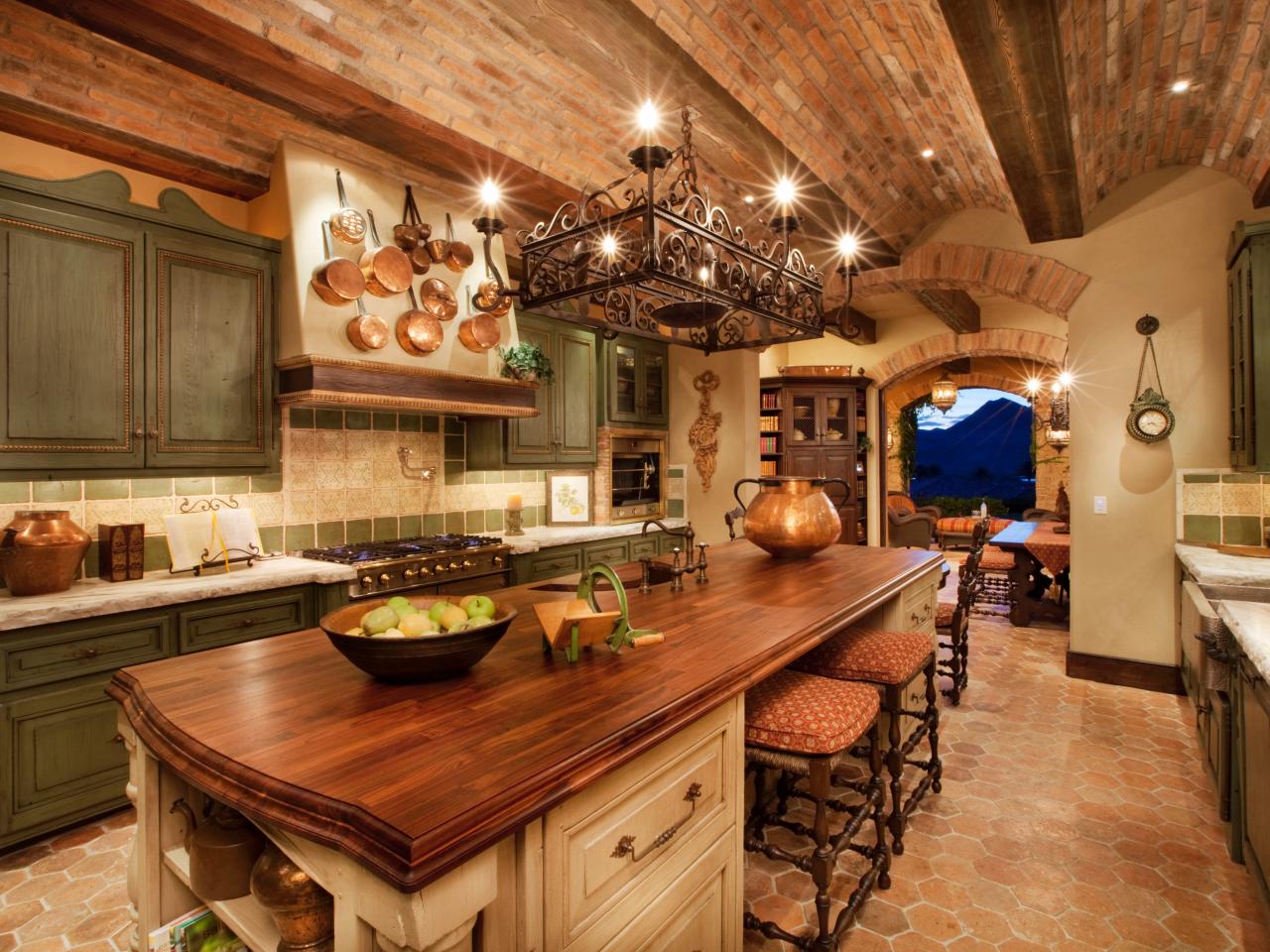 Because rustic design is tied to the outdoors, the rustic-style kitchen should have as much natural light as possible. Oversized windows allow for as much natural light as possible. A bay window also works within the rustic design.
Wrought iron or rusted metals can be used for the lighting fixtures. The combination of wood and a metal makes for a very rustic design. A chandelier made of iron, with a wood frame is an example of how the two materials can mix well.
Fireplace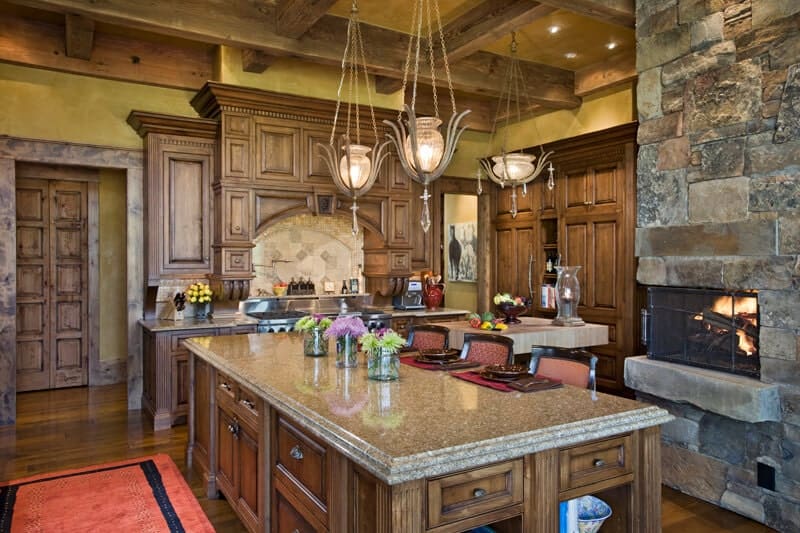 Sometimes rustic-style kitchens have a fireplace, which is reminiscent of older kitchens. A stone fireplace brings in another natural material to the space and adds to the cozy vibe. Exposed walls around the fireplace bring together the elements of fire, stone, and wood.
Hearth accessories like fire surrounds and baskets can be rugged and increase the use of texture in the space. Texture in the form of woven baskets or rugs near the fireplace make it feel homey.
Sink
A farmhouse sink is a must in a rustic-style kitchen. While these sinks come in a range of materials, a copper sink that will patina with age will really be a feature. Other material options include soapstone, marble, or black granite.
Fixtures on the sink should have a hand-crafted appearance to match the rusticness. They do not, however, need to match the hardware on the cabinets.
Appliances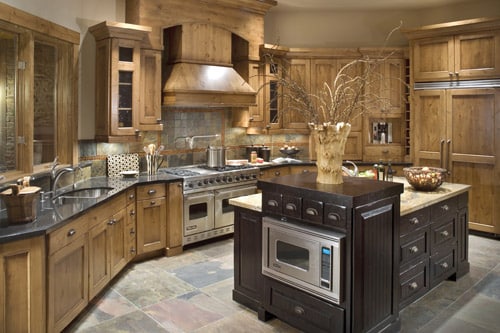 It is possible to have stainless steel appliances in this type of kitchen. By surrounding modern-looking appliances with rustic countertops and cabinetry, the overall theme will still be rustic. For a less modern appearance, retro-looking appliances will do the job. Some manufacturers are making appliance that look like they are from the 1950's but have all of the updated technology.
Rustic-Style Kitchen Trends 2021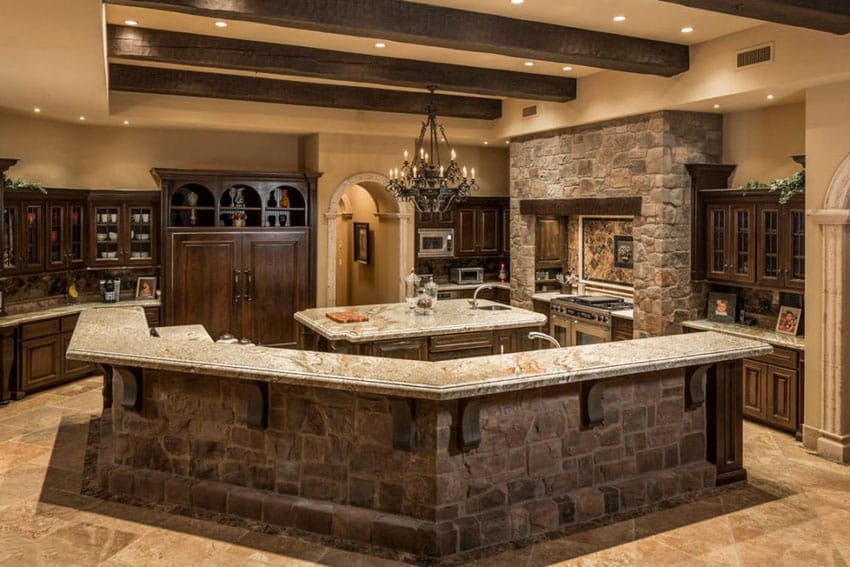 Organic layers are on-trend for 2021 in rustic-style kitchen designs, and other styles as well. Layers of organic materials like raw wood, natural slab counters, and ceramic accents bring outdoor textures indoors. The outdoors will be brought in with stone accent backsplashes with a very realistic appearance.
Built-in cabinetry with glass doors that showcase vintage dishes, glassware, and other kitchen necessities are also gaining in popularity. A rustic-style kitchen is warm and inviting with the use of materials in their natural form. Homeowners should choose kitchen cabinets that reflect this natural design.