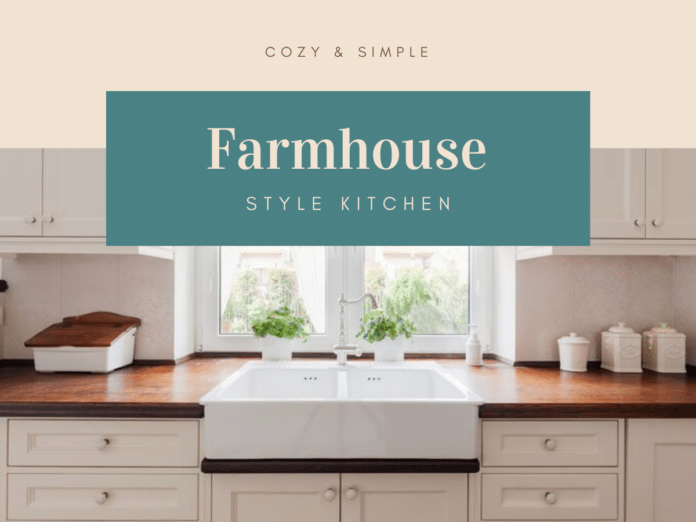 Cozy and full of charm, the modern farmhouse style kitchen has become a popular style over the last few years. Although recently made popular by the HGTV show Fixer Upper, farmhouse style has actually been around for years. Today's homeowners are choosing farmhouse style décor because of the warm and cozy feeling it evokes. 
What is the Farmhouse Style Kitchen?
Farmhouse style is one that combines warmth, traditional, and rusticness. Farmhouse style looks as though it has been collected over time and is cozy and comfortable. A farmhouse style kitchen is not formal at all and is family friendly. Like many other styles, there are also sub-styles of farmhouse, such as modern, French country, or industrial, while the classic farmhouse style which is a true nod to former times. Homeowners can easily personalize this style with the introduction of elements from other styles.
Farmhouse style features a combination of some of the following elements:
Neutral Color Palette
Texture
Natural or Reclaimed Wood
Clean Lines
Wide Plank Floors
Vintage Accessories
Architectural elements such as exposed beams, corbels, pillars, or shiplap are also part of this design aesthetic. Older or historic homes might have original shiplap; however this can easily be remodeled with pine tongue and groove planking or other wood cut into strips for newer homes.
An authentic farmhouse would include hand-me-down pieces. In order to recreate this, the space should have pieces of antique furniture. With the growing popularity of this style, finding pieces like this has become easier with décor in stores, both online and brick and mortar. The key is to only incorporate one or two antique items to not over-do it.
IKEA Senior Interior Design Leader Viola Mushkudiani describes it as a warm design that "takes comfortable classics and elevates them in a new way."  She says that homeowners can use soft fabrics, warm wood and simple lines as an integral to a farmhouse design. Organic materials, such as stone, rattan, sisal, and wicker keep the space connected to the outdoors. Mixed metals can also be layered in the form of lighting, hardware, or railings.
Cabinets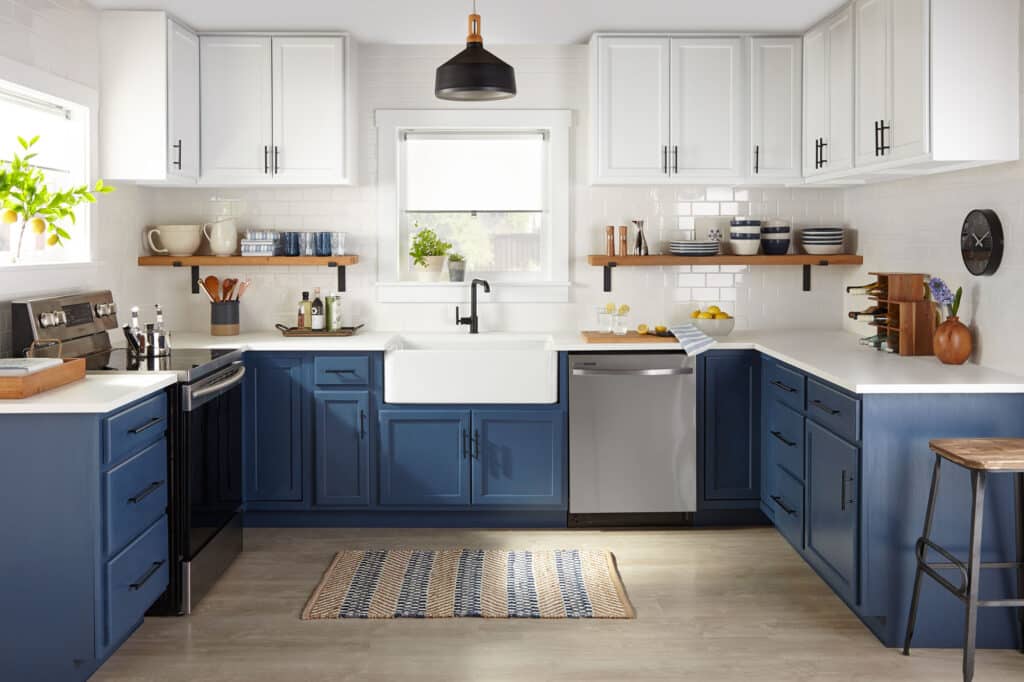 Whether a classic or modern style, the most prominent feature of a farmhouse style kitchen is its classic cabinets. Shaker cabinets are often used in a farmhouse style kitchen because they are simply designed and fit the design aesthetic. White shaker cabinets are the epitome of the classic farmhouse style and provide the perfect backdrop to create this type of kitchen.                    
Although not exclusive to the design, farmhouse kitchens often have open shelving as part of the cabinetry. This creates a space for everyday use items to be part of the décor. In addition, it can help smaller kitchens look larger. 
Color Palette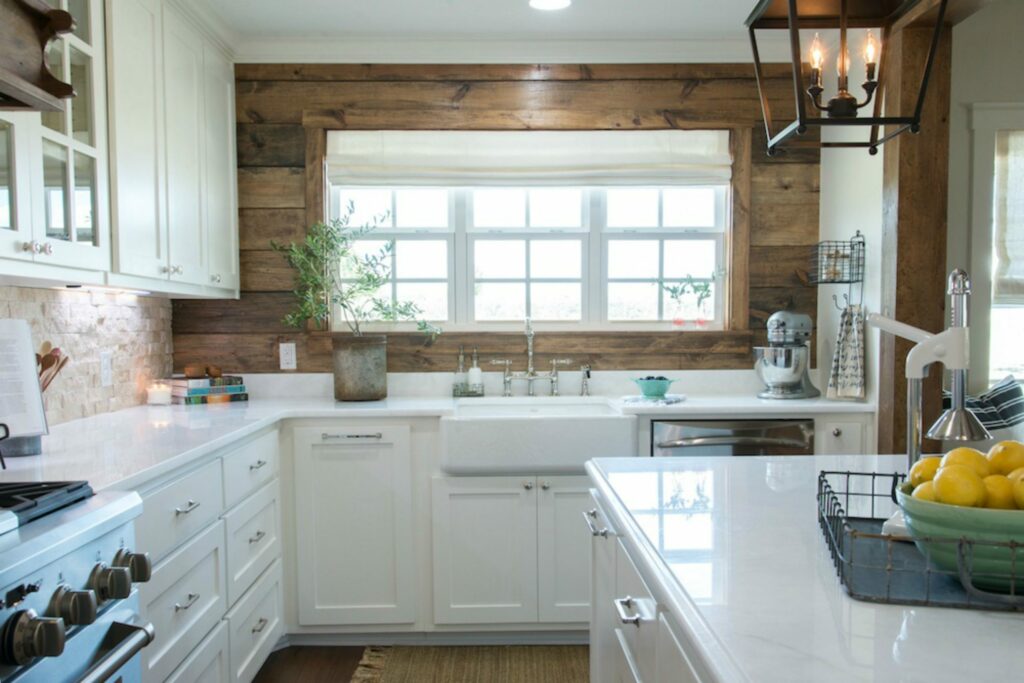 It's all about the neutrals in a farmhouse kitchen. Shades of beige, taupe, white, and grey are often used in a farmhouse kitchen. The neutrals can be layered or graduated for a textured effect or can be kept crisp white for a classic and timeless look. The neutral color palette lends to a light and airy feel in the space.
If other colors are used, they are usually muted, for example sage, blue, or soft yellow. Color is incorporated in accessories as well, which should always complement the original palette of the space. All accessories are reminiscent of older times, and can incorporate natural textures as well, such as iron or copper. Keep in mind that an accent color should only take up about 10% or less of the color palette.
Countertops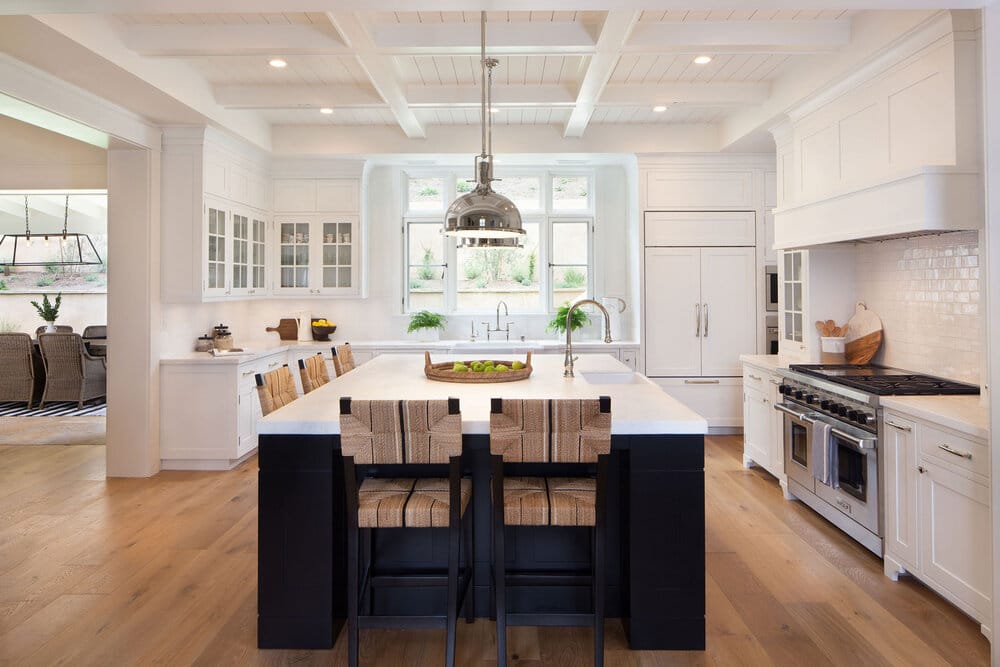 Quartz has quickly become one of the most popular kitchen countertop materials, and it works for the farmhouse design as well. Other stone materials that are often used are soapstone and granite.
For a very natural look, a butcher block wood countertop gives the kitchen a rustic feeling. Unfinished edges for the countertop are also an option. The graininess of the wood should be evident. Dark or walnut-colored countertops can provide a contrast against the typical light colors in a farmhouse kitchen. The use of rich wood will give an organic feel.
Backsplash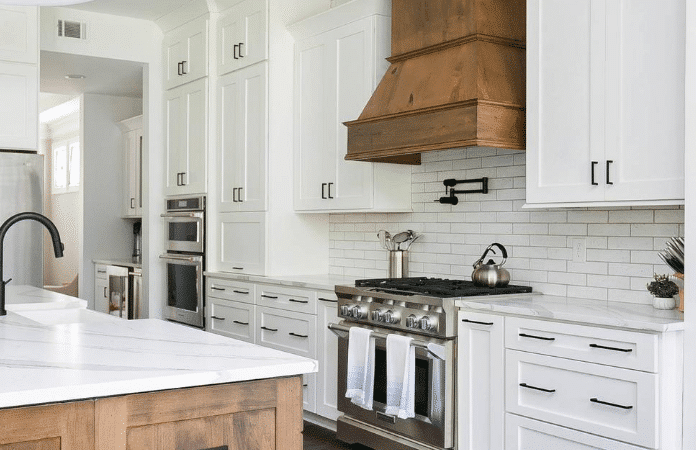 The backsplash choice should be classic, but that does not mean boring! A white subway tile, for example is a very classic style especially with white Shaker cabinets. But they can be laid in a different, nontraditional design to add some interest to the area.  Homeowners that want more dramatic backsplash can consider an exposed brick backsplash. The bricks can be traditional red or a whitewash.
Wood is another natural material that can be sued for the backsplash. Wooden boards can be hung horizontally or vertically in washed white, or even a natural wood color to maintain the rustic nature of this design. The use of a natural wood color for the backsplash will bring warmth to the kitchen.
Hardware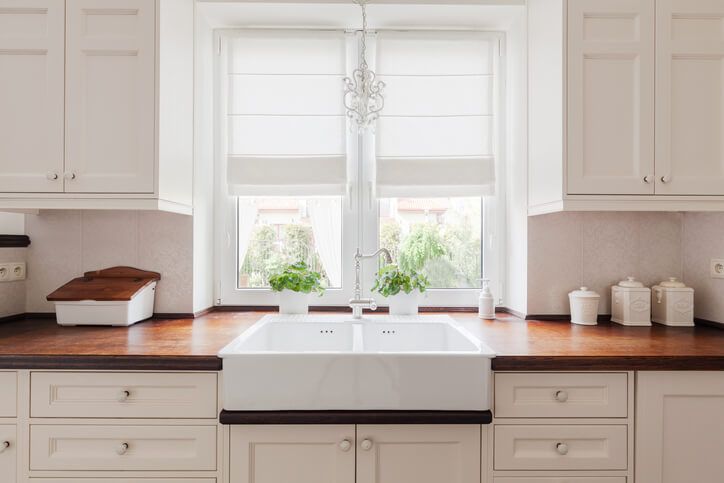 Bronze and copper are finishes that complement a farmhouse kitchen's palette. Classic white cabinets with a traditional cup pull are a true farmhouse style. For a more modern twist on the hardware, brass hardware with clean lines is a good choice. To keep the look more rustic, leather strap pulls, which are available in several colors, will complement the rest of the kitchen.
Textures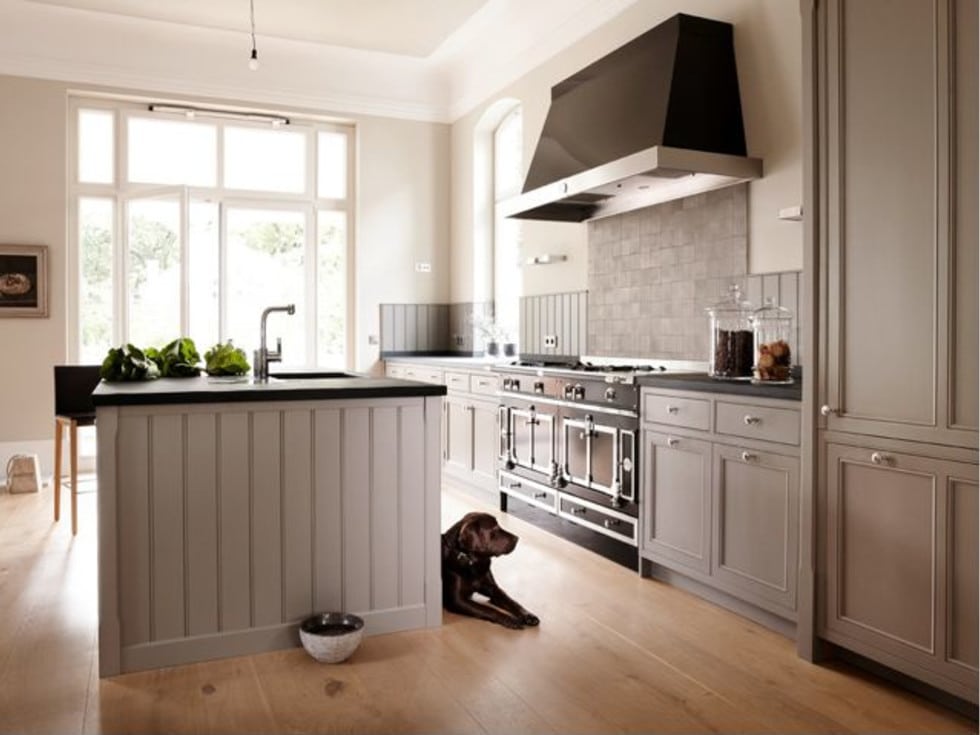 Textures are a big part of the farmhouse style because they keep the space from looking flat and boring with all of the neutrals. Commonly used textures are linen, grain sack, woven baskets, or chunky knits. Mixing wood finishes also adds to the texture.
Shiplap, which is wooden board, is also a way to bring texture to the space. Older or historic homes have real shiplap hiding beneath the drywall, but any horizontal or vertical planking can mimic the look. The textured wall look can also be done with bricks or wallpaper. This adds interest and warmth to the area.
Reclaimed barn wood is another texture that can be eye-catching. This type of wood can be placed on the ceiling, floor or attached to the wall.
Kitchen Island
A kitchen island can add workspace or seating to the farmhouse kitchen. A large island can be used as a gathering place for a large family. Exposed grain oak surfaces or an off-white finish can work well in the space.
Vintage wooden cutting boards on the island can add farmhouse flair to the kitchen. They are a warm addition to the countertop.
Lighting
One of the easiest ways to add farmhouse décor to a kitchen is with the light fixtures. Rustic light fixtures, those that are made of brass, or have an exposes bulb can make a statement in the room.
An open concept area kitchen looks great with a group of farmhouse pendant lights, which can add a more modern or industrial vibe with a matte black finish and sleek silhouette.
Flooring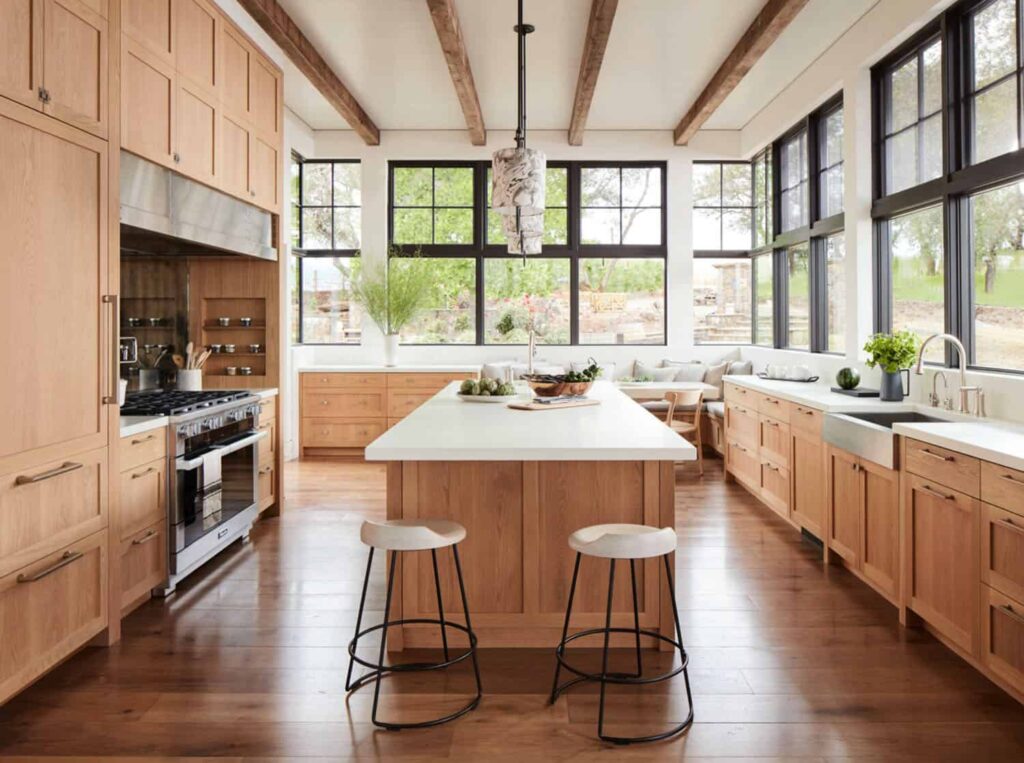 Wood, wood, and more wood. Most kitchens of this style have hardwood floors or a material that mimics hardwood. Natural hardwood adds character and there are many options for stains and types of wood. Pine is a good choice for this type of kitchen. For those on a budget, luxury vinyl can create the look of hardwood for a lot less.  
Imperfections in the floor like dents, dings or a distressed appearance are welcomed in this style. If the original flooring is not hardwood, homeowners might want to choose a style that is not too perfect.
Sink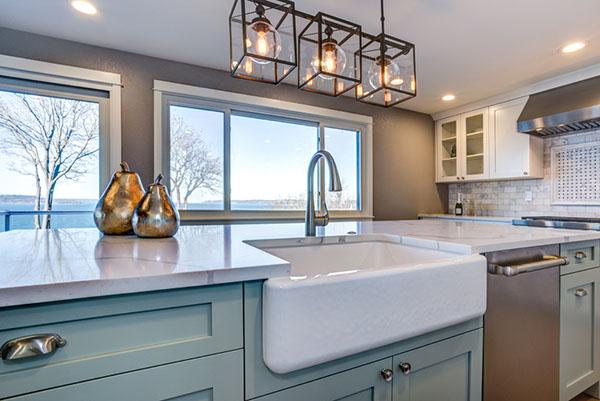 A farmhouse kitchen would not be one without an apron front sink. While looking great, they also have ample space for many dishes. The finish for the sink can range from stainless steel to cast iron.  When paired with white Shaker cabinets, they are the epitome of a classic farmhouse-style kitchen.
The sink material can also be either metal or ceramic. A copper sink will patina and add to the aging factor of the room.
Furniture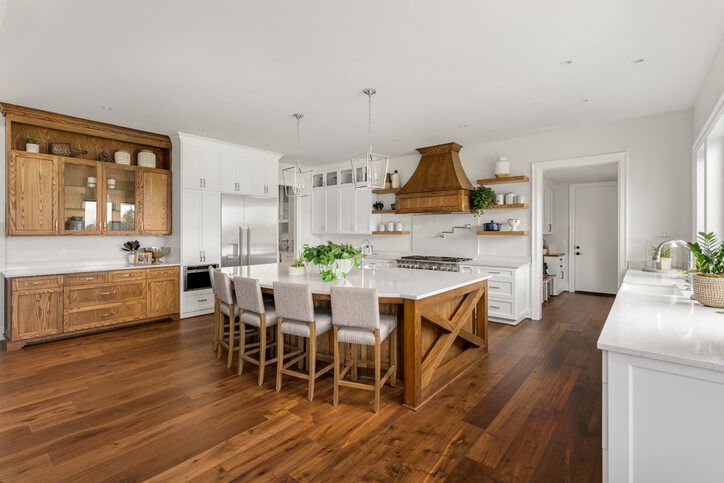 The furniture in a farmhouse kitchen is comfortable and never formal. The pieces are about function so how they are placed becomes important. The furniture is usually simple with clean lines, and fully practical. The addition of rustic-inspired or vintage elements is usually shown by wooden furniture. Older and newer pieces can be mixed within the space to create a warm and cozy atmosphere.
Kitchen table chairs or kitchen island bar stools offer an opportunity to add more texture to the space. Rattan chairs, linen cushions, or plaid patterns all fit the farmhouse design. Fabrics can be mixed to add to the charm.
Pot Rack
A pot rack is an element that is being incorporated into many farmhouse designs. When built-in cabinets came into style, pot racks were no longer used, however, they are now back in farmhouse kitchens in a big way. Suspended from the ceiling or hanging from a wall, they bring a everyday comfort feel to the space. An iron or copper rack with cast iron or copper pots hanging from it is a way to incorporate additional texture to the kitchen.
Farmhouse Style Kitchen Trends 2021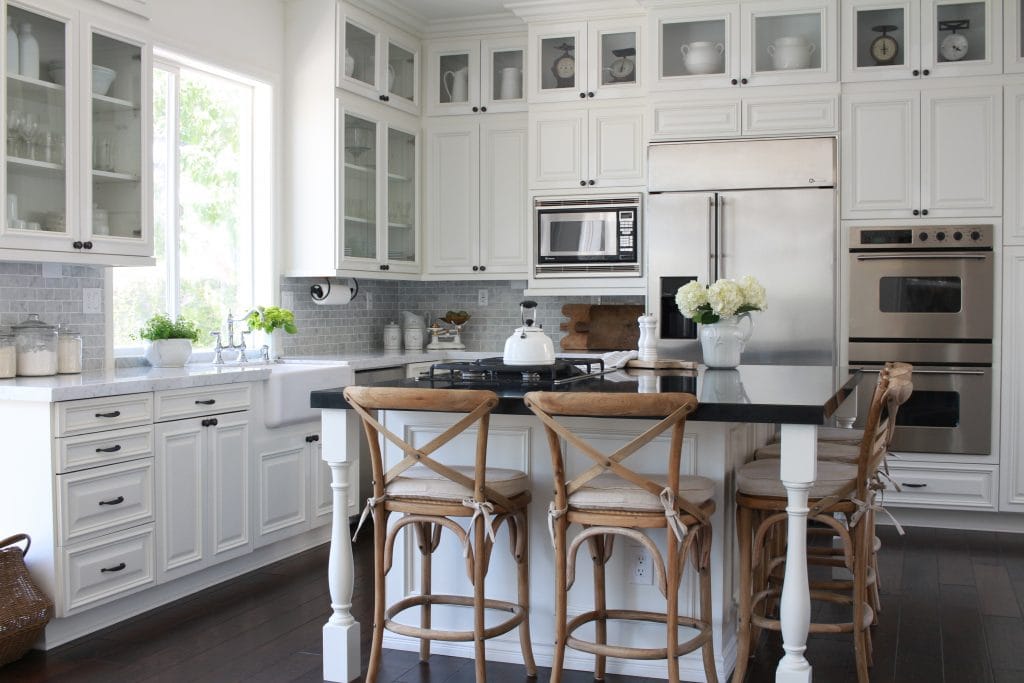 What's in store for this kitchen trend this year? Decorative ceilings are being added to bring warmth and texture. For example, exposed beams often found in barns give the kitchen a farmhouse feel. In newer homes that do not have the original, as this look can be recreated.
Another trend for this year is with the shelving in the kitchen. Floating wood shelves are another way to increase the warmth in the kitchen. Shelves that have a rustic wood material can showcase farmhouse-inspired décor.  A farmhouse-style kitchen creates a warm and cozy feel with elements that are reminiscent of days passed. Homeowners should choose kitchen cabinets that reflect this simple style.