A kitchen range is among the most utilized stations in a household
Therefore, it makes sense to add a personal touch to its backsplash. By doing so, you establish a true sense of style. Isn't it worth consideration, particularly if you never thought of adding something there before? And it's fun, too! Evaluating details such as these brings out the true artist in us all. Whichever approach you choose, new life may be added to the design of your kitchen.  There are plenty of other extras you can add to your kitchen that may also contribute to a profound aesthetic difference!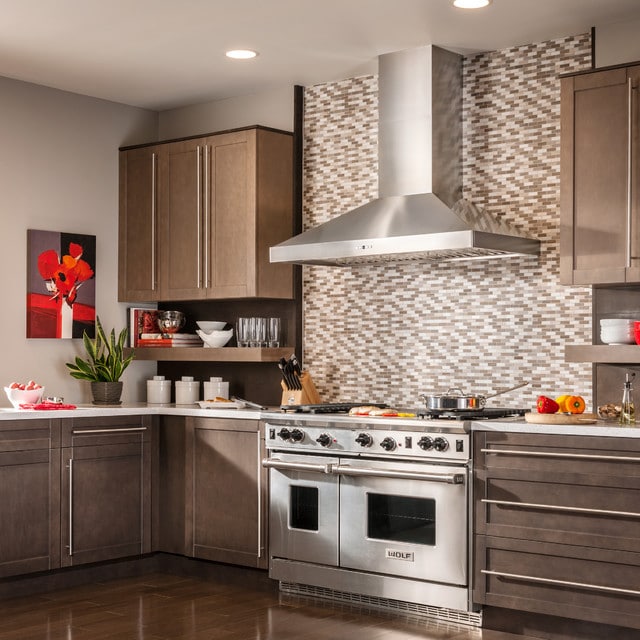 Tiles & Mosaics
Framing the area to highlight a different form or texture is an oft-used stylistic approach that offers a variety of options. For instance, you can use your imagination when finding the liners to create the frame. There is a wide array of materials available! And what is the focal point? A different texture, perhaps? A glass mosaic or even a tiled illustration? Anything goes!
If you prefer subtlety, you can simply rotate the tiles' installation. If the existing tile runs in a landscape horizontal manner, flip the range tile to a vertical direction or even have it cut to an angle. It's no-frills, you're simply playing with shapes and contrast while yielding innovative results.
If you're not interested in inviting focus of attention, you need neither shapes nor frames. Use a perimeter backsplash and apply it to the length of the range. If it features a different pattern or just a different color, the results can be bold. This is referred to as "seamless". If you have a range hood, let the contrast follow it up to the ceiling for what is known as an "accent wall". There is beauty in simplicity!
Metal
For a rustic or industrial look, a metal backsplash may be what you desire. Some of them are molded and feature a variety of patterns, such as floral designs. Their natural color usually will suffice, and you have a reasonable assortment to choose from. Examples include copper or aluminum. They may even feature a rack from which to hang pots and pans. In which case, uniformity of color between the accessories is particularly effective.
Brick
And then there are bricks. There are few better ways to portray a sense of the old country if folksy appeal is the intent. If you are working with an older home you may be able to use its own original brick structure, simply by exposing it. Otherwise there are plenty of imitation options that you can look at.
Natural Stone
Similarly, a natural stone background may create a pleasing dichotomy. There are many types of patterns and textures to choose from – travertine, slate, split-face, etc… – all potentially reflect an adventurous outdoors spirit.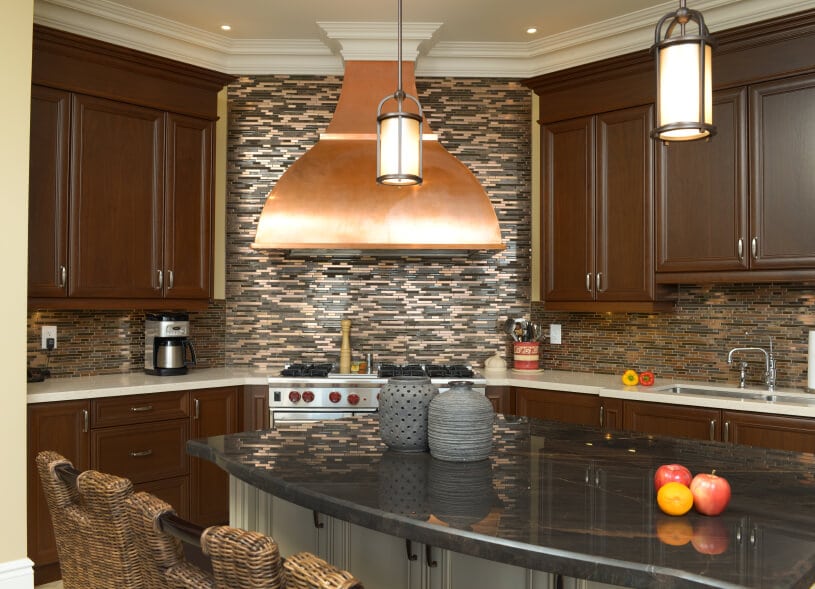 Fans of mosaic are never disappointed by the variety of options available for range backsplashes. With a unique flair inherent to the ancient art, one is almost guaranteed a bold yet sophisticated look when cultivating a mosaic theme. Read more about your backsplash options here.