Parts and Accessories for Kitchen Cabinets Storage You Shouldn't Miss Out On
Updated 3/20/2020: Dear reader, since this article was originally published we have located additional amazing accessories for your kitchen that you shouldn't miss. If you're a first time reader, please enjoy our expanded list from start to finish; every kitchen accessory we've found is a real show stopper. Our most recent addition is the cabinet step stool.
Maximizing your available kitchen cabinets storage space with add-on parts and accessories should be a primary goal for your kitchen remodel. Maintaining peak function in your cooking space is all about accessibility within your work zones, ease of use, and limiting how much you need to move around so that you can focus on what matters most: delicious meals and good company.
At Best Online Cabinets, we've done our research on what people are using in the kitchen: past, present, and upcoming trends. Check out our rundown of the most popular and must-see trends in available storage accessories around.
Roll-Out Pantries & Beyond
Pantries are out in full force in today's kitchen remodel landscape. Having one designated region of your storage for cans, jars, and dry goods is a huge boost to storage efficiency.
There are a variety of different pantry styles available:
Chef's Pantry: A typical chef's pantry consists of numerous layered shelving units which swing out and permit you to arrange their contents with great efficiency.
Wall Cabinet Pantry: Wall cabinet pantries combine a door shelf with interior shelving.
Roll-Out Pantry: Ultra convenient to your perishable food storage in a fridge, roll-out pantries give you heightened versatility in the kitchen.
Pull Out Pantry: Full height pull out pantries can be positioned close to appliances to maximize storage of cookware and food combined.
Perry Hoffman, executive chef at Shed Cafe in Healdsburg has this to say about your kitchen storage: "If you're putting together a new pantry, remember this: You're worth the good stuff." From spices to tools of the trade, the chef's pantry is stocked with quintessential elements of your cooking.
Wall cabinet pantries represent the most widespread standard in kitchens throughout the U.S. Convenient storage for your non-perishables allows you to jump right into cooking without needing to run back and forth to storage space in a different room. Beyond that, it also allows you to be more dynamic in your food preparation, grabbing new ingredients or specialty tools on the fly as inspiration takes you.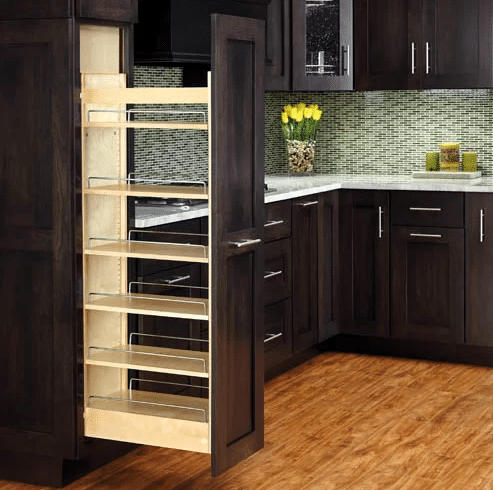 A roll-out pantry eliminates the hardships of maintaining a neat and well-organized storage space. Functioning and appearing similar to a spice rack, its robust storage eliminates issues of having to keep your perishables arranged during and outside of use. It also pairs well with a walk-in pantry, allowing you to commit the roll-out to pots and pans for fast access.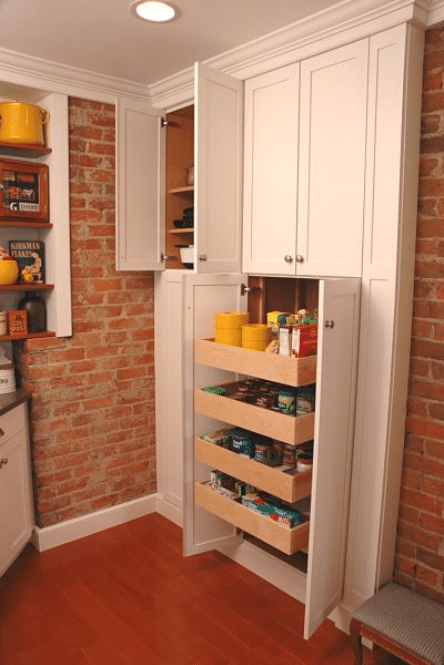 A pull out pantry enhances the ease of use of a wall cabinet pantry with convenient sliding drawer trays. Wide access can really simplify life in the kitchen, particularly when you arrange your drawers by necessity or category.
Pullout Base Cabinet Storage
If you have a smaller kitchen but still have the clearance in your cabinet row, the addition of pullout base cabinet storage can furnish the convenience of a "micro pantry" within easy reach of your cooking spaces.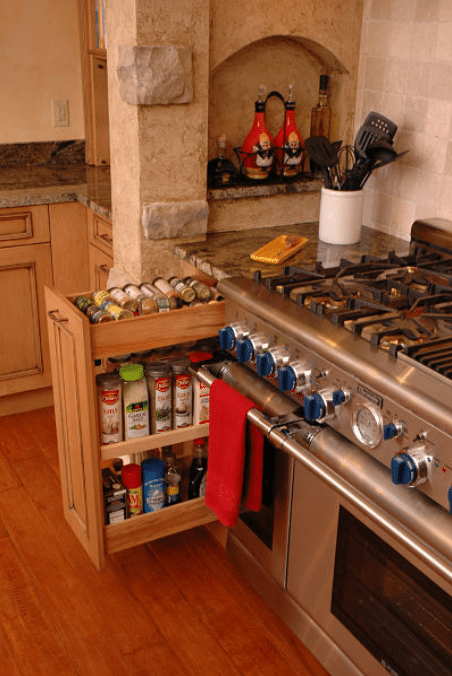 Pull Out Cabinet Step Stool
Often the top of your a much needed pantry is only usable for the first 5 or 6″ of space; behind that is a no man's land, inaccessible and out of sight. Who knows what spices or kitchen supplies are hiding back there after being unfortunately nudged during your search for ingredients? With the installation of a pull out cabinet step stool, however, you unlock an additional 15″ of height in the search for kitchen necessities stored away.
Pull Out Cabinet Step Stool
Spice Storage Drawer Cabinet
Similar to the pull out base cabinet storage but more compact (or simply re-purposed), essential spice storage in an easily slide-out drawer is a must for most cooks. Easy storage of your spice bottles and jars, vinegars and oils, and other bottled flavorings in a narrow pull out cabinet near your stove or in an island lets you stay right in the action while adding flavoring to the mix.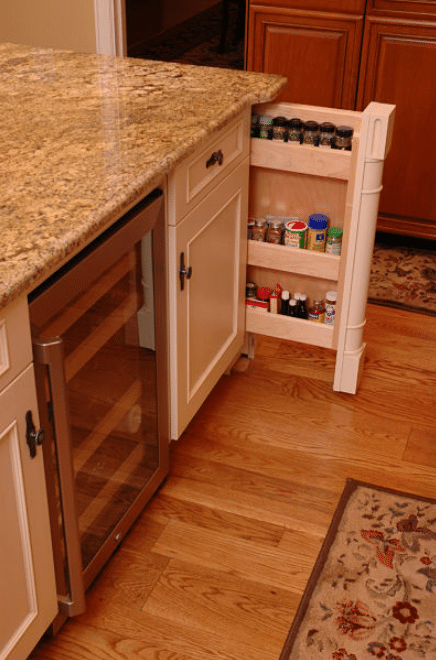 This is a practical solution for economy of space that enhances the cabinet boxes. Incorporating two, one on each side of the stove, is a popular option for current kitchens. Most beautiful cabinets that Best Online Cabinets carries in both traditional and Euro styles come with available spice rack options.
Mixer Storage Cabinet
A stand mixer is a staple of many kitchens–possibly yours! Their increasing popularity has led to a demand for significant countertop space, unfortunately, due to their somewhat ungainly dimensions. Without sufficient ongoing space, you may need to constantly retrieve yours from a closet or pantry, and they're not the lightest things to have to transport around. The problem is solved with specially designed storage base cabinets for mixers. A lifting hinge with storage drawer for attachments makes for incredibly easy mixing.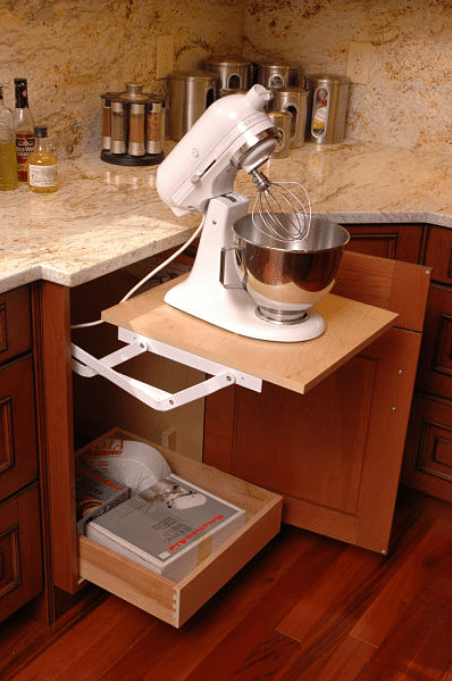 Roll-Out Base Cabinet Tray
Similar to the roll-out pantry, roll-out base cabinets provide large drawers with increased height clearance for your pots, pans, baking dishes, and mixing bowls with less headaches. Since we make use of these items on a daily basis, it makes sense to have them at arm's reach in the kitchen–something a base cabinet equipped with roll-out trays excels at.
Corner Carousel Shelf Cabinet
The corners in your kitchen can sometimes seem like the Bermuda Triangle; difficult to incorporate into your productive cooking and home to forgotten tools in your kitchen arsenal. It sometimes seems inevitable for needed items to have disappeared behind the drawers here, left to lie in dark mystery and forcing us to purchase replacements. Carousel shelves (or rotating shelves) revitalize our use of the kitchen corners, making them useful and simultaneously providing some renewed confidence in the security of items there. For upper cabinets, rotating shelves are available with low "walls" of wire or thin metal ensure that items won't fly out onto you as the shelves rotate.
Kitchen Corner Cabinets
In many cases, your kitchen corners provide insufficient space for a Lazy Susan, or the angle doesn't provide good access for a rotating shelf. Fortunately, there are a fantastic variety of options for corner storage to cover your every need.
Some popular options for corner kitchen storage include:
Hinged corner turnout shelving: Corner turnout shelves shaped and sized to custom fit within a corner base cabinet can be attached with glides, allowing you to easily pull out their shelf to access contents.
"Magic Corner" shelves: "Magic Corners" are hinged shelves on glides custom fitted to the space and gauged toward your storage needs.
Blind corner pull out shelves: The blind corner pull out is an option for kitchens with space constraints, where the traditional lazy susan isn't effective.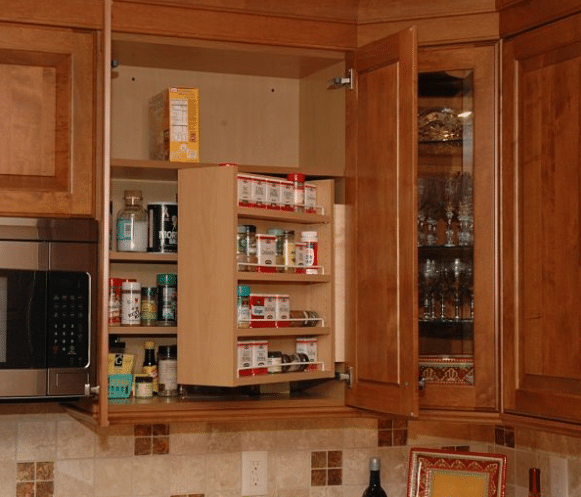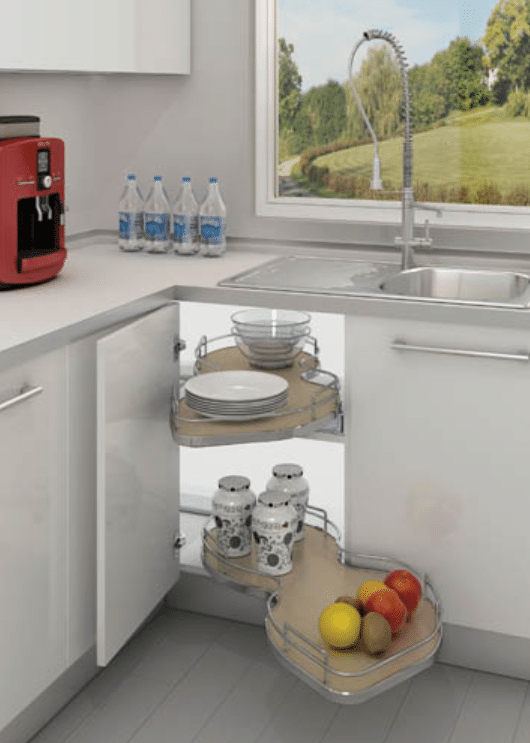 This pull out serves the same purpose as the traditional roll out and makes the cabinet space much more usable. As you can see in the image above, instead of the large open space where things get placed and forgotten about, the blind corner pull out makes them all visible and easily accessible.
Interested in checking out more of the incredible multitude of corner kitchen cabinet solutions available? Check out our article on the Coolest Kitchen Corner Cabinets.
Pull Out Towel Storage Cabinets
Towels can be a nearly impossible aesthetic compromise in our kitchens. Almost all of us have at least one or two old workhorse towels that don't match a set or we can't bear to discard but won't look great on display anywhere. Then again, a kitchen without towels is not a fun place to move hot trays or clean up in. Fortunately, many cabinet sets have an optional pull out cabinet with towel racks for easy storage and easier access.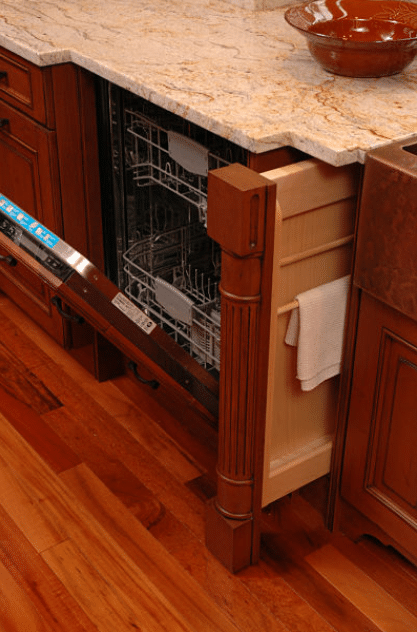 Waste Basket Pull Out Cabinet
A pull out cabinet designed to hold two waste receptacles provides a handy place for disposing of kitchen waste. The same type of cabinet can be used to sort recyclables.
This is an item that almost everyone orders with their cabinets! That's how practical waste basket pull out cabinets are. All you need is an 18" or 21" cabinet space to fit the double-trash can pull out. The trash cans are large enough to accommodate using one for trash and the other for recycled items.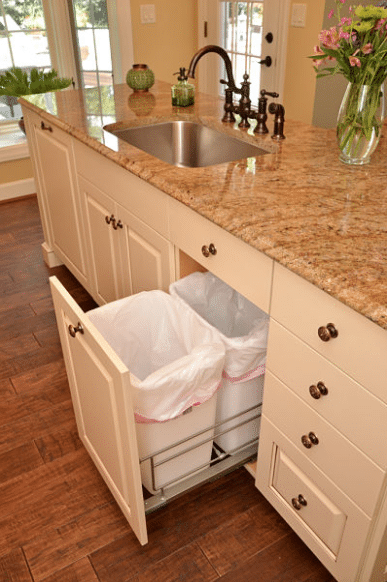 Drawer Storage
Large deep drawers are places to store pots, pans, baking dishes and even everyday china. Drawer accessories include:
Moveable dividers
Small apothecary drawers
Knife blocks and cutting board pullouts
Spice drawer insets
Compartmentalized drawer dividers
Silverware storage organizers
Wood organizers for dish storage
Slide out interior doors for cabinets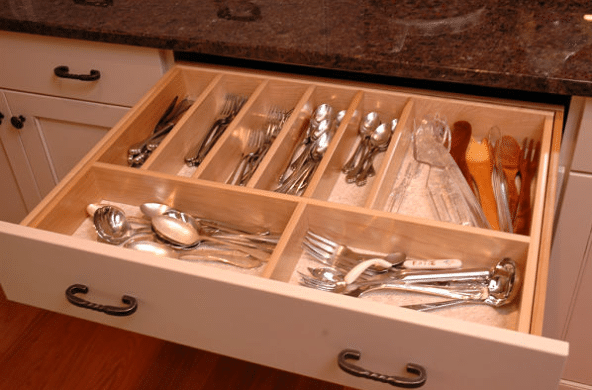 Open Storage
Functional kitchen design also incorporates open storage for items like wine, plates, platters, fruits and vegetables. These are items cooks like to keep within reach for convenience and many cabinet styles include slat, rack, and basket options.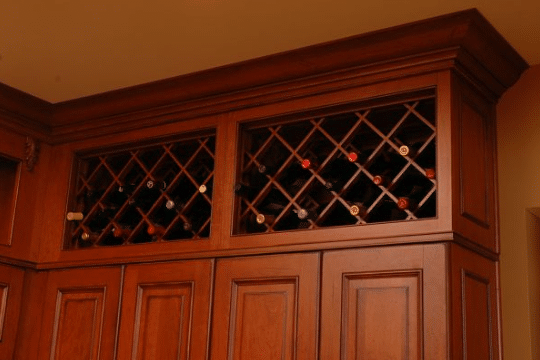 Kitchen Cabinet Tray Divider
Tray dividers are intensely helpful for keeping all those cookie trays and broil pans upright and neat. They are usually placed in either a 9" or 12" cabinet next to the stove. A less-traditional, but equally practical use for tray dividers is to place them in cabinets above the stove to organize cookbooks.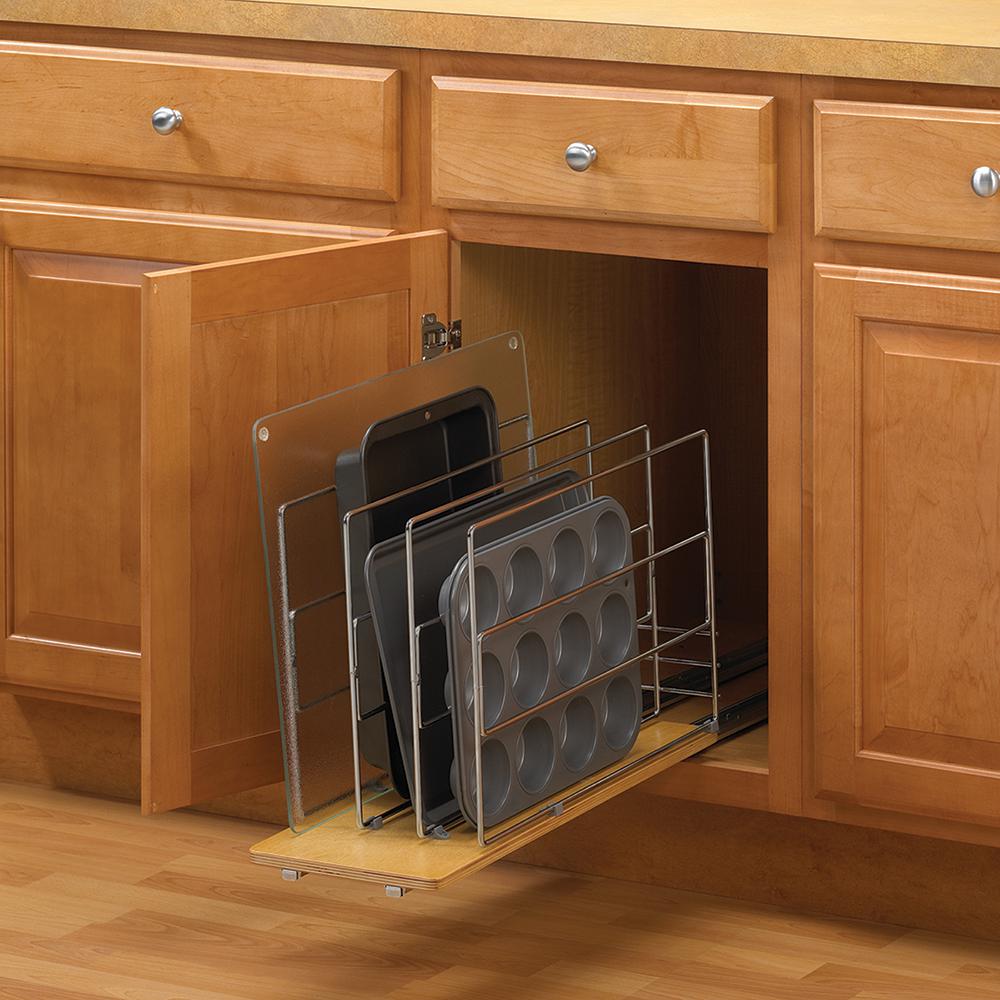 Tray dividers are rather inexpensive and a very nice addition to any kitchen.
Drawer Peg System
If you're the type of person who prefers all drawer bases for your kitchen cabinetry to the more traditional door/drawer combination, then the drawer peg system is a must-have for you. It comes with adjustable pegs that you can easily place wherever you need them so you can keep all your plates and bowls in their place without any kind of sliding around.
The pots and pan peg board takes the drawer peg system accessory concept and applies it to pots and pans. It is ideal for customers who want organization without losing the contemporary feel. They include all kinds of options for accessories so you can ensure that all your pots and pans, from saucepans to lids to canister sets and more, stay organized and easily available when you need them.
Cutlery and Knife Block Drawer
In addition to the plastic or wire cutlery tray dividers that most people get for at least one drawer, the cutlery/knife block drawer system replaces the entire drawer and gives you a complete built in cutlery/knife block drawer.
This accessory option comes in many different sizes and configurations. Some of them even come with a built-in removable cutting board.
Under Sink Cleaning Storage
The under sink cleaning storage is one of our very favorite kitchen cabinet accessories. This item keeps all of your cleaning supplies in one place. It comes with a slide-out feature yet is removable so you can easily take the caddy with you to another part of the house for cleaning.
With a paper towel holder and wire baskets to hold several bottles you'll wonder how you ever lived without it.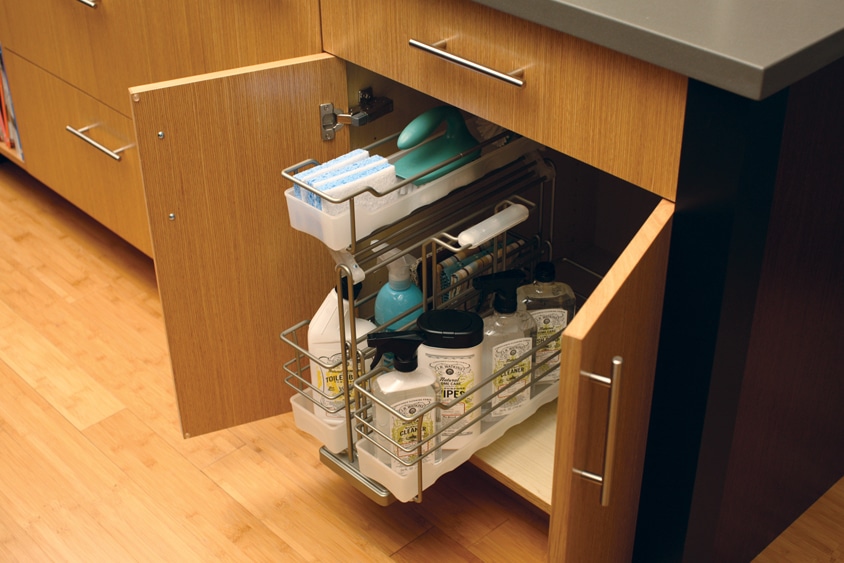 If you enjoyed this post, I'd be very grateful if you'd help it spread by emailing it to a friend, or sharing it on Twitter or Facebook. Thank you!