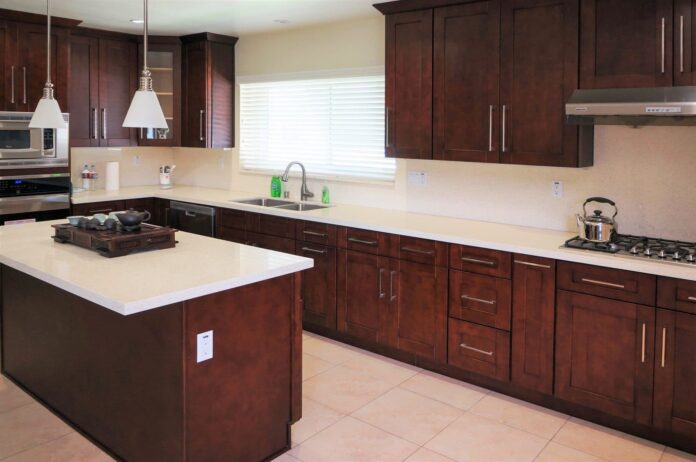 An Old Standard, Cherry Wood's Popularity Never Seems to Wane.
Most often affiliated with traditional cabinets, cherry wood has been standard for years in the world of kitchen cabinetry. In fact, they have been the favorite of traditional kitchens for literally hundreds of years. Yet cherry wood furniture remains a time-honored aesthetic that does not seem to go out of style.
People still respond to the classic look and warm flavor cherry wood kitchen cabinets provide. It has a certain look and durability preferred not only by homeowners but by cabinet makers and woodworkers as well. That does not mean that working with cherry is without challenges, there are still many benefits with this popular color.
Home building and design professionals say this color and quality of the wood that keeps it relevant in contemporary woodworking. Cherry wood features closed wood grain and natural colors that range from white to light brown with a red hue. As is typical of most wood, you will find the heartwood to be darker while sapwood is usually quite lighter.
Folks love the relatively solid texture, superior durability and excellent shock absorbency of cherry wood. The grain is dynamic and diverse, with swirls and streaks, curls and knots. It stains beautifully and its use dates back to the colonial days when carpenters used it to great effect. Cherry wood was used so often it became the wood of choice spanning decades of Mission, country and Shaker styles.

Perhaps the most appreciated characteristic of finished cherry is how it naturally darkens over time, accentuating the detailed grain patterns. If the wood is exposed to ultraviolet light, the coloring of the cherry wood darkens quicker. Those who fell in love with the look of the cherry wood need to be aware of this color change. It may not always be their taste when the hue they purchased will change as it transforms with age.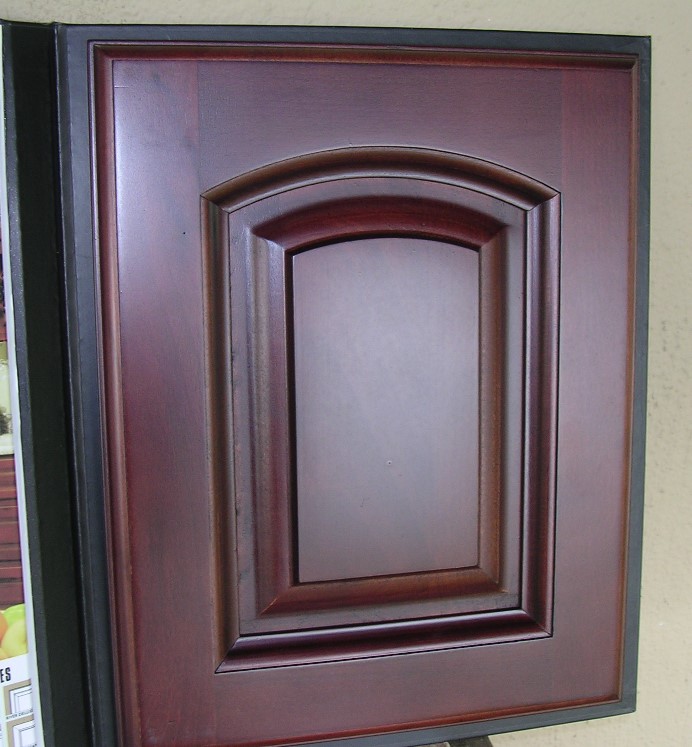 Because there is such variation in cherry wood color, having a completely uniform looking set of furniture is a challenge. Your best bet is to acquire all that furniture from the same source for color consistency. Otherwise, the other solution is to engage in the fluctuation of hues so all variations still read as one color.
The fact that cherry wood takes to finishing so well is an overall plus. The grain varies so widely you can find it in very light shades to extremely dark ones. However, there are some drawbacks to this extreme variation in cherry wood. It is not known exactly how any certain individual piece of cherry will react to sunlight. In addition, the colors can vary enough to detract from the overall appearance of cabinets.
Cherry wood is not as buoyant as other popular woods like oak or hickory but it can cost as much. You would likely pay fifteen to twenty-five percent more for cherry wood, than its counterparts in maple or oak. However, you may go with a cheaper option that closely resembles cherry. For instance, birch, ash, and maple are all available in woods that resemble cherry finishes.
There are a number of cherry cabinet style ideas to look through. You can get dark shades for a contemporary update or choose rich finishes perfect for cherry cabinets, trim, and drawers. For an impressive look of uniformity, consider cherry wood knobs and pulls as well. Take it further and match the finish to other elements of the home, possibly the flooring or the countertops.
However, if you want to complement the warmth of cherry wood, you might want warm metals like gold or brass. The combination of the warm yellow matches well with the warm red of cherry wood and reads as very luxurious. If you want the red of your cherry wood to appear more red, go with neutral silver or black handles. These neutrals keep the integrity of the cherry wood reds without taking away from the color. A color like white for these handles or knobs will only draw away from the warmth and is not recommended.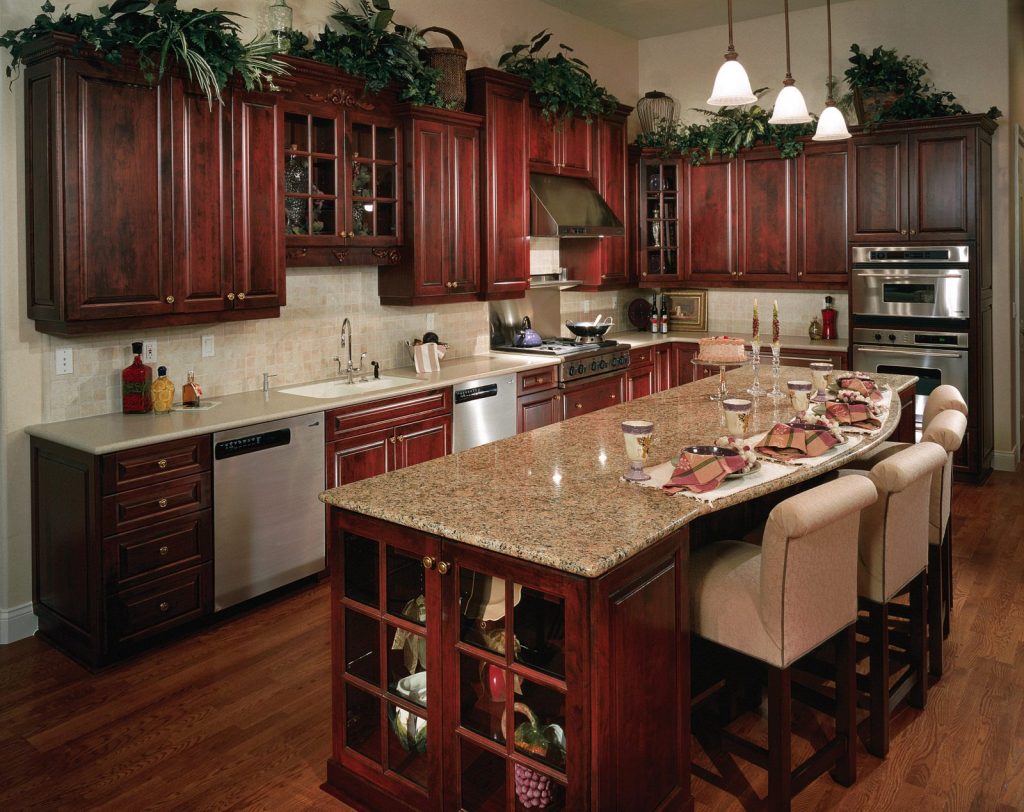 Cherry wood may also blend in well with your walls thanks to the natural reddish hue inherent to it. You can accent the darker cabinets well if you have light, neutral or even pastel colored walls. There are a variety of creative ways to bring more contrast into the setup. Add a random element or two (maybe even those knobs and pulls) in a shade of green to the design. This will provide a nice visual difference that actually complements the underlying red of the cherry wood.
If you like the rustic charm provided by real wood, you should look into other varieties of finished cherry wood. No two grains are alike, you can consider all shades and colors, and one can be the perfect fit. They're an investment, and when maintained properly, they pay off in spades.
For those looking at other reddish hues, Best Online Cabinets has the Mahogany Shaker, Cherry Espresso and Traditional Cherry Arch which have a nod of cherry finish but without the cost or color variations often found in cherry wood kitchen cabinetry. Full kitchens are available in this color to ensure a consistency that suits your style.