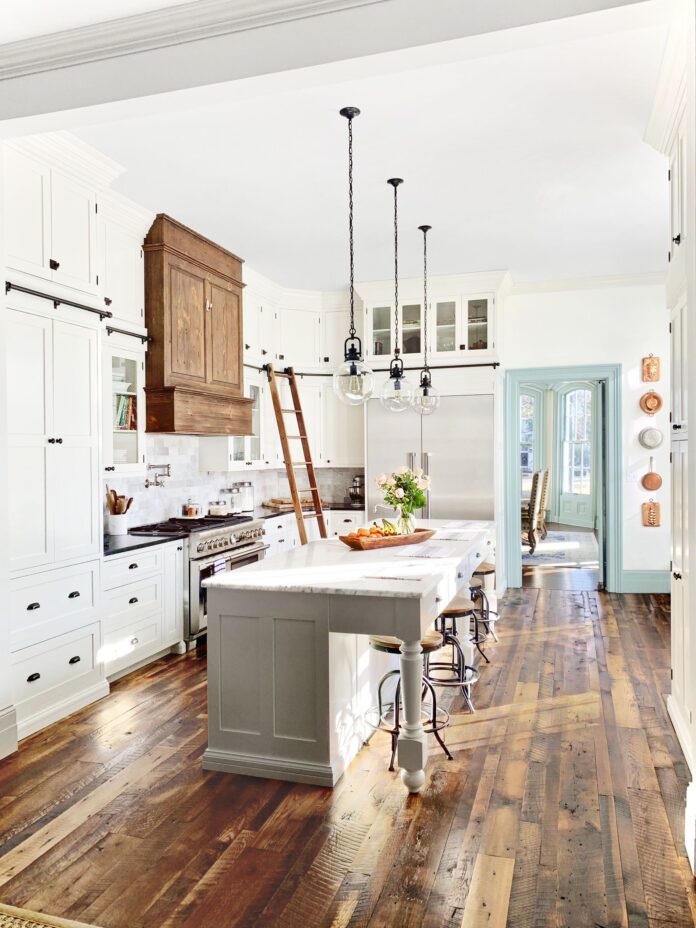 What can we describe as a European farmhouse kitchen?
Compared to the American farmhouse kitchen, the European farmhouse kitchen is characterized by an old-world feel of European elegance. Just like the American farmhouse kitchen, both are centered on a homey, relaxed feeling, associated with the countryside.
However, unlike the American farmhouse kitchen where signs, generous use of shiplap, patterns, and bright colors crown the space, the European farmhouse prefers subtlety. Therefore, the general design tends towards vintage pieces and earthy tones.
Great. Now how can you use that benchmark to design your European farmhouse kitchen?
The key here is to keep everything rustic and simple. That's the first marker of a European style farmhouse kitchen. The design you settle for should hold more elegance and charm, instead of being all opulent and garnish.
Great. So, which ideas can you go for?
A flurry. As you'll learn in this piece, the European farmhouse kitchen is not strongly tied to a specific design pattern or architecture. In fact, it borrows some of its styling from the American farmhouse.
Therefore, open floor plans, open shelving, wide porches, spacious kitchens, mudrooms, and a flurry of other farmhouse design features are embraced.
So how will you put these together? Read on and get inspired.
Farmhouse kitchens are predominantly traditional. Therefore, very few designs will try to incorporate a purely modern feature to it, except for this one. Wallpapers are a nice way to add a touch of modern flair to a European farmhouse kitchen design.
To work with this design, for instance, you can incorporate the use of industrial carts, neutral colors, and floral patterns to get a charming result. The industrial carts can be used as the kitchen island, with light blue serving as the predominant color in the design.
With that setup, a floral wallpaper would provide a beautiful backsplash.

Source
Matte colors have been hot in 2019. And moving towards the close of 2020, matte is still considered one of the most versatile, modern, and sophisticated colors you can use in your kitchen.
And as far as your European farmhouse kitchen is concerned, you'll hardly ever go wrong with matte black. This color will work magic when mixed with white and a light gray backsplash. You can use matte black on the cabinetry, using a touch of gold on the cabinet handles.
The base of the kitchen island will also look great in matte black, with either white, light gray, or ash gray crowning the top. The same applies to the countertop.
But how do I add a rustic element? Through the wooden kitchen island seats, pendant lighting hanging over the Kitchen Island, and rustic wood kitchen appliances like the breadboard.
3. Focus on the Doorways, Windows, and Beams

Source
At the heart of the European farmhouse kitchen design is a rustic feel. In a lot of designs, most emphasis will be put on the cabinetry, Kitchen Island, and kitchen appliances to create this rustic aura.
But those are not the only areas that add a touch of farmhouse elegance to your kitchen design. Arched doorways, exposed wood beams, and diamond grid windows perfectly add a touch of rustic elegance to your farmhouse kitchen design.
For instance, you can go for diamond-paned windows, mixing a predominant cream white monochromatic scheme with touches of diamond on the appliances and other subtle kitchen areas. With the window panes in diamond, you can also have the water taps, cabinet handles, and window grilles painted in the same diamond color.
4. Work with Top Shelves and a Ladder

Source
A predominant theme in most European farmhouse kitchen designs is functionality, albeit with the use of the most simplistic tools available. So, in your farmhouse kitchen design, you can capitalize on this theme by installing tall, upper cabinets, with a ladder for accessibility.
A ladder in the kitchen?
Yes. This library ladder allows you to capitalize on the space above the kitchen, adding more storage to your kitchen. Therefore, you can install very tall cabinets at the top, which can be easily accessed by the library ladder.
This ladder should have a rustic touch to it. Preferably, you should leave it in dark wood color. You can use this same color on the range hood, with the rest of the kitchen getting a pure white paint job.
The result is two greatly contrasting colors, which helps pop the rustic element of the ladder, plus the range hood.
5. Focus on Charming Details
The European farmhouse kitchen was imagined out of the American farmhouse kitchen theme of coziness, warmth, and a homey feeling. This is something you need to get right in your European farmhouse kitchen design.
How? By focusing on small details such as the cabinets, wood elements, and the fireplace. For instance, glass door china cabinets make the kitchen feel large and cozy. Using wood elements with a warm tone makes the kitchen feel inviting, while a fireplace fixed in the dining nook adds warmth to the entire setup.
But those are not the only avenues you can explore. Going a step back in history, you'll learn that traditional European kitchen design allowed different people to express their histories through the kitchen. That's an avenue you can explore.
Therefore, you can use finishes and décor that are tied to your family history. This will make the space not only welcoming but also sentimental to not just you but your family as well.
Depending on the size of your kitchen and layout, upper shelves may or may not be necessary. However, if you want a pure rustic touch to your European farmhouse kitchen, especially if you have enough floor space, you should consider using rustic open shelves.
These are usually used in place of upper kitchen cabinets. So, instead of tall cabinets that go up to the roof, this design uses a simple plank as a platform to support small-sized kitchen appliances, tools, and items such as cups, small china, spice containers, and cutlery.
You can go even further and use the original European flush kitchen cabinets design, for the lower cabinets.
Does this design work if you need a lot of storage? No. You should use this design if kitchen cabinets are not heavily utilized, and the kitchen appliances and tools you have support a rustic theme in the kitchen. This means that shiny metallic kitchenware will not do this design justice.
7. Embrace Wood Topped Worktables
Wood is among the most dominant materials in any farmhouse kitchen design. It is, in most cases, the root of the rustic theme that's associated with most farmhouse kitchens. And if you want to nail this theme, and have it stand out visibly in your design, embrace wood-topped worktables.
With this design, most of the kitchen can be made out of wood, ranging from the range hood, cabinetry, to lantern designed lights at the side of the wall. However, most of this wood should be colored in a monochromatic scheme. For instance, a dash of ocean blue would work.
Now, to finally nail that rustic element, the kitchen island should have a wooden top. For this top, the color should be left in light wood color, with the grain clearly visible. Pendant lighting at the top should be the cherry on top of this wood-inspired European farmhouse kitchen design.
Want to be added to this list?
Click here
to bring up our submission form. We will be in touch shortly with feedback.