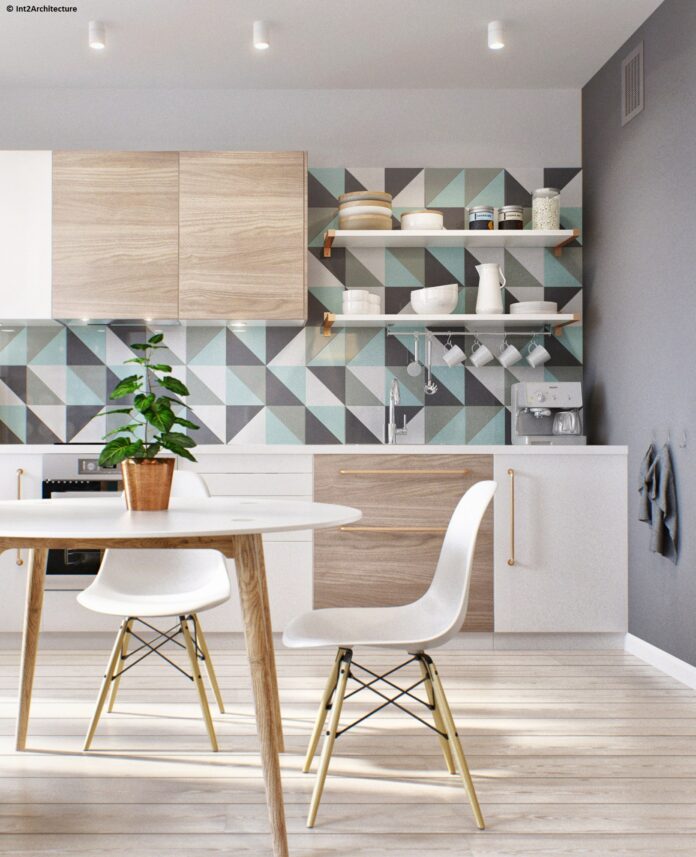 You have a lot of options as far as European kitchen designs are concerned. But why would you settle on Scandinavian?
Scandinavian kitchen design is a design that's described as oh-so-stylish, and eclectic. It focuses on accents of warm wood, pale paint color hues, and minimalism.
So, how do you make a Scandi kitchen? Scandinavian kitchens, unlike American kitchens, are focused on less is more. There is also a high focus on efficiency and a sense of cheerful elegance, something that the Scandinavians developed during the long winters that inspired this design.
At the core of the Scandi kitchen design elements are clean lines and functionality. That's why, traditionally, Scandinavian European kitchens have a limited color palette, and the design lays more emphasis on texture instead of bells and whistles to add interest to the design.
The style, therefore, traditionally revolves around lined tiling, white walls, and wooden floors.
So, does that mean there isn't room to experiment?
No. Scandi kitchens offer a lot of customization options. For instance, despite Scandi kitchens working with a limited palette, this almost monochromatic/two-tone approach can still be achieved with a bit of color experimentation, while providing stunning results.
Plus, thanks to its focus on minimalism and clean lines, the Scandinavian kitchen design is perfect for the modern kitchen. And if that's what you're going for, then you should read the rest of this piece. These designs will surely inspire your next great kitchen build.
Going all white might be boring to most people. Assuming you're one of them, the Scandi kitchen allows for a little bit of colorful experimenting, albeit in a regulated manner.
For instance, a mix of chic kitchenware with floral patterns pops of bright yellow or green, and pastel hues that provide a breezy summer charm, coupled with a neutral backdrop provide a nicely toned kitchen that is not too colorful for a Scandinavian European kitchen design.
You can also experiment with some wallpaper or colorful geometric tiles to break the monotony, in case you have a monochrome backsplash.
Do all colors work with this design? Not exactly. In most cases, summer colors provide the best balance. Stronger hues might work, but a little bit more constraint is necessary so that you don't overdo things, as far as Scandinavian kitchen designs are concerned.
2. Industrial Scandinavian
This design focuses on yet another core element of the Scandinavian kitchen design – texture. The industrial Scandinavian kitchen design features a mixture of leather, poured concrete, and wood to create a Nordic, industrial, and all-round chic kitchen.
By exposing these textures, this kitchen visually exposes the bones and structure of the rustic brick building it is built upon. To nail that industrial look, you can use open shelving for the upper layers, with the bottom cabinets featuring a highly minimalistic design. The open shelving exposes the old stone wall, framing it as a unique feature of the kitchen. This further amplifies the texture of the design.
A bit of metal is added to the final design, with the center island/table featuring a concrete top, wood base, and metallic legs painted in black.
3. Take Full Advantage of Minimalism for Small Kitchens
Most people have small kitchens. And while the one-wall layout or galley layout seems to be the best kitchen layout options you can use for your limited space, the specific design always seems to be a question of debate.
Well, the Scandinavian European kitchen design should be your go-to.
Why? Thanks to its emphasis on minimalism, organization, and frugality, this kitchen design serves both lavish catalog creations and ultra-small utility kitchens. How exactly? Well, as far as small kitchens are concerned, you can incorporate floating shelves, wall-mounted cabinets, and ergonomic worktops that are focused more on efficiency over form, to take full advantage of the limited space.
You can then experiment with inherently light colors, to create an airy, roomy feel in the kitchen.
The Scandinavians predominantly used white in their kitchens. But why so?
Well, back in the day, when the winters were long and gloomy, Scandinavians preferred painting their kitchens white to create a cheerful and airy feeling, away from the winter gloom that was outside.
White improved the natural lighting in the kitchen and kept the visual fragmentation at a bare minimum.
So, what's stopping you from using it? Nothing. Given this is part of the original Scandi kitchen design, you can never go wrong with it. This design works even better in a small kitchen's one wall layout since it visually makes the space look larger, and the kitchen look lovelier.
But that doesn't mean any kitchen in white, is inherently Scandinavian. To stay true to the design, you need to add a few touches of soft wooden tones, clean straight lines, and little to no clutter.
If mixing colors with restraint around the kitchen is a tough job, you can consider trying two-tone cabinets instead. This approach adds visual interest to a neutral kitchen, while still sticking to the Scandinavian minimalistic design principle.
With two-toned cabinets, you can have white on top, with a lightly stained light wooden hue at the bottom/cabinet doors.
This design is amplified even further by having a complementary backsplash. You can choose a soft yet impactful color, probably with a lighter hue compared to the color tone on the cabinets.
Can you add a bit more color? Yes. You can break the strict two-tone nature of this design by incorporating a bit of wall art. The wall art should subtly add vibrant colors, without being visually distracting from the rest of the kitchen.
6. Try Coastal Kitchen Vibes
Yes, the Scandinavians inherently didn't have a beach over winter, but that doesn't mean that you can't add your coastal vibe to this design if you live in a beach house. The first step is working with an open concept kitchen.
The idea here is to have the open concept kitchen make the space feel sunny and light. Then, to top off that coastal vibe, you can strategically use pops of color around the kitchen.
For instance, you can have white glass fronts for the cabinetry, with a bit of open shelving. The countertops can be in quartz, with retro-inspired kitchen appliances taking most of the space.
So how do you mix the colors? Let's start with the kitchen appliances. Since you're going for a coastal vibe, Robin's Egg blue would be perfect. This color will provide a refreshing and welcoming feel to the kitchen.
For the backsplash, you can use mosaic tiles in a circular pattern. This complements the color scheme, while not taking too much attention away from the rest of the kitchen.
You can take this design up a notch by incorporating elements such as plants and simple containers into the design. However, remember to keep them as minimalistic as possible.
This is one of the most subtle ways to incorporate slightly stronger hues into your Scandinavian European kitchen design. The idea is to have clear contrasts between the different colors, with the colors naturally blending in together to form a homogenous look.
So, how should I split the colors? By simply having the island colored differently from the rest of the kitchen. Otherwise known as the contrasting island, this trendy color contrasting approach works well with a natural wood kitchen. The stark contrast between the center island and the rest of the kitchen adds sophistication and sleekness to the design, making it stand out.
Plus, the striking island adds warmth to the space, while serving as a focal point to the kitchen visuals.
Want to be added to this list?
Click here
to bring up our submission form. We will be in touch shortly with feedback.