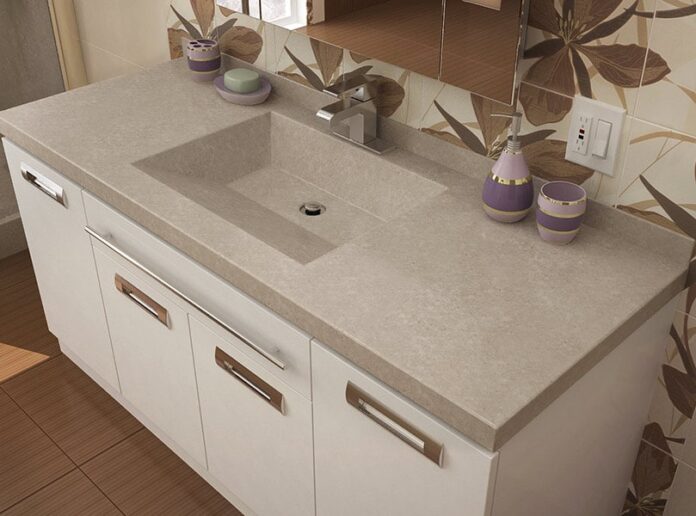 Countertop is an essential surface in your kitchens and bathroom vanity. Unlike table surfaces or other tops, counters are built to deal with moisture and messes, so these are easier to clean. We might lay a tablecloth on a dining room table or breakfast nook to deal with spills. However, we don't think to do this on countertops because they are created to handle many of these situations.
When shopping for countertops for a kitchen counter or bathroom vanity, we need something durable, but nice to look at. But among the different types of surfaces, it is challenging to distinguish which is the best for our own needs.
Marble Vanity Countertop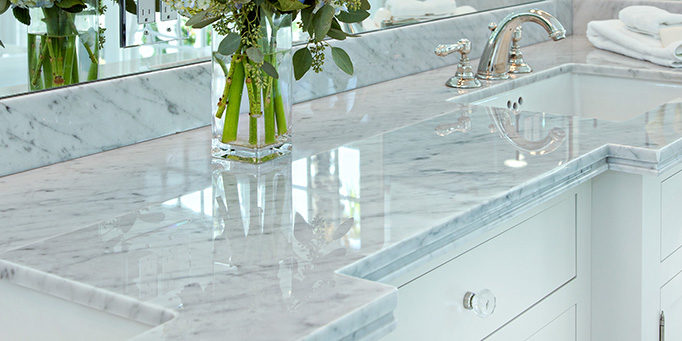 Marble is a material associated with luxury and elegance and reminiscent with works of art. It's also bragging rights to tell someone that you own a marble vanity countertop because of the status associated with it. The natural marble veining is one of the most distinct and classic textures and will last for many years.
However, it is the most expensive countertop, and even though it's made of stone, it requires maintenance. Marble is a porous rock, which means if you spill anything on it, the stain is difficult to get out. Acidic fluids like wine or juice and abrasive cleaners can ruin marble unless you handle the stain immediately. So spilling a bit of pinot noir, then stopping the date to clean the spill quickly, isn't great for romance.
That's a pretty expensive investment for something that has to be kept up regularly to keep the material looking pretty. However, for those who want the look but not cost or lack of durability: Cultured Marble is a good alternative. Cultured marble is an engineered stone surface that is mixed with some resin to increase its resistance to wear.
While it is an attractive option for kitchens or bathrooms, it's not the most practical. Marble is resistant to heat but not to food or liquid stains and needs sealing before using in either space. Sealing will help prevent that damage, but with the porous, this requires constant upkeep.
Plus-side: Beautiful and classic
Minus-side: Costly and still requires maintenance
Ceramic Tile Countertop
Ceramic tile is a classic look in countertops with a wide range of possibilities. It is the most creative of all the materials, and people can build tiled countertops as DIY projects. Tiles are the most inexpensive of all the materials and are available in a variety of shapes and sizes.
If you are artistic, it's a boon to express yourself in your countertop. It is not a difficult project to select the tiles, make sure they fit and cut them to size. There are many sources of inspiration, especially with Spanish and Moroccan tiles where there are several examples on Pinterest. There are several videos and sites explaining how to grout ceramic tile, so there is no shortage of internet help.
However, with ceramic vanity countertops, it is important to be meticulous. Imprecise measurements that start small can magnify later; yet, that can be fixed by cutting the tile. Uneven grouting can be very evident in tile countertops. If heavy impact happens on one of the ceramic tiles, it is typically not easy to replace that one section. It is not recommended to stand on a ceramic tile countertop surface; it's not the same as ceramic floor tile.
Once established, the challenges in maintaining the ceramic tile are making sure that the grout between the tiles stays clean. However, cleaners with bleach are sufficient to handle this.
Plus-side: Inexpensive and can be a DIY project
Minus-side: Need to clean grout, cannot bear weight and could break
Quartz Vanity Countertop
Quartz is also known as "Engineered Stone," and it is actually quartz stone reinforced with polymer resins to increase toughness. More toughness means that it is scratch-resistant and stain-proof, a huge plus for your bathroom vanity. It is not porous like marble, so it is low maintenance and soap, and water is sufficient to clean the surface.
Because quartz or engineered stone withstands splatters and smudges, this is an excellent choice for households with children. The occasional kid's drawing phase where they happen to use markers on everything is not a concern with this countertop. If you are always on the go and can't dedicate much time to cleaning, quartz is also a choice. Products like shampoo, bleach or anything with chemicals will not be a significant concern if spilled on quartz.
Quartz comes in a variety of designs that fit your taste in vanity countertops, from classic hues to bold choices. There are selections available for the surface can mimic other appearances like marble or granite.
For all these advantages, this tends to drive up the price of quality, especially for its durability. It is also a dense, heavy material, in the case you feel like installing this yourself in the bathroom.
Plus-side: One of the most stain-resistant surfaces for vanity countertops; a variety of designs available.
Minus-side: The benefits of the material drive up the cost
Solid Surface Countertop
While you can argue that EVERY countertop is a solid surface, this refers to acrylic with resin countertops. (For those who were curious, the opposite of "solid surface" is "porous surface," with materials such as marble and soapstone)
The composition of this synthetic material makes it impervious to bacteria and mildew, so it is innately hygienic. Perfect when you take a shower and drip water everywhere on your vanity after a gym workout.
Solid surface comes in a variety of colors; some can mimic the appearance of luxurious materials, but not the texture. Integrated countertop sinks are available in this material for that seamless vanity and sink look.
The surface is also very scratch-resistant, but it cannot withstand high temperatures. While this is not ideal for a kitchen, there are fewer worries in a bathroom. Some personal appliances like heaters and curling irons have a possibility of damaging your surface. However, this damage can be fixed by sanding, making this easy to repair.
Due to the particulars of this surface, this is not a DIY project. You will need professionals to install a solid surface countertop on your bathroom vanity.
Plus-side: Resistant to bacteria and can come as an integrated sink
Minus-side: Does not handle high heat well
Granite Vanity Countertop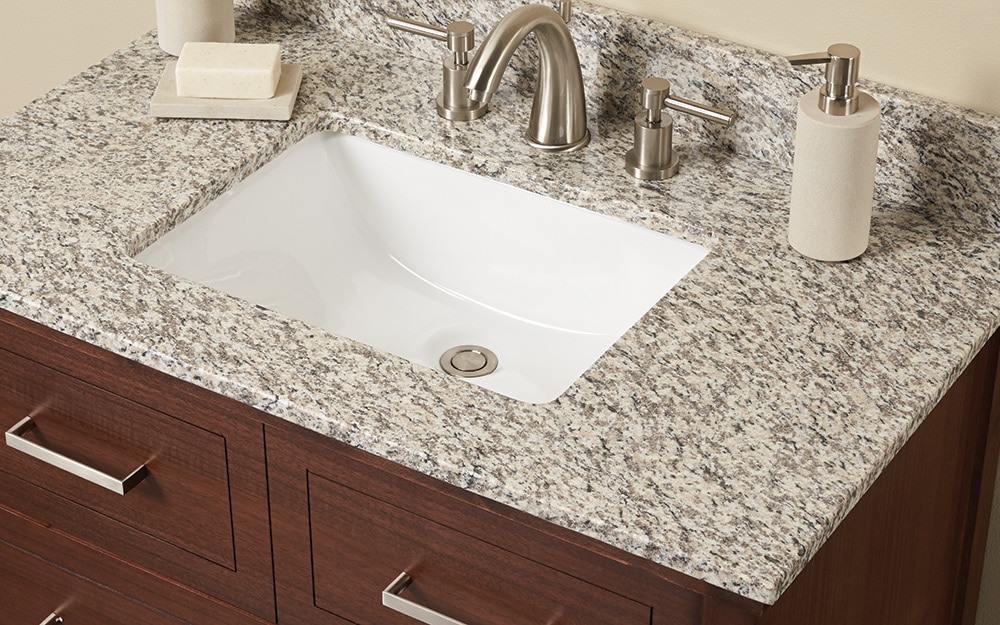 Granite is a durable natural stone that is considered a luxurious surface for bathroom vanity. The unique texture makes it popular in demand in any countertop.
The color is limited to what is naturally occurring in the granite mined from the quarry. However, since the appeal is the natural stone occurring art in the stonework, anything else would not feel right. Granite countertop patterns are striking; they can look like the stones of a riverbed or even like frozen lava. The slabs may naturally have flaws, but that is part of the charm.
Granite can sustain heat and impervious to water, which is why this surface is great in kitchens. Yet the surface is so hard that you have to purchase more than you need. Just like sculpting, a professional installer needs to cut it down to the proper countertop size. Because of the granite pattern, it's difficult to cut to pieces and align seams, so it's usually one big piece.
Granite is on the higher tier of pricey countertops. But the look and its durability may be well worth it to some homeowners.
Plus-side: Hard surface that can handle most situations
Minus-side: Expensive and hard to install
Laminate Countertop
Some of the most affordable and standard vanity countertops on the market are laminate. It is a surface created from pressurized plastic and can duplicate the appearance of other more expensive materials. It is among the easiest to maintain of all the countertops.
Laminate is the thinnest of all the countertop surfaces and is similar material when we talk about "laminating" paper. However, using a paper laminator for your counter will not have the same effect without pressured layers to harden it. It also needs an MDF (Medium-density fibreboard) or particleboard to strengthen the core. Since both these materials are cheap to fabricate, it is an economical option for most people.
These synthetic exteriors are easier to clean than other countertops. While laminate is water and stain-resistant, it can take damage from heat, which warps or dulls the surface. If this happens long enough, the laminate will become damaged and irreparable.
While on the more inexpensive side of materials, the cost goes up for more durable and fashionable versions. The fact that laminate can be made of recycled materials make this option environmentally sustainable.
Plus-side: Inexpensive with a large variety of looks, easy to maintain
Minus-side: While easy to clean, subject to warping and heat damage