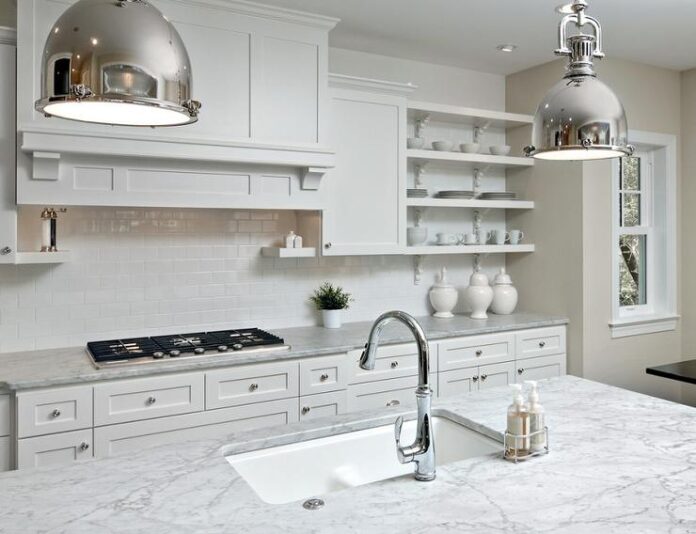 More cabinets means more storage space.
The choice to install upper cabinets or not takes a lot of consideration. Having additional storage space helps but the expense might be prohibitive. Besides closed cabinets, open shelves provide storage for items that you would like to display, such as pretty dishes or stemware. A combination of both may work best for your kitchen layout and design style.
Standard Upper Cabinets
Benefits to Upper Cabinets:
Regular kitchen cabinets allow for storage of everything from grocery products to dishes and small appliances. The greatest benefit is that no one can see what is inside, so you can easily hide clutter or cookies away from others. The door also keeps dust and the airborne particles from cooking off your dishes and food. Doors come in a wide variety of styles to suit any décor tastes. Hardware changes offer an economical way to get a new look.
Disadvantages of Upper Cabinets:
The only major drawback of solid upper cabinets is the space they take up. In smaller kitchens, they can close in the space and make the room look even less spacious. Depending on the finish, they can make it look darker too. Existing cabinets you did not personally pick out make more of a stylistic issue than other options. They are also more expensive than plain shelving.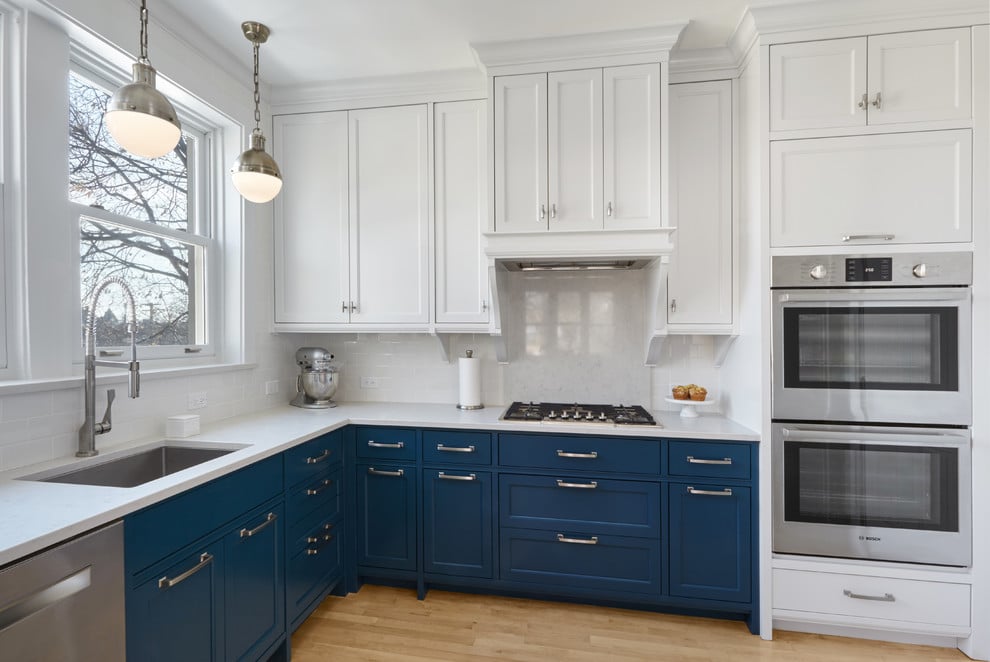 Open Shelves
Benefits of Open Shelves: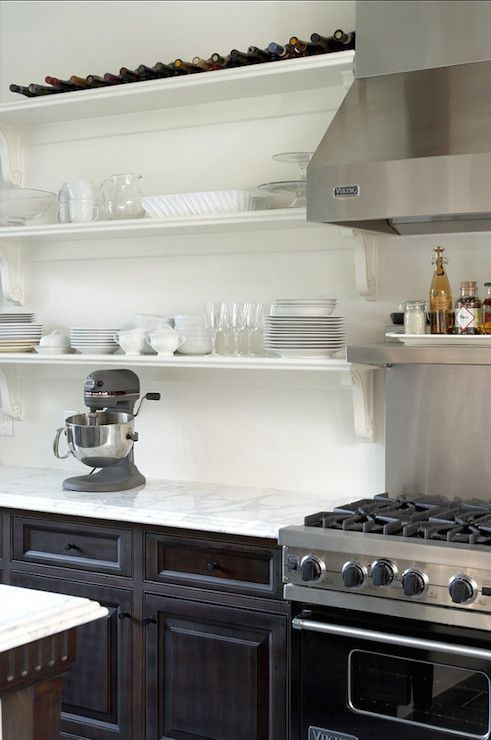 Shelves without doors represent a stylish alternative to regular cabinetry. They provide an open, more airy look that is highly beneficial for a smaller kitchen space. Full shelves provide just as much storage as cabinets, but things need to be placed more neatly than if they were hidden behind doors.
Upper kitchen shelves are ideal for plates, dishes, and glassware that need a secure place to sit and some protection against dust, but look attractive enough to display in a similar manner to store shelves. In a country kitchen, canned fruits and vegetables can add style while being practical.
Disadvantages of Open Shelves:
Many things that are usually stored in kitchen cabinets are not very decorative, such as boxes of pasta and canned food. They can also contribute to an overall appearance of clutter in the kitchen, even if arranged neatly. Lack of doors also allows dust to get on the items too.
Before you pick up a crowbar and start tearing out any existing cabinets hanging on the wall of the kitchen, remove the doors and see if you like the look of shelves. As long as you can get rid of all hardware and fill the holes left by them, you might like this look more than either other option.
No Upper Cabinets
Benefits of No Upper Cabinets:
More modern kitchens opt to do away with all top cabinets and shelves. This design option gives more counter space to work and a much lighter and wide open feel to the room. It also allows you to decorate more expansively, such as installing decorative tilework for a taller backsplash or hanging paintings and prints on the walls.
Disadvantages of No Upper Cabinets:
No upper cabinets or shelving means less storage space for dishes, kitchen gadgets, and groceries. This is especially noticeable in a gourmet kitchen of a homeowner who loves to cook. Those who eat primarily convenience foods and do not have the latest kitchen technology may find lower cabinets are sufficient for their needs.
Another disadvantage of bare walls is lowered resale value. Most people want more storage in the kitchen instead of less, and lack of cabinetry or shelving on the upper half of the wall can decrease the chance or selling the house in the long run. If you intend to move in the foreseeable future, upper cabinets make more sense.
Without upper cabinets, deciding where to end the backsplash is entirely up to you. There are no rules about how high the tiles should reach. This actually makes installation easier since you can use whole tiles instead of cutting them to fit under cabinetry. The minimum backsplash height is just six inches to pervert splatter from marring the walls. Also, the backsplash should extend horizontally the entire width of the countertop.
Other Options
Solitary Shelf:
Instead of rows of shelves ranging from over the counter to the ceiling, one single shelf around the kitchen can provide sufficient storage space. Hung halfway up the wall, items are more out of your line of sight without being out of reach. Others choose to position the shelf directly above the backsplash, which holds items in a more functional position. This also provides a support for discreet spotlighting for the countertop.
Glass Door Cabinets:
Choose leaded, clear, stained, or frosted glass cabinet doors that provide differing levels of visual obstruction for the contents of the cabinets. Changing the doors on existing cabinets is an economical way to spruce up the look of your kitchen overall without spending thousands of dollars. For clear glass or doorless cabinets, position less attractive cans or dishes to the rear of the space and pull the more decorative pieces toward the front.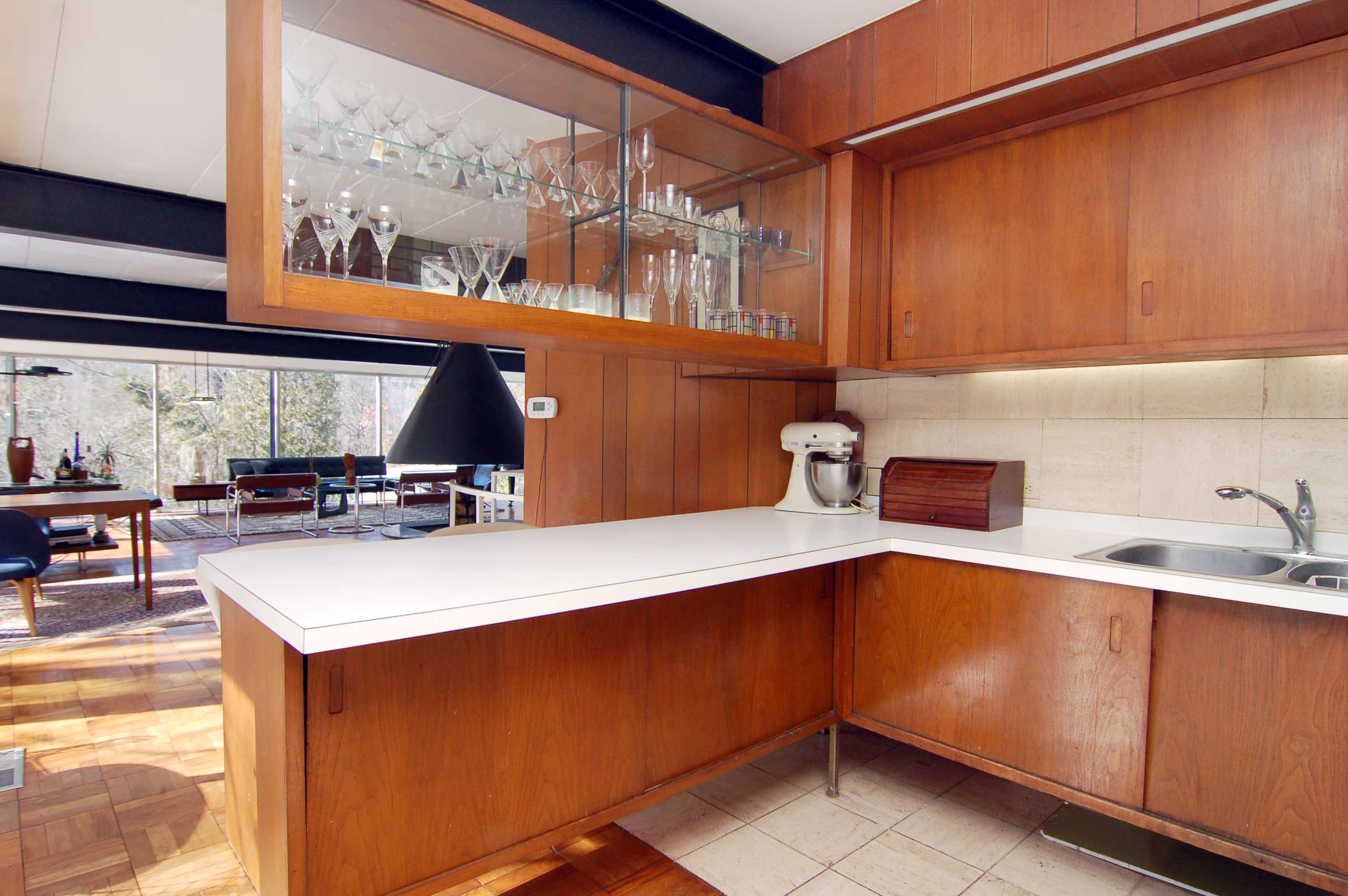 Floating Shelves or Cabinets:
Upper cabinets or shelves do not have to fill in the entire horizontal wall above the counters. Opt for narrower cabinets that cover just one wall or are centered over the expanse of the bottom cabinet. You get plenty of storage without the heavy feel of continuous cabinets.
Higher Means More Work Space:
In older homes, upper kitchen cabinets were just 18 inches above the countertops. These days, that space has been extended to 21 to 24 inches. This not only gives the cook more work space on the counters but also opens up the look of the kitchen. Unfortunately, it also translates into less storage space at a convenient height.
Shallow Shelving:
A happy medium between sufficient storage space and a small silhouette in the kitchen are cabinets or shelving that do not stick out from the wall as far as standard cabinets. They are usually 12 inches and some range up to 15 inches deep. Sticking with 12 inches or reducing that to 10 or even 8 inches gives plenty of storage for food stuff and glasses. The lower cabinets still offer sufficient area for large crock pots and dough mixers.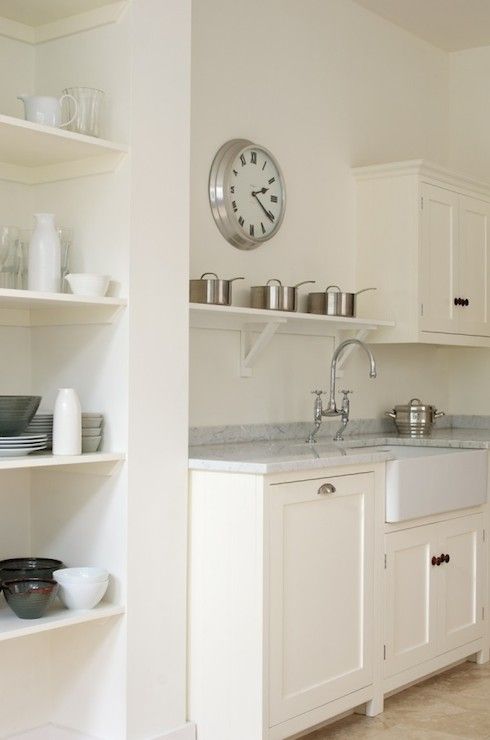 A Mix of Cabinets and Shelving:
With all the design options available for home kitchens these days, you do not have to limit yourself to one style. Determine how much storage you need and what type of cabinetry or shelving you prefer and then make a plan. Some kitchens mix high upper cabinets on one wall with shelves on another wall. A third wall may have no storage uppers at all to focus on a piece of artwork or a pleasant window view.
One final tip for kitchen design. If you work with a stone or tile supplier, you may get a good deal on a remnant or second. Use this piece as a backsplash to save money on a unique look.