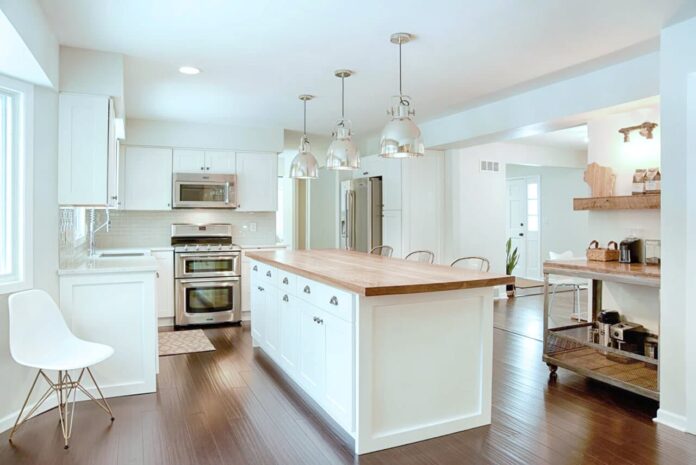 When homeowners first consider redesigning or updating a room in their house, many focus on the kitchen. Not only is this a room that the family spends a lot of time in, but it also helps boost property value more than any other. If you decide to revamp your kitchen space, these four steps will help you create the perfect plan for your family.
Start with the fundamentals. You may dream of brushed nickel fixtures or granite countertops, but before any decisions about finishes are made, the space and layout needs to make sense. Appliances must each have a reasonable spot. You need enough counter and cabinet space. The kitchen is the room that definitely needs a smooth flow of workspace for cooking and serving dinner.
If you begin by imagining walls knocked down or additions built, get in touch with a reputable kitchen designer from the start. Not only will he let you know how feasible your dream is, but he can provide budget estimates to make sure you can afford your plans. The last thing you want to do is come up with a perfect kitchen design and then learn you cannot pay for it.
Some people may prefer to design everything at the start and then send out for estimates. The problem with this method is mostly emotional. Why go into a kitchen remodel with the possibility of getting frustrated and upset when your finances do not match your dreams?
Larger kitchens are not always the best choice. Working within the space you already have and your budget can leave you with a wonderful kitchen with plenty of room for everything you need and most of the things you want. In my experience, too many clients have stories of abandoned redesign projects because they planned for more than they could afford from the start. Let down by the project, they took some time to recover emotionally and decide to call in another designer to look at a new plan.
Follow these four steps to create your perfect kitchen design plan:
Step #1 – Decide on the Layout for Existing Space First
Perusing magazines and websites for inspiring ideas and pictures of finished kitchens is probably the most enjoyable part of the kitchen design process, but these dreams can get in the way of looking at what you have to work with objectively. Start by measuring the actual space you have in your house and devising a plan that works for it.
Work with a professional designer to maximize ease of use and proper flow. Does a U-shaped kitchen work best? Perhaps an island of peninsula fits into the design scheme. Would it be better to stick with a focus on food preparation only, or does the room have eat-in-kitchen potential?
Step #2 – Ask for Multiple Early Estimates
With just a design in your hand, the estimates you get from multiple contractors will not be firm. The final prices still depend on materials for cabinets, countertops, fixtures, and other factors. However, this is the perfect time to get preliminary estimates so you understand the budget constraints you need to deal with as the design planning goes forward.
Research local contractors and builders extensively before inviting them into your home. Online review sites should give you a good idea about who does quality work or not. Pick the best and most affordable and get estimates from all of them. Professionals will have no problem coming out to offer their best ideas on your job in a bid to get your business. 
Step #3 – Create 3D Pictures, Plans, and Elevations
Now that the functional planning and budget are finalized, it is time for your designer to get creative with bringing your dream kitchen to life. Three-dimensional drawings and computer graphics can show exactly how your kitchen will look when it is complete. This process helps you visualize the space better and imagine yourself using it. It is the time to make final design or layout changes.
Expert designers use powerful computer programs that allow you to change paint colors, cabinet door styles, and fixtures right on the layout of your kitchen. The intersection of cabinet lines can create a modern art effect that pleases the eye and draws people into the room. You get to explore the possibilities before buying anything or making changes to the room at all. 
Step #4 – Choose Finishes and Material Options
The final step in creating your dream kitchen is material choice. Now that you have a 3D representation of how your kitchen will look, it is time to decide if the counter will be granite or quartz and the cabinets dark oak or smooth white paint. Visualize what type and color goes where and if the end result will be well balanced and stylish.
After all four of these important steps are done, the final project plan gets turned over to your chosen contractor for the final budget estimate. Now you can feel confident as you sign the contracts that your  home will soon boast the best kitchen you can dream of and afford.