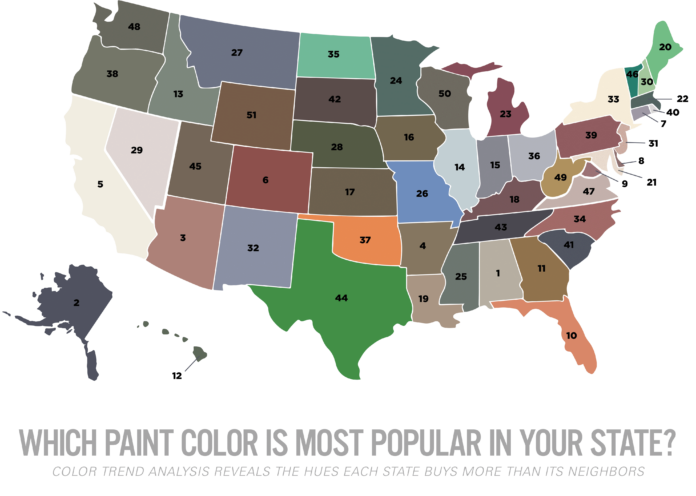 A recent study by Behr Paint, a top manufacturer since 1947, reveals the most popular colors of each state in our country. They did this by reviewing archived annual paint sales data from across the nation. The collective results provide a fair indication of each state's favorite color. It's an interesting revelation for many of us who lazily assume that the results from states such as Florida and California would surely reflect all that sunshine with colors like orange and yellow, or that Hawaii would also point to some lively hue. Instead, we're surprised to see a lot of unexpected earthy, natural tones selected all throughout the country.
BEHR representative Erika Woelfel, a resident color expert, shared some "colorful" observations. In regards to Washington and Oregon she said, "This pair of Pacific Northwest states epitomizes outdoor adventure and with moody greens Naturalism and Conifer Green (specific paint styles – Ed.) on their walls, residents' interiors are reminiscent of the lush landscape."
Indeed some of the colors and their corresponding states seem appropriate. Everyone loves New York, what of its most popular color? Is it one worthy of the Big Apple? Truth is, with a huge population that diverse, it makes sense that it would be as generic and universal as possible. Erika explains that with "studio apartment's galore, it's no surprise that New York favors BEHR's renter-friendly Linen White. This neutral hue creates a blank canvas for colorful accents, while adding a touch of warmth to a small space."
Clearly, not all of the results inspire the imagination. Particularly of interest were the many varying shades of gray – as drab as that sounds – such as those chosen by Indiana, Montana, New Mexico, Ohio, and Rhode Island. Oklahoma optimism is represented by perhaps the brightest of all the colors, the golden citrus hue of Mandarin. Meanwhile the appraisal of the preferences of Alaska, South Carolina and Tennessee are really just downright dark (we're sure it's not as abysmal as it seems).
Perhaps fitting, as it is certainly never in a state of calm, the District of Columbia's favorite shade is Wild Berry. Woelfel chimes in again, explaining that the color "evokes the same sense of excitement as the District's annual cherry blossom bloom. This deep, vibrant pink is an optimistic choice for walls—symbolizing positivity and passion and infusing energy into a home" – they certainly can use some of that positive energy in D.C.!
An apartmenttherapy.com user had this somewhat astute observation regarding their home state, "I'm not at all surprised by (the color) Swiss Coffee in CA. Big state, huge population, lots of apartments, and just about every one of them painted this safe, nondescript neutral. (It's) popular in new tract homes as well. I'm staring at my apartment's Swiss Coffee walls right now, same color as my LAST apartment's walls!"
It's a sure sign of the times to discover that non-offensive neutrals are the dominant color type in the majority of states. But some of the other findings are a little shocking, aren't they? Does your state's' most popular color surprise you?