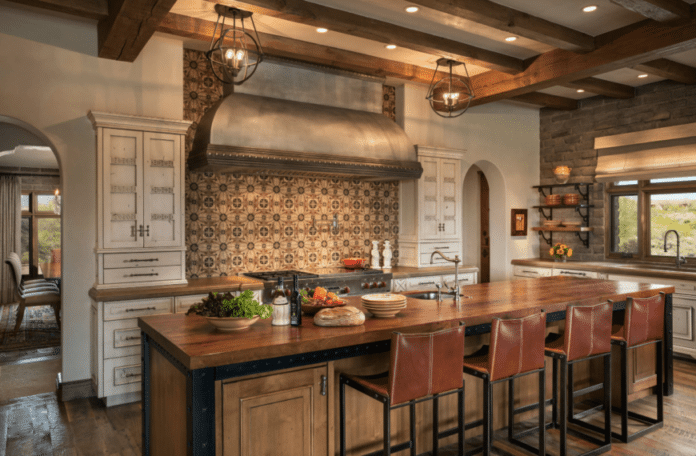 Southwestern design is making a comeback. In fact, Modern Southwest interior design is one of the trendy styles of the moment. Southwestern kitchens are a unique design that is both distinctive and impressive. Southwestern design is inviting because is warm and comfortable. It also blends traditional and contemporary design.
What is Southwestern Design?
Southwestern kitchen style is influenced by native Spanish and Indian cultures. It mixes the culture of American and Spanish tradition, which is the heritage of native Arizona, Mexico, and Spain, and centers around their natural, living environments.  Since the geography of the Southwest is dry deserts, green valleys, and high plateaus, Southwest design mixes earthy and refined, with artistic accents. 
Two historic design movements play a part in current Southwestern design: the Pueblo Revival and Spanish Mission/Colonial. The Pueblo Revival architecture is inspired by the multifamily dwellings of the Pueblo Native Americans. It is characterized by exposed timbers, adobe or stucco walls and brick or flagstone floors. Spanish Mission is similar, but features red tile roofs, ornamental ironwork, and colorful tiles.
Current Southwest kitchen design blends both the historic elements with contemporary design. Erica Islas, principal designer of EMI Interior Design in California states, "I always like to mix the old and the new. The 'ancient plus modern' combination tends to work really well."
Modern Southwest design incorporates traditional architecture with modern design, like brightly colored stucco finished with squared corners. It mixes mid-century and rustic elements with colors that are reminiscent of the desert Southwest. This design puts emphasis on desert and Southwestern motifs.
Characteristics of Southwestern Kitchen Design
Southwestern kitchens have a casual, easy-going décor with natural materials and a natural color palette. The effect is both elegant and stylish, yet with a comfortable, lived-in feel. The following are often found in Southwest design:
Metal and Wood Detail
Wooden Beams
Warm Neutrals
Textured Walls
Native American or Spanish Accents
Tiles
Casual, Rustic Elements
The Southwestern kitchen can have influences from one specific place or a mix of Mexican, Santa Fe, Spanish, and Native American elements. There can be a few small additions of the style or major changes, depending on the homeowner's preferences.
Color Palette
Native Americans and the Spanish believed that colors could protect against evil spirits, which can be seen through the particular choice of them in most Southwestern designs. Earth tones play a large role in Southwest kitchen design. Colors like slate blue, adobe red, forest green, muddy brown, and salmon make up the color palette for this style of kitchen. These colors emulate the peace and serenity found in the natural landscape. Neutral-colored stucco walls are common in kitchens in colors like white, light gold, orange, or soft caramel.
The subdued color palette often incorporates brighter colors found in nature as accents like turquoise blue, bright orange, gold, and red clay. The blue-green colors reflect the sky while the use of oranges and yellows resemble the desert. These hues are often used in accents, textiles, and decorative items. The early Spaniards introduced Taos blue, a mix of violet and sky blue that is used in entry doors and windowpanes to ward off evil.
Modern Southwest includes a high-contrast color element, such as a bright wall or black accents in the furniture and décor. Black and white can also be contrasted for a more modern feel. This also keeps the space from being too earthy and neutral.
Cabinets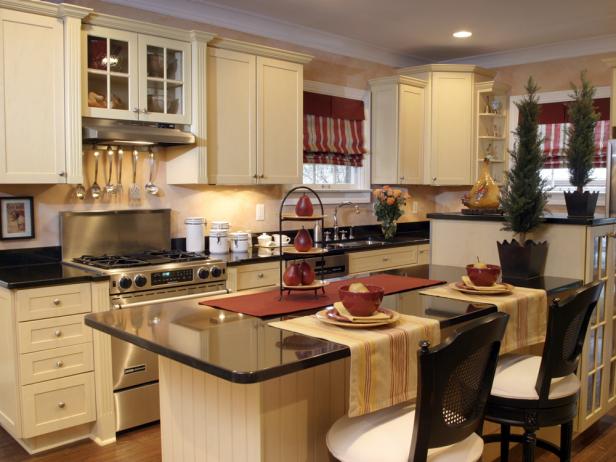 White cabinets provide the perfect backdrop for the Southwest kitchen design. By choosing cabinets that are white, the sky is the limit with accent colors for the countertops, backsplash and décor. There are many choices when it comes to white cabinets, but a non-glossy finish is best. An antique white cabinet will keep with the traditional feel while a white shaker cabinet can provide a more contemporary vibe.
The cabinet hardware can take on an antique or contemporary spin based on the rest of the kitchen design. For example, a brushed pewter knob brings a little of both.
Countertops
When it comes to countertops, tile is the winner. Spanish mosaic tiles are a beautiful addition to this type of kitchen. Hand-painted tiles can be used for authentic-looking countertops. Machine-crafted tiles that look like they were made by hand is budget-friendly way to get the same look. The patterns and color choices are endless—one suggestion is dark blue, which represents bravery in Mexico.
More durable countertop materials are also options in this type of kitchen. For example, wood butcher block is countertop choice that provides a natural and rustic feel. The wood can vary in color or be a gradient mix. For more modern Southwestern kitchens, granite comes in a wide variety of shades.
Backsplash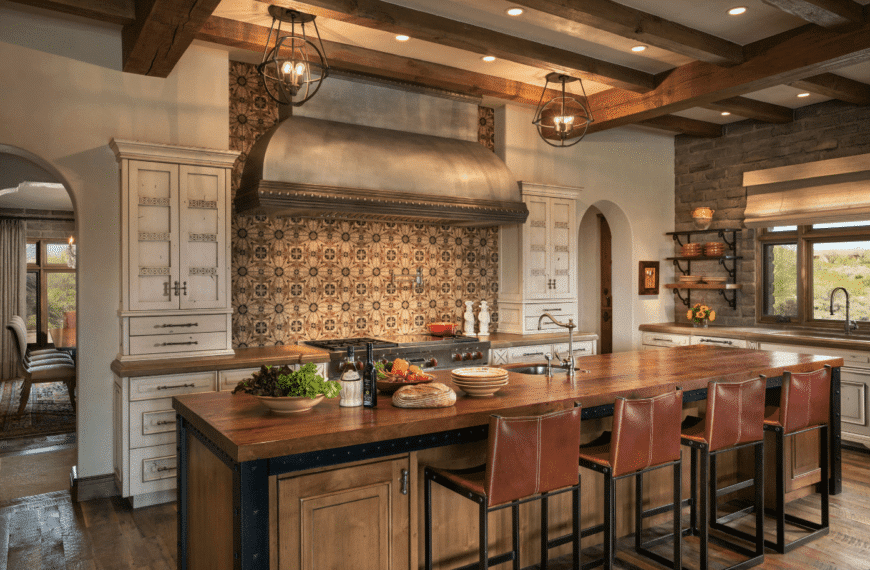 Again, tile is a great choice for the backsplash. Talavera tile are hand painted and named for their city of origin in Spain. Talavera tiles are intricately patterned with geometric designs and representations of nature. This is a must for a truly authentic Southwester kitchen design. It is a more expensive choice so it can be used just as an accent under the hood as well.
The backsplash can be a nod to nature with the use of natural material. For example, white painted bricks that resemble rocks are a traditional take on the backsplash.
Texture
Texture comes in many forms in this design style. Wood-covered or beam-punctured ceilings are a staple in Southwestern design. Southwestern kitchens also often have Native American area rugs in chevron, stripe, or square patterns.
The walls are also another place to use texture. In the past, Native Americans and Spanish used clay bricks, adobe, or concrete to make walls. Painting or texturizing techniques imitate this look today. Murals are also commonly used in Southwestern design.
Flooring
Southwestern flooring is usually terra-cotta tiles in a honey or adobe brick colors. They are durable in a kitchen and enhance the color scheme. Some options for the tile arrangement are brick, square or lozenge. Floors made of Saltillo tiles, which is a clay paver, adds an instant rustic effect. Spanish or Italian Saltillo offers resistance in a high-traffic kitchen.
Flooring can also be wood—maple, oak, cherry, hickory, or pine are all options. These woods are also known for their durability.
Furniture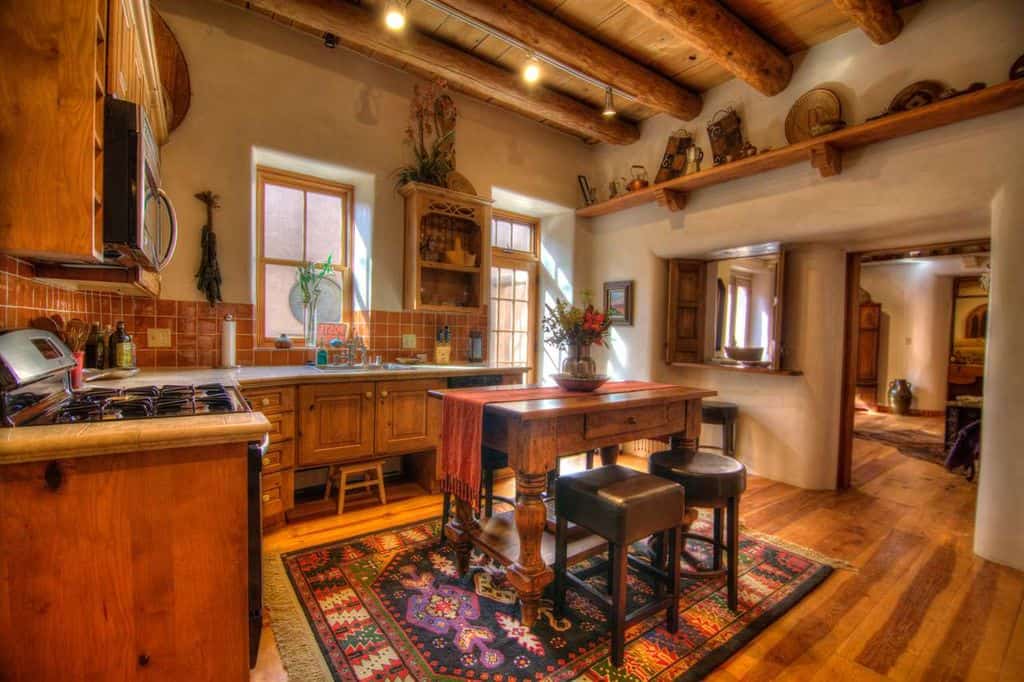 Kitchen furniture usually features a rugged wooden dining table. Wood tones are warm and can be mixed with Armoires and chairs have a distressed finish and decorative metal accents. Furniture can also be painted in colors in the scheme such as cream or white. Upholstery materials are leather, suede, or woven fabrics in traditional Southwestern patterns for chairs.
The rustic and original look of furniture can be achieved through distressing. Wood that has a natural grain is also common in the Southwest kitchen.
Accents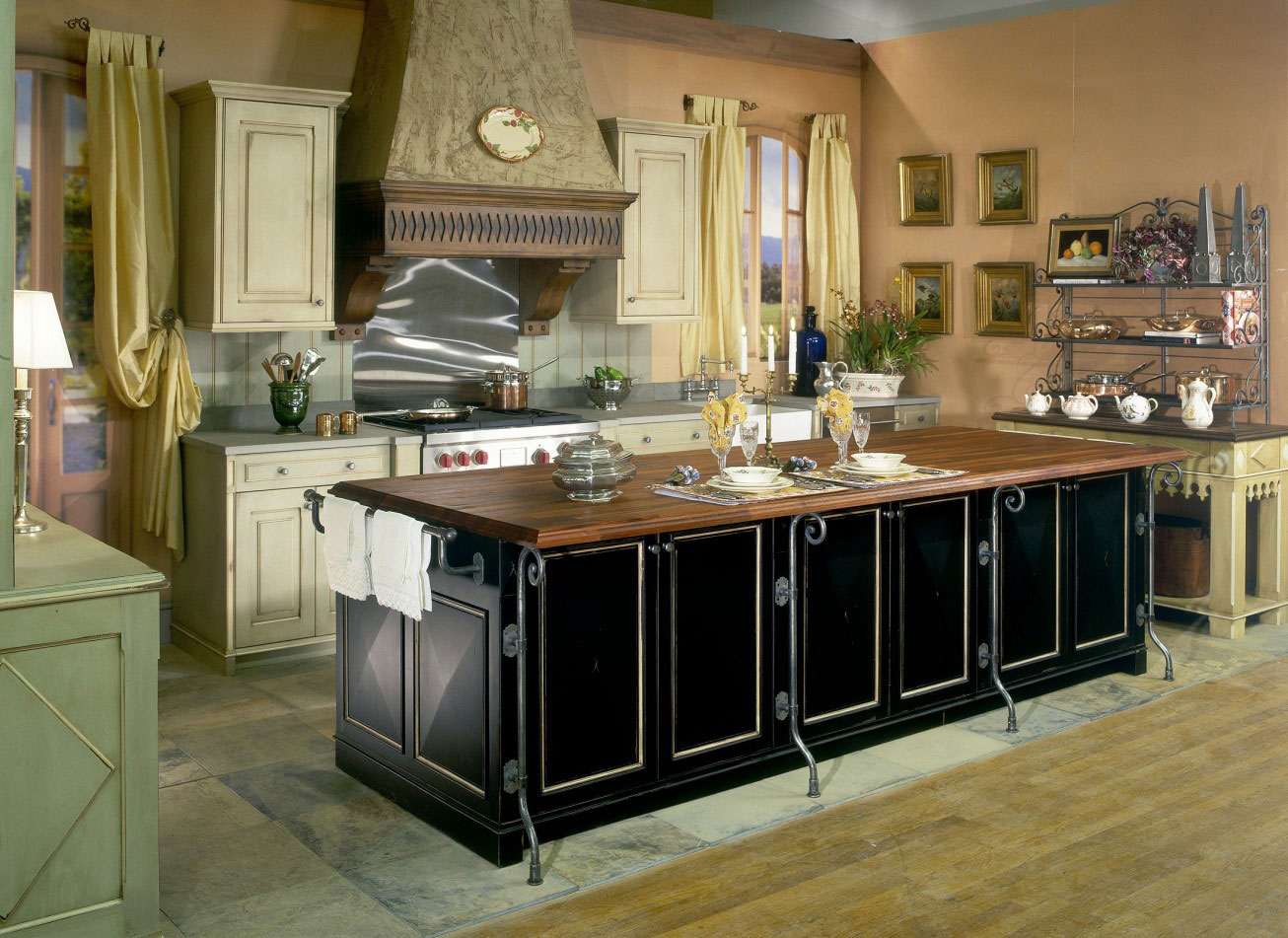 Accents are an important part of Southwestern kitchen design. They help to make the space homey and warm. Wall hangings, woven baskets and Southwestern art are often found in the kitchen. Wrought-iron lamps and cactus pots are often found in the kitchen.
Another Southwestern accent is pottery. Original pottery was made from terracotta, which is orange-yellow in color to reflect the color of the sun. Native American pottery in the kitchen gives a nice accent to the space.
Baskets and pots are important elements in Southwest design. They provide extra storage and can add spice and color to the kitchen. Bright baskets stand out and are a focal point in the room. Pots add texture and visual interest when placed on the kitchen table.
Lighting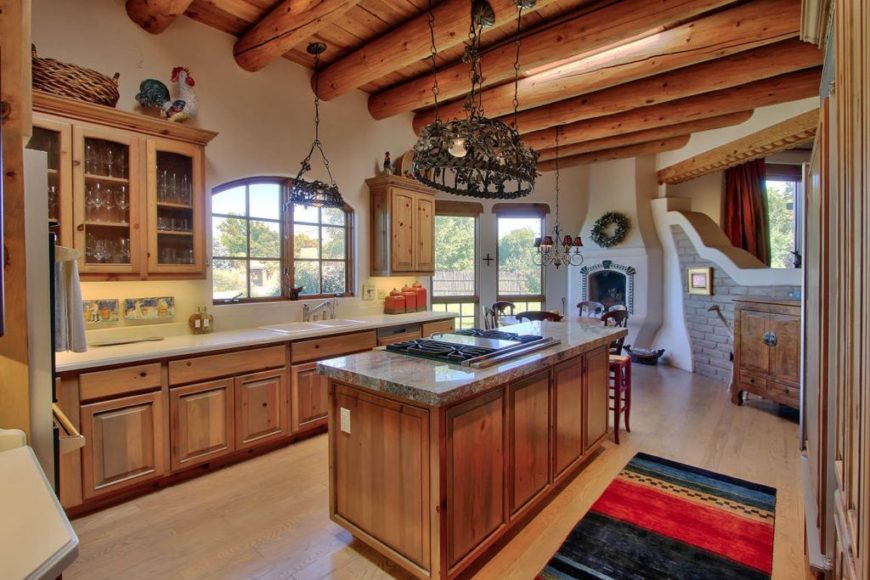 Old-style finishes for lighting work well in a Southwester kitchen design. The impact of the 18th and 19th centuries of Southwestern design is seen in the use of wrought iron for lighting. Copper or oil-rubbed bronze chandeliers are other lighting fixture options. Metal or mixed-metal pendants work well over an island.
Appliances and Sink
The appliances can be a mix of old and new or can go all modern with stainless steel. Classic or retro-designed appliances in bright hues matches the rest of the color palette. A stainless-steel sink is also a choice that will not detract from the rest of the kitchen. Another option for the sink is a copper apron sink.
Southwestern Kitchen Design Trends 2021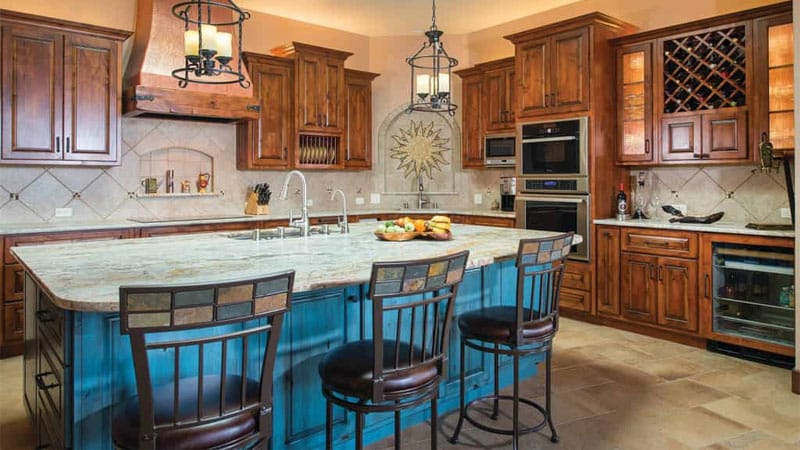 Southwest kitchen design is in for 2021. Southwestern interior design is evolving to include global items as well. Global-inspired, geometric yet still mixed with Southwestern patterns are being used throughout the design. Shibori and ikat patterns are big in Southwestern kitchens, as are Moroccan-inspired rugs. Jute, kilim, souk, shag and overdyed rugs are also being used in Southwest kitchens. These patterns are used in textiles and accent décor like vases and rugs.
A minimalistic take on Modern Southwest is also a trend for the year. This is just a smattering of Southwest details set against white walls and black accents. Woven rattan on island stools and a shag rug bring in the rustic element of this style. In Southwest kitchen style, the cabinets can give the space a traditional or modern feel, depending on the other accents in the space.