The shabby chic kitchen is well-liked by homeowners that want a worn in and lived-in look, which is effortless yet intentional.  A shabby chic kitchen uses soft colors, vintage décor, and distressed furnishings to create a relaxed and comfortable feel. This type of kitchen can be achieved by incorporating neutral bases with distressed materials for a comfortable and inviting atmosphere that is well put together.
What is Shabby Chic Design?
Shabby chic design can be summarized by rustic yet romantic charm. There are several variations of shabby chic including:
Cottage chic
Beach chic
French country
Gustavian (Swedish)
The style began in Great Britain with the décor that was often found in large country houses. Worn and faded chintz sofas and curtains and old paintings were characteristic of the original shabby chic, which was considered a work of art. Early forms of the style could be described as grand, but more modern takes on the design are simpler. Recycling old fabrics and furniture is an important part of the style. Rachel Ashwell, who founded the furniture chain called Shabby Chic describes the style as "the aura of old money, cushy comfort, and crafted indifference."
Shabby chic has become somewhat of a trend as of late. The balance of feeling relaxed and pulled together gives the homeowner freedom to play around with the style and incorporate a little or a lot of the shabby chic element.
Characteristics of a Shabby Chic Kitchen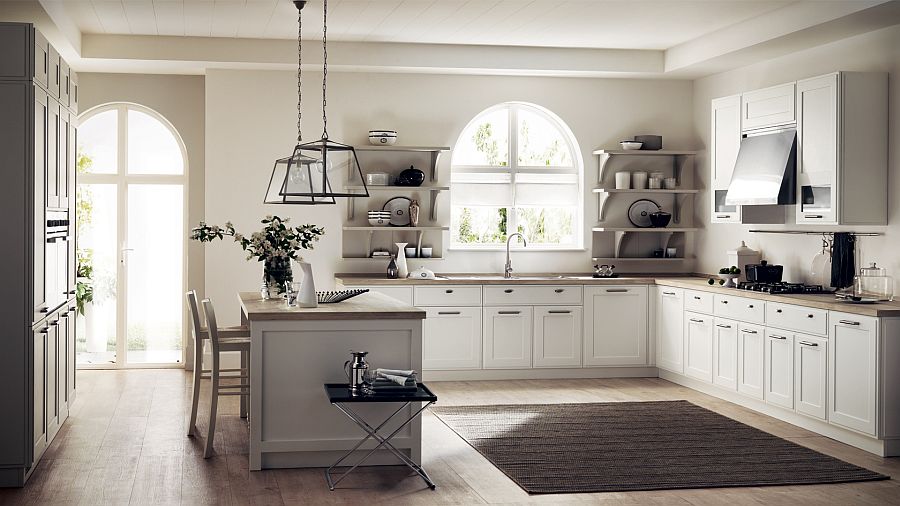 The following characteristics are often found in this design style:
Neutral Color Palette
Soft Pastel Accents
Vintage Décor
Antique or Weathered Furniture
Distressed Wood
Floral Patterns
A shabby chic kitchen does not necessarily need an entire kitchen remodel. It can be an affordable way to update a kitchen on a budget by adding some fun accents.
Color Palette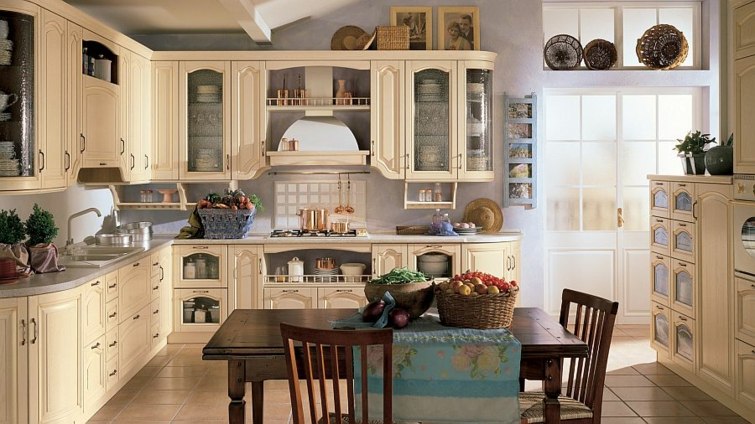 Like many other design styles, the color palette for this style is a backdrop of neutrals. Think distressed white, weathered beige, or soft greens. Major elements in the space are in white, beige, or tan. Accent colors are soft pastels like mint green, light yellow, blush pink, or light blue. They can be used sparingly or throughout much of the space, depending on the homeowner's preference.
The color scheme should be inviting and even a little romantic. One take on the color scheme is a pristine white kitchen with pastel pink accents. The result is feminine and soft. The color palette can also center around one or two colors. For example, a gray and white kitchen with distressed materials can be a less soft approach to the style.
This design style works well in both small and large kitchens, however, if the room is small, the accent colors should not be overpowering and kept to a few lighter choices.
Cabinets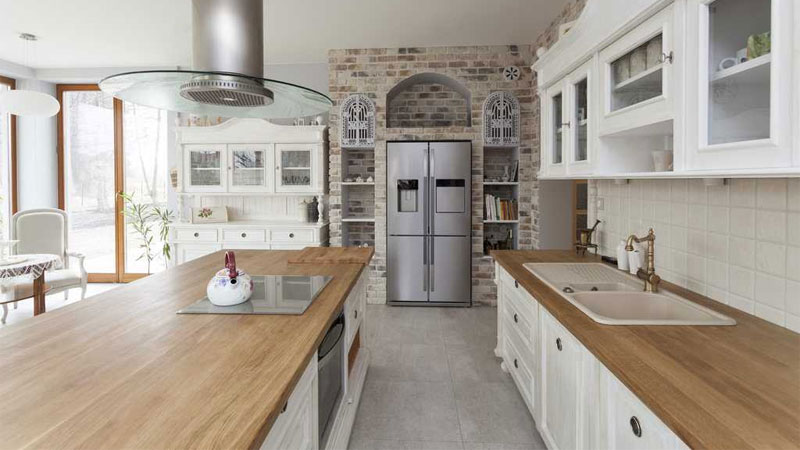 Since the cabinets take up much of the space in the kitchen, they need to be chosen to fit with the rest of the décor. White cabinets provide the perfect backdrop to a shabby chic kitchen. A simple kitchen cabinet allows for color and vintage décor elsewhere. Ivory Antique cabinets combine both the vintage feel with a soft color. Glass upper cabinets can show off vintage dishes while closer lower cabinets hide pots and pans. Lighting behind the glass cabinets is a nice touch that showcases the items inside even at night.
Open cabinets give access to cooking utensils or serve as a showcase for shabby chic décor like vintage dishes. Shelving made of recycled rustic wood that has been repainted in a color offers a focal point on the walls.
The hardware can have a simple, rustic or vintage feel. Simple brushed silver knobs for hardware look vintage. Another option is bronze or brass pulls. Floral ceramic knobs add a fun element to the cabinets.
Countertops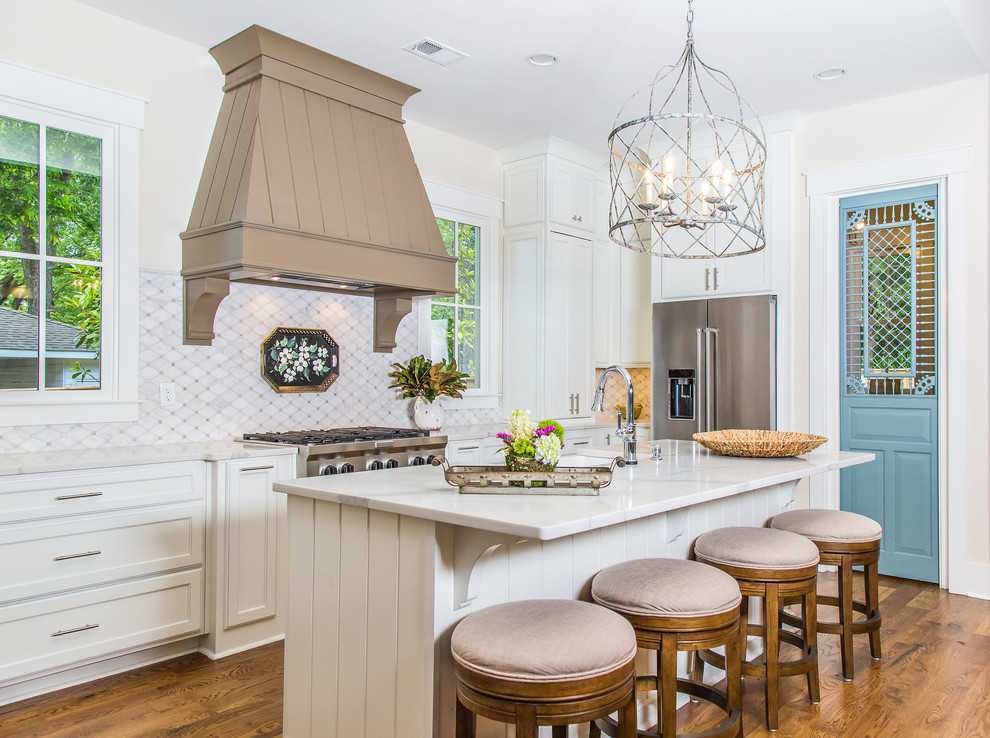 Countertops can be neutral in color, for example, all white to match the cabinets. Then accents of color can be used elsewhere in the kitchen, such as the backsplash or walls. Quartz, granite, and laminate are all options for the countertops.
Butcher block countertops are another way to get the shabby chic style. The wood brings the natural element to the kitchen.
Backsplash
There are many options for the backsplash, as long as the look is intentional. A whitewashed wooden backsplash with beadboard will look vintage. For a different twist, lay the backsplash vertical instead of horizonal. White subway tile is another classic choice.
Or, the backsplash can incorporate color to the space. It can keep with the pastels color palette or even be a more bold if the rest of the kitchen is quite neutral. A floral pattern in the backsplash tile is also shabby chic.
Kitchen Island
The island in a shabby chic kitchen can be a chance to create a focal point for the design. If you have an island in your kitchen, the island can be painted to add color, especially if the cabinets are white. A soft sage green or sky blue can be used to match other accents within the space. Fresh cut flowers in an antique vase go well on the island.
The kitchen island chairs or stools are often vintage looking and can incorporate fabric colors that match the color of the island. Patterns are often floral or other natural motifs.
Furniture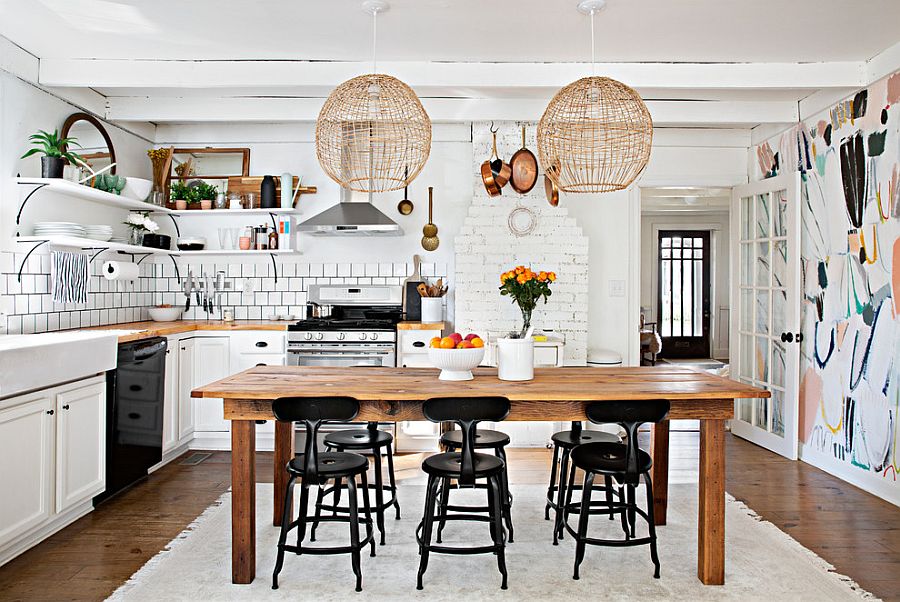 To achieve the lived-in feel, vintage décor can be incorporated to the kitchen. One of the required elements of this style is weathered furniture. Vintage furniture can show some wear and tear and incorporates texture and detail in the space.
Furniture is heavily painted with many layers showing through for a time-worn appearance. It can be imitated by distressing by rubbing and sanding away the top coat to show the wood or base coats. Distressed or exposed wood is a great way to incorporate a rustic element. Rustic elements can be combined with everyday items as well. Even if the furniture is not original vintage, many items today are produced with a distressed finish that will mimic the appearance.
Accent Décor
Adding décor to this kitchen style can be very fun. Shabby chic kitchens can also have accent décor that bring in some color. Some examples are wall art, vases, baskets, trays, rugs, and candles. Since most of the rest of the décor is neutral, the accent pieces can be in soft hues of yellow, pink, blue, or green. Accents are often weathered or distressed—nothing should look shiny and brand new.
Unique pieces are often used in this kitchen style. Thrift shops or vintage stores are good places to find some unusual pieces. The sky's the limit in terms of mixing and matching, but the overall look should be cohesive and blended, not messy, or cluttered.
Fabric
Fabric plays a big role in shabby chic décor as it adds both color and texture to the space. Fabrics are cotton or linen in pure white or ecru or even worn pastel colors. Vintage floral patterns with soft colors are often used. Fabric can be found on curtains in the kitchen or on chair or island stool seats.
Lighting
Lighting in this style kitchen is soft and natural. Windows are often adorned with fabric curtains in linen or light cotton that have a floral pattern.
A fancy, vintage chandelier over the island or in the center of the room adds elegance. Pendant lighting over the island is another option.
Flooring
Wood floors are a great choice in this type of kitchen. They can be distressed wood, or even a bright color. Painted wooden floors can be a vibrant part of the room.
Another idea is whitewashed oak vinyl. This mimics the look of distressed hardwood and offers a more neutral backdrop than painted floors. Whitewashed floors that are distressed or resemble shiplap are perfect for a beach cottage shabby chic design.
Appliances
Shabby chic appliances are similar to what was popular in the 1950's but have the technological updates of today. Appliances can be pastel shades or off white for a vintage feel. The more vintage looking the better. The refrigerator can be made to look especially old fashioned yet include all of the modern amenities.
Kitchen Table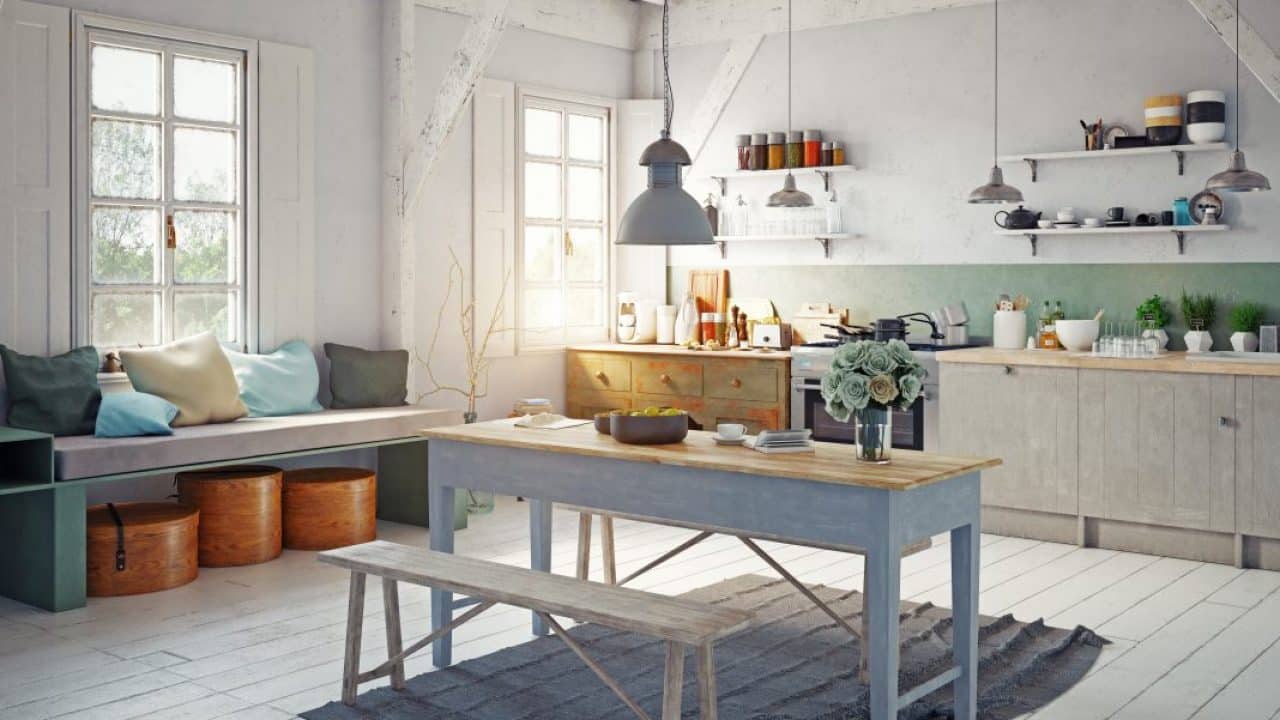 The kitchen table provides an opportunity to really showcase this style. Distressed wood is an option that many homeowners like. A sturdy kitchen table that looks vintage will fit right in with the rest of the kitchen.
Sink
A ceramic farmhouse sink will lend a vintage feel to the room. White or off-white works best so it does not detract from the rest of the room.
Walls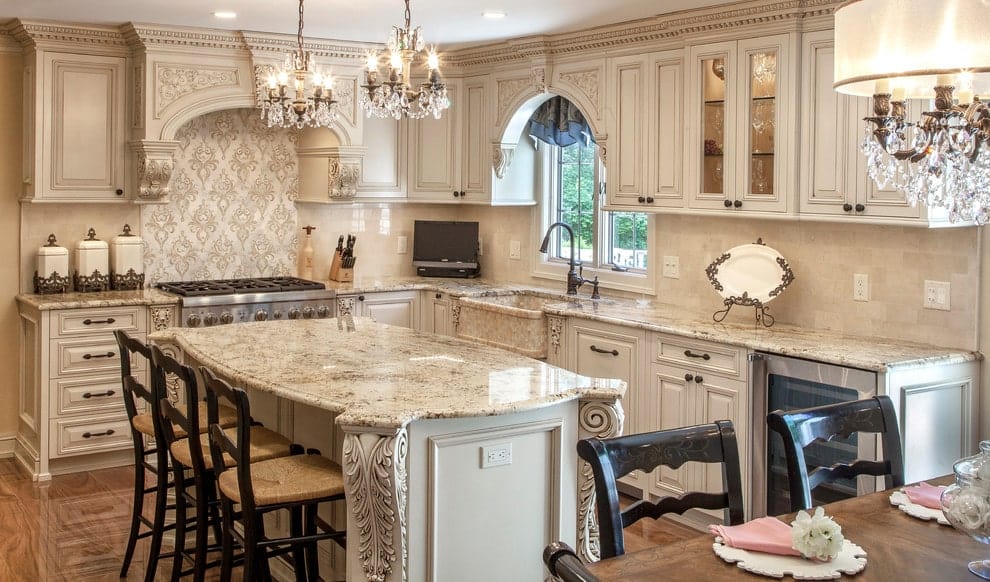 The walls of this kind of kitchen can play with color, pattern, or both. Wallpaper in a floral pattern will go well with this style. A soft pastel wall color or an accent wall will also fit. For example, beige walls with one mint green wall is pretty without being overpowering. Walls in the kitchen can also include artwork.
Shabby Chic Kitchen Trends 2021
To keep shabby chic from being too delicate, designers are using industrial elements to offset it. For example, a frame with metal parts, a brutal dining table, or a more modern twist on light fixtures.
A few new color schemes have also emerged this year such as dark accents with muted cream, white and gray tones and blue-green décor in an otherwise all white kitchen. One other color pairing is accent black, yellow and pink on a white background. Again, this prevents the space from being too soft or feminine.
Shabby chic design offers a relaxed and comfortable yet intentional design. For kitchens in this style, simple cabinets provide a neutral backdrop from which to create a space that incorporates all of the elements of this rustic, yet soft design.