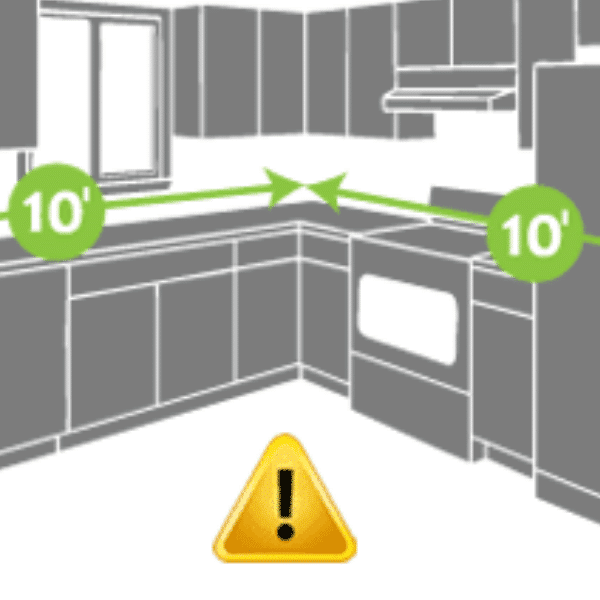 Every cabinet store has a 10 x 10 estimate. Whether it's in person or online, they will list a price that shows an "average cost" of a kitchen measuring 10' x 10'. Most customers looking at remodeling their home will instantly jump to the idea that kitchen cabinets are more affordable than expected. Upon seeing a consultant or designer, they find the cost to be much higher than they anticipate it to be and walk out disappointed. Is the estimate a lie to the customers? Let's break it down.
What is included in the cost of a 10×10 kitchen estimate?
The basics of cabinets
Basics of kitchen cabinets means the bare minimum. Typically this will have standard cabinets that will fill the walls. Cabinet companies may include a drawer bank, but will most likely be the smallest size available. Majority of the time, this will be a 15" drawer. Wall cabinets will typically be 30" tall. Some cabinet stores may choose to have 42" height wall cabinets as standard ceiling height is 8 feet. Different height wall cabinets change the price for the amount of shelves inside these cabinets.
A sink cabinet is included in these estimates as it is the most needed to hold the sink basin. For the corners, blind cabinets for both base and wall will be added as well. Very rarely will a 10 x 10 kitchen be a galley-style. The rest of the cabinets will be traditional cabinets with a drawer on top and doors on the bottom. There will not be any of the fancy or luxury storage cabinets one expects in this pricing. Those may cost twice as much as a standard cabinet.
What is not included in the cost of a 10 x 10 kitchen estimate?
No higher costing cabinets are ever included. These may be staple cabinets people want or even need. Pantries, spice racks, lazy susans, large drawer bases, 24" deep cabinets, and even wall oven cabinets are not grouped in with a typically 10 x 10 kitchen estimate. These costs can drastically bring the cabinet cost up and shock an unexpected home remodeler. To maximize storage and even functionality in a kitchen, a combination of these costly cabinets are needed or even required in some kitchens. Unless a homeowner lives as a minimalist, these cabinets will need to be added to the cabinet cost.
No accessories
Most ready-to-assemble cabinets come unfinished, which can initially make the cabinet cost much cheaper, and will need accessories to complete the kitchen. Skin panels, crown moldings, and fillers are needed to finish any installation project. Without panels, RTA cabinets will have exposed wood finishes on the side. One would have cabinets assembled, but will need the finishing touches. Fillers fill in uneven gaps along walls and moldings add final touches. All of these are essential, but are not typically included in these estimates. If the cabinet sizes match in 10 x 10 estimates matches what one needs for their kitchen, do note accessories will have to be added in no matter what.
No cabinet handles/pulls
When cabinet stores say just the basics are included, it is only just the basic cabinets. No extras or bonuses are in. Kitchen handles are some of the smallest costs to add on to the total of kitchen cabinets. The more drawers and double door cabinets, the more handle count is needed. Of course brass cabinet handles can be as low as $1 per handle. Custom elaborate handles can add a hefty total towards the cabinet cost.
No installation
Labor is never included in the initial estimate of a kitchen. In most cases, cabinet companies expect a typical homeowner to be in contact with a contractor who can install the kitchen cabinets for them. Labor is calculated based on the number of cabinets that need to be assembled and mounted on the walls. In most cases, having a contractor handle the project may be the better option as they can control the pace of the remodel. The scheduling will be better managed and they can quote the project initially with cabinet installation.
No countertop
In regards to material, the countertop is arguably the second most expensive part of the remodel. Like cabinets, countertops have many options from finishes to material. They may range from $100 for a single prefabricated piece of granite to $500 a piece for marble. Some homeowners may like the quality of certain countertops like quartz so much that they may choose a full backsplash option instead of tile.
Material cost on the stone is one thing, but installation can add up quite a bit. Installing the countertop is always separate from the cost of cabinet installation. Typically the installer will charge per piece, necessary cutouts like sink and stovetops, waterfall edging, and sometimes even backsplash. Some contractors may not include the countertop as part of the project as it requires a new set of tools and skills to cut and install different types of stone. If one is looking for a contractor to do the full project, best look for one that has knowledge of this skill.
No appliances
Appliances should be expected to be separate. The common appliances include dishwasher, stove, and refrigerator are always never purchased from a cabinet store. Rather these are typically purchased from a hardware store that specializes in and has a variety to choose from. Some people even may group the sink as an appliance, as it is a part of the infamous work triangle. Arguably sink basins may not cost much. If one is expecting to pay the cost of what they anticipate with a 10 x 10 estimate, then any small additions on top of the overall bill may not be favorable for them.
10 x 10 kitchen estimate sample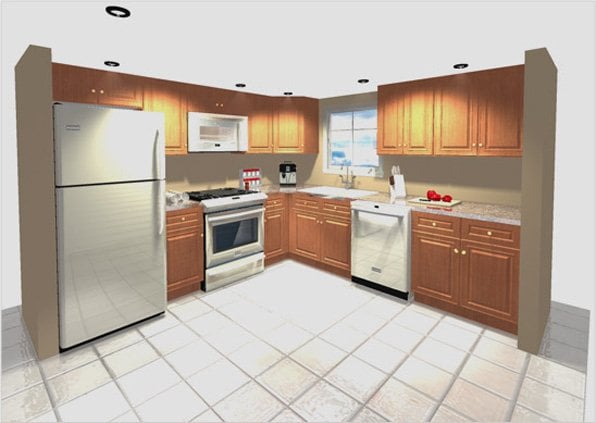 Here is one sample of a 10 x 10 kitchen estimate. The following is a breakdown list of included cabinets and materials:
BBC42 – 42" blind base cabinet
SB36 – 36" sink base cabinet
B18 – 18" base cabinet
B33 – 33" base cabinet
W1830 (x2) – 18" W x 30" H wall cabinet
W3030 – 30" W x 30" H wall cabinet
W3012 (x2) – 30" W x 12" H Wall Cabinet
WDC2430 – 24" W x 30" H wall diagonal corner cabinet
BF3 – 3" Base Filler
TK8 (x2) – Toe Kick
In this example, this 10 x 10 estimate includes very minimal accessories, 30" tall wall cabinets, and the bare minimum to fill the kitchen. The lowest finish costs $1,994 while an average white shaker cabinet would cost $2,065. These numbers only reflect the list composing the 10 x 10 estimate. Pantry cabinets, 24" deep cabinets, spice racks, lazy susans, nor roll out trays are added to sample estimates. What a new customer can see from this comparison is that for a better finish on the cabinets, it would not cost that much more to get a bit nicer quality materials.
Should you rely on 10 x 10 kitchen estimates?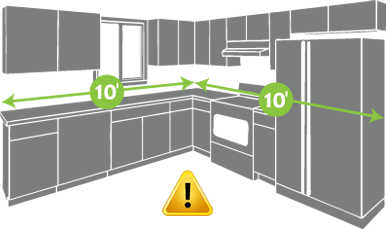 Yes and no. Yes, a kitchen estimate can give a general idea of what to anticipate, but it will never be cheaper than the basic starting cost. Homeowners can use online cabinet store 10 x 10 kitchen estimates as a ballpark to plan how much expense goes where. When going to get a quote from a cabinet store, one should never expect the 10 x 10 estimate to be the final cost. Kitchen cabinet accessories, custom additions, and even countertops can set a home remodeler's budget back a ton if they plan to follow that initial estimate.
So what might be good about these kitchen estimates? Different cabinets mean different prices. Material and finishes can greatly change and vary the price of cabinets. Wood material can be the biggest cost depending on which option one chooses. Maple and walnut cabinets will have a much higher price compared to medium density fiberboard cabinets. With a 10 x 10 estimate, homeowners can see the price range differences between the different styles. If cabinet cost is not where a remodeler wants to invest the most into, the mid range cabinets would be a better option. The best way will be to get an actual quote from a sales rep of a cabinet company. They can provide the actual cabinet cost, breakdown, and the cabinets that one expects in a new kitchen.