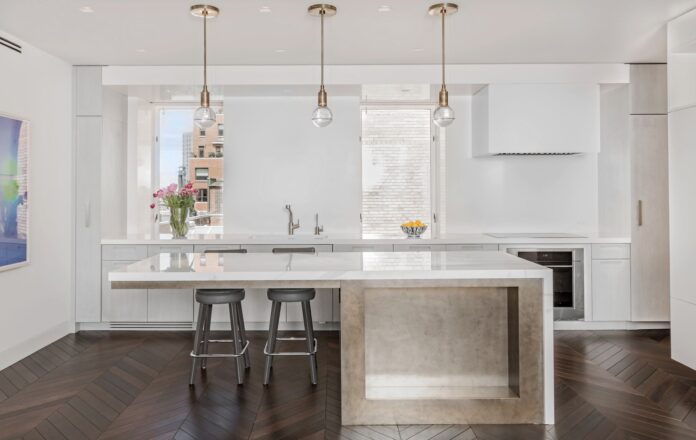 Gone are the days when kitchen spaces were cluttered with a ton of accessories, busy patterns, and designs. Today, the modern kitchen is defined by minimalism.
What do we mean by a minimalist design style? This is a design style where bare essentials are used to create an uncluttered and simple space. This style is very similar to the modern interior design style that many homeowners and interior designers are embracing today.
So, what exactly do you need in a minimalist kitchen? The "bare essentials" in a minimalist kitchen, as far as design is concerned, include clean lines, simplicity, and a monochromatic color palette. The color, in this case, is used mostly as an accent.
What about the exact equipment and accessories? Well, to get you started, a spatula, oven mitts, cutlery, a few glasses/cups, a medium-size pot/10-inch pan, a few plates, and a large stirring spoon are what you need.
Okay, I have a small kitchen. Will a minimalist European kitchen design work? Yes. The minimalist design can work with the one wall layout, which is the most preferred kitchen layout for a small kitchen.
But is it efficient? Well, some quarters argue that the galley layout is the most efficient layout you can use. But, no matter the specific layout you go for, these are a few minimalist European kitchen designs you can explore.
So, dig in.
The minimalist European kitchen design shines in adequate lighting. And as far as lighting goes, there are two ways you can achieve this in your kitchen – through natural lighting (preferred), or a mix of natural and artificial lighting.
So, how do you ensure the space is getting enough light? First, you need to make sure the kitchen is efficiently bouncing off light from its surfaces. This means that in case your kitchen is positioned in such a way that natural lighting is limited, you should invest in fancy countertops and classic, laminated, drawers and kitchen cabinets.
You can add both pendant lighting and ceiling lighting above the kitchen island to add more light to the kitchen. This can still work well even if you don't use a full white monochromatic color palette.
2. White Will Never Go Wrong

Source
If you're to look for inspiring minimalist kitchen designs right now, you'll be flooded with numerous designs donning a white monochrome palette.
Why? Because you can never go wrong with white when it comes to expressing minimalism. White is easily associated with clean and simple. Plus, it allows natural light to flood into the kitchen, which creates a light and airy feel.
To nail this color even better, you can extend it to the rest of the place. Since most minimalist designs are used in small kitchens, painting the adjoining room or space white creates a sense of unity, which makes the kitchen appear larger.
What if I want to go for a stronger contemporary feel? Mix the white with black. Two-tone minimalist kitchens, featuring black and white are getting trendier by the day. The black helps break the white monotony, creating a contrast that adds sophistication and a modern feel to the kitchen design.
3. Keep Everything Low Profile
Minimalist kitchen design not only involves using the bare essentials but also using design features in a structured way. And as far as the latter goes, you can keep the Kitchen Island and countertops at a low profile, for a great minimalist effect.
How does that work? By being at the same level, the cooktops and countertops appear smooth and continuous. You can then declutter these surfaces, for a greater sense of continuity.
You can extend this low profile aesthetic to the pendant lighting as well. You can drop them a bit lower, making sure they all align horizontally. The seats at the kitchen island should not be too tall as well.

Source
Yes, the minimalist design is made prominent by the color white. But that doesn't mean that white is the only color that can pull this European kitchen design off.
In the simplest case, you can mix bright colors in a predominantly white minimalist kitchen to get a nice pop of colors. You can do this by incorporating natural wood in the furniture, and bright colors such as red and yellow subtly in kitchen accessories such as the dishcloth, stool, and patterns on the seat cushions or cups.
If you want to go all out, you can have a white tile backsplash, white countertop, mixed with crimson green cabinetry, a red stove, and a bright yellow fridge.
At the top, you can open things up by using open shelving, while still incorporating a creative splash of colors. For instance, you can have the shelves painted white at the frame, with the inside in the same bright yellow as the fridge.
5. Match the Countertops and the Backsplash

Source
Assuming you want to take a two-tone color palette approach, one of the best ways of exuding a minimalist design is by matching the countertops with the backsplash. For this case, so that the spacey, airy feeling is maintained, you'll need to use a light color.
Which one, you ask? Ideally, marble. Using marble, first, adds a touch of sophistication to your kitchen design. Second, since the colors, patterns, texture, and graining match, the backsplash and countertops create a waterfall effect. This results in a calm and simplistic aesthetic.
What about the rest of the kitchen? A dark matte color would do. Plus, you're not strictly confined to one color choice. For instance, you can have the dining table and cabinets in matte black. The seats can be in dark brown, with dark brown pendant lighting hanging over the kitchen island.
Wood and tile mixed work magic in creating a minimalist European kitchen design. How?
For instance, you can have a pure white kitchen, with a redwood dining table, coupled with black or midnight colored seats right at the front. The stark contrast between the white kitchen and the wood dining table sets off a feeling of airiness and space.
Alternatively, if you've managed to install a kitchen island with white seats, you can break off the monotony using a wooden floor. A bit of grain should be visible, with a lighter shade of white, or ash gray, coloring the wooden floor.
You can then break the background using a white subway tile backsplash. It doesn't entirely break the white tone in the room. Rather, it cools down the warm white, giving the kitchen a chilled feeling.

Source
This can be termed minimalism at its extreme. And sure thing, it looks gorgeous.
Instead of just reducing the clutter of kitchen accessories and settling on a monochromatic or two-tone palette, you can also pull the electric plugs completely out of the backsplash and countertops, leaving you with a flush, sleek, and clean surface.
Where will the sockets go then? If you take this route, you should invest in pop-up plugs instead. These plugs only appear on the surface when you need to use them. Otherwise, they're tucked in flush with the backsplash or countertop surface.
You can even change the lighting, getting rid of the wide lighting for strip pendant lights that will hang over the countertop.
With this design, since the aim is to go for extreme minimalism, you should get rid of any kitchen accessory, tool, or appliance on the countertop too. Preferably, only one item should be left on the surface.
Want to be added to this list?
Click here
to bring up our submission form. We will be in touch shortly with feedback.