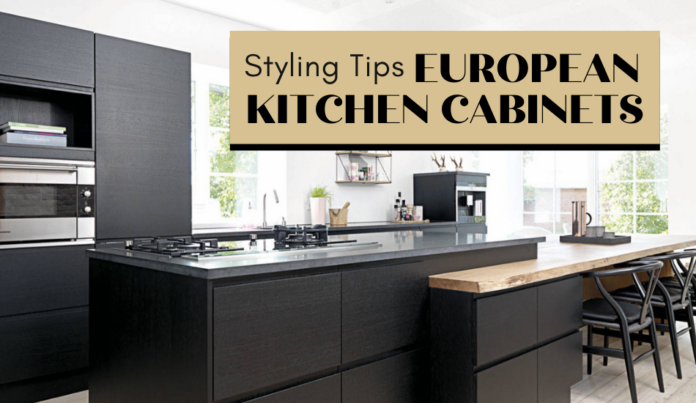 After you've finally finished your remodeling project and have outfitted your kitchen with new countertops, floors or European style cabinets, it's time for the fun part: styling! Whether your style is more minimalist, traditional or contemporary, you can follow these tips and tricks for simple styling that lets your European style cabinets shine.
Your Kitchen Style Comes First
Before you start layering in decor pieces, take a look at what your kitchen's vibe is so far. European cabinets have a slightly more modern style, but the color and finish you choose will also affect your overall look. Sleek black cabinets will make the space look modern and mature, so your styling should play into that. On the other hand, natural wood cabinets with white stone countertops might need a pop of color to bring more interest into the space. Look at what you've already created in your space, and then start working on elevating it to the next level.
Keep Functionality in Mind for European Style Cabinets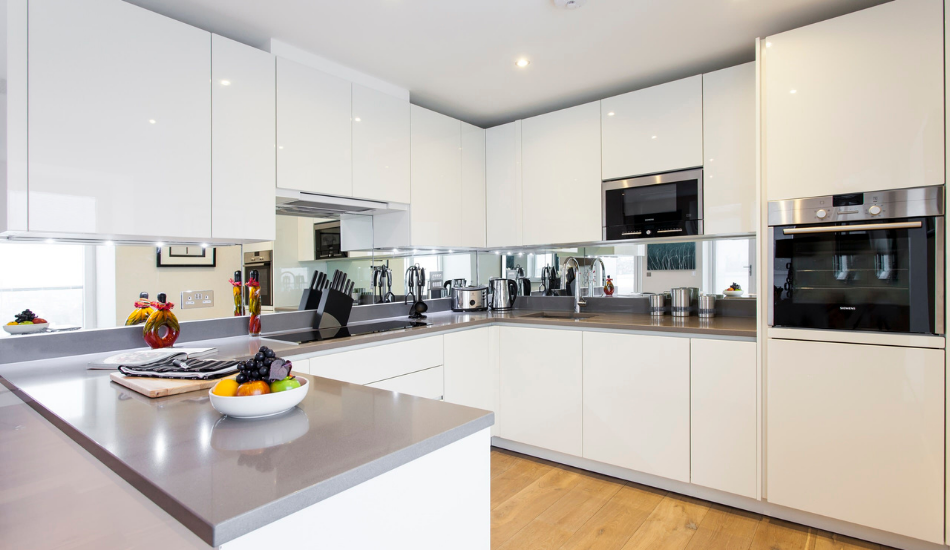 The last thing you want to do is add needless clutter to your kitchen. Instead, use functional and practical items that can also add design impact and show off your personality. For example, you can choose decorative canisters or glass jars to house items like wooden spoons or pantry items that stay on your countertop. This way, you're combining storage and style for a functional decor piece. Consider what items you want to have on display in your kitchen, and then make sure the styling suits your overall look. For items that are too bulky or won't match with your decor, you can safely tuck them away in your European cabinets.
Don't Forget About Your Appliances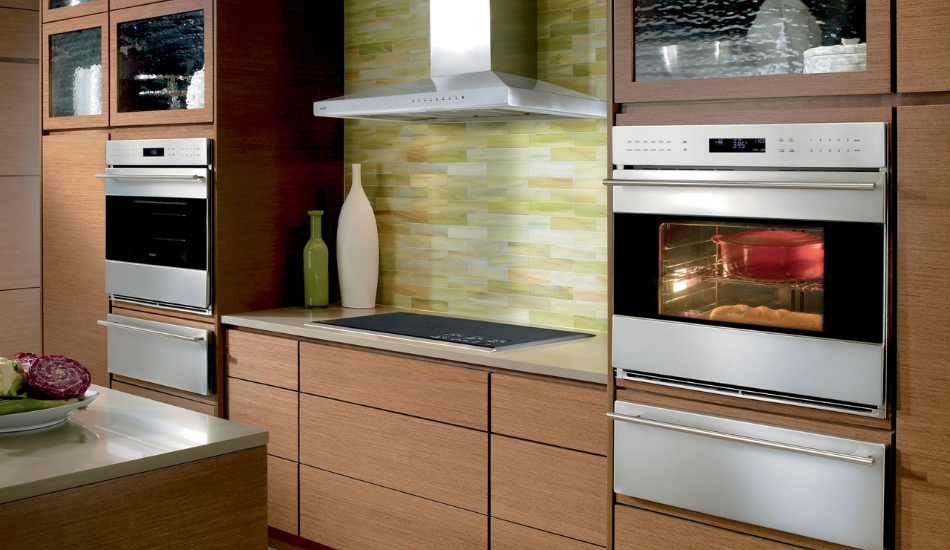 Your appliances naturally take up a lot of space in the kitchen, so why not use that to your advantage? A fridge or an oven in matte black or stainless steel can add a lot of impact to your kitchen. Coordinate your hardware in the room to bring it all together and make it look like a cohesive design.
Your smaller appliances can be decorative, too. Kettles, toasters and stand mixers can all be used to style your kitchen, whether they sit prominently on your countertops or are on display in open-shelving on your kitchen island. Colorful stand mixers, antique-looking kettles or ultra-sleek toasters can be great decor pieces in your kitchen.
Mix and Match Materials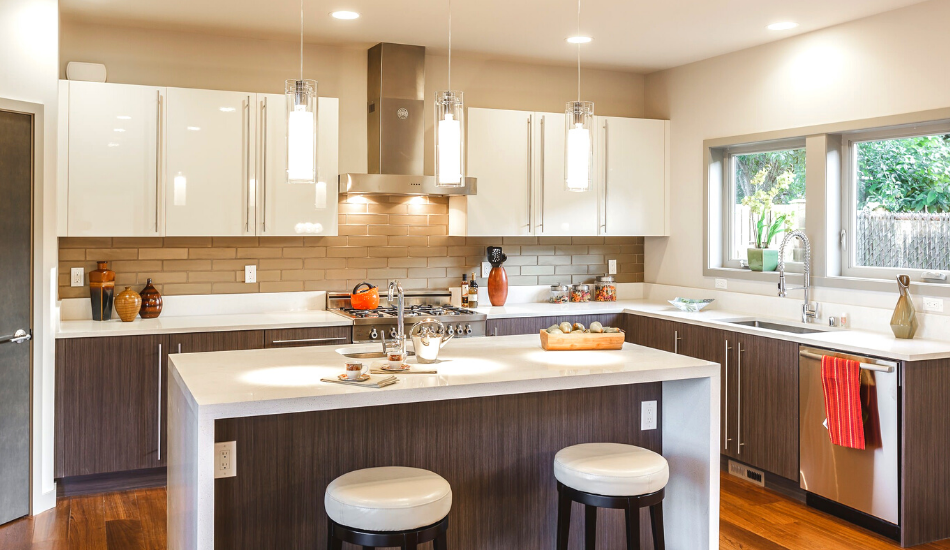 Your kitchen should include a variety of textures and surfaces for depth. You might have laminate European style cabinets with ceramic backsplash and stone countertops, but those are all hard, sleek surfaces. Break up the monotony by layering in softer materials. Choose colorful tea towels to hang in your stove, bring in fabric curtains for your windowsill or add a textured runner on the floor near your sink. The mixing and matching of hard and soft materials will give your kitchen an all-important sense of balance.
Plants are another 'soft' material that can improve your kitchen's flow. Greenery, plants and flowers all bring a delicate sense of nature in the space and can help warm up cold, clinical kitchens. Add pots of herbs to a sunny spot to grow your own kitchen materials, or add hanging planters for visual interest.
Add Style to Your Kitchen Island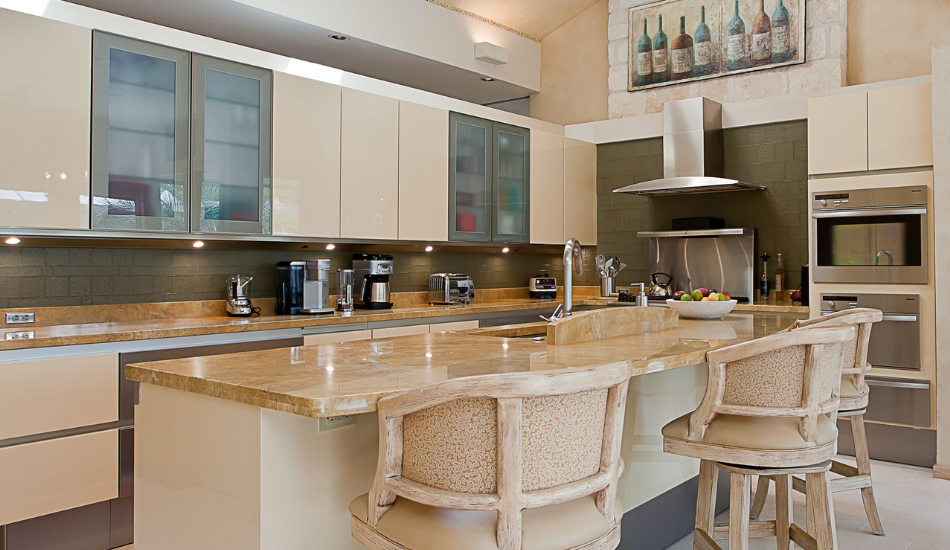 Bar stools will make a big impact on your kitchen. Make sure to choose the right height, size and color to create the best possible impact on your kitchen. Make sure they compliment the other colors and finishes in your kitchen: for example, if your European style cabinets have a wood finish, you might want to choose a similar wood tone for your stools to tie them together. Alongside white floors and counters, this is a minimalist and natural look that will make your kitchen appear effortlessly chic.
Another way to draw attention to a kitchen island is with pendant lighting. A statement pendant hanging over the island will give you important task lighting, while still creating a dramatic look. Again, choose a style that pulls in other elements of the room, like a metallic finish that echoes your cabinet hardware.
Don't Be Afraid of Artwork
Your kitchen decor items don't have to all be everyday items. You can bring in some pieces just for style, including artwork. Get a framed piece to hang on your wall, or add smaller pieces to any open shelves. It's an easy way to personalize your space. If you have artwork throughout your house already, it's a natural idea to include some in the kitchen.
If you don't have a lot of wall space in your kitchen, think about a small framed piece leaning on your countertop. This makes it easier to change up when you want something different, and still will add a sense of style and symmetry to your kitchen. Keep it alongside your displayed jars for a perfectly styled look!
Use a Variety of Shapes
If you're creating a space on your countertops for decor, you need to have a variety of both shapes and heights to make it look visually interesting. Three exact jars lined in a row will appear too flat, but three jars of different sizes (a large one for cutlery, a small one for tea bags, etc) with a cutting board behind the arrangement will look more like a curated area. Add a tall vase next to some more round jars to create diversity of height and shape, and remember to layer in different materials. This is also a perfect way to display some cookbooks by stacking them together.
If you don't have much counter space available for decorative spots, make the most of the space you do have by creating a moment by your sink. You can add a small bunch of flowers, use a decorative dish for your soap and keep your cleaning materials safely tucked under the sink in an over the door storage container. This way, your clutter is gone and the space you have is perfectly styled, but you haven't sacrificed any space or functionality.