The galley kitchen layout has for the longest time received a bad rap. Originally used in ships, galley kitchen layouts are famed for a narrow working space, usually, a thin hallway that you have to walk to and fro in while preparing meals.
But that's not how the galley kitchen should be.
Thanks to better design, galley kitchens are not only becoming more efficient in terms of space usage but also highly functional – the main reason why ships and restaurants still use them. And as far as your home is concerned, experimenting with a galley layout kitchen is not entirely a bad idea.
Why?
Because, apart from being highly functional, galley-style kitchens are among the cheapest to renovate compared to the more modern kitchen designs with glaring kitchen islands.
Well, how many design options can I explore?
A ton. Unlike common myths, there's a lot of room for play when it comes to designing a galley kitchen. You can experiment with patterns, colors, and even cabinetry that most people avoid in the name that it will squeeze their already claustrophobic space.
So, in this piece, we'll showcase some stylish galley kitchen designs that you can try in your current or next kitchen remodeling.
Source
If you're not a fan of pops of color or deeply contrasting tones, then a monochrome layout should be a viable design option for your galley kitchen.
A monochrome layout, especially in white, helps create a feeling of space and airiness in your galley kitchen design. You can experiment with glass wall units and or a wall of windows that bring in some light.
Alternatively, instead of a pure white color scheme, you can add subtle shades of black on a few kitchen appliances such as the stove to break the color monotony. Doing this helps further reduce the hallway feeling and thus makes the kitchen feel more spacious.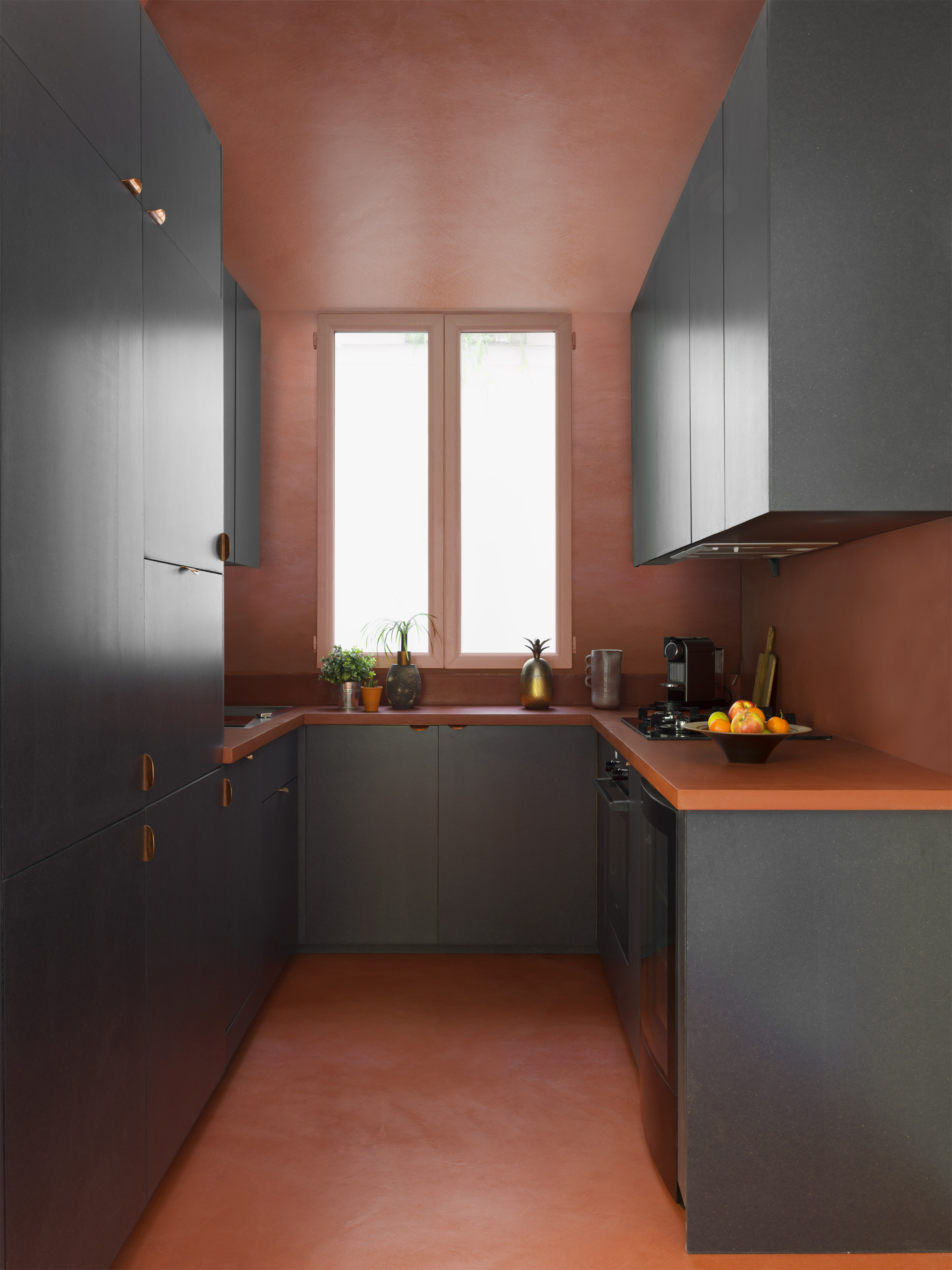 Source
If white is too bright for you, then experimenting with darker colors is still a viable design option.
Yes, dark colors are known to make a room feel squeezed and constricted. Thus, it makes no sense going for a shade like terracotta for your galley kitchen design.
Well, that's not the true case. Interestingly, a terracotta galley kitchen is a very viable option.
When you have dark cabinetry painted in darker tones like dark-gray, terracotta ceiling and walls break the dull color monotony without adding too much contrast.
With such a design, you have to focus on minimalism to get an even more airy feel to the kitchen. Thus, the countertops should be clutter-free, with all appliances being stored inside the cabinetry.
You can even experiment with a nice shade of orange on the countertop to create a nice three-tone design that is bound to look stunning.

Source
White and dull colors are not that contemporary. In most kitchens today, designers are exploring bold shades of color with great contrast to add interest to the kitchen design. So why not try that with the galley kitchen?
One way to do this is by having the ceiling, walls, backsplash, and piping all don different but contrasting color shades. For instance, you can have a painted ceiling and floor, with varnished piping colored in pale pink.
The kitchen hardware such as cabinet knobs can be in jewel tones that, put together, add a vibrant feel to the entire kitchen design.
You can run the same theme in the rooms adjacent to the kitchen so that these areas, put together, have a unified look.
4. Open Concept Galley Kitchen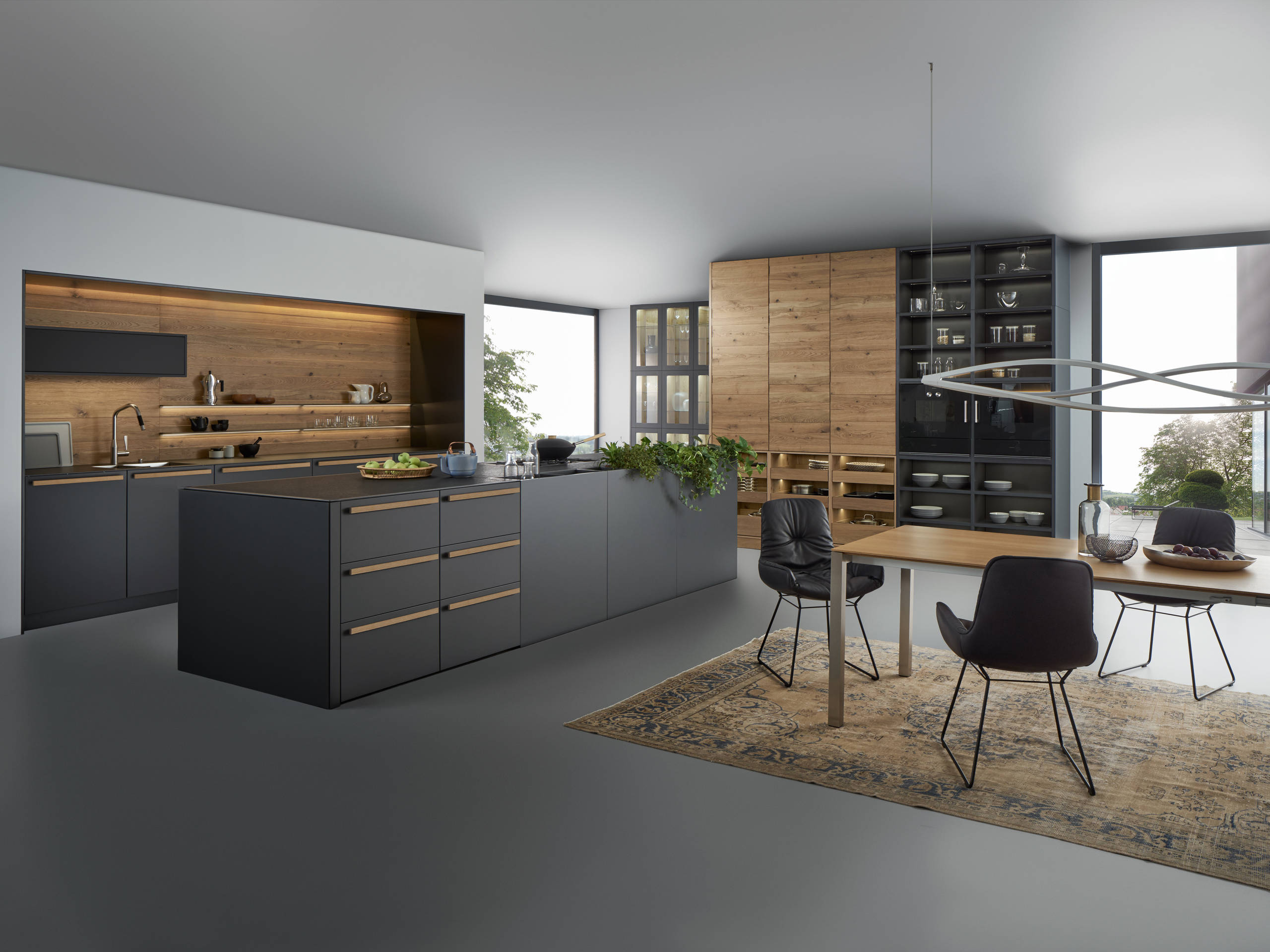 Source
Who said the galley kitchen has to be a closed hallway? With a modern design, an open plan concept can be used with the galley kitchen design.
Functionally, this design helps reduce smoke and heat in the kitchen by adding ventilation in the small kitchen hallway.
And as far as aesthetics go, an open concept galley kitchen connects the kitchen to the dining and living areas, making the entire house feel like one. More importantly, it makes the kitchen feel more spacious.
To fully explore the open concept, you should go for a minimalist design too. This means using flat-panel cabinets, open shelving at the top with open wood cubbies in between the top and bottom drawers for the bottom cabinetry.
You should also try contrasting darker tones with lighter colors that will make the kitchen feel airy and spacious.
5. Separated Wet and Dry Areas

Source
This is one galley kitchen design that fully explores the functionality of this kitchen layout. Instead of mixing the wet and dry areas, this design separates the two.
The wet area thus holds the sink, dishwasher, and laminated modular cabinets that mostly hold utensils and other appliances that are cleaned regularly.
On the other side, there is the stove, fridge, range hood, and laminated modular cabinets that hold items used mostly for cooking.
This kind of design neatly organizes your kitchen, making it easier to work in it. Besides, the use of laminated modular cabinets and stainless steel fixtures gives this kitchen a contemporary look.
6. Modern Galley with Windows
Source
Nothing beats natural lighting when it comes to visually expanding a room. That's why you should try this design option if you want to naturally make your galley kitchen look big.
Fixing a window on the yard facing side of the kitchen helps add the much needed natural light to the kitchen. Besides, it also adds ventilation to the kitchen, making it easier to cool the kitchen off when the cooking intensifies.
To bounce off the natural light coming in, you can use bright colors such as white on the kitchen cabinetry and backsplash. The countertops can be made from white quartz. The goal is to make sure that you bounce back as much natural light as possible around the kitchen.
7. Wall Units and Mini Breakfast Bars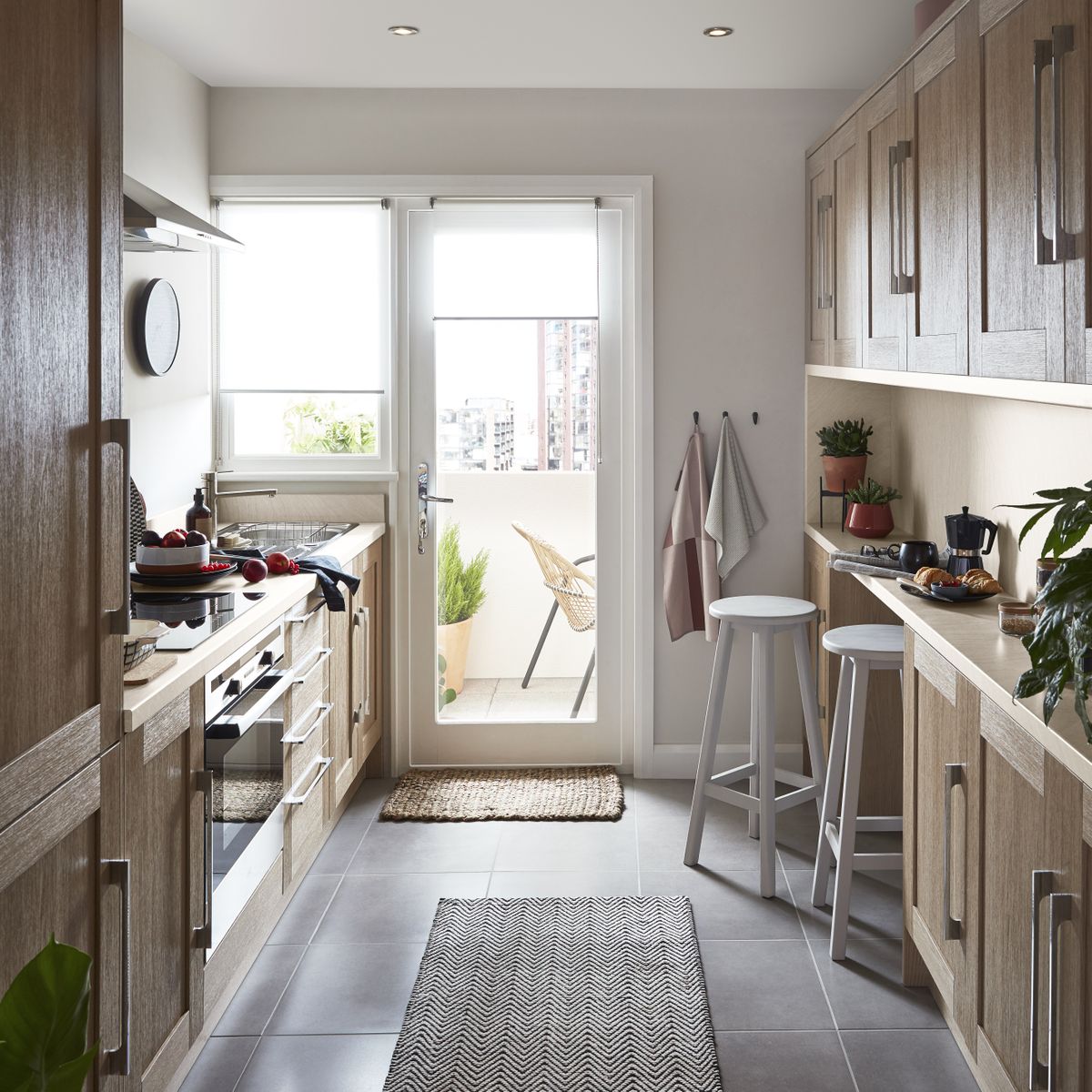 Source
Visually expanding your kitchen might just not cut it. In most galley kitchen designs, you also want to physically add space around the kitchen. That's where wall units and mini breakfast bars come in.
On one side of the kitchen, you can install full-size wall units that will add extra storage space to the kitchen. This will help reduce clutter on the surface, which will not only add physical space but also visual space.
You can also fix the half-width wall and base units on the other side of the kitchen to fully utilize the available space. And on this same side, you can use the extra space left to fit a mini breakfast bar. Instead of chairs, you can use stools to add some extra room in the galley hallway.
In as much as the focus is on the physical space, don't forget to add some visual space too. Invest in light colors that will further expand the kitchen and make it look spacious.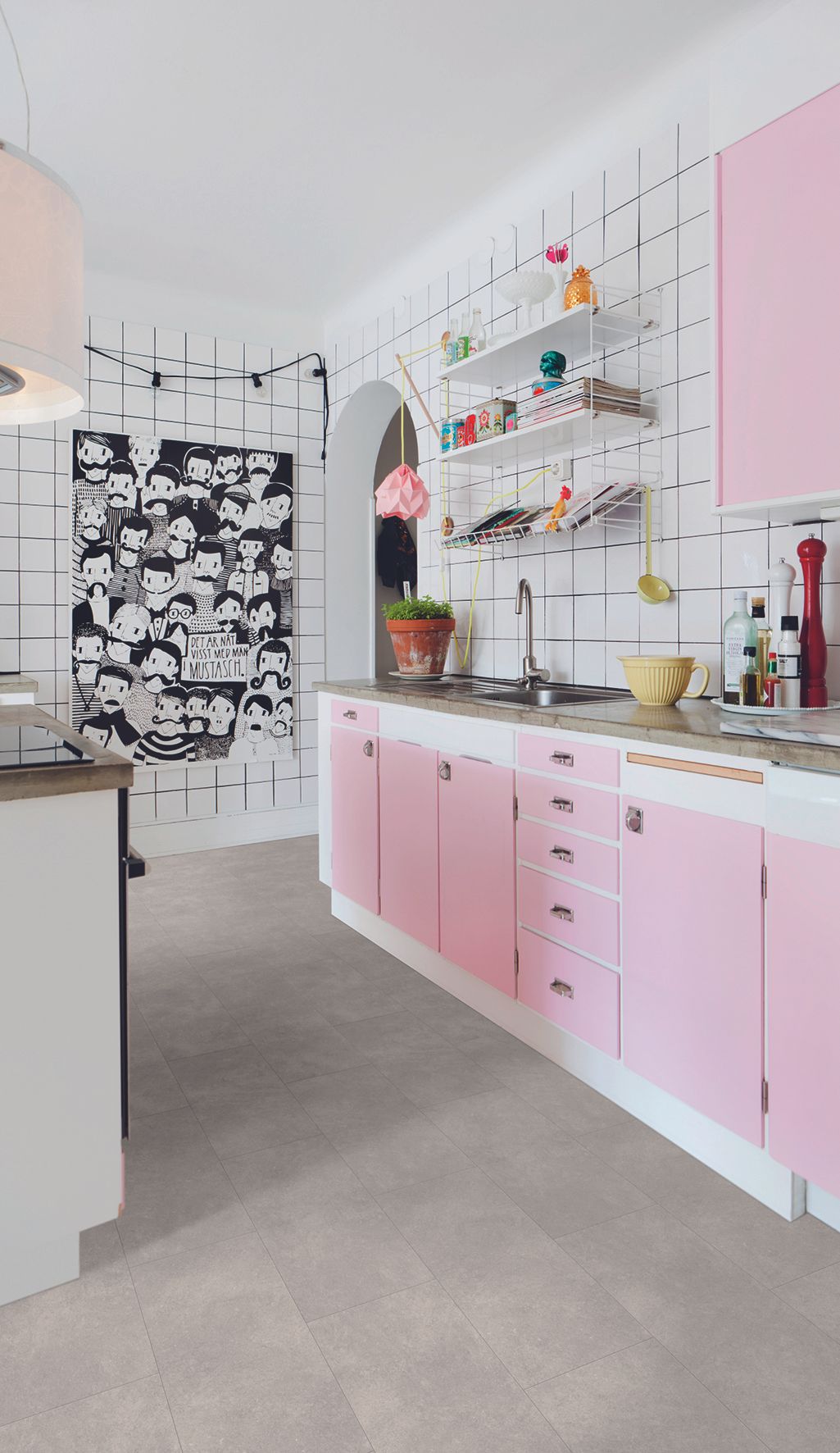 Source
Galley kitchen designs are mainly focused on increasing not just physical space, but the sense of it. However, this design is more inclined towards personalization instead of space and utility.
With this design, your DIY skills are let open to the wild. Thus, any crazy idea goes. This stretches from the paint job to the artwork displayed in the kitchen.
For instance, you can use happiness-inducing bright shades on the cabinetry and walls of the kitchen. Then, on either side of the wall, you can place a monochromatic artwork that not only blends with the paint but also conveys a very personal message.
This design is most popular among millennials who're not shy about expressing themselves. Besides, this design just needs a lick of paint, not an entire architectural alteration. Thus, you can do it in your rented house too.
Want to be added to this list?
Click here
to bring up our submission form. We will be in touch shortly with feedback.